Backpacking Tour Guide in Cambodia
Posted on 19/08/2019 9:50:02
Mention Cambodia, and most people (who even know where it is!) think of Angkor Wat, the ancient Temple of the Khmer Rouge in the northern area around Siem Reap. But Cambodia is so much more than one temple, or even a whole complex of temples, and the best way to travel around Cambodia is to get out your backpack and hit the road.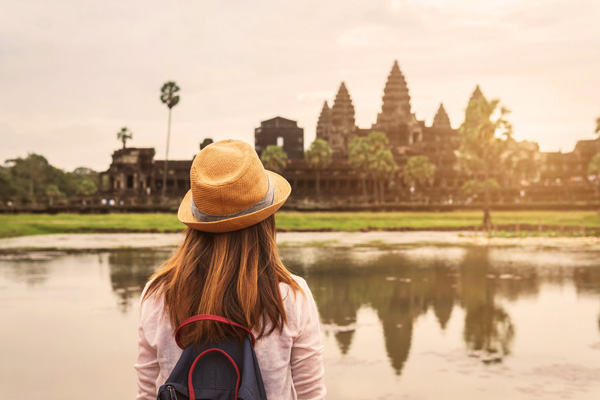 Tourism in Cambodia comes in two main forms – those who stay in a hotel and have a defined itinerary, and those that stay wherever their travels take them in the most natural local accommodation possible. Cambodian tourism really did not take off commercially until around 2004, but for many year before that, Cambodia was the ideal backpacking destination for travelers with a real sense of adventure.
Where to go backpacking in Cambodia?
Cambodia is much more than just the temples of Angkor, though they are the first place most people visit in the country, and well worth a day or two to explore. There are a huge number of places to visit that many people miss out on, sticking to the more popular tourist attractions. However, for backpackers to Cambodia, these are the best sites to visit in the country.
Angkor Temple Complex
More than just Angkor Wat, the temple complex at Angkor is one of the largest of its kind in the world. If you do not have the time to explore all of the temple complex for a few days, then the largest religious monument in the world, Angkor Wat, will definitely blow your mind with its sheer size and complexity. But there are many other temples in the complex to enthrall you, such as Bayon, with its stone faces gazing down on you as you enter the temple. Angkor Complex is an amazing place to visit, and you can wander around the temples on foot, or rent a bike to pedal between them. E-bikes are also available for the less energetic. And with no restrictive itinerary, you can wander and stay for as long as you like.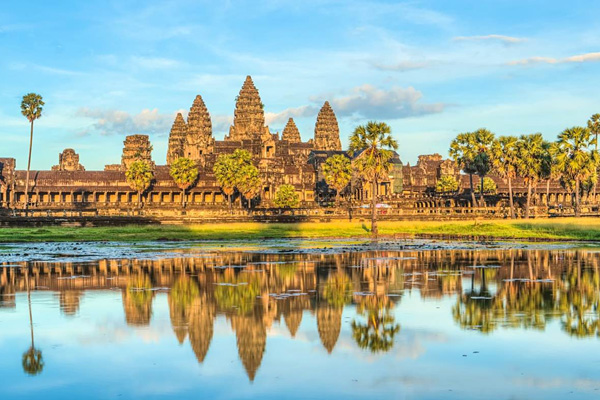 Kratie (Krong Kracheh)
Few people realize how interesting this small riverside town can be, with its expansive riverfront and some of the most outstanding Mekong River sunsets in Indochina. While most people head further north to Kampi, where you can get lots of river tours to see the famous Irrawaddy Dolphins, this little provincial capital is a more charming and rustic option, and makes a great base from which to explore the area around. And while there are fewer dolphin trips on the river, those that are running are cheaper and you get a better chance of seeing more than a fin breaking the surface, with less boats plying the same stretch of river. Irrawaddy Dolphins are notably shy, and fast as lightning.
Phnom Penh
The modern capital of Cambodia is home to a long history that is filled with both beauty and tragedy. The city chronicles its long history of colonization, genocide, and independence in every aspect of this gloriously bustling cultural center of Cambodia. A huge metropolis that honors its past, Phnom Penh is a must-visit place when backpacking Cambodia. And while the idea of visiting the Choeung Ek Genocidal Center (also known as the "Killing Fields") and the Tol Sleng Genocidal Museum may sound a little morbid, herein Cambodia, the sites serve as a reminder to never let such atrocities happen again. Alternatively, you can take a tour around the National Cambodia Museum, where the culture and development of Cambodia is highlighted and preserved, or the beautiful Wat Phnom, which stands on the site of an ancient shrine where four Buddha statues were found in a koki tree. And if you love to wander the streets, the Central Market is a marker of the French colonization of Cambodia, with its colonial architecture and distinct French-inspired cuisine.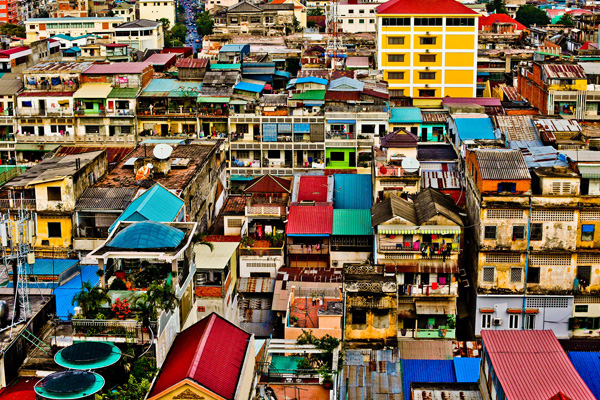 Sihanoukville
No backpacker can resist the lure of the ocean, and it is a call that you can easily heed in Cambodia. Lying in the southwest, on Cambodia's only short stretch of coast, is Sihanoukville, and the surrounding beautiful beaches. While Sihanoukville may be a mass-developed glut of dingy casinos and shopping malls, the beaches along this stretch of short coast are to die for, and what the town lacks in charm and peaceful serenity, the beaches more than make up for. From Otres Beach just south of the town, where you can rent a small bungalow for a few dollars and relax to the sound of the waves, to the quintessential paradise island of Koh Rong, with its relaxing beaches and all-night parties. The coast of Cambodia is an enticing attraction that lets you beach-bum it for a few days.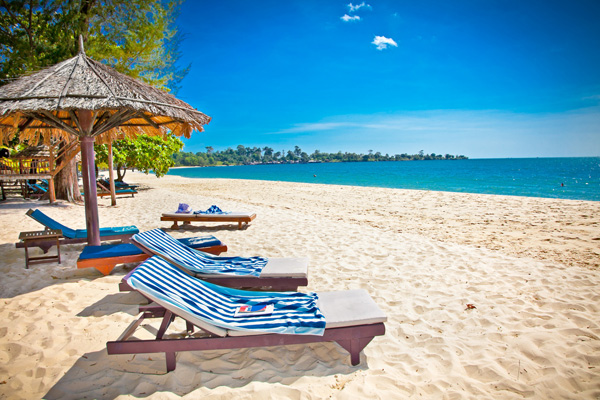 Top things to do in Cambodia backpacking tour
Kratie and Kampi are the best areas of the entire Mekong River for spotting the famous Irrawaddy dolphins, and whichever you choose, you are bound to enjoy the trip out on the boat for a few hours cruising along the vast Mekong River at one of its slowest-moving stretches. The Mekong is said to only have around 100 dolphins left alive, a number that is only an estimate, since they are shy and hard to count. However, this is a must-do for anyone with a love of nature, and all trips support the preservation of the dolphins in the Mekong River.
More about top things to do in Cambodia.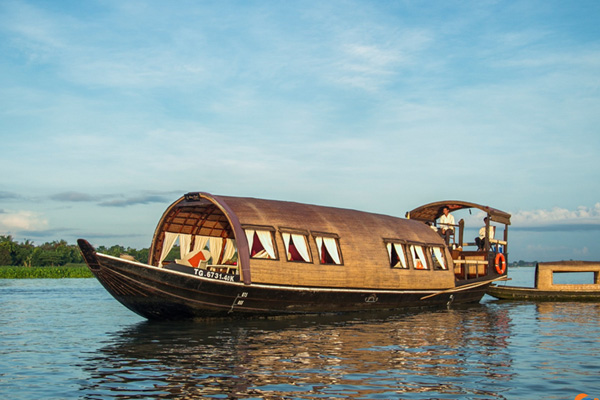 If you are planning a visit to Angkor, then you also have the option of getting a tour of the site with a proper tour guide. Hiking or cycling around the temples is one way to see them, but if you are a little more interested in the history, then you can join a guided tour of the entire complex for a full day for around fifteen dollars.
Nearby Krong Siem Reap is known as the Gateway to Angkor, but does have its own charms as a place to visit. Siem Reap has a number of different markets, the Old Market, the Night Market, the Day Market, and while the day and night markets may be more tourist oriented, the Old market still retains its authentic charm. The vast hall is packed with vendors selling all kinds of fish, vegetables, pantry items, and lots of things to eat, such as deep-fried spiders and crispy crickets.
Phnom Penh is filled with great places to visit, and aside from the various tributes to those that died in the genocide of the Khmer Rouge, One of the best places to visit is the stunning Royal Palace. With its classic ancient Khmer roofs and ornate gilded architecture, the palace dominates the Phnom Penh skyline. And inside the compound lies the extravagant and ornate Silver Pagoda, known as the Temple of the Emerald Buddha, or Wat Preah Keo. The floor of the pagoda is covered with five tons of gleaming silver, and while most of the 5,000 solid silver tiles are covered to protect them, there are some near the entrance that can still be seen.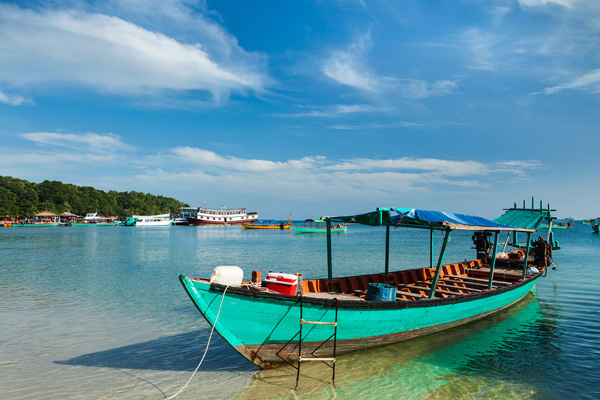 Traveling to Sihanoukville is an awesome experience, with its beautiful beaches. But to cap it off, the boat trip to spend a few days on Koh Rong, the largest island off the short coast of Cambodia, is a real treat. A jungle-covered wilderness rimmed by sugary-white beaches, the only real habitation is the village of Koh Tuch, which extends back from the small pier. A haven for backpackers, with dozens of small pads to crash in, great and cheap local restaurants, and small hole-in-the-wall bars for nightly partying, Koh Rong is the ideal stop for any backpacker tour of Cambodia. However, if you want to get away from the busy village "strip", a short walk out of the village leads you into dense jungles where the evening chorus of the local frogs overpowers the drum and bass of the parties.
When is the best time for Cambodia backpacking tour?
If you are planning a backpacking tour in the peak season, the best time to travel is from November to early February. Temperatures are cooler and the country is mostly dry, which makes the exploration more enjoyable. However, this is also the busiest time of year at Angkor and Sihanoukville, and prices are much higher. Mid-March to June is the hottest period in Cambodia, when sightseeing is a hot and sticky task, and June to the end of September is the monsoon period, when it rains almost every day, and varies from multiple light showers to long days of torrential rains.
For the ideal backpacker trip, the golden months are either February or October. The weather is mostly decent, with less rain and less heat, and since the peak season has yet to start, the prices are still lower. Crowds are also fewer than in the peak season, and with cheaper flights available either side of the peak months, it is a definite best time for visiting Cambodia.
Where to live during Cambodia backpacking tour?
As with most backpacking tours, the cheaper the accommodation, the better. Cambodia is a country where cheap backpacking hostels have been running for decades, and despite the increase in hotel-based tourism and organized tours, these small hostels are still the ideal places to stay. There are also a good number of low-priced hotels across the country that offer cheaper rooms with decent facilities, which can be useful for those nights where you just want to sleep with air-con for a better night's sleep.
Hostels range from around US$7 per night to as much as US$15 per night, with smaller hotels offering 2-star rooms from as little as US$13 per night up to around 50 dollars a night. Almost all of the tourist destinations in Cambodia have decent backpacker-friendly accommodation, with dorms and single rooms, but with shared bathrooms.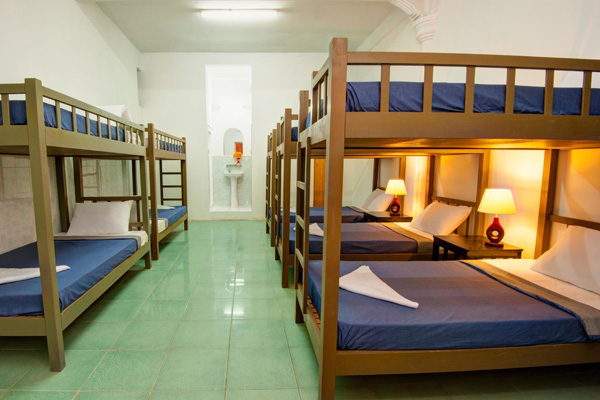 In Phnom Penh, the Longlin House Hostel, around 4km from the city center, has rooms from as little as US$6 per night, with other local hostels and guesthouses ranging from 6-9 dollars per night. In Sihanoukville, one of the cheapest places to stay is the Highland Beach Bungalow Hotel, from nine dollars per night, with other beachside bungalows going for as little as 10-12 dollars per night.
Even in Siem Reap, you can fins decent backpacker-friendly accommodation for very little. Guesthouses like the Bun Kao and the garden Village have rooms for as little as 7 dollars per night, and are both in the top ten rankings for 2-star hotels in the city. And, with Kratie being an ideal stop for backpacking, a bed for the night will start at around six dollars per night at the famous Star Backpackers Guesthouse a few kilometers from the city center.
Tips for backpacking tour in Cambodia
Getting a visa for Cambodia is easy, as the government is promoting tourism in the country for everyone. The visa can be applied for on your arrival at any of the three airports, as well as at almost all of the border crossings from Laos, Thailand, and Vietnam. The visa costs just 30 dollars for a 30-day visa, and takes around an hour to process.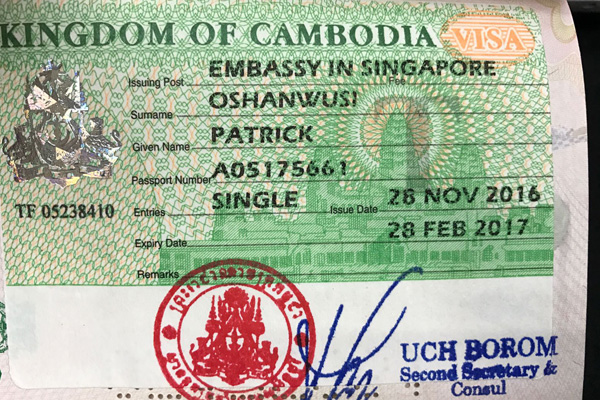 Cambodia is about as safe as any other country in Southeast Asia, and you are bound to find some instances of petty theft and other crimes. However, with a few simple tips on preventing pickpockets and scams, you can travel fairly safely within the country. Tourism is promoted in a big way, and in many of the places you will travel, most of the local population are involved in the tourist industry in some way. So it is not in their interests to rob their own source of income. Most crime is petty, and if you keep your money safely about your person and do not flash wads of cash around, you should be pretty safe from the opportunist crimes. Just watch out for scams, and make sure you keep your cash well hidden in the local markets.
More about traveling safety in Cambodia.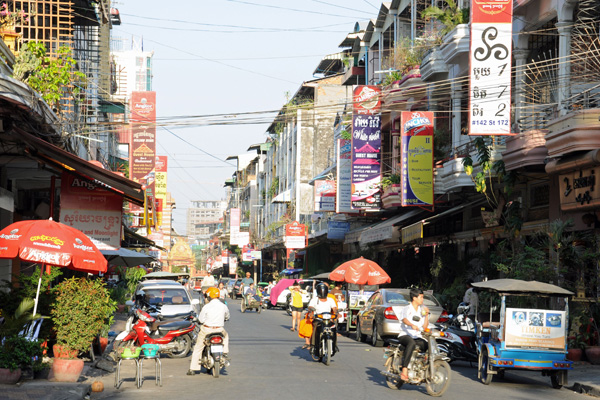 Conversing in Cambodia is not actually as hard as you might think. While few of the remote rural population have much in the way of schooling, due to the recent transformation towards a market economy in Cambodia, English has become the second most important language in the cities and tourist areas. With more people graduating universities and entering the tourist sector, English is a major requirement for both tourism and business graduates. And these days, even the simple bartender in Koh Rong can speak enough English to be well understood and to understand you.
Summary
Backpacking in Cambodia is far from a lost ideal, and while many countries in Southeast Asia are trying to move away from their former backpacking images, Cambodia is still promoting theirs as an alternative to hotels and guided tours. Backpackers may not spend as much individually, but as a whole, having thousands of backpackers touring around the tourist hotspots every month of the low season gives the tourism sector of the economy a huge boost at times when few other tourists are traveling. So if you are thinking of backpacking in Indochina soon, Cambodia still has what it takes to make it an authentic old-style backpacking experience.