How to Choose Transportation during Cambodia Myanmar and Laos Tour?
Posted on 9/01/2020 7:48:46
A trip to Cambodia, Myanmar, and Laos is one of the most amazing journeys in Southeast Asia, and these three up and coming tourist destinations have become hugely popular with western visitors in recent years. With burgeoning tourism industries in all three destinations, you will be surprised at how modern the facilities for tourists are. Yet all three destinations have managed to retain their authentic charm and traditions, making this an awesome and inspiring trip. Getting from one country to another, however, requires some careful planning, and you need to make sure that you know exactly how to travel between all three destinations for your trip.
How to choose transportation between Cambodia and Myanmar?
Travel from Cambodia to Myanmar and vice versa can be done by flight or by traveling overland. However, the overland option does mean that you need to travel through Thailand, which can mean an additional visa requirement.
Flights
Direct flights between Cambodia and Myanmar generally take around two hours, and you have a choice of airports in both locations for your international flights. Cambodia has three major airports, at Phnom Penh, Siem Reap, and Sihanoukville, while Myanmar has major airports in Mandalay and Yangon that have flights to and from Cambodia.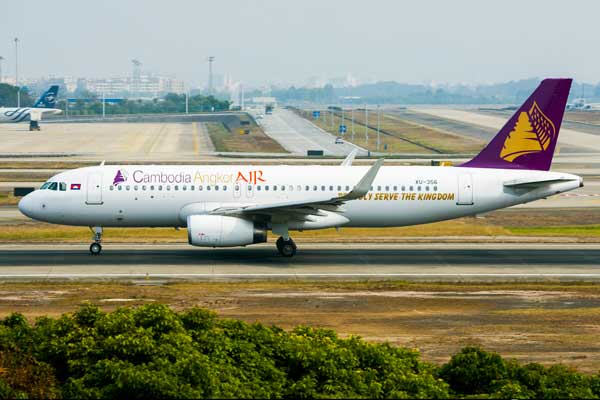 Flights run daily between Phnom Penh and Mandalay and Yangon, as well as between both Burmese airports and Siem Reap in Cambodia. A one-way economy flight between Myanmar and Cambodia generally starts at around US$150 per person for direct flights, with lower costs for indirect flights via Bangkok, Chiang Mai, or Hanoi.
More than two dozen local and international airlines offer flights between Cambodia and Myanmar, including Air Asia, Emirates, Bangkok Airways, Thai AirAsia, Myanmar National Airlines, and Malaysia Airlines. International carriers are normally more expensive than the local carriers, so it can be beneficial to use one of the Cambodian, Thai, or Burmese airlines, or an inter-Asian airline such as AirAsia, for lower costs. Overall, flights are the best way to travel between Cambodia and Myanmar, and are faster and more convenient.
Overland by Bus
Traveling overland is a daunting trip that covers a distance of more than 1,200 kilometers, and you can make this trip by bus or car. The trip between Phnom Penh and Yangon generally costs from around 80 US dollars per person, and you will need to transfer across the Thai-Burmese border at Mae Sot and Hpa An by car. Buses run daily between Phnom Penh and Mae Sot and Hpa An and Yangon, and the cost of the bus ticket does include the car trip over the Thai-Burmese border. The whole trip normally takes around 30 hours, and you will stop periodically for rest breaks, while the air-conditioned buses have onboard toilets.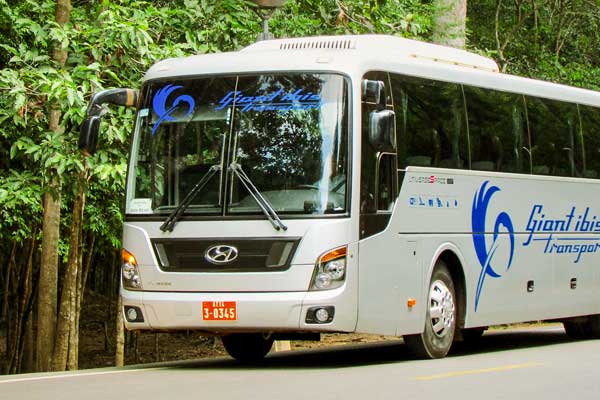 It is also possible to travel from the border town of Ye in Myanmar to Yangon by train. However, trains in Myanmar are not much better than the buses, and are no faster, so the only real benefit is the larger windows and better scenery.
Overland by car
Travel by car between Cambodia and Myanmar is possible, but is really only viable if you have your own car, as rentals are not permitted to cross the border. You can pay a driver to take you, but you will need to make sure he has a passport and visas if you are planning to use the same car for the whole journey. Otherwise, you will need to get new drivers and vehicles as you cross into each country. The rough cost of driving your own vehicle between Myanmar and Cambodia is generally around 240 US Dollars, which covers the cost of fuel and guesthouses.
How to choose transportation between Cambodia and Laos?
Travel from Cambodia to Laos can be done by flights or by traveling overland, and unlike Cambodia to Myanmar, does not have to cross a third country in between.
Flights
There are two convenient flight routes between Cambodia and Laos, from Siem Reap to Pakse in Laos, or from Siem Reap to Luang Prabang in northern Laos. Direct flights do also connect Phnom Penh with Vientiane as well, for those traveling to or from the Cambodian capital. However, the flight from Phnom Penh to Luang Prabang runs via Siem reap, and you will have to connect to a different flight in Siem Reap.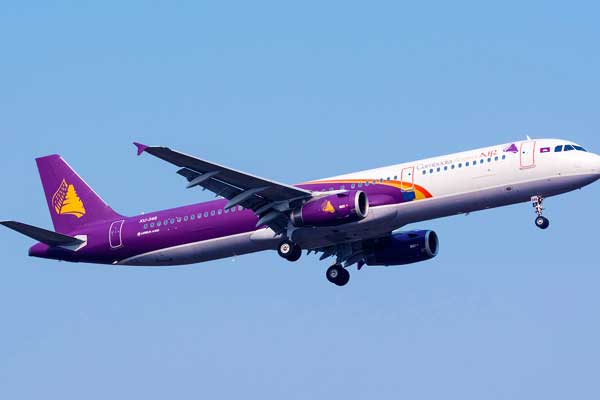 Flights between Phnom Penh and Vientiane run daily with a number of local Southeast Asian airlines, including AirAsia, and take around 1 hour 25 minutes. On average, the flights can be found for as little as US$60 per person, for economy flights, up to around 250 dollars per person, depending on the airlines and times/dates.
Flights between Siem Reap and Pakse take around an hour and cost from around US$55 per person for economy flights. This can rise to as much as 300 dollars in the peak seasons. Meanwhile the flights between Siem Reap and Luang Prabang take just 1 hour 30 minutes. On average, with more than ten daily flights between the two cities, flight tickets can cost from 110-330 US dollars depending on the season you are traveling.
Overland by Bus/Train
There are several routes you can take to travel overland between Laos and Cambodia, including one that links Phnom Penh to Vientiane via Bangkok in Thailand.
The route from Phnom Penh to Vientiane that travels via Bangkok is actually the cheapest way travel between the two capitals. However, as this is not a single direct route, you will need a Thai visa if you do not have an exemption. The first bus takes you from Phnom Penh to the Bangkok Mochit Bus Terminal, which takes around 14 hours and costs from around 30 dollars per person.
The second leg of the journey can only be done the following day, and departs from the same bus station for Si Chiang Mai on the border with Vientiane. From there, you will need to cross the border yourself, but local transport from the border to the center of the capital is easily available for a couple of dollars. The leg from Bangkok to the border takes around 11 hours 36 minutes, and costs from as little as 19 dollars.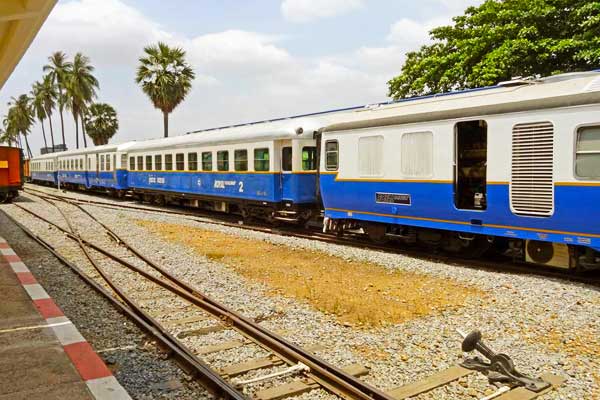 The only option for travel between Cambodia and Laos by bus that does not cross into Thailand is to take the 28-hour bus route that runs from Phnom Penh to Vientiane and crosses the border at Ben Nakasang in the south of Laos. The trip does run direct, though you will stop in Ben Nakasang. The overall cost is normally around 50 US dollars, and there is a stop in Ban Nakasang for an hour to process visas.
There are also options to combine bus and train on the routes through Thailand, or even take the train all the way, going via Bangkok and crossing the border into Thailand by car. However, this is an expensive option, costing anywhere up to 160 dollars per person.
How to choose transportation between Myanmar and Laos?
Travel between Myanmar and Laos can be done by flight or by bus, and while the two countries do share a northern border, there are no bus routes that travel that way.
Flights
There are no direct flights between Laos and Myanmar, and all flights stop and change at one of the two airports in Bangkok. Most flights run from Yangon to either Luang Prabang, Vientiane, or Pakse. Flights between Yangon and Luang Prabang cost from around US$155 per person and take from 5-6 hours. Between Yangon and Pakse, flights generally cost up to 230 dollars per person and take around 6 hours 20 minutes, while flights between Yangon and Vientiane take around 4-5 hours and cost around US$135 per person.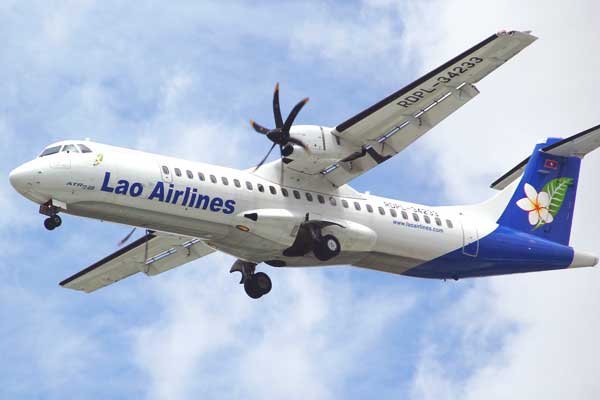 Overland by bus
The main bus route across Thailand to Laos from Myanmar runs daily, and takes around 26-27 hours to reach Vientiane from Yangon. The journey is actually split into several smaller trips on different buses, and each is paid separately. The first leg, from Yangon to Myawaddy near the Thai border, takes around 8 hours 30 minutes, and costs from 9-13 US dollars per person. There are five daily buses that run this route, but it is best to take the earliest to get across the border before it closes. Crossing the border will need to be done by taxi, which can cost around a dollar, which takes you into Mae Sot in a couple of minutes.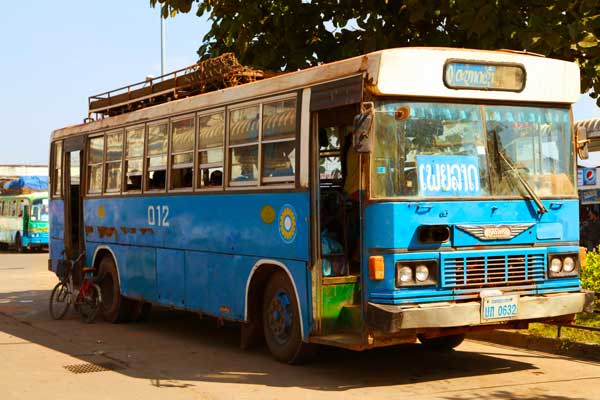 From Mae Sot, there are buses twice daily that run to Phitsanulok, in central north Thailand. The trip takes around four hours and costs from 5-8 dollars each. From there, you get the connecting bus to Udon Thani, which costs around 9-15 dollars for the 6-hour trip. From Udon Thani, the last bus runs direct to Vientiane every four hours, crossing the border to the Vientiane Talat Sao Station. The trip takes around 3 hours, and costs from 2-12 dollars, depending on the bus provider.
Summary
Travel between Laos, Cambodia, and Myanmar is not as complicated as it looks, if you travel by flights. There is the exception of flights between Laos and Myanmar traveling via Bangkok, but this is not really an issue compared to the cost and time taken. Overland travel, however, is a little more complicated and most overland buses between the three countries travel through Thailand. This means you must have an exemption or a visa for Thailand before traveling if you plan on heading around the three countries by bus