Feast in Thailand
Posted on 29/06/2017 3:06:34
Thai cuisine is one the most popular cuisines in the world. It is known for five fundamental taste senses; sour, sweet, bitter, salty and spicy. Many renowned-cooking experts observe that unlike many their cuisines Thai food rejects simplicity and it demonstrate colour, texture and of course taste. Also, it is well said that once you are hooked on the flavours of Thai cuisine, there is no going back.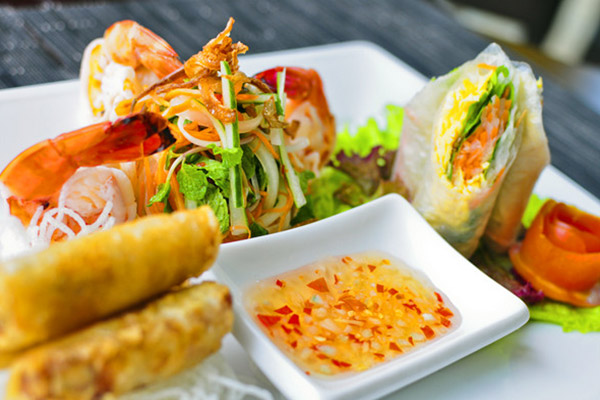 Thai food is also known for its combinations of all seasons. Thai people in their cooking balance the ingredients very carefully to bring out variety and various flavours in one dish. Curries are a basis of Thai food. Hot and spicy chillies are referred to be as the primary flavour of Thai cuisine. Different flavors in the dishes include fish sauce, lemongrass, dried shrimp paste, while the spices used arecoriander, garlic, basil, cumin, ginger, cinnamon, and cardamom. The staple food consumed in Thailand is Rice, noodles and Soup. To enhance the meals, sweet dishes are eaten to help balance the tropical flavour of Thai dishes. Many dishes are served with sauces, for example, Nam "Pla Prig," which is used for dipping.
If you are planning to go to Thailand, here are the most popular dishes which you just have to try!
What to eat in Thailand?
Tom Yum Gung:
Tom Yum Gung is the name given to a very delicious and amazing Thai soup. It is served with tomatoes, mushrooms, shrimps, lemongrass, kaffir, and lime leaves; it can also be served with cream or coconut milk for a more sour taste. This soup bowl combines in it the original Thai tastes: salty, sour, sweet, and spicy. This soup is one of the most loved dishes of the local Thai people.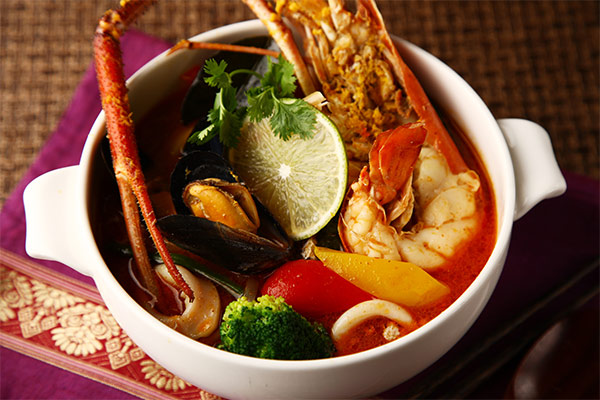 Gang Som Pak Ruam
This Thai soup is again a mixture of flavours; sour, sweet, and spicy. All its ingredients are just combined and mixed up into yet another vibrant and delicious soup that one can just not afford to miss on their trip to Thailand. This soup base is packed up with the vegetables like cabbage, green beans, and carrots and can also be served with a fried omelette.
Panang Gai:
Panang Gai is a mixture of Red curry paste, in which pieces of chicken are fried and then soaked in coconut cream. The result – delicious, red curry, full of spice that will leave your taste buds tantalising.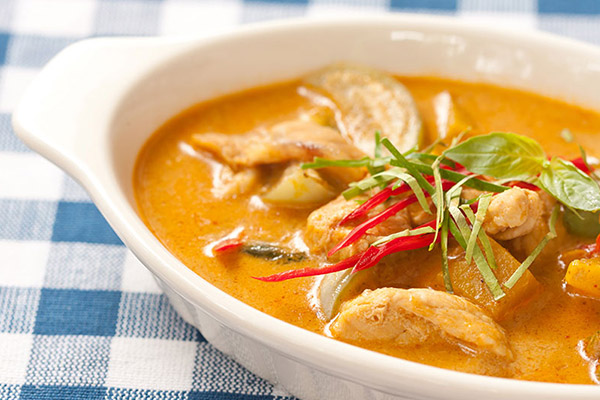 Noodle soup:
It is one of the most common dishes served on the sidewalks and footpaths in the cities of Thailand. it can also be found in little alleys on rolling carts. The noodle soup features the tastes of Thailand in the form of noodles and soup.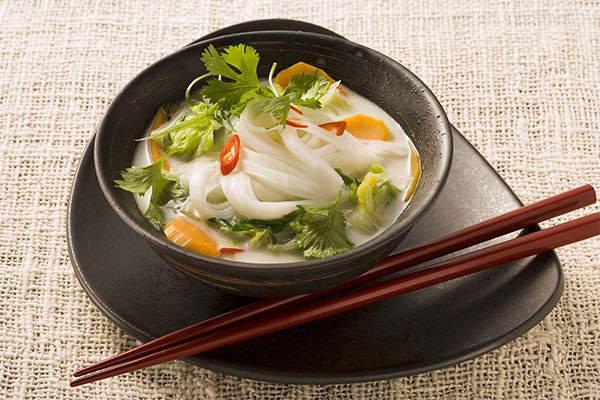 Kai Med Ma Muang (Chicken with Cashew Nuts):
Tourists are very passionate and strive to eat this fried dish. In it is a contrast of textures i.e. a dish where chicken is sauté'd with the roasted cashews, onions, sweet soy sauce, pepper, chillies, mushrooms, and carrot in a way that the sweetness of honey is more attracting and appealing for the taste buds.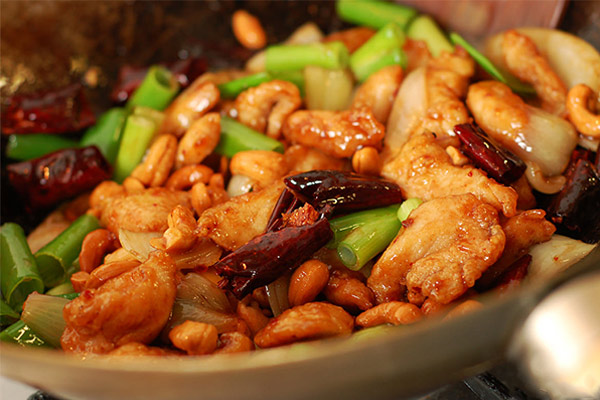 Hot n Spicy Shrimp Soup( Tom Yum Goong):
On your visit to Thailand, experience a bold and refreshing combination of fragrant chilis, lemongrass, lime leaves, galangal, lime juice, shallots, and fish sauce in the shape of this amazing soup. Garnished with herbs, straw Mushrooms and Fresh prawns are the secret ingredients in its recipe. A versatile and outclass dish that can relate and fit with almost all the meals.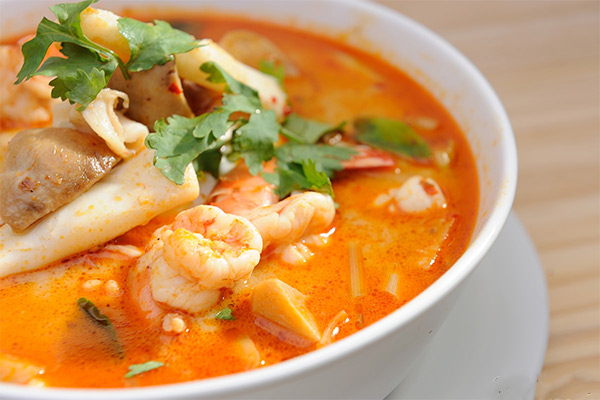 Pad Thai (Thai style Fried Noodles)
Cooked with fistfuls of small, thin or wide noodles (you choose) steamed for a minute and served alongside crunchy bean sprouts, onion, and egg. Preferably for those who do not want to experience much with Thai food.
Red Curry (Gaeng Daeng):
A meat-centered dish that is smoothened in coconut milk and red curry paste, and sprinkled with finely sliced outline leaves. The taste reaches to be even more awesome when the meat is juicy very well tendered.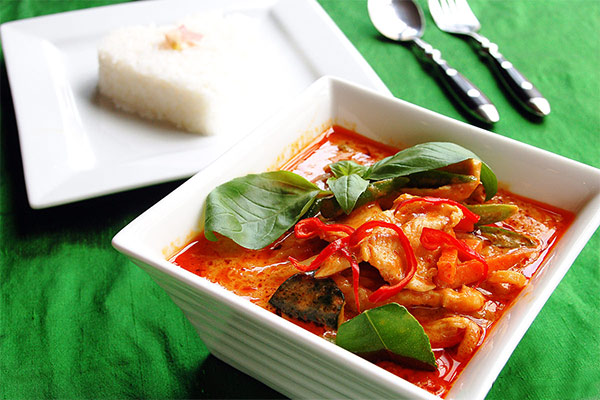 All of the above dishes are popular and mostly liked in Thai cuisine. Moreover, seven of these Thai dishes are on the list of "World's 50 Most Delicious Foods (Readers' Pick)". If you are travelling to Thailand, do experiment with these flavours for some extraordinary cuisine.
Where to Eat in Thailand?
Once you find out what to eat in Thailand, the next question that emerges is; where to eat in Thailand?
Dining out in Thailand is an ultimate experience for tourists as it does not only consist of eating. Nowadays many top-rated restaurants and street food stalls in Thailand have evolved themselves in a way that locals and the tourists together taste the magic of thai food. Created by the world-renowned chefs, dishes which are not too costly makes Thai food even more appealing.
Here are some places where we believe you need to eat to experience the true essence of Thai food.
BANGKOK'S DELICIOUS STREET FOOD:
In Bangkok, you can find delicious and outclass Thai food at very budget friendly prices on the streets. The food street features some permanent restaurants while others are pop-up restaurants that move all around on trolleys. For convenience, comfortable tables and chairs are placed so that customers can enjoy their meals in the most pleasant of ways.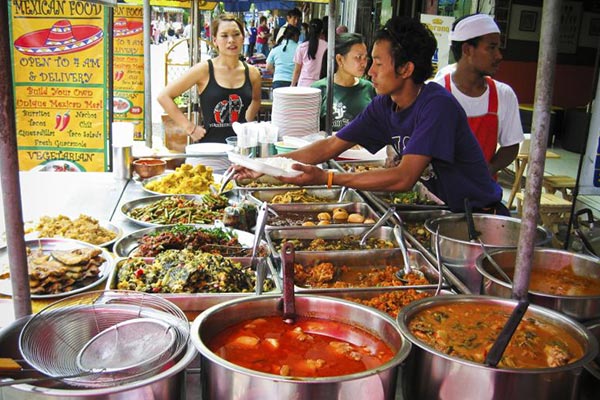 YAOWARAT (CHINATOWN):
The mixture of Chinese and Thai dishes in a single location at one period of time is heavenly. The mouth-watering aroma is so powerful that it automatically attracts people towards them. If you are travelling to Thailand, visit China Town for a blend of Chinese and Thai flavours. You will be overwhelmed by the dishes hence the best strategy is to try what looks and smells more appealing to you. Whatever your heart believes, follow your instinct towards a particular dish, and then without wasting any time, just simply GO FOR IT. China Town is a place where you will never be disheartened!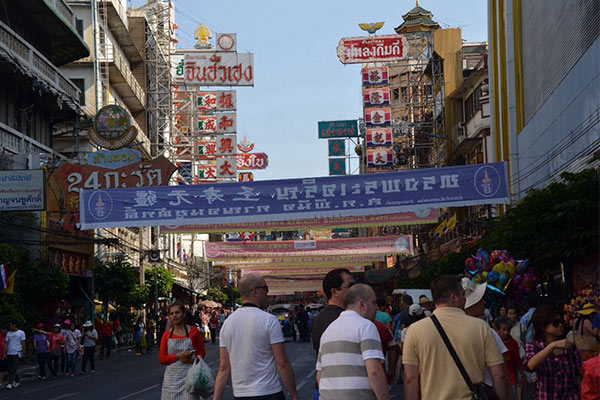 BOONSAP THAI DESSERT:
Walk the streets of Thailand and find the Boonsap Thai Dessert shop. You will be taken back after tasting the mouth watery Desert of Mango Sticky Rice. They also sell other delicious cookies, sweets, and Thai desserts.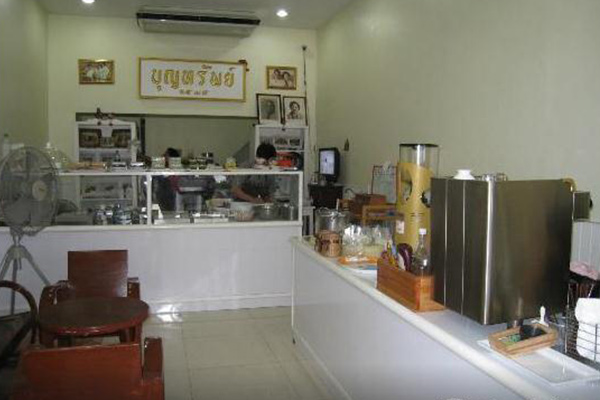 KALPAPRUEK:
If you are looking for a reasonably priced place with an ambience that is relaxed and comfortable, then Kalpapruek is your place to visit. Located on the 7th floor of Central World is a perfect choice. Almost all of the posh and big shopping centres present in Bangkok have food courts with food from all across the globe. These food courts also serve some great dishes that add more to your shopping experience too.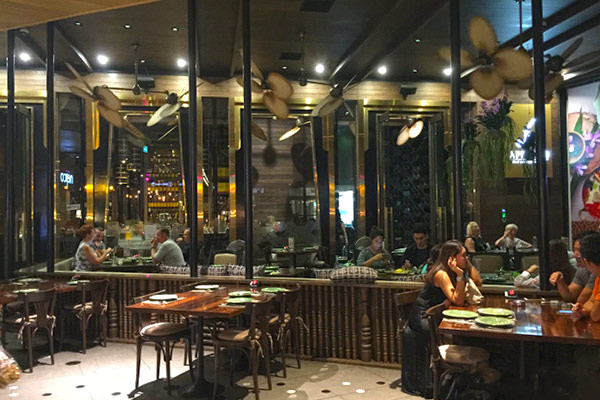 Travelling is all about exploring, experimenting and leaving yourself lose. Travel to Thailand and witness the world's best cuisine. We promise you; it will be worth it.