Vietnam Travel Visa, How to Get Vietnam Travel Visa
Posted on 9/01/2018 9:38:32
Obtaining a visa is one of the normal requirements for travel to certain countries around the world. While visas are sometimes not required for citizens of one country to visit another, such as the ability for British citizens to travel throughout Western Europe without the need for a visa, other countries will require you to have a visa in order to gain entry into their country. For Vietnam, there are certain countries that do not require a visa.
A visa normally takes the form of a sticker or endorsement on a page of the passport, although in certain places it is a separate document of small passbook-style item. The visa is granted by the immigration department of the government, following an application and the payment of the required fees.
Getting a Visa for Vietnam
Getting a visa for Vietnam is very straightforward, and there are rarely any problems for citizens of most countries when it comes to visa applications. There are three ways for foreign nationals to get a visa for Vietnam; from the Embassy in your home or resident country, online as an e-visa, or on arrival at the airport or port of entry. All visas for Vietnam require at least six months validity on your passport beyond the planned duration of your stay, and at least two blank pages to affix the visa.
At the Embassy
A visa from the Embassy of the Socialist Republic of Vietnam can be obtained from either the embassy in your home country, or the embassy in the country where you are currently residing. In order to obtain the visa, you will need to apply in person at the Vietnam embassy in the country you are in at the time. The embassy will give you an application form to fill out, and will require your original passport and the payment of a fee for the visa. The standard 30-day, single-entry visa for Vietnam costs US$ 25.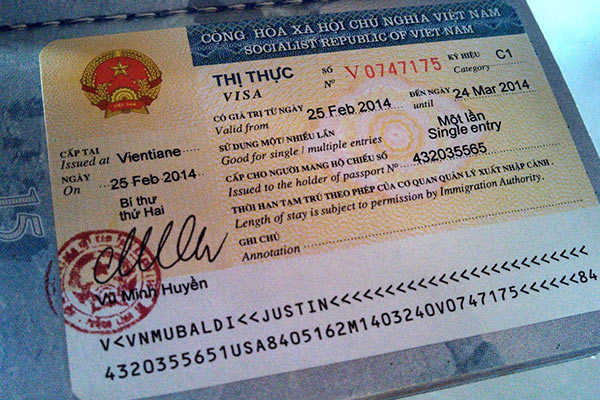 Once your visa has been approved, which normally takes around 3-5 business days, you will be notified to pick it up, if you were not given a pre-arranged date to do so, and you can collect it from the visa office of the embassy's immigration department.
Online E-visa
In February 2017, the Vietnamese government launched their new e-visa program, which would allow foreign nationals from 40 countries to apply for the visa online. The online visa application is and easy process and issues all 30-day, single-entry visas for every kind of reason of visit from tourism to journalism. The fee of US$ 25 is payable by bank transfer to the bank listed on the official websites of the Vietnamese Immigration Department, and they are valid for entry through all international airports and 13 overland border crossings. E-visas are accepted at all eight international airports, as well as the following 13 land border crossings, and seven seaports:
Nam Can Landport;
Song Tien Landport;
Tinh Bien Landport;
Xa Mat Landport;
Mong Cai Landport;
Moc Bai Landport;
Lao Bao Landport;
Ha Tien Landport;
Huu Nghi Landport;
Cau Treo Landport;
Cha Lo Landport;
Bo Y Landport;
Lao Cai Landport;
Ho Chi Minh City Seaport;
Quy Nhon Seaport;
Nha Trang Seaport;
Hai Phong Seaport;
Hon Gai Seaport;
Da Nang Seaport;
Vung Tau Seaport
Visa on Arrival
The preferred type of visa for most international travelers these days is the visa-on-arrival, which is offered by many countries around the world. Vietnam also offers this service to visiting tourists, and the operation is just as simple as the e-visa, except you will have to queue to get the visa once you arrive. The visa application form must be filled out completely, and it can be downloaded online from the government website or from a number of registered travel agency websites. There are registered travel agencies that are able to arrange this for you and send you a "visa approval letter", which you need to show at the immigration desk to get your visa faster. The application process takes around 2-3 days.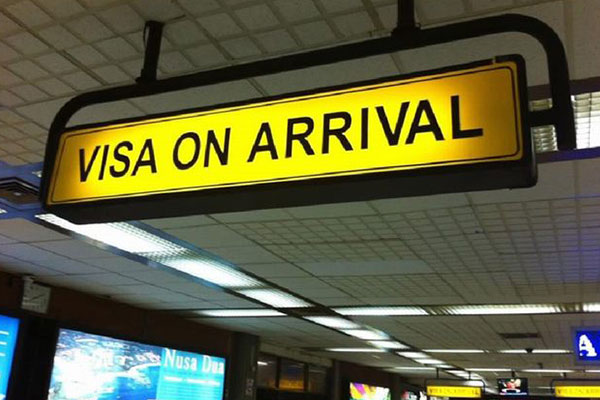 You must have at least six months validity on your passport and it must be accompanied by two passport-sized photos, the visa approval letter, and the required fee. You must also include your date of exit, which must not be more than thirty days from the date of entry. At this time, the visa-on-arrival service is only valid for entry through one of the following airports:
Tan Son Nhat International Airport (Ho Chi Minh City);
Noi Bai International Airport (Ha Noi);
Da Nang International Airport.
The Vietnam government warns of websites that are issuing fraudulent visa approval letters, and which should be avoided. The authorized government websites for the application of e-visas for Vietnam are https://www.immigration.gov.vn/ and https://www.xuatnhapcanh.gov.vn, or you should check the registration certificate of the authorized travel agent.
Visa Exemptions
Vietnam currently has a visa exemption program for the citizens of all Association of South East Asian Nations (ASEAN), which allows visa-free travel to Vietnam for a period of thirty days, with visa applications available for periods beyond the given time limit. For other nations, there are 15-day visa exemptions allowed for citizens of the United Kingdom, France, Germany, Spain, Italy, Japan, South Korea, Denmark, Norway, Finland, and Sweden. Visa exempted visits cannot be repeated at any time within 30 days from your exit of Vietnam.
Customs Regulations
Because of the promotion of tourism in Vietnam, the regulations on visas and customs are getting easier. However, there is some basic information that you should know about customs regulations before you enter the country, as breaking these regulations may end with you being deported or even jailed.
Always make sure that you have applied for your visa correctly, and that it is valid for your country of origin. Only 40 countries are permitted to use the online e-visa for entry into Vietnam. There are limits to what items you can bring into Vietnam, and certain items that are banned.
The maximum duty-free allowance on entry to Vietnam is:
Cigarettes: 400;
Cigars: 100;
Tobacco: 100 gram;
Liquor: 1.5 liters;
Perfume and jewelry for personal use;
Souvenirs and gift items valued at not more than US$ 300.
The items that have been banned from entry into the country are:
Weapons, ammunition, explosives, and flammable objects
Military technical equipment
Drugs, opium and other narcotics
Anti-government literature, pornographic literature, etc.
Antiques and some types of precious stones, as well as wild animals and rare plants listed in Vietnam's "red-book" may not be taken out of the country. There are also restrictions on the amount of currency one can bring into the country without declaration. At this time, the limit of undeclared currency is US$ 5,000, VND 15,000, gold in excess of 300 grams, gold and jewelry not for personal use (i.e. for sale), and video tapes or CDs. CDs and videos are held for screening and will be returned after they have been checked and approved.
Visa Extension and Renewal
It is possible to extend your visa once you are in Vietnam by means of either a visa extension or a visa renewal.
Visa Extension
In order to extend your visa beyond the normal 30 days of the first issued visa, you need to do it well in advance of the visa expiry date. It normally takes around seven days to extend the visa, so you should start the application at least ten days before your visa is due to expire.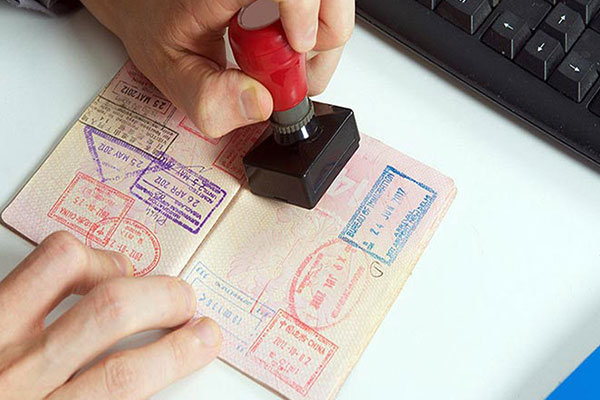 A visa extension means that you will be extending your stay in Vietnam beyond 30 days, and the current visa must meet the requirements of the immigration department in order to have it extended. Currently, you can extend your visa for an extra one month if you have any type of visa, though if your visa is only the standard 30-day visa, you can only extend for another month. If you are currently using a 3-month visa, whether single or multiple entry, you can extend your visa for an additional three months prior to its expiry.
Visa Renewal
For those wishing to stay longer than one extra month, you can apply for a visa renewal, which deletes the original visa entry in your passport and inserts a new entry for the new period of the visa from the original date of entry. The maximum renewal period is up to three months, and the fee for the renewal is higher than for an extension. You can also use the renewal process to upgrade your visa from single to multiple entry if you are planning to leave and return within the period of your visa.
The extensions and renewals of visas can only be done in Hanoi and Ho Chi Minh City, and can take up to seven days to process. Costs for extensions and renewals vary greatly depending on your country of origin. To extend a 30-day visa for one month costs between US$ 60 – US$ 155, and to extend a standard 3-month visa for another three months costs between US$ 180 – US$ 310. Renewal of visas costs US$ 200 to upgrade a one-month visa to a three-month visa and US$ 330 to upgrade a 3-month single entry visa to a multiple entry visa.