How to Get to Laos from Cambodia
Posted on 27/04/2018 4:58:06
Considered to be the "crossroads of Asia", mainly due to the many ethnic people that are indigenous to the country, Laos is an ethnically diverse country, and one of the most relaxing places to visit in Southeast Asia. Covered by dense dark jungles, numerous rice paddies, and a mountainous northern region, the landscapes in Laos are varied as much as the locals.
A timeless country where tourism is more along the lines of protecting the ecology and environment than the mass tourism in many of the neighboring countries, Laos is a place to relax, from the somnolent capital of Vientiane to the UNESCO World Heritage Site of Luang Prabang, the country's most popular tourist destination.
There are many ways one can get to Laos, with direct flights from several Asian countries, including Singapore and China, and indirect flights that have stopovers in places like Bangkok, Manila, Kuala Lumpur, Hanoi, and many other places. There are also several routes one can take traveling overland from Laos' neighboring countries, and one of the most popular is from Cambodia to the south. Travel overland from Cambodia to Laos can be done directly across the border between the two countries, or by taking a short-cut through Thailand if you are traveling to Vientiane and Luang Prabang.
Visa Requirements
Getting to Laos via Cambodia means you will need to get a visa for Cambodia on entry, as there are no countries outside Asia that can travel freely to Cambodia without a visa. You will probably need to have a visa to get into Laos as well, as there are only a few non-Asian countries that have a visa-free allowance. If you are planning to travel overland through Thailand, however, there is no need to make a visa application if you are from one of the 57 visa-free countries that have a 30-day visa exemption. If a visa is required for Thailand for your country, then you can make the applications at the border on arrival.
Cambodia
Entry into Cambodia requires a visa for the majority of foreign nationals, and the visa can be applied for through an embassy, via the online E-visa service, or by the application on arrival at one of the ports of entry that allow Visa On Arrival services. The E-visa can be applied for online and used at all three Cambodian airports as well as four overland border crossings.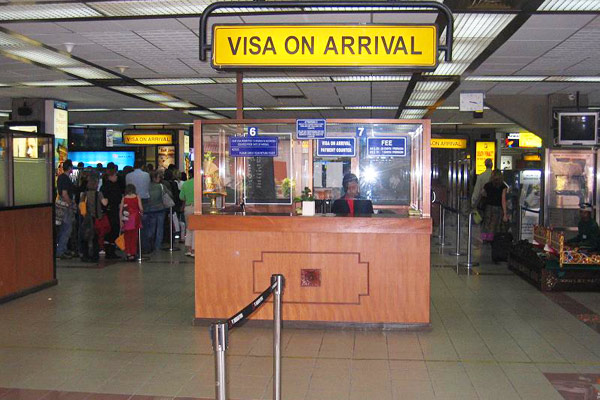 Visa On Arrival is available for application at all three airports in Cambodia, as well as all the overland border crossings, and takes as little as an hour to process on your arrival. For those applying for a visa from an embassy, you can make the application at any embassy around the world as long as you bring proof of your original country of residence.
Cambodia Visas cost UD$ 36 for the E-visa, and US$ 30 for the embassy visa and Visa On Arrival, and are for a maximum stay of just 30 days.
Laos
The visa for Laos is required for the majority of foreign nationals outside Asia, with the exception of Denmark, Luxembourg, Norway, Sweden, and Switzerland, who have a visa-free allowance of 15 days in Laos. There is no E-visa for Laos, so travelers need to make their application either at the embassy in another country or through the Visa On Arrival Service.
The Visa On Arrival service is available at all airports in Laos, as well as the majority of the overland border crossings, with the exception of those at Napao-Chalo from Vietnam, Subhan from China, Lakhan-Beung Kan from Thailand, and the Xieng Kok River port from Myanmar.
>> Check the details of Visa Application for Cambodia and Laos Tour
Cambodia to Laos Travel
There are only two ways to get to Laos from Cambodia, by flying into one of the four airports that handle inbound flights or by making the overland crossing between Cambodia and Laos. While the flights are faster to get to the major cities of Laos, they are the more expensive option, and it can pay to travel overland from Cambodia to Laos if you are working on a budget. The overland journeys are long and tiring, but exceedingly less costly than a flight to Vientiane, Pakse, and Luang Prabang.
By Flight
There are three routes from Cambodia to Laos by flight, from Siem Reap to Pakse, Siem Reap to Luang Prabang, and Phnom Penh to Vientiane. The flight from Siem Reap to Pakse takes around an hour, and there are daily flights with Lao Airlines. A one-way economy flight can cost from US$ 60 to as much as US$ 300 depending on the season and day of travel and flies direct to Pakse International Airport.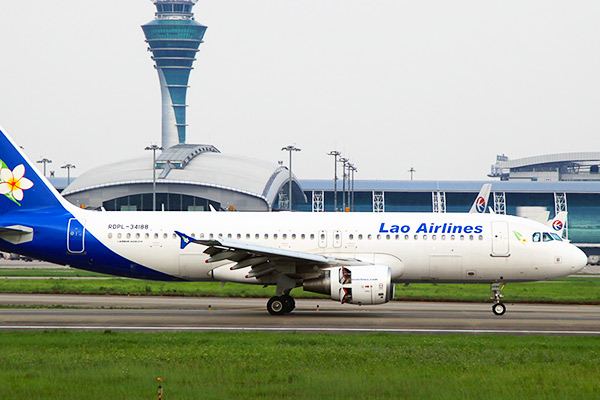 For the flight to Luang Prabang from Siem Reap, flights leave every day except Tuesday and Sunday and are offered by Lao Airlines and Vietnam Airlines. The flight takes 1 hour 25 minutes for a direct flight or 3 hours 40 minutes for an indirect flight via Pakse. The indirect flight is offered by Lao Airlines, who are the only operators of domestic flights in Laos. Flights cost between US$ 110 and US$ 330, depending on the date of travel and season, with the cheaper flights normally being during the low season for tourism.
The only route from Cambodia to Wattay International Airport in Vientiane, the Lao capital, is offered courtesy of Vietnam Airlines and takes 1 hour 25 minutes to get to Vientiane direct. Flights leave for Vientiane from Cambodia's Phnom Penh International Airport daily, and cost from US$ 60 to US$ 250 for a one-way economy flight, depending on the season and date of travel. This single flight leaves Phnom Penh daily at around 6:00 pm, and gets into Wattay International Airport at around 7:25 pm.
By Overland
Traveling overland from Cambodia to Laos can only be done through one route, and how to get there depends on where in Cambodia you are starting. The only border crossing point that is open for foreign tourists between Cambodia and Laos is at Tropaeng Kreal and crosses the border to Veun Kham in Laos.
If you are planning the trip by bus from Phnom Penh or Siem Reap to Laos, then the logistics of making the trip are important to know. There is only one direct bus to Pakse from Phnom Penh, which runs on a Sunday, and cannot be confirmed to be running until at least 24 hours before the departure time. The alternative is to arrange your own bus trip, which requires the good knowledge of the route.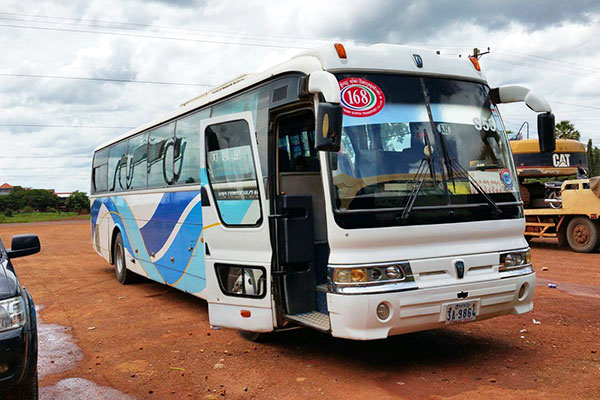 From Phnom Penh, the first bus runs to Stung Treng, which takes around ten hours, making several stops along the way. The buses have twin-sleeper bunks that make the journey easier and allow travelers to rest along the way. Minibusses run from Stung Treng to Either Tropaeng Kreal on the border, or direct to Pakse, stopping at the border to deal with visas, which takes around an hour or two, depending on the number of tourists passing through the checkpoint.
The direct minibusses to Pakse are the most convenient, and take around 4 hours to get to Pakse, excluding the time spent at the border for Visa On Arrival applications and processing. If you are continuing to Vientiane, and want to travel overland, then buses run the route twice daily, in the morning and evening. Travel time is around 10 hours, depending on the roads and traffic, and the best option is the night sleeper bus, which leaves at 8:00 pm and gets into Vientiane at around 6:00 am the next day.
In total, traveling by bus from Phnom Penh to Vientiane takes around 26 hours, and costs between US$ 51 and US$ 56, and is the best route to take to get to Laos. Other routes to Vientiane traveling overland from Cambodia head through Thailand, crossing the border between Cambodia and Thailand at Aranyaprathet, and heading north through Roi Et and Khon Kaen to Nong Kai, where you cross the border at Thanaleng, on the First Thai-Lao Friendship Bridge across the Mekong River.
This journey takes a lot less time than traveling from Phnom Penh to Vientiane via the border crossing at Tropaeng Kreal and through Pakse. This is a useful route for many travelers heading to Laos from Cambodia, as Thailand has fewer restrictions on visas, and there is no visa requirement for the passport holders of 57 countries when entering Thailand for a period of up to 30 days. It is also a little cheaper and can cost from as little as US$ 32 for the bus tickets, although it can cost as much as US$ 64 in the peak season for tourism.
By Boat
It is also possible to ride a riverboat from Koh Khan Kham in Cambodia to Pakse in Laos. The riverboat trip takes around 6 hours, and there is a riverside checkpoint at the Cambodia-Lao border at Ban Nakasang, where officials will board the boat to process visa applications and check pre-approved visas. However, while the Visa on Arrival service is approved for use on the riverboat journey, these rules tend to change without notice, so it is a good idea to get a pre-approved visa in Phnom Penh at the Cambodian embassy before traveling.