How to have a budget tour in Vietnam?
Posted on 10/07/2019 6:42:04
A major component of the Vietnamese economy, traveling in Vietnam is big business, and in 2018, the country saw more than 15.5 million international tourists enter the country through its airports alone. One of the main countries included in French Indochina during the French colonial period in Asia, Vietnam still retains some of the French influence from that time, especially in a lot of the architecture of some of the major cities and the influence on food. Vietnam was once a country torn apart by war, yet has risen to become one of the most popular tourist destinations in Indochina, eclipsing Cambodia and Laos as the top place to visit.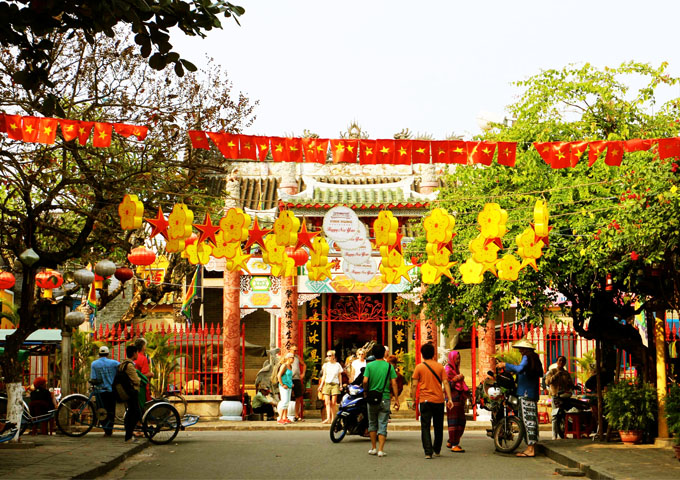 Vietnam has a unique culture that is varied from north to south and has no constituent religion to speak of. The people are made up of some Buddhists, Catholics, and other Christian religions, while majority of the country are either non-religious or follow the ancient Vietnamese folk religions that vary from area to area. The country is also made more popular for the stunning cityscapes and the amazing beaches, some of which are rated as the best beaches in the world. Vietnam is also renowned for being one of the cheaper places to visit in Asia, and has seen a wealth of backpackers over the decades making their way from north to south. With low costs on accommodation, food, and transport, Vietnam actually makes one of the best budget holiday destinations in Southeast Asia.
Preparations for Vietnam budget tour
Preparing for a budget tour of Vietnam is one of the most important planning aspects of the trip, and should cover all of the expenses for the journey, albeit with a little leeway for changes in rough costs once you arrive. If you are a little frugal, and can happily eat like a local, you can actually get by on less than 20 dollars a day, plus the cost of any attractions.
For Vietnam Visa
The first cost for the trip is the visa of Vietnam. The cost of the visa depends on where you come from, and can cost upwards of 80 US dollars for some citizens from first-world countries. However, you can reduce the cost of the visa by making an online application according to the rules of the Vietnam "E-Visa" website. Even the previously popular Visa on Arrival, which required you to apply for the visa beforehand and get it when you arrive pre-approved, is more expensive, costing upwards of 43 dollars each. Now, 40 countries around the world, including the US and UK, can get an E-Visa online for just 25 dollars that gives you a 30-day stay in the country.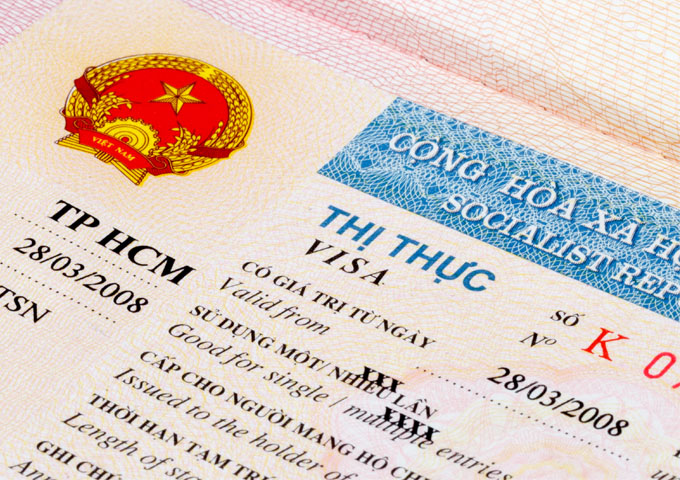 For Transportation
For transport costs to get to Vietnam, the best option is to book as far in advance of the trip as possible, and use the famed comparison websites to get the best deals. Signing up for updates on the flight costs as an RSS feed can give you the edge on getting the best deals, and flights to Vietnam can be found really cheap, compared with booking through a travel agency or direct with the airlines.
For Local Travel Options
Motorbikes are the preferred method of travel for most Vietnamese, and if you are careful, you can buy one for very little almost anywhere in the country. A quick Google search will also show you motorbikes for sale from people just finishing bike tours of the country, which can be bought even cheaper as he foreign traveler just needs to get rid of it.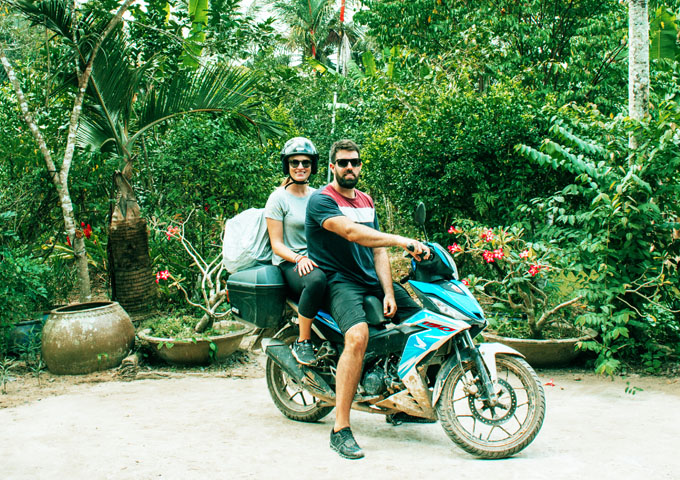 However, if you are not confident with riding a motorbike in the often chaotic traffic in Vietnam, buses are the ideal cheap way to get around. You can get flights between major cities for low prices, which is handy for long distance trips, or take the train for a little extra comfort, but for that happy medium, buses give you a little better experience as well as being reasonably priced. Even the locals use the air-conditioned buses between the major backpacker stops.
For Accommodation
Once the frontier for backpacker tours in Indochina, Vietnam has a whole host of cheap accommodation that you can find in every town in the country. Just about anywhere you travel to will normally have something to suit almost any budget. However, it is still best to plan the trip and book the hostels in advance, to save paying their "front-door" prices. Most of the cheapest beds come in large dorms, which are single sex only. The downside is that you may be bunking with people that stay up late if you are an early sleeper with a schedule. Bring some good earplugs for the better night's sleep.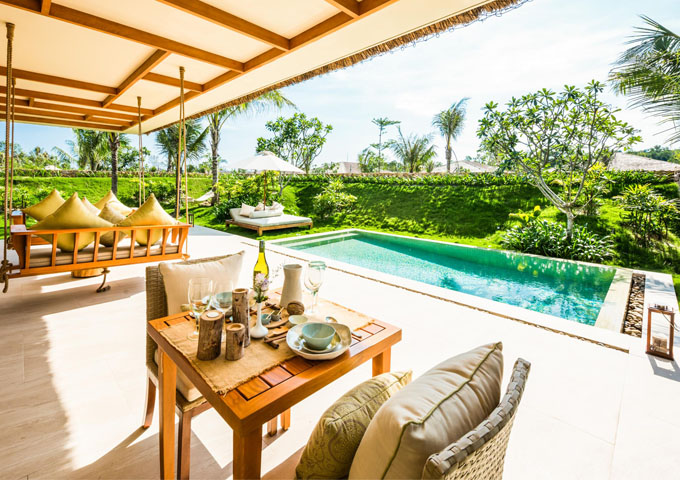 Hotels in Vietnam are still developing, and a good 3-star hotel can sometimes cost less than a hostel in other countries. If you find you need a little me time, an average hotel for a night won't break the bank.
For Travel Items
There are a lot of things you can bring with you on a budget trip to save money when you are in Vietnam, such as a pot, plate, and camping cutlery for cooking your own food. Old military mess tins are great for this as they can be used for both pot and plate, and can be bought cheap from your local surplus store. A small transistor radio is always useful for getting weather news on the go, and your phone can normally double as a camera to save weight on luggage.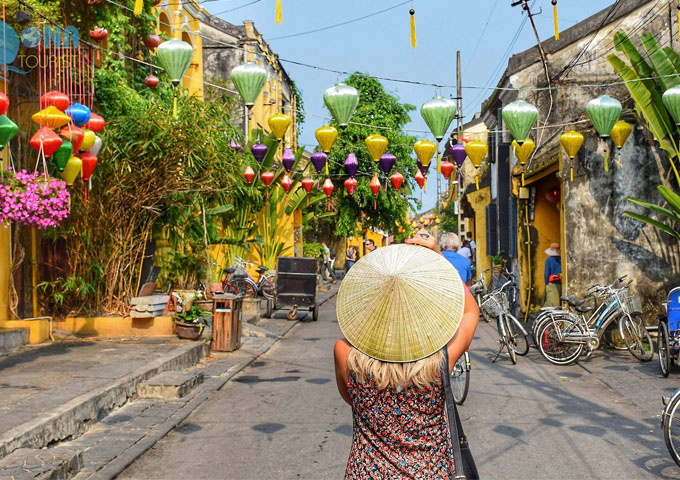 If you are touring the country on a motorbike, a nice hammock is ideal in rural areas. Outside the cities, you can usually find families that will let you sling your hammock for free for the night and save on the cost of a bed in a hostel. And if you buy a few sachets of washing powder you ca save on luggage weight by bringing less clothes and washing them often.
How to enjoy a budget tour in Vietnam?
When it comes to deciding what to do on a budget tour of Vietnam, you are probably not going to be cruising around the islands of Halong Bay. However, there are plenty of things to do and places to see that do not cost the earth.
One of the best and most cost-effective places to visit in Vietnam is the local museum or the historical sites. Most of the museums in Vietnam are cheap enough for even the locals to afford to visit, and there are even some historical sites that are free to get in. In Hue you have the Imperial City, in Hanoi the Temple of Literature, and in Saigon you can visit the War Remnants Museum all for just a dollar or two per person.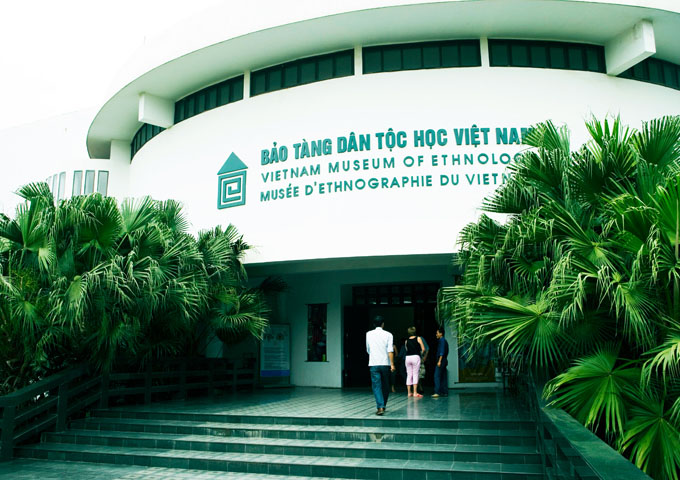 Backpacking is the cheapest way to get around Vietnam, and trekking is a free activity that can give you some of the best experiences in the country. Head out into the more remote areas and take one of the marked trails through local villages where life is so much simpler. The famous Sapa Trekking, which has become a huge tourist trap on concrete paths, can still be done without seeing a soul, if you choose the right tour option. Opt for the more ethical tour companies rather than the ones that make the villagers of the hill tribes look like they are in a zoo.
Even if you do not buy a motorcycle, renting one for the day is very cheap, and using it you can tour the areas around Sapa and Hoi An, which most people pay an extortionately expensive tour guide for. Stay clear of the taxis that offer guided tours, as many of these are scams and will break your budget badly.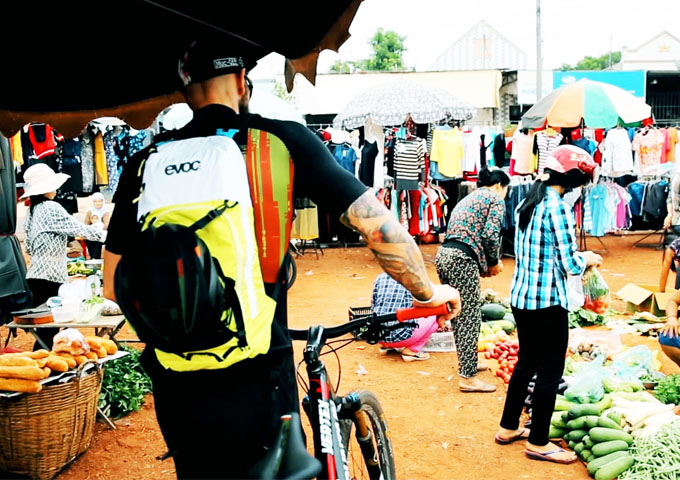 Hanoi and Ho Chi Minh City are both relatively easy cities to get around in by foot or by bus, so taking a hiking tour around Hanoi is one way to explore the city for less. In Saigon, you can take a relatively cheap open-top bus tour around the main sights of the city, but do not expect to get out at them. If you want to visit the major attractions for less, rent a bicycle and pedal yourself around.
Street Food in Vietnam is the cheapest way to eat, and you do not have to worry about eating exotic dishes that contain snake meat, dog meat (yes they do eat dogs in Vietnam, it is a delicacy!), Balut (a boiled duck embryo still in the eggshell), and grilled mouse meat. Most of the more normal street foods include steamed and fried dumplings, rice noodle soup, spring rolls, Vietnamese pizza, and the famous Banh Mi, sandwiches with a variety of fillings in a French baguette. Street food is cheap and usually filling, and can be eaten for all three meals, since the vendors often start with breakfast stalls.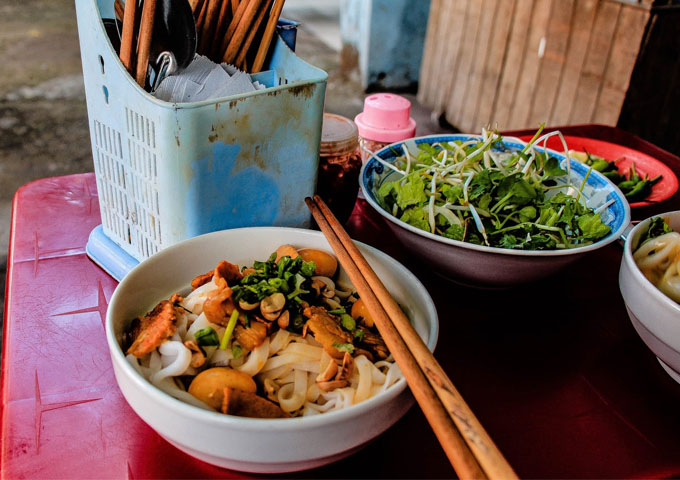 Vietnam's coast is filled with caves, and many of the lesser known ones are free, you just need to find your way to them. Asking locals will give you good advice and directions. However care should be taken when entering caves by yourself, so think carefully before going too far inside if you are alone. There are a huge number of tourist caves as well, which can often be entered for a low price or even a donation. Dau Go Cave is located on Driftwood Island in Halong Bay, and is renowned for its colorful beauty. Other caves, such as Thien Duong Cave (Paradise Cave) and Phong Nha Cave in the UNESCO World Heritage Site of Phong Nha-Ke Bang, are also good cheap places to visit, especially now the prices have been forced down by the government. Now, the entrance fees are back to their normal levels of between $3.80 and $5.60.
Check for more about how to plan cave tour in Vietnam.
Summary
Vietnam has not been on the list of popular tourist destinations for long, except for the backpacker list, so commercialized tourism is still a developing industry in the country. However, it is improving the tourism infrastructure, which will eventually force the cost of even the most basic vacation in Vietnam up drastically. For now, though, this amazing and unique country is still one of the best value destinations in Southeast Asia, and at the current rate of development, will be for many years to come. So if you have not yet had the pleasure of visiting Vietnam, there has never been a better time to do so than right now.