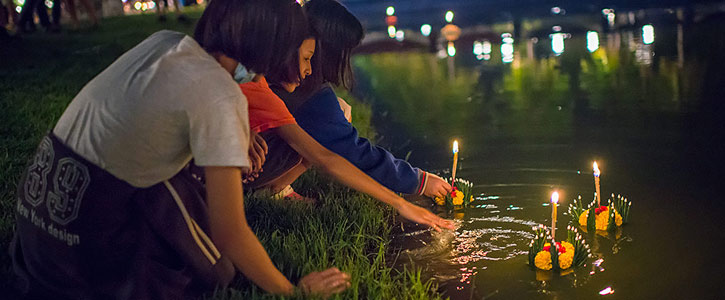 Visit Thailand in November – Join in the Loi Krathong Festival!
Posted on 5/11/2015 9:42:39
Loi Krathong Lantern Festival is one of the most picturesque festivals in Thailand, when thousands of people gather around lakes, rivers to pay respects to the goddess of water by releasing lotus shaped rafts with candles onto the water and paper lanterns into the night sky.
What is Loi Krathong Festival?
It is an annual festival that celebrated throughout southwestern Tai culture. The name "Loi Krathong" means to float a basket.
To mark the end of the rainy season, the Loi Krathong festival has been celebrated for centuries. In the past, the meaning of the festival is to worship Buddha and the goddess of the river. However, now it's an attraction for foreign and local tourists throughout the city each day and night during the festival. Especially in Chiang Mai, the festival has become a street party that lasts for days with various events and parades.
When is Loi Krathong?
This traditional Thai festivals takes place on the evening of the full moon of the 12th month in the Thai lunar calendar. In western calendar, it usually falls in November. In this year, the the Loi Krathong festival will be celebrated on 25 November, and on 15 November in 2016. If you plan to travel Thailand in November, don't miss the chance to experience the traditional festival!
How to Celebrate the Lantern Festival?
In the run-up to the festival, many local shops and market stalls will display ready-made Krathongs. The locals release airborne rice-paper lanterns into the night sky to symbolically ward off bad luck, and floating flower lanterns, which adorned with candles and joss sticks, into rivers to wish for good luck at the evening of the festival. And recently, many hotels in Bangkok also host a Loi Krathong event at their swimming pool area, where tourists can try their hands at Loi Krathong without fighting the way through crowds of people outside the hotel. You can contact your hotel for more information.

If you want to experience the way the locals do, head to Asiatique , the riverfront night market in Bangkok, where you can find the biggest crowds and some impressive shows.

出现错误,请联系管理员!