The Most Luxury Hotels and Resorts in Phuket Island of Thailand
Posted on 24/02/2018 5:54:12
The largest of Thailand's many islands, Phuket is renowned for its stunning beaches and abundant water sports. And whether you are looking for a relaxing holiday by the pool, an active beach-oriented adventure, or the famous Phuket nightlife, you can find it all within a short distance here. One of Thailand's most popular tourist destinations, the island has dozens of first-class resorts and hotels that offer luxury guest rooms, spectacular amenities, and impeccable service.
The jungle-covered hills that snake across the island gives the impression of a remote and primitive destination from the air, until you land at the modern airport and see the unique Sino-Portuguese architecture in Phuket town. In streets lined with artsy coffee shops and eccentric art galleries, you can find the most amazing textile stores that will make you a designer suit or dress within the day and some of Asia's top notch restaurants. Down hidden alleyways lie incense-shrouded Taoist shrines, where you can get away from the normal tourist crowds that descend on the island every summer.
Phuket town has become a hipsters paradise, attracting musicians and artists from around the globe. Ancient shophouses have been renovated to their original beauty and the recent gentrification of the town has led to the rise of polished cafes and quaint, old-style guesthouses, making it a refreshing break from the crowded beaches and noisy nightlife of the coast. And for those who are looking for a little more up-market places to spend their relaxing Phuket break, the island has more than its fair share of top of the range hotels and resorts.
Keemala Tree Pool Houses
Not designed for a family holiday, the Keemala Tree Pool villas are basically treehouses for adults. Hidden away in the jungle hillside resort, these stunning lantern-shaped villas show up well after dark with their atmospheric glow. Each set on its own stone plinth, the split-level villas have the living area on the "ground" floor while the single bedroom on the top floor. The bedrooms look out over the surrounding jungle scenery, while there is a lounge deck below, complete with a 25 square meter personal pool for that relaxing morning dip.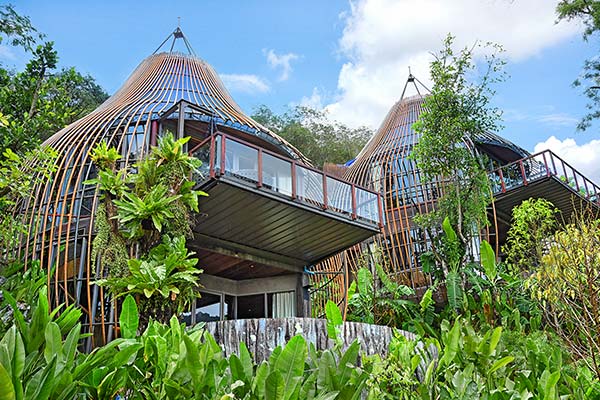 The resort overlooks the local Kamala Village, and has great views out over the Andaman Sea, and is far from the crowded areas of the island. The villas all include luxury bathrooms with a freestanding bath, and include outdoor rainfall shower. With activities including yoga programmes, beach trips, and Thai cookery classes, the villas hosts cater to just about every whim of their guests, and room service is brought to your villa by a team of bowtie-clad waiters.
Amanpuri Resort Villas
One of the top resorts in Phuket, the Amanpuri Resort contains a huge selection of 2, 4, and 8 bedroom villas that cater to your every need. Each individual villa on the resort grounds is secluded by coconut groves, jungle bushes, and palm trees, and comes with a private pool. Whether you choose an ocean villa or a garden villa, you will be guaranteed the holiday home of your dreams.
The ocean villas are all sea-facing, and live up to the hotels motto, which translates to "place of peace". With polished wood interiors and amazing views over the outdoor vegetation to the sea through the floor-to-ceiling windows, these spacious villas come with a luxurious lounge, media room, library, and fully fitted kitchen with your own private chef. Selected villas also include a gym, a massage room, and a steam room, as if Thailand is not hot enough already!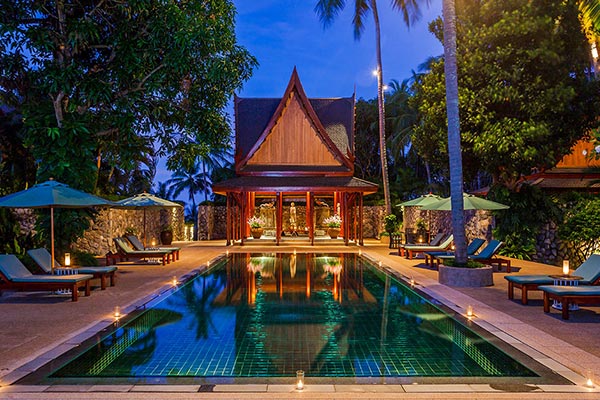 The garden villas are huge wooden examples of the ultimate in feng shui, with up to 2,000 square meters of sculpted gardens with your own private pavilion. An 18-meter swimming pool fronts the villas, with deck loungers and shades ready for your use, and stunning views over the surrounding jungle to the sea. Fringed by palm trees, all villas include en-suite sunken bathrooms for every bedroom, large living rooms, a live-in housekeeper, a Thai chef for your kitchen, and an outdoor barbecue area for those relaxing evenings.
Amanpuri also has five restaurants in the resort that serve a range of cuisines from around the world and spa pavilions set in a delightful coconut grove. A buggy service is available all the time to take you around to wherever you want to go inside the resort, or a private car service can take you anywhere else you wish to visit.
The resort is set above the beautiful Pansea Beach on the eastern side of the island, to the south of the Sirinat National Park, just 30 minutes from Phuket International Airport and 40 minutes from Phuket town.
Trisara
Understated glamour is the only way to describe the stunning resort of Trisara, set in a privately-owned bay on the island's undeveloped northwest coast. Every suite and villa has its own pool, a stunning ocean view, and is a sanctuary of refinement and taste. The name, Trisara, is Sanskrit for "Third Garden in Heaven", and this exclusive resort, with its first-class service, more than lives up to the name.
A favored spot for the international jet-setters, this Thai-styled boutique hotel is one of a kind. With 39 pool rooms, suites, and villas, as well as six 2-6 bedroom villas, the resort offers a spa that has been described as "drop-dead gorgeous", and offers private suites for spa treatments with their own sea views. The indulgent Royal Trisara massage is their signature six-handed treatment from three experienced professional massage therapists, and is the ultimate in pampering.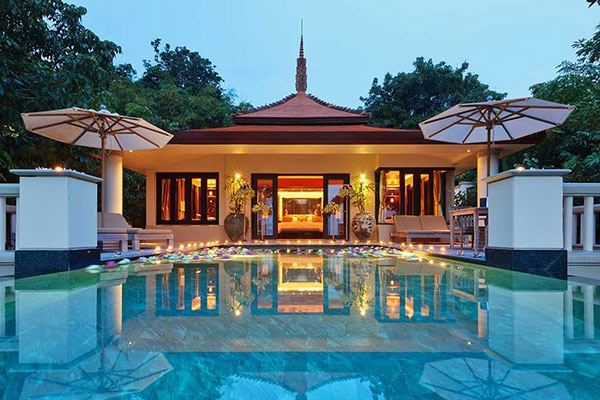 The championship-sized tennis courts have their own coaches so you can perfect that erring backhand, and you can hire the jet skis, kayaks, and diving gear or take out one of the resorts stunning yachts for that romantic valentines cruise around the local islands.
The villas are all surrounded on three sides by leafy gardens, and include divine bathrooms with huge baths, luxurious lounge areas, and the famous outdoor showers. Along the beachfront of the private bay lies a saltwater 45-meter lap pool, surrounded by sun loungers and day beds for outside relaxation. Trisara is also an eco-friendly resort that supports the local government's Keep Phuket Clean campaign, with regular beach cleaning. The air conditioning units in each villa heat the water, the saltwater pools are all chemical-free, and the water used in gardens and rooms is from rainwater catchments.
Como Point Yamu Hotel
Set on a small isthmus on the eastern coast of the island, the Como Point Yamu is the ultimate in Thai luxury, with an Italian twist. With Mediterranean-inspired styling by Paola Navone and its own La Sirena restaurant, this hotel resort is one place you will never forget. The hotel has 79 rooms, 50 of which are full suites, and there is the usual steam rooms and spa treatments, with Jacuzzis, a gym (with its own fleet of fitness instructors!), swimming pools, and two world-class restaurants.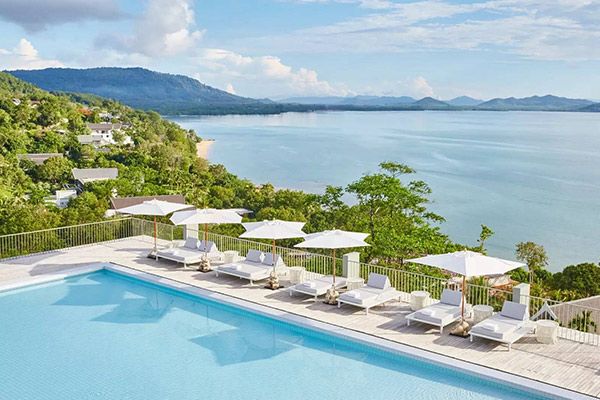 Many of the suites are known as Veranda Pool Suites, and have their own large veranda with a private lap pool and comfortable loungers, serene and stylish living rooms, and antique four-poster beds straight out of a medieval movie. The suites also include a kitchen and dining space suitable for four, with stunning views through the floor-to-ceiling windows.
Outside, the impressive infinity pool is fringed with sun loungers that overlook the beautiful Phang Nga Bay, and sits beside the famous La Sirena restaurant, where you can order lunch to be brought to you by local waiters, and you can get healthy and freshly squeezed fruit juice or your favorite glass of champers. The hotel does not have a private beach, instead it provides a shuttle service to an offshore deserted island where you can relax in the soft sand, surrounded by glistening tropical waters.
Sala Phuket Hotel
Sitting on the Mai Khao Beach, the Sala Phuket hotel is a small slice of heaven, where award-winning spa services are complemented by similarly award-winning wines, and whose glimmering pool is surrounded by lush green lawns that could have come off a golf course green. The romantic suites and villas come with their own bird-filled tropical gardens, and stunning secluded open-air bathrooms.
The hotel has managed to notch up some of the world's top award for its spas, service, and especially its wines, which are imported from around the globe. The private beach is clean and white, and looks out over the Andaman Sea to the west.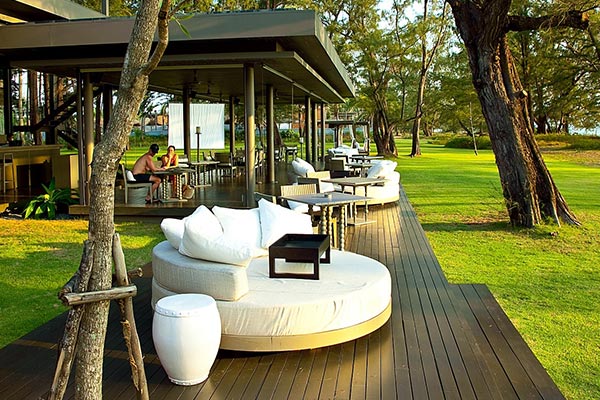 Sala's pool villas include the open-air bathroom with a huge, egg-shaped bathtub and a private pool large enough to do proper laps. You can relax in the private tropical garden, surrounded by a gamut of flora and bird life, and secluded from the other villas around you. Interiors are styled in white and wood, and include a huge king-sized bed, oversized day bed, and your own private spa room.
Outside the villas, the resort has three pools, one of which is designed for children (although the hotel is not really geared for family holidays), and the main pool is sunk into a luscious green lawn and set just a pebbles-throw from the white sand beach. Spa treatments at their award-winning spa facility includes a slat glow body scrub, white clay body wrap, and a local Thai herbal facial treatment that leaves the skin as soft as silk. And you can even get a trim and hair treatments to stave off that frizzy look.
The Sala leaves nothing to chance, and all rooms include hair dryers, straighteners, electric shavers (which you can keep), and other accessories. To ensure the best in service, the hotel sends a questionnaire to booked guests before arrival so all your needs can be accommodated.