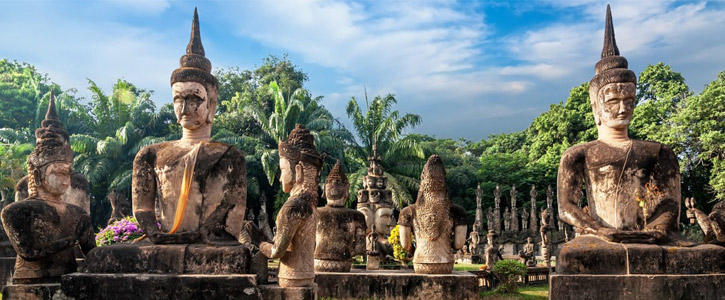 All-sided Thailand Travel Tips & Tour Advice
Posted on 5/09/2016 8:49:44
In recent years, Thailand has become one of the top attractions for tourists. But how to make Thailand tour more pleasant and comfortable is still a hard nut to crack. Here we offer the latest Thailand travel guide including the necessities for traveling, Thailand's royal taboo, social etiquette, religious taboo, tips, medical information, post office information, important telephone number and other useful travel tips.
1.Pay attention to the local customs, respect the Thai royal family members and respect the Buddhist rites. The Thai royal family is especially revered and respected. In front of the king's portrait, which can be seen everywhere, please keep proper etiquette; don't use your finger to point. At the same time pay attention to your words. In Thailand, never discuss the king and the royal family with people, because you may violate the law.
2.When you visit the temple, please pay attention to your dress. You cannot be too naked and don't wear condole belt or sleeveless dresses. Skirt or trousers need to cover your knee. You have to take off your shoes before entering the Buddha hall, but you don't have to take off your shoes while walking around the Buddhist temple. Can't step on the threshold or climb walls and pagoda. Some temples forbid people to take photos of Buddha, so it is necessary to pay attention to the sign. Each statue of Buddha is a sacred object, regardless of its size and integrity degree. Do not climb or trample the Buddha; don't put the small Buddha statue in pockets.
3. According to Thai law, smoking in public places is forbidden. If necessary, you need to find the Smoking Room, and please tell the hotel stuff that you need to live in the Smoking Room while booking the hotel room.
4. In Thailand, you should drive or cycle on the left. Don't drive in the middle of the road; don't park cars randomly. Wear a helmet while riding a motorcycle and follow the local traffic rules in order to avoid the accident.
5. Thailand is hot, but the temperature is very low if the air condition is on. Therefore, during the journey, please prepare thick coats.
6. Every day, at 8:00 and 18:00, many public places will play Thailand national anthem. Every Thai who hears the Thailand national anthem will halt and stop doing things in order to show respect.
The Necessities for Traveling
1. Clothes: What kind of clothes you need to prepare before traveling Thailand? It mainly depends on the season and your travel route. Shorts, sleeveless T-shirts and beach shoes are the most useful things. Thailand has a high requirement on the dress in some places, and do not dress up too casually, especially in some temples or senior hotels. Clothes which are loose, lightweight, breathable and fast-drying are the best choices for you in rainy season. Streets are easily submerged by the flood in the rainy season and the temples and some offices will request you to take off your shoes before you enter in. Therefore, slippers are very practical. And please take rain gear with you.
In cold season, if you are going to travel the north of Thailand, for example Mae Hong Son or Chiang Rai, you are recommended to take a long sleeve T-shirt or jacket. In fact, in the north of Thailand, at Doi Inthanon, which is at the altitude of 2565 meters (8415 feet), you can even see the snow. So be sure to check the weather forecast before traveling. You can buy warm clothes at the stores in Chiang Mai or Chiang Rai before starting your trip to mountains.
2. Documents: passport, visa, health certificate (It is no need for tourism visa).
3. Skin care products: it is recommended to use accusing oil, sunscreen cosmetics and hydrating skin care products.
4. Medicine: It is better to prepare some commonly-used cold medicine and fever medicine.
5. Daily provisions: Mainly refers to the toiletries.
Thailand's Royal Taboo
1.The Thai people respect their king, the queen and the royal family very much, so you'd better not criticize the royal family in front of others. Disrespecting the royal family is a crime according to Thai law. So, you have to be careful to your performance, such as in public activities where royal officials attend. It is better to pay attention to the behaviors of others and follow to do as the same.
2.As a visitor, when you hear the Thailand national anthem, you should stop doing things immediately and salute.
Social Etiquette
1.Thai people do not greet each other by handshaking, but by putting their palms together. It looks like praying. Thais call it "wai". Generally speaking, younger people firstly say hello to the older people.
2. Using tiptoe to point others is not a polite behavior. So, if you sit opposite to others, you should avoid it. Or, if you want to point something, you should use your hands but your feet.
3. Thai people think "head", no matter in its literal meaning or symbolic meaning, is the highest part of the body. As a result, it it not allowed to touch anyone's head, even if it is a friendly expression. Meanwhile, by observing Thia people at the Thai party, young people will deliberately put the head down in front of the elder people in order to show their respect to them.
4. In Thailand, to be angry is very bad, especially in public. Thai people believe it represents the despicable manner.
5. If the Thailand people call you by your first name instead of last name, such as: Mr. BuKe Or Ms. Mary, don't be surprised. Because that's how they call each other, generally use "Kun" (Mr, Mrs, ms) before your first name.
6.Thai women are conservative. Please don't touch them (the body)without their permission.
7.Thai people believe that man's right hand is clean but the left hand is unclean. The left hand can only be used to take some dirty things. As a result, you will be abandoned when you use your left hand to take important things. Left-handed people could not pay attention to this in daily life, but on formal occasions, using the left hand is forbidden. Thai people eat with their right hand, and give something to others also with right hand, which is a sign of respect. When you have to use the left hand, you should first say "left hand, please forgive me".
8. The soles of your feet is also considered not net. When you sit down, you should avoid putting your feet on the table. Thai people think foot is ignoble. It can only be used to walk. When Women sit down, they must put their legs together, otherwise they will be considered impolite, poor upbringing.
9. In public, don't hug, kiss or shake hands. It is not conform to local customs. In addition, nude sunbathing is only allowed on some beaches. In other places, the Thai people don't like this kind of behavior.
10. Thai people don't use red pen to signature, because after the Thai people died, people will write down the name in mouth of the coffin with red pen. Thai people love red and yellow. Brown is taboo. People use colors to represent different date: red for Sunday, yellow for Monday, pink for Tuesday, green for Wednesday, orange for Thursday, light blue for Friday, amaranth for Saturday. People often wear different colors of clothes according to the different dates. White was used for the funeral in the past, but now black is used for the funeral.
11. In some villages, it is avoided praising others' children beautiful.
12. Do not pick up krathong. In December, Loi Krathong Festival is held, which is one of the busiest holidays in Thailand. When you watch a krathong, it is important to note that no matter how delicate and beautiful the krathong is, you can't pick it up; otherwise you will be severely punished.
13. Avoid discussing these issues: politics, corruption and members of the royal family. People don't like to talk about personal issues, even they are friends.
14. If you offend others, you should smile and say "sorry" to apologize, with hands together.
15. Take off your shoes before entering Thai people's house. Don't step on the threshold. If the host is sitting on the floor, the guest should do the same. Don't make feet crossed; bend the legs under the body; don't show the soles.
16. When you give gifts to Thai people , you'd better choose a packaging food or candy, etc. And you have to hand your gift by your right hand. If Thais give you a gift, you should put your hands together to express thanks before accepting the gift. Unless you are requested to open the gift, don't open the gift face to face.
Religious Taboo
1. Thailand temple is recognized as a holy place by Thai people. Please dress dignified when enters the Buddhist temples. You will not be allowed to enter in if you wear short skirts, shorts or low-cut clothes.
2. Visitors should take off their shoes before entering the Buddha hall, otherwise, you will be seen as contaminate Buddhist temple. Visitors mustn't act thoughtlessly in front of temples, statues and Buddhist monk.
3. If women want to give something to monks, they have to ask a man to transfer it. If the woman wants to personally give away your gift, the monks will open a yellow robe or towel to receive the gift. In the process monks are not allowed to touch women.
4. Men are also not allowed to touch the body of female monks.
5. If you want to take photographs with monks, you should get their permission first.
Tips
Except those senior hotels and restaurants which will add 10% service charge into the bill, there are some other places that you may need to pay tips. This is not a must; of course, it is more like a kind of etiquette. In addition, when you tip, you can't give a coin, because coins are for beggars. Please note that you have to tip at least 20 baht once.
Restaurant: 15% of the meal price (You don't need to tip for fast food, buffet, or the bill that is included tips.)
Porter: general $1 / piece
Taxi: general 15% of the fare
Bar: $1 (if there is a need to give the bartender tip)
Visit: average $5 – $10 per day (pay the driver and tour guide)
Spa massage: usually 20% of the cost
Medical Information
Thailand is one of the most famous tourist destinations in Asia, even in the world. In medical tourism, Thailand can be the preferred destination in Asia for those who take care of own healthcare, because Thailand is one of the earliest countries in Asia to promote medical tourism service quality. Each year more than one hundred people from all over the world come to receive medical services in Thailand. Thailand has 956 public hospitals and 309 private hospitals. Of course, Visitors can prepare some medical supplies before traveling, such as fever medicine, carsick medicine, pills that help to digest food, mosquito repellent, band-aid and so on. Visitors may be infected with diseases such as dengue fever, which is spread through mosquitoes. As long as you take anti-mosquito measures, you will be ok.
Main Hospitals:
Bangkok Hospital
Address:2 Soi Soonvijai 7, New Petchaburi Rd., Bangkok, Thailand 10310
Telephone Number: +66-02-3103000
Website:https://www.bangkokhospital.com/
Phuket International Hospital
Address:44 Chalermprakiat Ror 9 Rd, Phuket 83000
Telephone Number: +66-76-249400
Website:https://www.phuketinternationalhospital.com/
Chiang Mai Ram Hospital
Address:8 Boonreungrit Road,A MUANG,Ching Mai
Telephone Number:+66-53-224880
Website:https://www.chiangmairam.com/
Pattaya International Hospital
Address:Soi 4 Pattaya 2nd Rd, Pattaya City
Telephone Number:+66-38-428374
Website:https://www.pih-inter.com/
Post Office Information
Thailand's postal service is efficient and reliable. The main towns in the country all have postal service. Its operating time is 8:00 – 16:30 from Monday to Friday and 9:00-13:00 on Sunday and Saturday. Bangkok Postal office, which is located in the New Road, is open at 8:00 and close at 18:00 from Monday to Friday. On Sunday and Saturday, it is open at 9:00 and close at 13:00. All the post office will be closed on legal holidays, but most hotels have the service for sending letter and parcels. In addition to providing general domestic and international letter service from land and air delivering, Thailand post office also provides cable service.
Main Post Office in Hot Spots:
Bangkok's Central Post Office
Address:123 Moo 5, U Thong Road
Opening Time: 8:30-16:30 (from Monday to Saturday), 9:00-12:00 (Sunday)
Chiengmai General Post Office
Address: Near Chiengmai Train Station
Telephone Number:+66-53-241070
Battaya Post Office
Address:13-1 Street, Battaya Second Road
Opening Time: 8:00-20:00 (from Monday to Friday),8:00-13:00 (on Saturday and Sunday)
Important Telephone Number
1.Emergency Call: 191; International Code for Thailand: 66
2. Tourism Authority of Thailand
Telephone Number:1672  Sevice Time: 08:00-20:00
3. Thailand Tourist Police
Telephone Number:1155  Service Time:24 hours
4. Emergency Center:1691
5. Medical Assistance:1669
6. Fire Telephoen:199