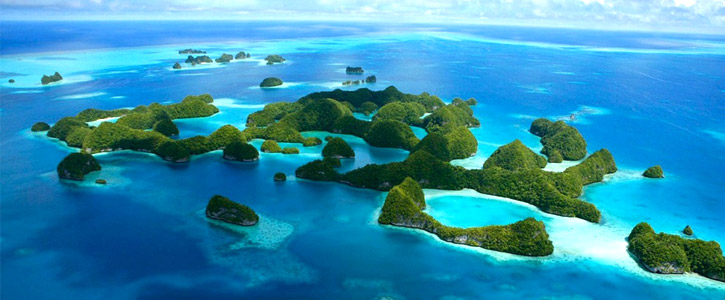 Top 10 Islands for Thailand Tour
Posted on 1/11/2016 2:42:58
Thailand, as a natural travel country, has mountains, water, romantic beaches, delicious food and unique culture. Today, I will take you to have a glimpse of Thailand's top 10 islands which are the most rewarding for your Thailand travel.
10. Koh Lipe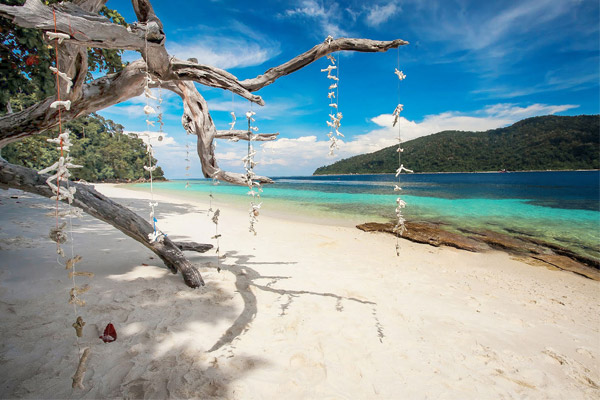 Koh Lipe is a new tourist attraction in Thailand. Because the original marine environment is preserved very well, it is called as the most beautiful island by Thai people; it is also named as Thailand's Maldives.
The long-tailed boat will take you to get in and out of all the beaches on the island. The cool bungalows make you feel a charming rustic atmosphere. Koh Lipe is very small and it is suitable for a 3-day tour and a 4-day tour. It is very joyful to walk on the beach at night, to drink some wine, to enjoy the sea breeze and to chat with someone on the beach.
9. Elephant Island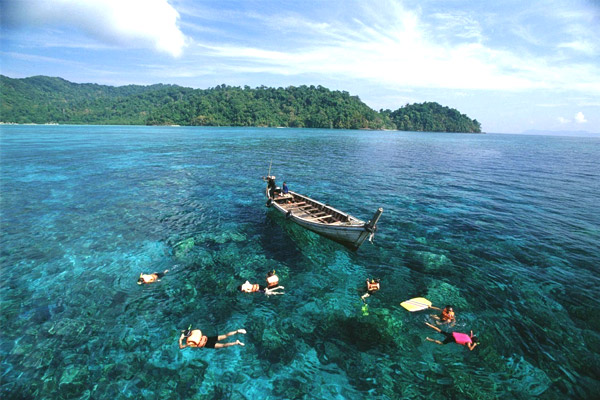 Elephant Island, a haven of peace, is the second largest island in Thailand. There is no direct plane to Elephant Island. Without excessive development, Elephant Island retains the original beauty. The entertainment and traffic in Elephant Island are also very great.
Travelers who come to Elephant Island will be pleased by the blue sky and water that only own to themselves. Elephant Island is surrounded by green mountains, which is quiet, pure and flawless. 70% of the areas on the island are tropical forests. It is full of the beauty of the natural ecology and it is a paradise for adventurers.
8. Krabi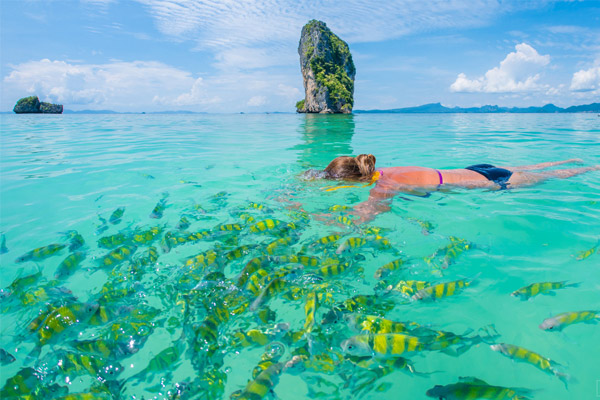 Krabi is a tropical peninsula which is like a paradise on earth. More than 30 islands are scattered around Krabi, which is like pearls dot the sea area of Krabi.
Compared to Phuket, Krabi looks smaller and quieter. Krabi is the most beautiful part along the Andaman Sea. You will depend on the plain, the warm and clean beach and the slow pace of live if you stay in Krabi for a long time.
7. Koh Samet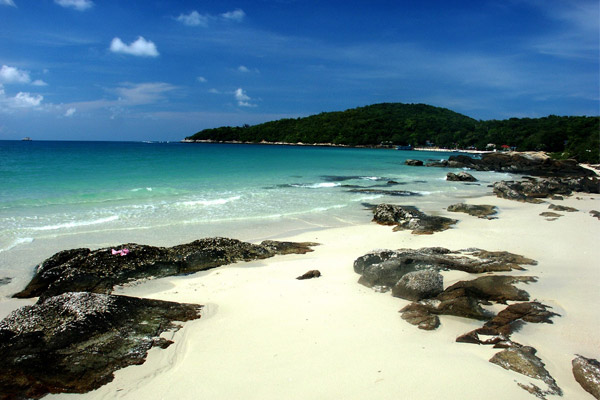 Koh Samet, located in a small island in the Gulf of Thailand, covers an area of about 5 square kilometers. Koh Samet, which was kept in purdah, is gradually known by people because of its blue water and white beaches.
Koh Samet is a national natural park. There are multiple natural beaches on the east coast of island. The west coast is famous for sunset. On Koh Samet, there are not only the beautiful tropical scenery and the first-rate sea swimming pool, but also the distinctive, cheap and fine tropical fruits and sea foods.
6. Koh Nang Yuan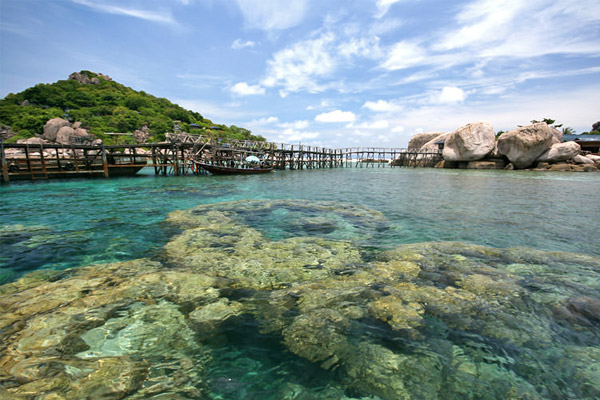 Koh Nang Yuan is divided into two islands – the south island and the north island. These two islands are connected by a long and slender beach which will be covered by the sea at high tide. It takes 15 minutes from Koh Samui and Koh Tao to Koh Nang Yuan. As a small island, the biggest landscape on Koh Nang Yuan is the Herringbone Beach.
Notice: It is strict to get on the island. Guests who do not plan to live on the island will be charged a fee. Cans and plastic products are not allowed. Koh Nang Yuan has the almost completely transparent sea. If you come here, you'd better live on the island for a night in order to enjoy the crystal sea!
5. Koh Tao Island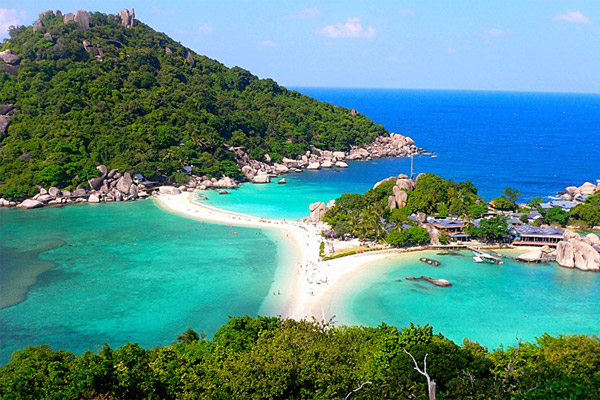 Due to the appearance of Koh Tao Island is like a turtle, Koh Tao Island is also called as "Turtle Island". It takes about 2 hours from Pha Ngan Island to Koh Tao Island by fast steamship. It takes about 4 hours if you go by general ship.
Koh Tao Island is abundant in coral reefs and sea creatures, with excellent diving environment. Here is one of the most famous diving resorts in Thailand.
4. Racha Island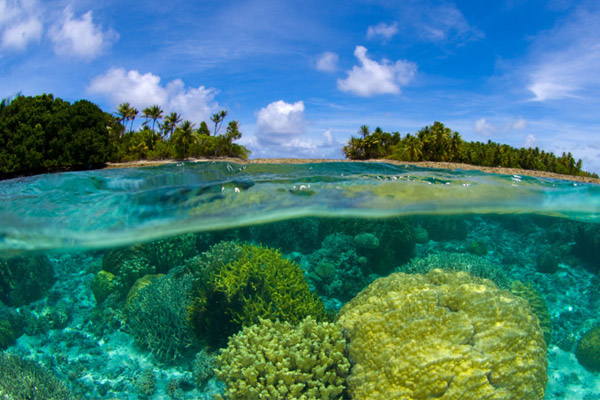 Racha Island, also known as King Island, has not only the beautiful and complete natural tropical island scenery, but also the impressive coastline scenery of coral reefs. Here, you can meet all your fantasies about the sea.
The sand here is very fine; the sea is very blue; the wind is very light. All the things here will make you enchanted in the world of the blue sky and the beautiful sea. Especially, when tourists of one-day tour leave the island after three o 'clock in the afternoon, the beach will quiet down. It is very comfortable and enjoyable to stay here for one night.
3. Phi Phi Island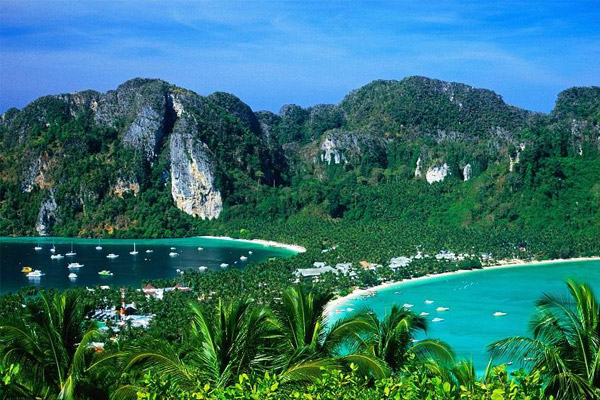 Phi Phi Island is a place spoiled by sunshine. The soft and white beach, tranquil and blue water, extraordinary natural caves and unpolluted natural scenery make it become one of the hottest resorts in recent years.
People who prefer quiet will like Phi Phi Island. Spending a few days here, you can feel the best things in life. You need to live leisurely on Phi Phi Island.
2. Koh Samui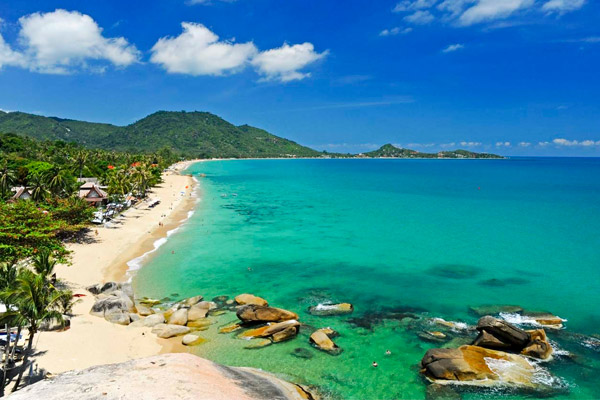 Koh Samui is quiet and beautiful. Located in the Gulf of Thailand, Koh Samui is the third largest island in Thailand. The clean, narrow and long White Beach of Koh Samui is a famous honeymoon destination in the world.
Koh Samui is an emerging island after Phuket. There are private beaches and proper tourism resources on the island. Here, you can not only enjoy the sweet and romantic natural beauty, but also experience a colorful nightlife. Besides diving, you can also enjoy the authentic Thai SPA. Finally, don't forget to taste those sweet and fresh fruits, such as coconuts, rambutans and so on.
1. Phuket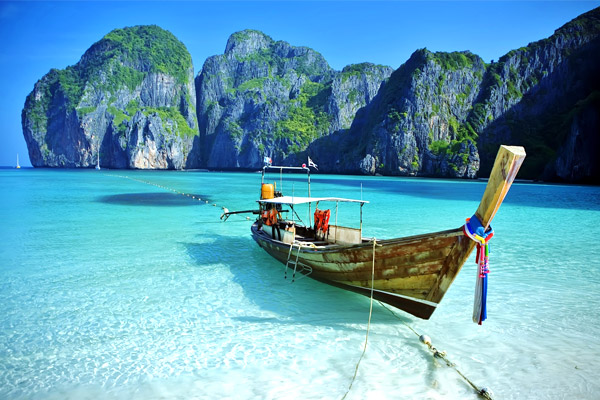 Phuket is a place called as "the darling of the god". I believe that most people will choose Phuket as the destination for their first island travel. Phuket is the largest island in Thailand and is the smallest province in Thailand.
In Phuket, there are numerous recreational activities. You can play golf in five golf courses, ride an elephant in the primitive forest and rent a motorbike to enjoy the scenery along the beautiful coastline. There are also a great variety of water sports: swimming, riding a speedboat, skydiving, canoeing, sailing, etc.