Top Highlights of a Thailand Tour
Posted on 26/09/2018 6:45:59
Officially the Kingdom of Thailand and formerly known as Siam, Thailand is a country at the center of the Southeast Asian Indochinese peninsula composed of 76 provinces. Thailand is bordered to the north by Myanmar and Laos, to the east by Laos and Cambodia, to the south by the Gulf of Thailand and Malaysia, and to the west by the Andaman Sea and the southern extremity of Myanmar. Its maritime boundaries include Vietnam in the Gulf of Thailand to the southeast, and Indonesia and India on the Andaman Sea to the southwest. The capital and largest city is Bangkok, a special administrative area.
Thailand is always a popular tourism destination among all the Southeast Asia countries. According to the World Tourism Organization, Thailand has been the most visited country in Southeast Asia since 2013. Thailand's attractions include diving, sandy beaches, hundreds of tropical islands, archaeological sites, palaces, Buddhist temples and several World Heritage sites. Asian tourists visit Thailand for Bangkok and the historical, natural, and cultural sights in its vicinity. Western tourists not only visit Bangkok and surroundings, but in addition many travel to the southern beaches and islands.
If you are planning to travel in Thailand, please follow us and get more information about the highlights of a Thailand tour.
Traveling around and Experience Local Life in Bangkok City
As the capital city of Thailand, Bangkok has a list of big attractions——such as the Grand Palace and the reclining golden Buddha at Wat Pho that most people want to make time for. Even if your plans for Thailand mainly involve frolicking on a beach or cozying up to elephants, you'll probably spend at least a day or two in Bangkok. This is the number one sightseeing attraction in the city, and it's staggering in historical significance and craftsmanship.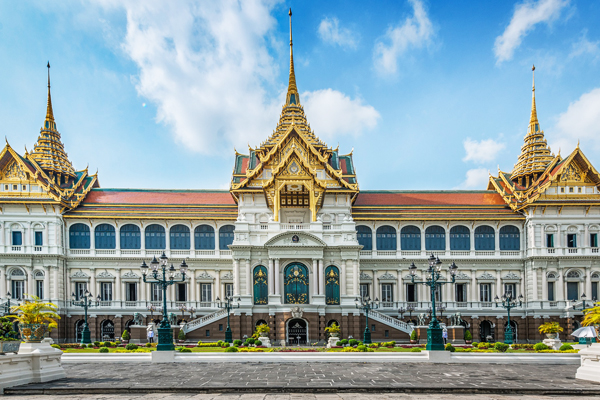 The grounds are a maze of royal halls, temples, and ancient relics, the most important being Wat Phra Kaeo, Temple of the Emerald Buddha. A relic within this temple is said to be a piece of bone or hair from the enlightened Buddha himself. Allow several hours to do the Grand Palace justice, but if you're up for more walking afterward, you can easily take in some of the city's other major landmarks. The famous Wat Po, Wat Arun and the Temple of the Dawn, are also nearby. And as Bangkok is a main hub for international travel, it's a great starting point for excursions throughout the country.
Travelling from sight to sight in an air-conditioned vehicle is the commonest way for you to get around. However, you will also developed a different style of tour that shows Bangkok's highlights in an alternative light, by travelling around as the locals do. You can take a water taxi, jump on a tuk-tuk and use the BTS Sky Train to explore while gaining a knowledge of how the locals get around.One of the special parts of the tour for you will be the way you arrive at Jim Thompson House—–an old wooden colonial-style building, displays the vast collections of Southeast Asian art he amassed.
Check for our most popular 3-day Bangkok highlights tour.
Get Close to Nature and Taste Cuisine in Chiang Mai
Chiang Mai presents an alluring alternative to the Thai capital, Bangkok, with long, leafy boulevards. Instead of traffic-choked urban sprawl, travelers find a picturesque downtown easily navigated on foot, where the air is clean and the climate mercifully cool. A short bike or scooter ride out of the town leads to a densely rainforested countryside interspersed with waterfalls. Since the local airport received an upgrade in 2014, more regional flights have been heading to this serene city, making it cheaper and easier to reach. The old town, inside its moat, is an extraordinary vision. Here amid the 30-odd temple spires, barefoot monks in flame-colored robes collect alms in the morning and street vendors sell their wares by night.
You can choose to watch Elephants at a Sanctuary. Elephants are revered in Thailand, and statues and paintings of them can be seen everywhere you go. There are many tour groups and elephant camps throughout the country allowing you to spend a day or more with the creatures, trekking through the jungle, bathing them, and even getting to help out with their morning feedings.Selfie-snapping tourists have come under fire in recent years for posting pictures of themselves cuddling tiger cubs or riding elephants. But there are still plenty of ways to get up close and personal with nature ethically. Elephant Nature Park, some 40 miles from Chiang Mai, has been rescuing and rehabilitating pachyderms since the 1990s. You can spend the day feeding, swimming with and walking alongside the contented herd in their 200-acre habitat. And if you have a little extra time and cash, consider a week-long homestay in a Karen village helping with reforestation, animal vaccinations and farming.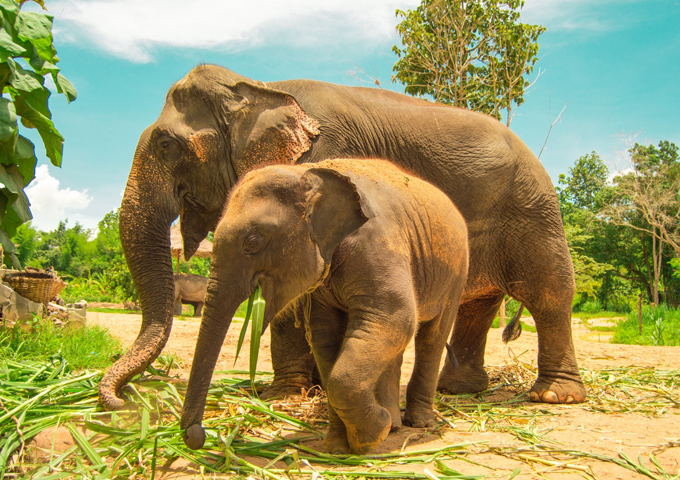 Every Thailand visitor looks forward to cheap and delicious food, a great way to experience different types of food and drinks is on a street food walking tour in Bangkok. And it can be found in abundance at Chiang Mai's Sunday Night Walking Street. Vendors sell all kinds of treats: Pad Thai, chicken satay, Samosas, crab cakes, fried bananas, sweet rotees, and fresh fruit shakes. Traditionally, most of the vendors selling street food in Chiang Mai don't come out until the evenings, but there are still plenty of daytime options. Whether you fancy Thai noodles, soup, salad, stir-fry, vegetables, seafood, duck, chicken, pork or beef, Chiang Mai street food has it covered for the average price of 45 baht a meal. It doesn't matter where you're based in the city, you won't be far from some of the best street food in Chiang Mai.
Check for our most popular 3-day Chiang Mai highlights tour.
Visit Historical Attractions and Have Thai Dishes in Chiang Rai
Situated in the region bordering Myanmar and Laos—Golden Triangle, Chiang Rai was once a hub for the opium trade. Today, however, it's famous for more benign attractions like the Black Temple and eye-popping White Temple yet it still doesn't see the same influx of tourists that Chiang Mai does. Just a 3-hour bus ride from its larger, more popular sister city Chiang Mai, this laid-back destination is a convenient base for touring the surrounding countryside like Mae Salong.
You will be lured to Chiang Rai by the spectacular Wat Rong Khun, commonly known to foreigners as the White Temple, a famous Buddhist temple designed by artist Chaloemchai Kositpipat. Carved with painstaking detail, the pure white, ornate facade and path leading to the entrance are deeply symbolic of desire, greed, suffering and the heavenly. It's a religious complex unique even in Thailand. And just 30 minutes from the White Temple is its darker, twisted sibling Baan Dam Museum, commonly known as Black House or the Black Temple — except it's not a religious attraction at all. Then you can step inside Whoa. In contrast to their elegant exterior, the structures contain not just impressive, intricately carved woodwork, but bizarre and eerie exhibits of animal remains: meticulously displayed skulls and bones, black thrones made of antlers, an entire elephant skeleton and skins hanging from wood beams.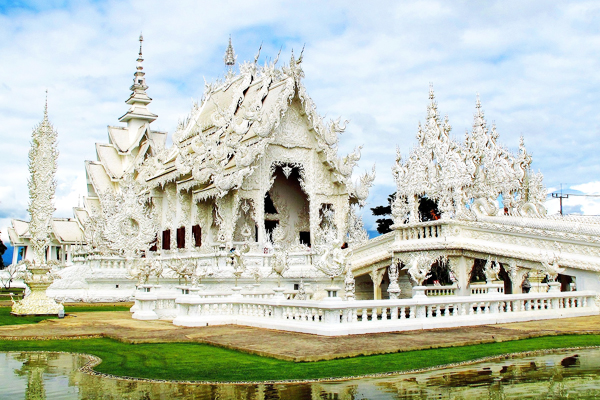 Speaking of food, Chiang Rai is where we found the perfect bowl of khao Soi, arguably northern Thailand's greatest yet underrated culinary contribution to the world. You will have many servings of it during your trip in Chiang Mai; it may become one of your favorite Thai dishes. You won't find it as easily on menus in Bangkok so it would be wise to fill up while in the north where it's a specialty. Believed to be Burmese-inspired, khao Soi consists of soft egg noodles and a slowly simmered chicken drumstick in a mild, creamy, coconut curry broth. Khao Soi is typically accompanied by a side of chopped red onions, pickled cabbage and a slice of lime.
Check for our most popular 6-day Golden Triangle Discovery Tour including Chiang Rai.
Relax at Beautiful Beaches in Thailand
It goes without saying that Thailand has some of the most beautiful beaches in the world. The country is one of the most popular places to visit in Southeast Asia, largely because the climate is ideal. There are certain things that characterize a Thai beach experience—clear waters, white sand, and the iconic longtail boats that dot the shore. No matter where you go, you'll find vendors peddling food, drink, souvenirs, or massages. From romantic spots known for their sunsets to incredible adventure destinations where you can zipline between islands and amazing resort beaches, our list has it all.
We will recommend several beaches for your reference, you can visit any of them according to your schedule. Krabi is golden hour on Phra Nang beach, near the tip of Thailand's Railay peninsula in Krabi province. This pristine beach in Krabi, one of Thailand's most beautiful areas, is surrounded by limestone cliffs and is absolutely stunning. It's only accessible by boat ride, but once you get there, it almost feels like a private island—complete with plenty of hidden coves. This is also the ideal beach for the active, with rock climbing, snorkeling, kayaking, and more. The setting sun has left the monstrous limestone karst formations that tower overhead ablaze with color, bringing out the yellow and red hues of the ancient rocks against a purple-tinted sky.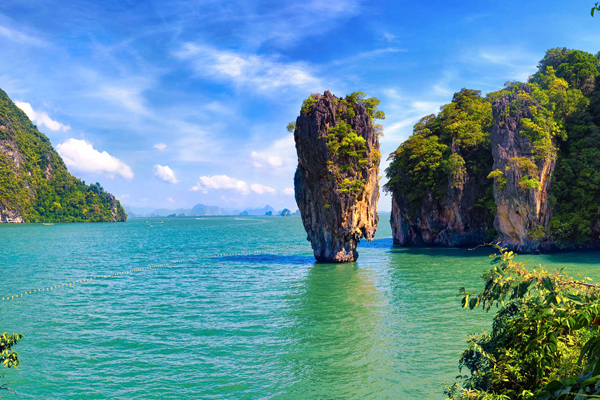 As the largest island in Thailand, Phuket is a popular beach destination in the Andaman Sea. As the most popular holiday destination in Thailand, Phuket offers a great choice of things to see, things to do, excellent restaurants, exciting nightspots, and good shopping opportunities. There are plenty of really memorable things to do in Phuket. The island itself has a beautiful historical old town, great viewpoints and iconic cultural attractions. It is also a good base for exploring the nearby islands and must-see attractions. These include world-famous places like Phang Nga Bay and the Phi Phi Islands. You can also enjoy nightlife at Bangla Road in Phuket—-the biggest collection of nightclubs, bars, shows and general nocturnal fun in Phuket, it is pretty much an all-out assault on the senses.
Check for our most popular 10-day Thailand tour with beach relaxing.
Check for all popular Thailand tour from 3 days to 17 days.