Top Local Snacks You Should Never Miss for a Vietnam Tour
Posted on 29/11/2017 8:38:03
All over Asia, in almost every major city, you can find those inimitable delights that have become known the world over as "street foods". From Siomai in China, to Gioza in Japan, and Balut in the Philippines, Asia is well known for its street foods.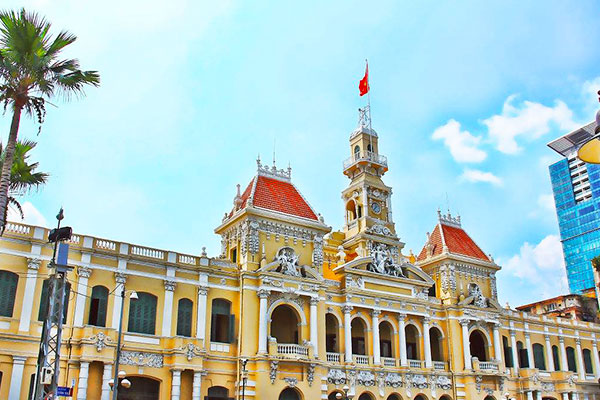 One of the best cities in the world for street food, however, is Ho Chi Minh City, in Vietnam. There is a specialty dish on every stall, and no experience speaks to you of "Saigon" like a tour of the many street food stands in the city. And it is not only in Ho Chi Minh City that you can find great snacks as you travel. Street foods of different and similar varieties can be found all over the country, from big cities to small villages.
In Vietnam, street food is more than just a snack while you travel; it is almost a way of life. For Vietnamese people, food is life; they are forever eating, cooking, and talking about food. Food is communication – food is culture.
Top Snacks in Vietnam
Banh Beo
Found mainly in central Vietnam, banh beo are small round discs made of fried rice flour that are formed to look like the lily pads that are found in the ancient estates that surround the old imperial city of Hue. The come topped with pork rinds and toasted shrimp powder, and are traditionally served with fish sauce. One serving normally contains 8-10 pieces.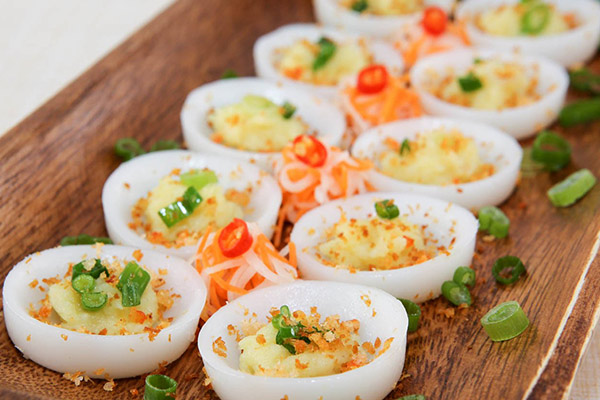 Banh Da Xuc Hen
Banh da xuc hen is a delicious snack made from crisped rice paper covering a dish of small clams fried in lemongrass, coriander, chili, onions, and garlic. The dish is simple, but the taste is complex, and is profoundly different to any other street food in Vietnam. The dish also comes in a heavier version known as banh da com hen, which includes rice and clam broth for those who are especially hungry.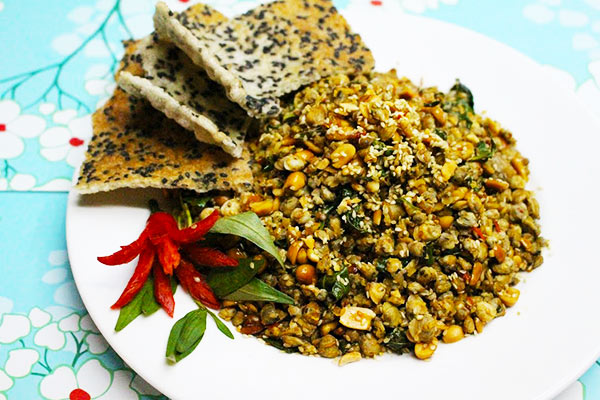 Banh Canh Cua
In Vietnam, banh canh are the thick noodles, similar to udon, that are made with either tapioca flour, rice flour, ar a combination of the two. The cua part is the crab, and the end result forms a delicious, if thick, crab soup with very thick noodles. The soup is thickened with tapioca flour, and topped with chili, green onions, and fresh lime to make it a tasty bowl for those who like to be adventurous.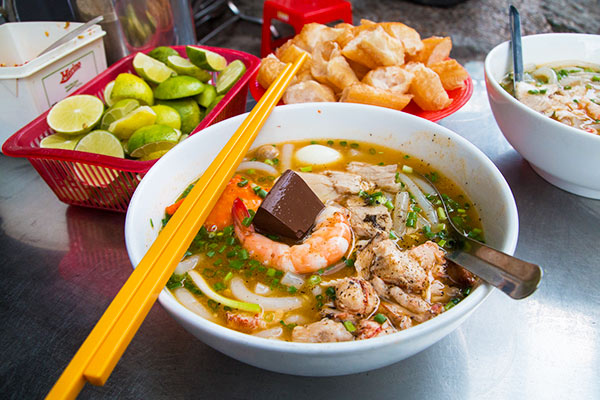 Banh Khot
Banh khot are miniature rice cakes that are fried and served with fresh mustard leaves and a few select herbs, then dipped in sweetened fish sauce. To eat them is very simple: you take a single banh khot and place it on either lettuce or mustard leaves, add some herbs and either pickled carrot or pickled radish slices and roll it up. Dip it in a little of the sweetened fish sauce, and enjoy. It may not be the neatest snack to eat, but it more than makes up for it in taste.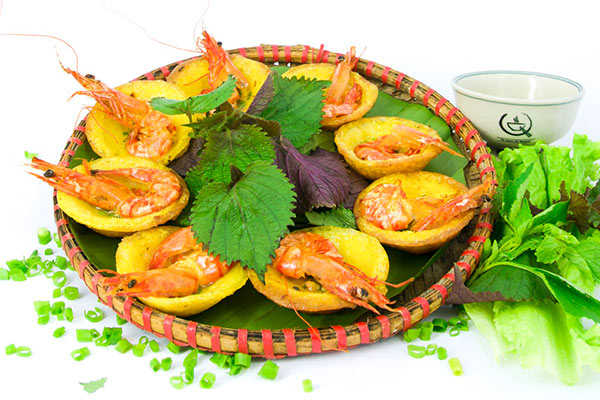 Banh Xeo
The bigger sibling to the banh khot, banh xeo are sizzling rice crepes that are eaten in much the same way, except the lettuce, mustard leaves, pickles, and herbs are laid out on the crepe, a few shrimps are added to the mix, and then it is rolled up and dipped in the sweet fish sauce to eat.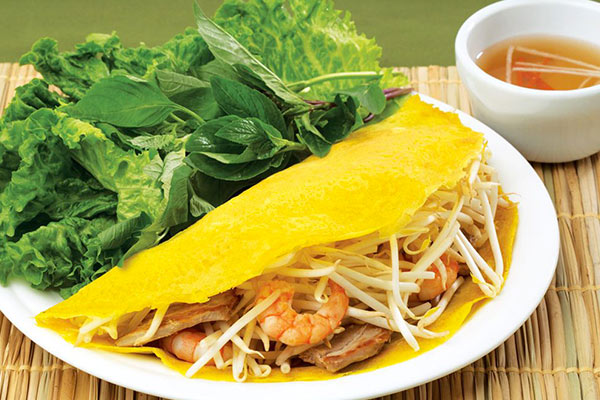 Bun Bo Hue
A wonderfully tasty soup that comes from hue, bun bo hue is a broth made with lemongrass and chili, with citrus juices and huge chunks of meat. It is made into the fiery orange color using annatto or paprika, and a little fermented shrimp paste helps to add another layer to its complicated taste.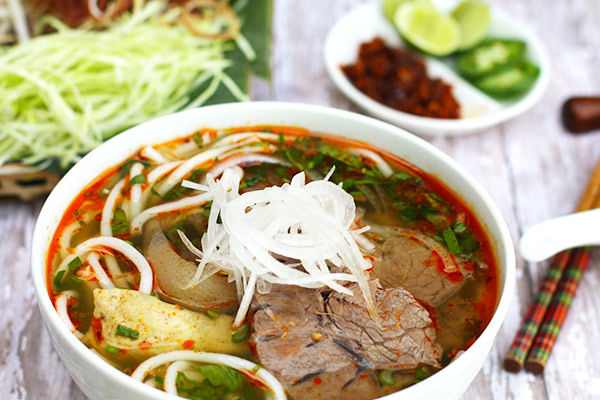 Bun Cha Ha Noi
From the north of the country in Hanoi comes a breakfast dish that has become popular as a snack food. Bun cha is a dish that is mode from seasoned pork patties and thin slices of pork belly or bacon that are grilled until crispy, served in a bowl with sweetened fish sauce, and decorated with slices of papaya, carrot, and garlic. A bowl of rice noodles is added on the side, and you can choose from additional herbs like mint or perilla to add to it. Everything goes into the serving bowl in small amounts, and is eaten together in several servings each.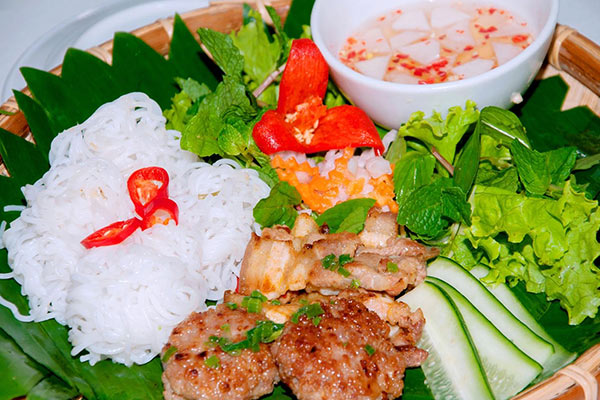 Thit Nuong
Thit nuong are skewers of marinated pork that are cooked over an open fire, sometimes using wood instead of charcoal to add to the flavor. Cut from the shoulder of the pig, the pork is marinated for several hours in a mixture of honey, mustard, and sesame seeds. They are often sold in tandem with holo nuong, the sweet pork sausage balls that also come cooked over the flames on skewers.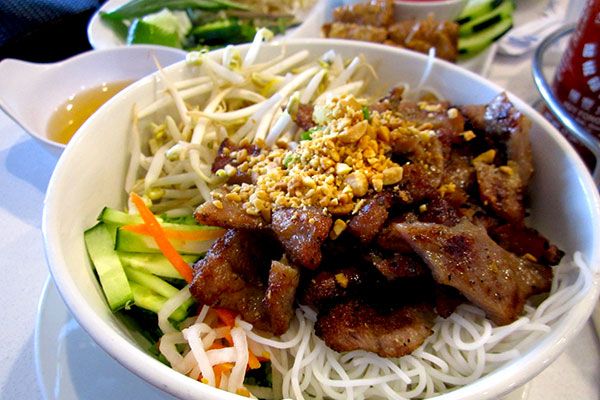 Cha Gio
All over Asia you find spring rolls of one kind or another, and in Vietnam they are the cha gio. Made from rice paper rolled around crispy pork and taro, then fried in a wok. The result is a crispy spring roll filled with delicious meat instead of the more usual bean sprouts, and they are delicious dipped in sweet chili sauce or chili rice vinegar.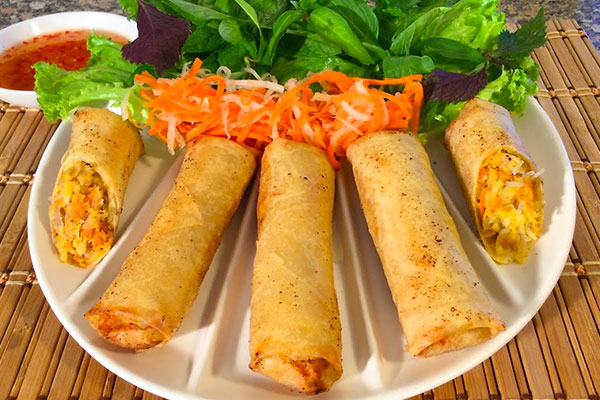 Com Suon
A popular dish in the cities for lunch, or even dinner, this grilled pork chop meal with rice is a cheap and filling dish. It comes with side dishes of green onions fried in pork fat, crispy fried pork rind, pickled vegetables, and a small bowl of light broth to wash it down. Add a fried egg on your pork chop and you get com suon op la, which can keep you well fueled until dinner.
Com Tam
Literally meaning "broken rice", com tam started out as a cut-price dish, since the rice used did not meet export standards, so it was available at a lower price. Now a street food staple all over Vietnam, it can be found on almost every street corner. Normally served with a wide variety of braised, boiled, or sewed dishes that are meant to be eaten with the rice, many places will also give you a free banana as a small dessert.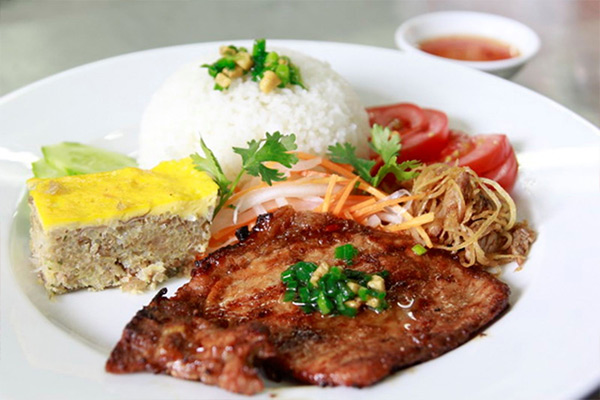 One of the favorite dishes with com tam in southern Vietnam is ca kho to, a dish made with braised catfish. For those who do not like catfish, which has a very rich meat, fried chicken, pork belly with braised eggs, or fish cooked in a pineapple and vegetable soup is normally available.
Cuon Diep
Looking like some weird, long type of sushi, cuon diep are a simple but surprisingly filling treat that consists of vermicelli noodles, chopped mushrooms, and fried tofu wrapped in mustard leaves. They are normally served with a sweet peanut sauce, and can satisfy the healthy side of your street food desires.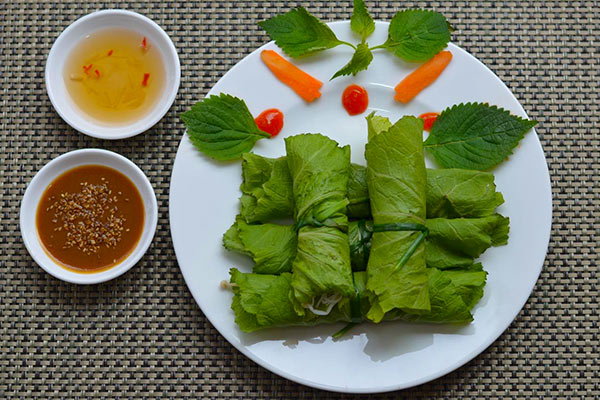 Pho Bo and Pho Ga
One of the most popular Vietnamese dishes that is found all over the country, and can even be found in some western cities, is pho. Pho is Vietnamese for "soup", and there are literally hundreds of different pho dishes with either beef or chicken, although they all have the same names. Pho ba is the beef soup that originates from Hanoi, which is normally a savory dish with an aftertaste of cinnamon, star anise, and roasted ginger. The main thing that confuses some people with pho ba is that it can come with either cooked or raw meat. Made from vermicelli noodles, herbs, chili, green onions, and beef (raw or cooked to your preference), it is a deliciously thick soup that makes a satisfying meal.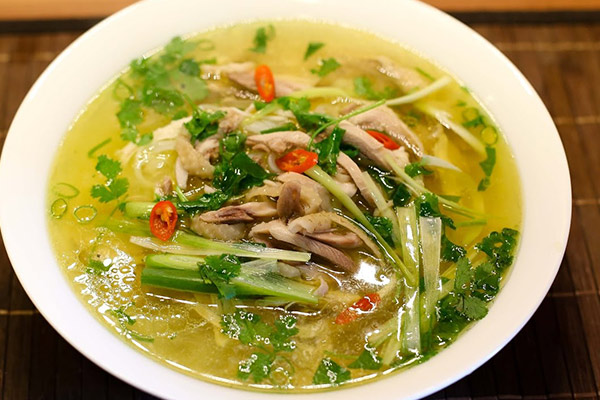 For those who are not into beef, the pho comes also with chicken, and is known as pho ga (ga means chicken) The ga version is made with rice noodles instead of vermicelli, which makes it perfect for people with stomach problems as the noodles do not affect the digestion. The broth uses thinly sliced chicken breast, and can come with an option of mien (mung bean noodles) instead of the chicken. Both soups come with that signature Vietnamese spicy sauce, pickled garlic, and a basket of herbs to top it.
Cut Chien Bo
Look on many street corners and you will see a man with a rotisserie over open flames, something that is hard to miss. What you might miss is the small birds that are slowly being roasted over the flames. Quail is a delicious dish that is very popular in Vietnam as street food, since they are small and bite-sized, and are eaten whole, head as well. Roasted over the flames, they are brushed regularly with a butter that contains dried herbs and spices to the vendor's own secret mix to add a unique flavor to these small birds. For those who want a little extra, he will fry the roasted quail in sweetened butter and slap it into a baguette with pickles, hot mint, and cucumber.
Desserts
Vietnamese street foods do not only come in savory dishes and meals. Desserts are also on the street menu, with dishes such as banh cam, the sweet orange sesame coated balls that are a little like fried donuts, and the delicious banh tet, sticky rice cakes that are filled with mung bean paste, wrapped in banana leaves, and steamed. you also have the modern version of Vietnamese desserts, with the ban kep la dua, or coconut pandan waffles, and the che suong sa hat luu, which is known in English as the "rainbow" dessert, and looks a little like an ice-cream sundae.