What are the Top Gifts I can Buy from a Vietnam Tour?
Posted on 16/10/2017 6:28:59
Vietnam is a country full of breathtaking natural beauty and a unique heritage. Amazingly exotic and utterly compelling to anyone who visits the country, Vietnam is a place where travel can quickly become an addiction. For a country that was racked with war only forty years ago, it has now become a fast-developing nation with self confidence that can be seen in its booming metropolises, as well as its ancient history. It has been the background to countless war movies, but nothing on earth can prepare you for the epic beauty of this Asian country.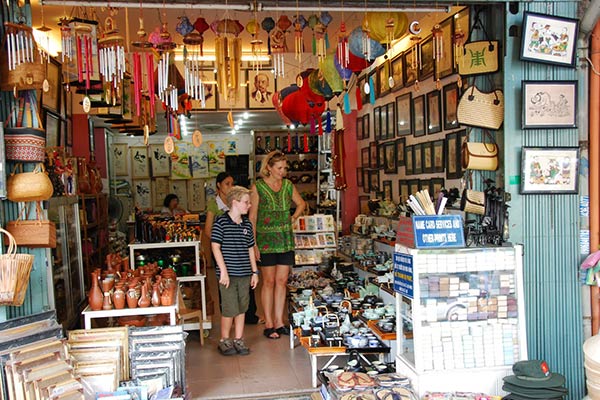 Vietnam has a lot to offer travelers, and not just the delicious food. From the amazing natural beauty of Sam Mountain to the architectural artistry of the sacred temples and pagodas, the beauty of the natural and man-made attractions is astounding. After a long, dark history of colonialism, communism, war, and poverty, the effects of which can still be seen, Vietnam has become one of Asia's most interesting and visually pleasing places to visit.
For everyone planning a vacation, in the back of their mind is the thought of "What am I going to get as souvenirs?" And that thought stays with them throughout their trip, always on the lookout for the ideal gift to pick up for the folks back home, or as a memento of their visit. In Vietnam, there are hundreds of beautiful handicrafts and traditional items that would work great as gifts for loved ones, or even as a new home décor. And from all of those many gift possibilities, there are some that stand out more than others.
Great Gift Ideas
Conical/Straw Hats
The Non La is a circular, conical hat made from bamboo cataphylls that is a perfect souvenir from Vietnam. Today, the hat is often seen as a cultural symbol, in a country where style varies from region to region. Worn all year round by locals, it protects them from rain and provides protection from the heat of the sun.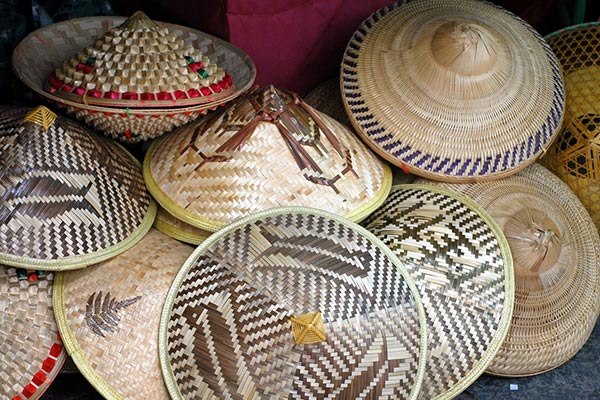 Ao Dai – Vietnamese Traditional Dress
Worn by traditional Vietnamese women, the Ao Dai is a long dress that has been the national costume of the country since the eighteenth century. The dress comes in three very different and distinct styles, and it can be handmade especially for you at any one of Vietnam's thousands of specialized Ao Dai tailors.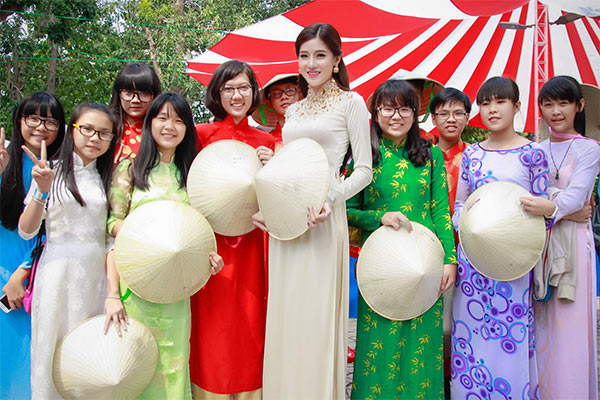 Silk Fabrics
For any fan of silk fabrics, Vietnam is going to be your own personal heaven. Silk is one of the major products of the country, and you can buy scarves, silk paintings, suits, or shirts of the finest quality available. In the rural locations, you can easily find silk fabrics covered in beautiful patterns and designs, in a host of different colors and sizes. All traditional fabrics are handmade on traditional looms, and the best silk cloth can be found in Hoi An and Van Phuc, silk villages near Hanoi.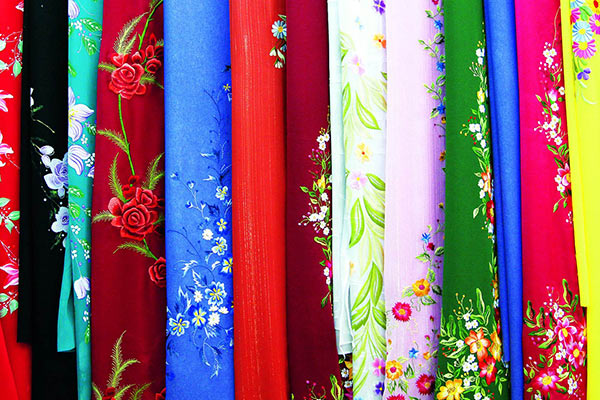 Handcrafted Vietnamese Embroidery
In Vietnam, embroidery is an art that has been passed down from generation to generation, and many embroiderers here use Chinese techniques. Becoming a master in embroidery is a long process, and many are not considered masters until they have done 8-10 years of work. In Sa Pa, in northern Vietnam, you can find some of the most beautiful embroidered clothes, bags, scarves, and purses. There are several villages in the valley, and if you want to see how it is made, you can watch master craftsmen at work in the main square of Sa Pa, where they hold the evening market.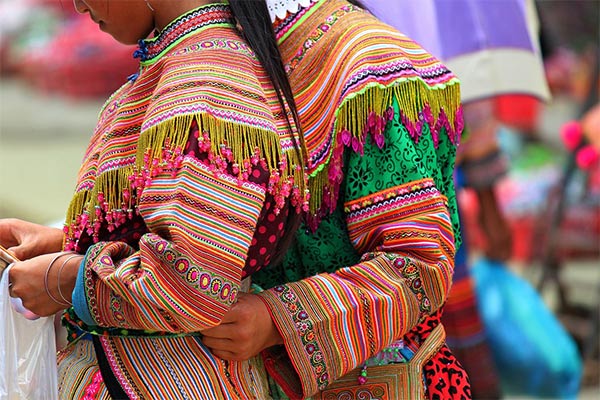 Guoc Moc
Guoc Moc are traditional Vietnamese clogs made of wood that are used as part of the traditional Vietnamese dress for both men and women. Traditionally, the women would wear the clogs with the beautiful Ao Dai dresses, although they are not very popular with the locals in today's modern world. However, there is a huge market for these clogs in the tourist industry, and they are still hand made using traditional methods.
Musical Instruments
Handmade musical instruments are a favorite souvenir of western tourists, and can be found all over Vietnam. Local craftsmen make traditional instruments such as bamboo flutes and mini t'rungs, a form of traditional xylophone used by the Jarai people of Vietnam's Central highlands. The instruments have sweet, melodious tones, and are a distinct reminder of the traditional Vietnamese music. The prices vary for t'rungs, from 13 dollars to around 50 dollars, but the flute, priced on average at around 10,000 Vietnamese Dong equals around 50 cents, so is a real bargain. You can get one for everyone you know.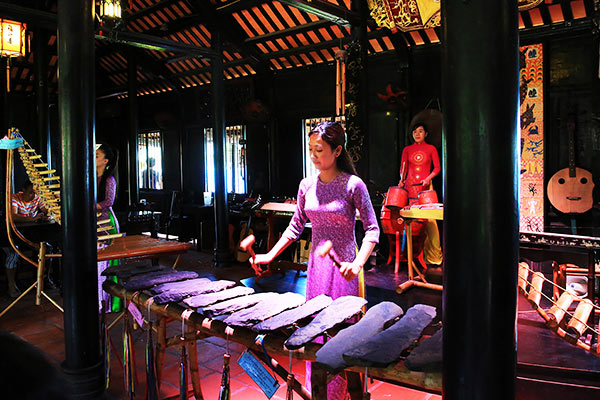 Hand Fans
The traditional Vietnamese hand fans are normally made from paper over a bamboo frame, similar to Japanese and Chinese fans. They are often used by locals to cool off, and with their decorative designs they make a great souvenir, and are very useful too. Hand fans have always played a major role in the Vietnamese culture, and are used in the traditional Vietnamese dancing. You can find these hand fans, made of silk paper, all over the country, and it is one of the best souvenirs you can buy.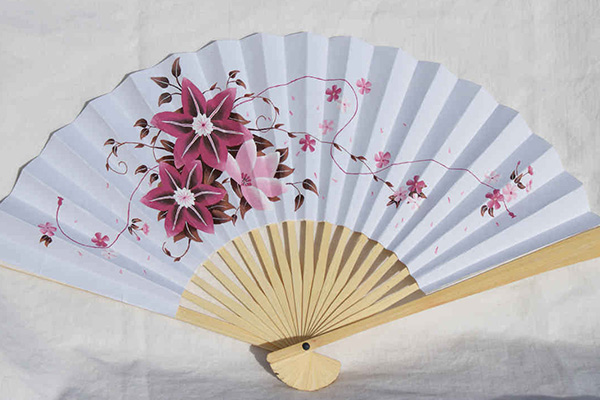 Sand Paintings
Made by pouring sand into a clear glass frame, these sand paintings have only been made in Vietnam since 1997. First started by world-renowned Vietnamese artist, Y Lan (whose real name is Tran Thi Hoang Lan), her works became famous all over Asia, and soon found an audience in Europe and North America. The paintings are made by spreading colored sand on the inside of the frame, almost grain by grain, and is a painstakingly slow process that requires a lot of talent and focus. Y Lan's works can be seen in Ho Chi Minh City.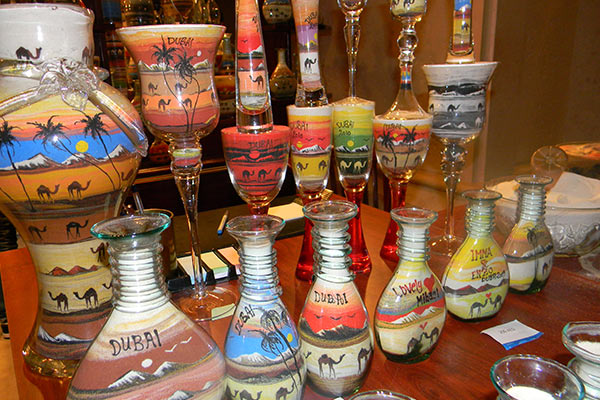 Bamboo Dragonfly
One of the few souvenirs that can only be found in Vietnam, the bamboo dragonfly is a unique and fun gift to give to a family member or friend. These delightful little souvenirs have a very unique feature; they are so perfectly balanced that they can sit on the tip of the finger, with only the tip of the nose of the dragonfly touching your finger. They are sold all over Hanoi, and are made in the small village of Tay Phuong, in the Thach That District of Hanoi.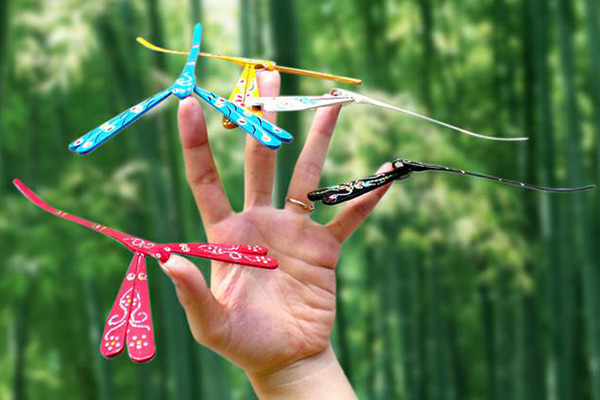 Vietnamese Paintings
Vietnamese paintings are absolutely incredible, and can be found throughout the country. The colors, techniques, and motives are sublime, and the artistry is very visual. Art in Vietnam has had a long and rich history, and early examples of art have been found that date back to the stone age. Vietnamese art has absorbed many Chinese influences, which can be seen in the typically Chinese-style landscape paintings of rivers with bridges and pagodas on little islands. Just as in Chinese paintings of similar nature, these tell a story about famous Vietnamese people or famous sites around the country.
Pop-up Paper Cards
Pop-up paper cards are a traditional art of Hanoi, and can be found in the old quarters of the city, or in the famous Hanoi night Market. The detail is incredible, and the colors are vibrant on all the cards, and they have designs that range from traditional Vietnamese people to the Eiffel Tower and birthday cakes to 3-D peacocks. An impressive and beautiful souvenir to bring home.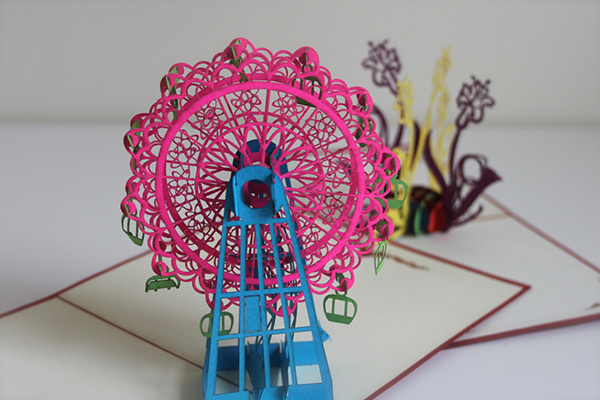 One thing to remember when dealing with Vietnamese vendors is that they often charge much higher prices to foreign tourists from the west than those from Asia. Be prepared to bargain hard, as they expect this in their everyday business, and do not underestimate the value of walking away, it can be a good ploy.