What to Eat during a Bangkok Tour
Posted on 2/01/2019 8:48:55
Thailand is a popular tourist destination for a wide variety of reasons, from the stunning beaches to the beautiful Buddhist temples. Formerly known as Siam, this ancient Asian kingdom is the origin of such things as Muay Thai, the Thai kickboxing that became famous in the Hollywood movies. However, if there is one thing that Thailand is more well known for than its kickboxing, it is the food. And nowhere is more prominent on a travel foodies list than the capital of the kingdom, Bangkok. Known as the city where anything goes, and they mean literally "anything"!
One of the most popular places to eat in the country, Bangkok has one of the biggest street food scenes in Southeast Asia, and there are few streets in the city where you cannot get a good, authentic Thai meal. From the delicious noodle dish known as Pad Thai to the delights of mango sticky rice and frozen yogurt, everywhere you turn there is something new to eat. Thailand has thousands of different dishes, and to try them all would take a lifetime of eating and a lot of traveling around the country, as many of the dishes are regional. The great thing about Bangkok is that this is where it all comes together and where you can eat your way around the kingdom without leaving the city.
Check for more about Thai dishes.
Top Thai dishes to try during a Bangkok tour
Thailand has a wealth of dishes to choose from and if we were to list them all, it would take you all week to read about them. However, there are some dishes that are more popular than others, with both locals and tourists, and these are the main dishes you will find anywhere you go in Bangkok.
Tom Yum Goong
One of the most famous dishes in Thailand, this is a popular favorite with tourists and locals alike, and is made from beef or pork cooked in a lemongrass and shrimp soup. With kaffir limes, chilis, chili paste, lime juice, and fish sauce to season the soup, this sour and spicy dish has become one of the must-try dishes in Bangkok. The dish is normally served in a large bowl or metal pot sitting on a burner, and is best eaten piping hot.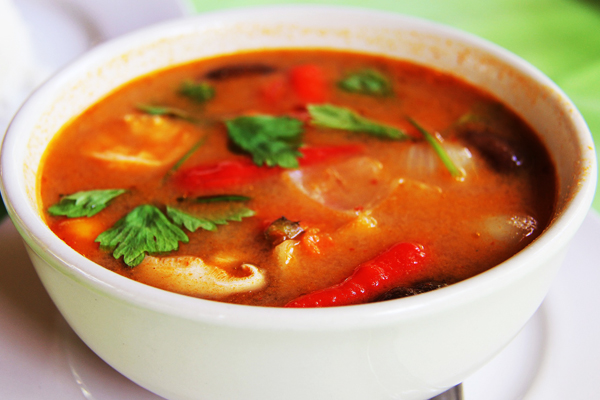 Gaeng Keow Wan Gai
Thai Green Curry is another of the dishes that Thailand is famous for. Made from a mix of green curry paste, coconut milk, a wide variety of meats depending on your own taste, and with kaffir lime leaves, red chilis, and bamboo shoots, this spicy Thai dish is popular around the world, and one of the most eaten dishes in Thailand for tourists.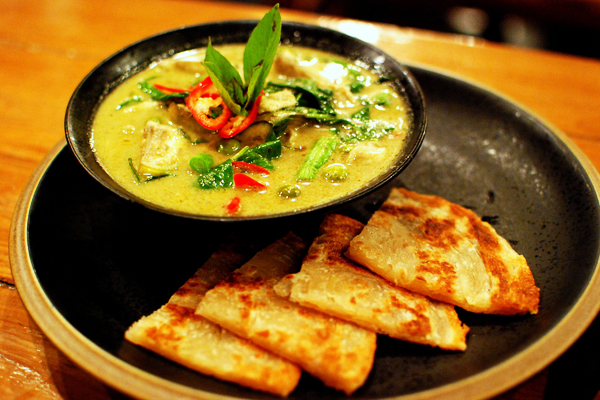 Khao Pad
One of the most popular dishes across Asia, Thai fried rice is different from other fried rice across Asia, mainly because of the use of jasmine rice in the cooking. Containing a mix of fried onions, garlic, egg, and tomatoes, it can be eaten with strips of pork or beef, or even shrimps. A common addition after serving is to sprinkle a little "prik naam pla", or fish sauce with chilis, over the rice to add even more of a spicy salty flavor.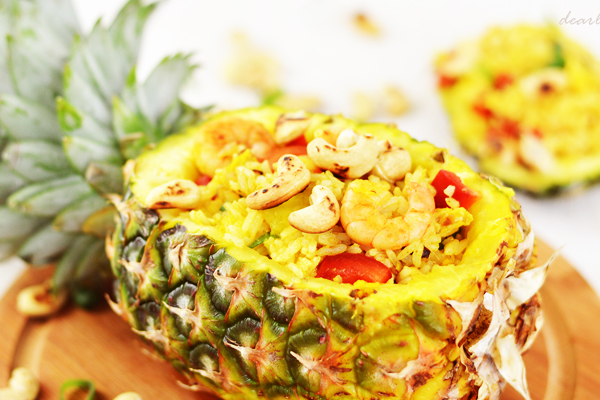 Pad Grapao Moo Sab Kai Dow
One of the staple dishes of the Thai food culture, this dish of minced pork with basil, chilis, garlic, oyster sauce, and soy sauce is found in almost every restaurant and street vendor in Bangkok. The dish is served with plain jasmine rice with a fried egg on the top, and garnished with cucumber.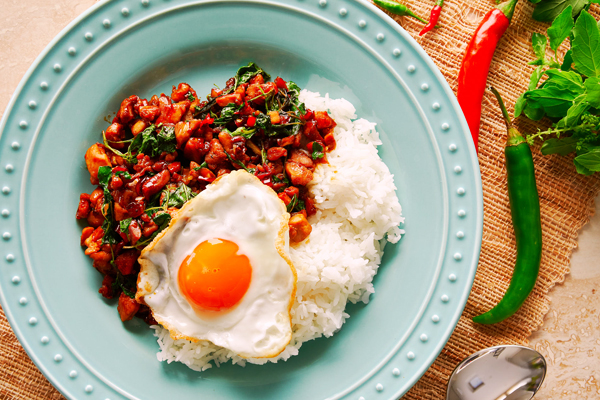 Som Tam
Som Tam is a northern dish that originates in the Isan region of northwest Thailand, but which has been popular in Bangkok for decades, and is known simply as "green papaya salad". Made from shredded unripe papaya, it comes with a variety of ingredients, including chilis, garlic, lime juice, fish sauce, tomatoes, and long beans, and is eaten raw. Often eaten with grilled chicken and sticky rice, it sometimes comes with the famous Thai blue crab meat.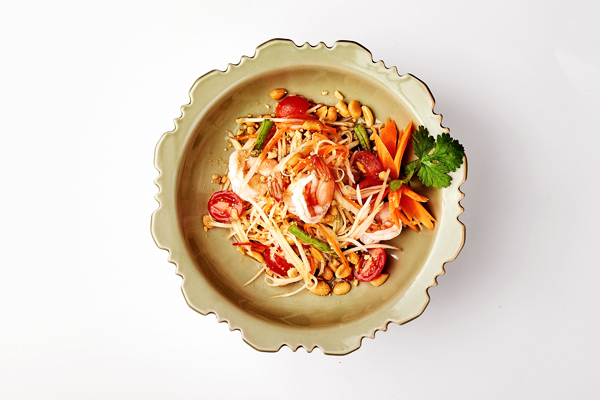 Massaman Curry
One of the Thai Muslim dishes of the country, which is mostly Buddhist, this delicious curry has become a staple dish of many of the restaurants in Bangkok. With heavy Persian influence, the curry is made from a mix of spices and herbs to make the curry paste, including cinnamon, cloves, cumin, and other spices. The curry is made with chicken or beef and potatoes, and is served over a bed of rice.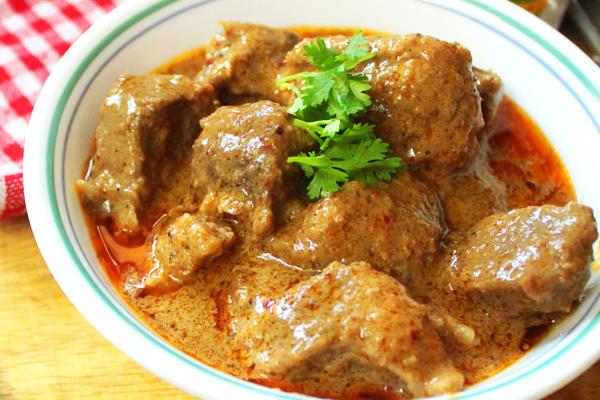 Pla Pao
Known simply as "grilled fish", Pla Pao is a way of grilling the fish, which gives it a distinct local flavor. Mostly, the fish used is either red tilapia of snakehead fish, both of which can be found all across Southeast Asia, and the fish is stuffed with lemongrass, and basil before being coated with salt and grilled over and open wood-burning barbecue grill. Once cooked, it is served hot with rice and a spicy seafood sauce or chili soy sauce for dipping the fish meat into.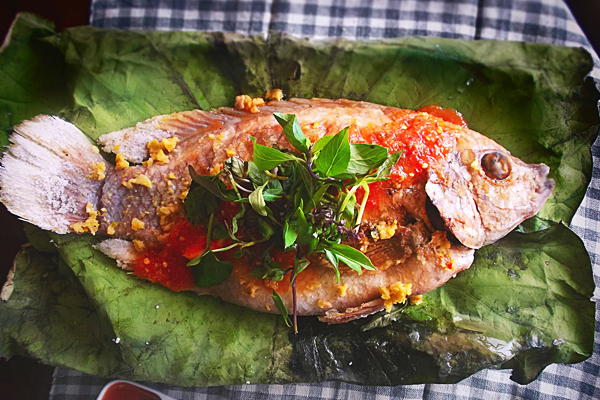 Pad Thai
The single most famous Thai food for tourists, this is the dish everyone goes for on their first time in Thailand, so it has to be included, despite only being introduced to Thai cuisine during World War II. Known around the world, this stir-fried noodle dish is also a popular street food across Bangkok. Pad Thai is cooked in a wok, and once the noodles are cooked, eggs, tofu, chili, garlic, pepper, and other herbs are added to make the deliciously unique taste of Thailand's world-famous dish. Shrimp and chicken are often added to the dish, and it is garnished with spring onions, bean sprouts, peanuts, and lime juice.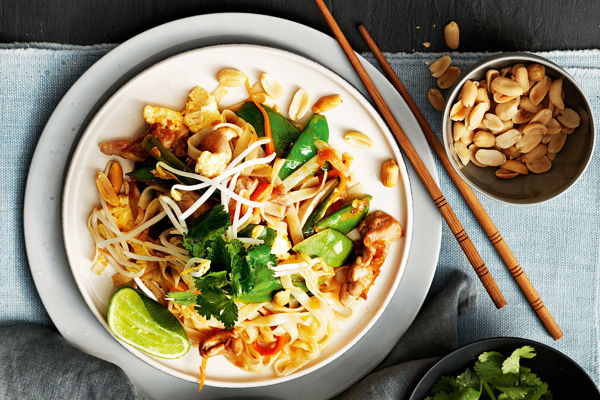 Mango Sticky Rice
Not a main dish, but a delicious dessert that can be found at all times of the day or night in Bangkok. Made from slices of Yellow mango, with sweetened sticky rice and coconut ice cream, this delicious dessert has been a favorite across Bangkok since forever. Every restaurant serves it as a dessert option, and there are thousands of stalls and street carts across the city that sell it both night and day.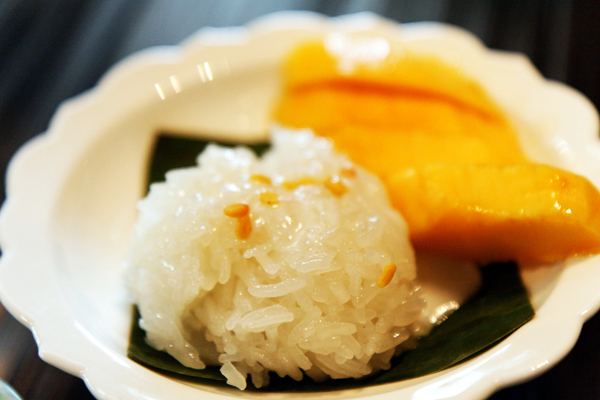 Recommended places to eat the best Thai food
If you are looking for somewhere to eat these delicious dishes, then you will have no problem finding a wealth of street vendors and restaurants that sell almost every one of these dishes. However, the trick in Bangkok is knowing where to go to get the best foods. Many of the restaurants that cater to tourists tend to substitute quality for quantity, and at a more expensive price. If you want the most authentic Thai dishes, for a price that is more reasonable, and sometimes even dirt cheap, then you need to know the city like a local. The best places to eat in Bangkok are where the locals eat, and you can guarantee authentic food with a quality that the flashy tourist joints cannot match.
The Sixth
This is a small restaurant on the Soi Tha Tien near Wat Pho that has just five tables inside for dining. Owned and run by a young Thai couple, the restaurant has one of the best red curries in Bangkok, and their Massaman Curry and Tom Yum Goong is delicious. The place has a friendly and relaxed atmosphere, and serves delicious and authentic Thai food.
Address: 6 Soi Tha Tien, Maharaj Road. Khet Phra Nakhon area near Wat Pho (reclining Buddha)
Average cost per head: From USD 6.00-13.00 / 200-440 Baht
Thip Samai
Considering that everywhere in Bangkok sells Pad Thai, this cozy little restaurant is well known among locals for serving the best Pad Thai in Bangkok. If you have high expectations, this restaurant will definitely not disappoint. Most popular are the Superb Pad Thai, with shrimp oil and fresh deep-sea prawns wrapped with egg and the Pad Thai Song-Kreung with shrimp oil, fresh deep-sea prawns, crabmeat, sliced squid, and sliced mango.
Address: 313 Th Maha Chai, Banglamphu
Average cost per head: From USD 1.50-2.00 / approx. 40-50 Baht
Raan Jay Fai
Located just down the road from Thip Samai, this street food restaurant is famous among locals for being the ONLY street food stall in Bangkok to be awarded a Michelin Star for its cuisine. Owned and run by 72-year-old Jay Fai, who makes all the dishes herself wearing a pair of black goggles and a black beanie hat, the stall has been frequented by the likes of Anthony Bourdain, who made Asian cuisine famous in the west. One of the oldest restaurants of its kind in Bangkok, opened by Jay's father 70 years ago, their specialty is the crab omelette Kai-Jeaw Poo, which is served with huge chunks of delicious crab meat fried over hot coals. The Crab Omelette costs around 1,000 baht, or around 30 dollars, but is a meal enough for 2-3 people.
Address: 327 Th Maha Chai Road (at the intersection with Samranrat Road), Banglamphu
Average cost per head: From USD 3.50-6.00 / approx. 100-500 Baht.
Sawang Noodle
Formerly known as Bamee Sawang Noodle, this is the most famous noodle shop in Thailand, despite moving premises a few years ago. Originally located on the Hua Lam Phong, the shop moved in 2016 to its current site and changed the name to just Sawang Noodle. The egg noodles are all handmade, the barbecued pork is marinated overnight by the cook, and the crab is salty and fresh from the sea that day. While they ay have swapped the old wood fire ovens for new gas and changed locations, the noodle soup is still rated by the Thai people as the best there is, and it is a must-try restaurant for anyone visiting Bangkok.
Address: 982 Phetchaburi Road
Average cost per head: From USD 1.70 / 60 Baht
Summary
If you are planning a trip to Thailand and have not included Bangkok for the food on your itinerary, then you will be missing out on so much more than you could possibly imagine. From the delightful little restaurants with little old ladies doing the cooking to those street vendors and their carts, moving around the city from place to place selling the most delicious fried fish skin and deep-fried noodles. There is no place in the world like Bangkok when it comes to variety and the spice of life, and that is also present in their food.