Myanmar Customs and Etiquettes
Posted on 10/07/2017 7:09:17
Myanmar is considered to be a reservoir of history, especially the way it encountered colonialism and ruthless subjugation of the British as well as of Japan. The place, which was known as 'Burma' has shed lots of blood in its early centuries. It was the most affected country during the British colonization, the world wars as well as during the Japan invasion. However, like a pillar of strength, it has again been able to surmount these setbacks and rise gloriously. Today, Myanmar, officially known as the Republic of the Union of Myanmar, is a sovereign country, having its own customs, rules and etiquettes. Situated on the south eastern side of Asia, Myanmar has borders colliding with India and Bangladesh on the west and Thailand and Laos on the east. China borders it on north and northeast. The area of Myanmar is about 676, 578 square kilometers with a much lower population of about 51millions. Its capital is Naypyidaw, though in the first place its capital was Yangon (archaic Rangoon).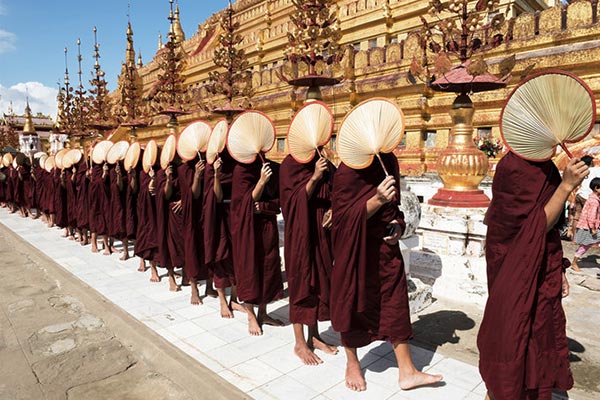 Clothing
The Burmese culture has been largely influenced upon by the Mon people, an ethnic group from Burma, as well as by Buddhism. It has a diasporic influence from its neighboring countries like India and China. However the English colonialism has also contributed a great deal to the culture of Burma or the present day Myanmar.
The typical and traditional garment of Myanmar is like a sarong worn both by men and women. It is known as 'longyi'. This type of sarong as a dress is also prevalent in India, known as 'lungi'. The ethnic dress of longyi for the Burmese has eventually replaced the traditional dress paso for men and tamein for women. Manchu Chinese Jacket is worn by the men during any business or formal occasion. The Manchu Chinese Jacket, also known as the Magua Chinese jacket, was the style of jackets for men in the Chinese Qing dynasty. In the earlier centuries it was usually worn over some other type of garment. The jacket appears in a number of different styles like leather, cotton and singlets, quilted and other types. The Burmese men now, adorn the jacket over a normal English collared shirt, sometimes wearing a turban known as 'gaung baung' which means 'head wrap'. The Burmese women, during any formal or business occasion, usually wear a blouse with buttons in the front known as 'yinzi'. Sometimes there are buttons at side known as 'yinbon'. These blouses are usually worn with longyi and are adorned with a shawl. With the changing time, however, skirts and casual wears like jeans and trousers are becoming more prevalent in Burma, especially in the urban regions. The Burmese traditional clothes hold great importance to the people of Burma and are thought to be a figment of their social ranks and positions.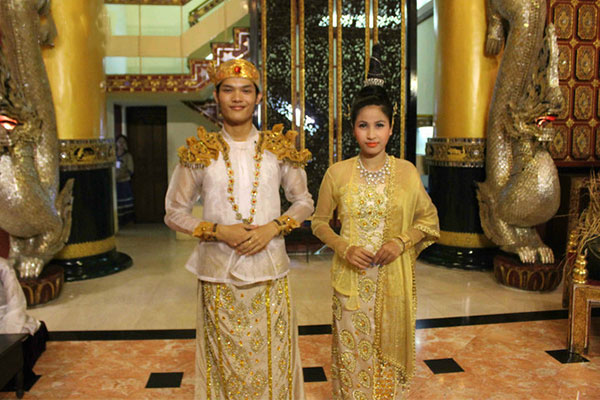 The tradition of Burmese clothing however changed at different phases of time. During the British colonialism, a special type of dress was worn by the Burmese nationalists, associating their revolutionary minds with the style of their clothing. They made their traditional dress a particular yaw longyi, lungi acquired from the yaw region. This longyi was worn with clothing known as 'pinni taikpon'. Pinni taikpon consisted of a light yellowish, tan coloured collarless jacket. This mode of dressing was considered to be an act of passive resistance to the British colonialism by the Burmese. The colonized Burma had an influence on hair cut also besides their mode of dressing. The men cropped their hair short known as 'bo ke', deviating from their traditional norm of keeping long hairs. As for the women, they tied their hairs in a crested bun known as 'amauk'. The sarong for the females became shorter up to the ankle lengths. Their blouses also became shorter, revealing the waistline. Muslin blouses were also introduced during this period, along with a corset like lace bodice known as 'za bawali'.
Eating habits
Myanmar serves some really delicious delicacies in their own fanciful ways. The platters are inspired by the cuisines from China, India and Thailand. The Burmese people usually have less spicy food and therefore spice utility is very little in Burma. A typical Burmese platter usually consists of several items including meat curries, vegetables for dipping in the sauce made out of fermented fish, steamed rice and soup. Pickles are very common in Burma. Indian style pickles are made from vegetables and fishes and are served with the main course. Salads made out of pickled tea leaves are also very popular. The Balachaung or the shrimp paste is a very popular food in Burma. The national dish in Burma is known as the 'mohinga' which is usually rice noodles dipped in fish sauce. Indian foods like nun, paratha are the common types of bread dishes eaten along with the rice. It is observed that the Burmese people use a lot of tamarind chickpeas and lentils in their different cuisines.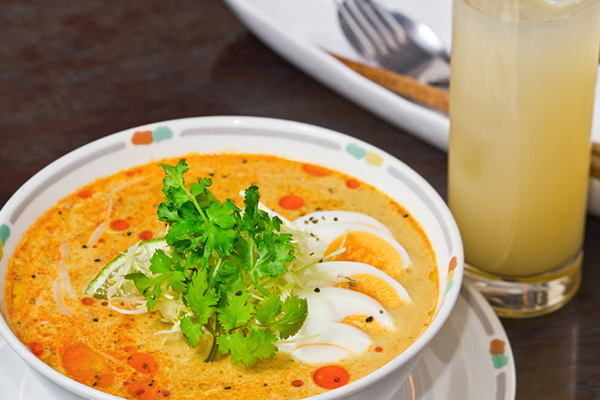 The eating habits of the people from Burma are very interesting. They usually ate with fingers. But after their British colonization, the use of chopsticks and other type of English utensils for eating have become widespread. Sharing is considered to be very important in Burmese culture. People usually eat more and chat less during their meal times. just like a Buddhist monk, they have two heavy meals a day, one in the morning and one in the late afternoon. Therefore during the other times, they snack a lot. The traditional Burmese meal consisted of rice served with tea. The elders are served usually served in the beginning and coughing, sneezing and blowing noses or any such activity are not entertained. The elders are provided the position of the head of the table. The tables being low and round, all the members of the family sit together and the items are served simultaneously.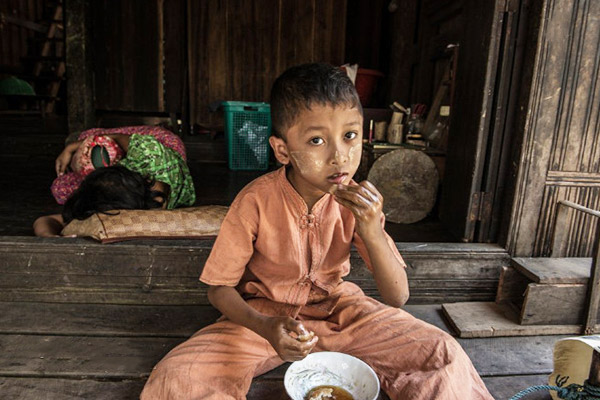 Greeting manners
The greetings in Myanmar have their own sweet features added. The word of greeting is 'Mingalarbar'. This word of greeting has come into a vivid use only after the country had acquired its independence from the British rule. The mode of greeting is known as 'mingalaba', a pali language whose rough translation indicates 'auspiciousness to you'. This form of greeting has originated only recently in schools in the place of 'good morning or good afternoon'. Other common words of greetings include 'Htamin sa pi bi la' for 'Have you eaten?' and 'Nei Kaung La' for 'How are you?' In the recent times, it is observed that the Burmese people are slowly transforming their traditional greeting process into a short 'hello' when this word was confined to answer the phones only.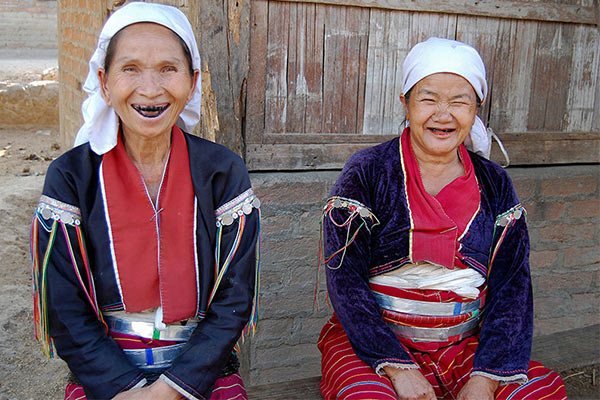 The mode of greeting in Burma is a careful process as it reflects culture, reverence and amity. It is considered to be ill manners and rude to call other people by their first name, unless they are very close and are known from childhood. The youth are usually addressed as 'maung or Ko' meaning brother, whereas the younger women are addressed as 'Ma' meaning sister. The men of senior age are addressed as 'U' meaning uncle and senior women as 'Daw' meaning aunt. It is observed that a slight bow with a hearty smile is the most common form of greeting amongst the Burmese. Physical contact like handshake or friendly hugs are still not so prevalent here. The elder people are always shown due respect in greetings, a reverence that is usually shown to the monks. The manner of greeting is always polite and gentle.
Tourism Manners
As Burma or Myanmar has become the country of ethics and etiquettes, they strictly follow these ethics. Even the tourists should oblige the Burmese manner of tourism. The most important criteria of Burma tourism is dressing style. Even in the fast progressing world, Burma slightly frowns upon women wearing extremely short and body hugging clothes. They expect the women to wear flown long dresses with their shoulders bearing a covering. The next most important criteria are the act of polite mannerism. Always refer to the elder Burmese men as 'U' and women as "daw". Talk politely and show as much reverence as possible. The Burmese people appreciate politeness and in turn of your politeness they will help you to a great degree. Do not come into physical contact with any Burmese people while talking and also do not touch anyone on their heads. Follow their rules and do not visit their prohibited places. In the Pagodas, enter barefooted and decently dressed. Do not show your back to the Buddhist statue or do not behave improperly with the monks. Always sit lower than the monks. Women in many Pagodas are not allowed to touch a monk. When your items will be ceased, do not argue. Many Burmese areas do not allow matchsticks and narcotics. Follow the traffic rules carefully and do not jays walk. If you are driving, the speed limit is 30mpH. Follow the limit obediently. Other than these, for the safety of the tourists, certain things are ought to be remembered during Burma tour-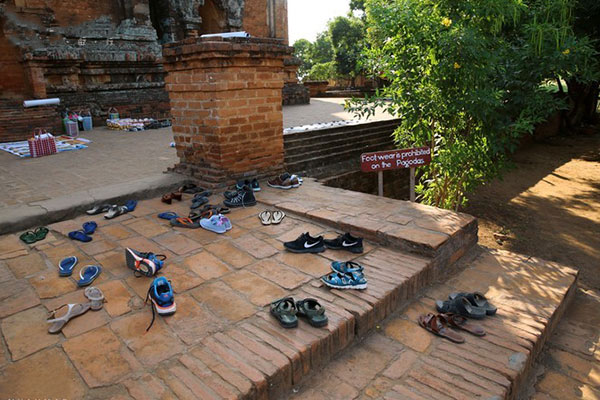 • Eat only from a clean and renowned restaurant
• Do not drink tap water
• Beware of swindlers and imposters
• When you will buy any expensive thing or any other material from Burma, make sure comes with an exportation tag. Buy the items only from dealers having authentic authorizations.
• Do not leave valuables in the hotel room. Use safety lockers.
• Avoid shouting and laughing in religious places
• Avoid photography where it is instructed.
• Keep the windows shut on train and carry your own toilette accessories like tissues.
For tourism in Myanmar, it is better to book every aspect of travel right from the beginning. Though on arrival bookings are available, sometimes it tends to pose problems. Every customs and etiquettes should be strictly abided by.