How to Prepare for a Sapa Trekking Tour?
Posted on 3/09/2019 7:47:33
Located in Northwest Vietnam, close to the border with China in Lao Cai Province, Sapa is one of the most beautiful locations in the country, set amid beautiful mountains and surrounded by the brilliant greens of the rice terraces. An area of tiny villages dotted across the hillsides, Sapa is the home to a wide diversity of ethnic minorities in Vietnam, with rich cultures and customs. The natural beauty and amazing cultures make Sapa one of the most amazing destinations for trekking in Vietnam. While it is getting easier to get to Sapa, its remote location still makes it a little challenging to reach, which is one of the appeals to international tourists. With more than 30,000 international visitors a year, which is just 21% of the total tourist numbers, Sapa is one of the most popular places to trek in this long, narrow country.
Check for more about self Sapa tour guides.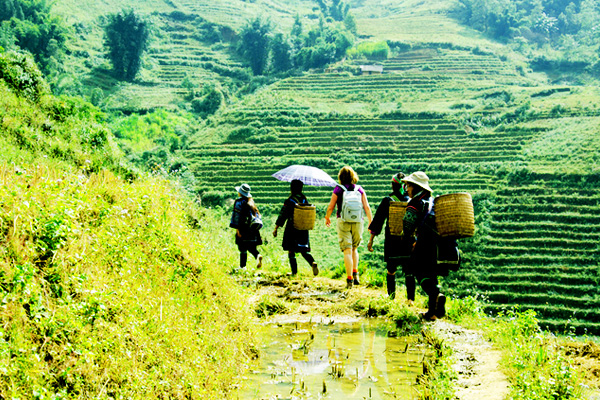 How to get to Sapa?
There are a number of ways one can get to Sapa for the amazing trekking in the area. Hanoi is the main entry point for this far northern region of Vietnam, but if you are coming from Saigon in the far south, it is best to take a flight to Hanoi first. Alternatively, you can get a flight to Dien Bien Phu Airport, the closest airport to Sapa, though you will still travel through Hanoi to get there.
At just 154 kilometers from Sapa, the airport at Dien Bien Phu is one of the fastest ways to get to the area. Flights cost just 87 dollars per person for the 1 hour 15 minute flight. From the town, daily buses run direct to the bus station in Sapa, which takes around 9 hours and costs about 25 dollars per person. The buses pick up from the major hotels in Dien Bien Phu, and you can book your ticket through the hotels.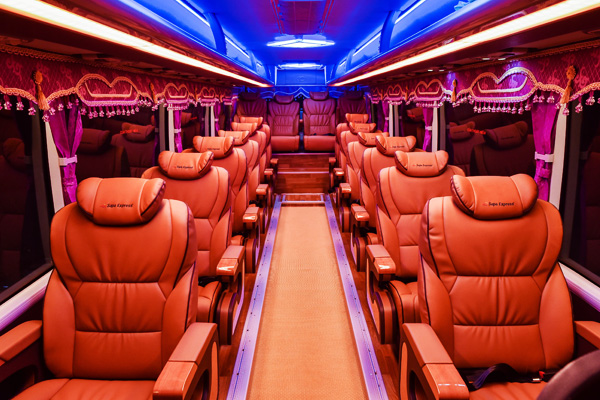 Buses direct from Hanoi to Sapa run daily, and the normal way is by sleeper bus, which takes around 6 hours to reach the small villages. The bus is nowhere near as comfortable as the trains, with seats that do not lie flat, but it does only cost around 12 dollars per person, so is much cheaper. Most buses normally arrive at around 4:00am in Sapa, and drop off right in the middle of the village. However, if you are a nervous passenger, this is not ideal. The drivers do take it very fast on the winding road to Sapa, which can be a little disconcerting to some. Tickets can be booked at the Bus Station in Hanoi, or you can just buy them when you board, if they are not already fully booked, and this can happen in the peak season.
The best way to get to Sapa is normally by train, and there are two trains that run the route to Lao Cai Station, and it really makes little difference which company you travel with. Around 40 companies have rights to the seats and cabins on the trains, and the costs are mostly the same. The trains have sleeper cabins that sleep two and four people, and the costs range from 42 dollars per person in the four-berth cabins to as high as 169 dollars for a two-berth VIP cabin. Suite cabins, also with two berths, can cost as much as 176 dollars per cabin.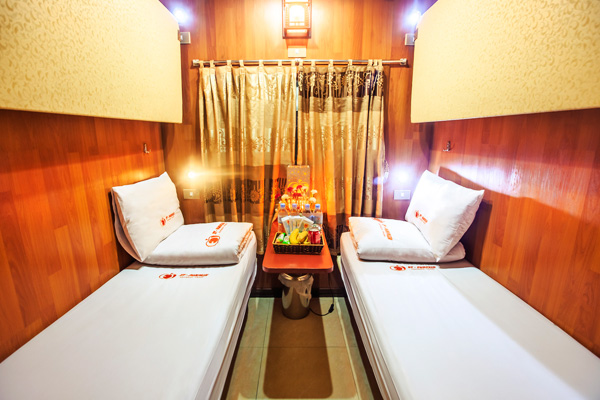 The trains always leave on time, at exactly 10:00pm, so it is important not to be late, and arrive in Lao Cai at around 6:30am the following day. From the station, you need to get to Sapa, about an hour away, and there are always plenty of drivers at the train station when you arrive to choose from. Make sure you agree the price before you get in the van or minibus, and most drivers charge around 40,000-50,000 dong (about 20 dollars) per person for the trip. However, they will usually only leave when full, so find one that is almost filled so you have less time to wait. Tickets for the trains can be bought from the station office in Hanoi, or you can book them online and pay by credit card, if you prefer to book them further in advance of the trip.
Where to live in Sapa?
While this stunning destination is still being developed, the tourist options for accommodation is already quite good. A haven for backpackers and trekkers, Sapa has a wide range of places to stay, from hotels and hostels to family-run homestays and environmentally-friendly eco-lodges.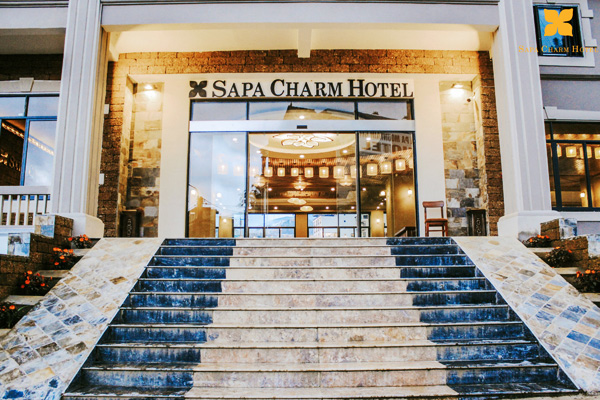 The more expensive option for staying in Sapa are the hotels, with the higher-end options costing as much as 240 dollars per night. However, you can also find decent hotels for as little as eight dollars per night for two sharing if you search carefully. Hostels are a great option for travelers, starting at just 6 dollars per night and rising to only around 30 dollars per night, based on two sharing. However, the cheaper options are mostly in dormitory rooms, so be prepared with your earplugs if you want to sleep early.
Homestays are always a popular option for those wanting an authentic local experience, and in Sapa there are a wealth of places to stay not far from the center of this small town. Prices normally start at around four dollars per person, which are often the most authentic. As the price increase, reaching as high as US$171 per night, the quality gets better but the authenticity drops, as these are custom-built "homestay" lodges that are more like hotels.
Hire a local guide
The hills and forests around Sapa are a dense and huge area, with rice terraces and amazing views that will leave you breathless. It is possible to trek most of the places tourists want to go to in Sapa without a guide, but you will get a better experience by having one. Guides can be hired locally for as little as 3 dollars per person in your party, and almost all of the local guides speak good English and know the area like the back of their hands. Alternatively, you can book a tour, most of which also use local guides, but the cost is a lot higher than if you plan the treks yourself.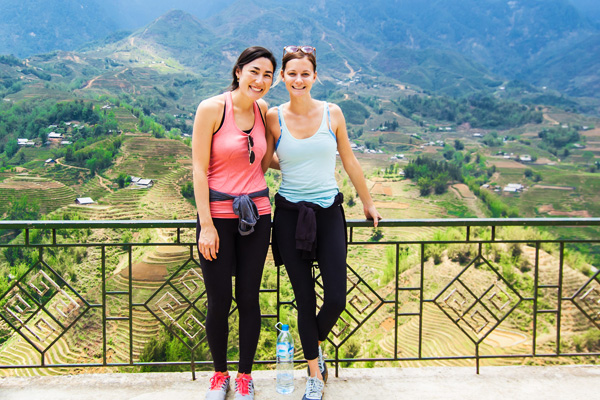 Get permission before trekking in certain villages
As these are poor ethnic villages in the area around Sapa, a permit is required to visit most of the villages, which can be obtained from the Tourist Office in Sapa for around 75,000 dong (around three dollars). The permit does technically cover all of the villages in the area, though you will find that the villages actually charge an admission fee themselves to get in and look around. The more popular villages close to Sapa, such as Cát Cát village cost from around 70,000 dong, with Lao Chải and Tả Van costing from around 40,000 dong, while the further out you go, the cheaper it will cost to get into the villages.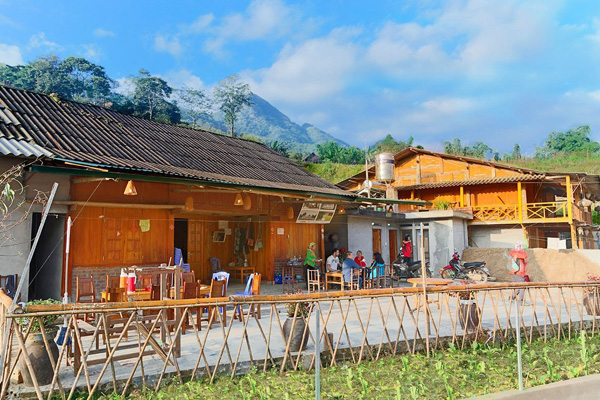 Tả Giàng Phình and Bản Khoang charge around 25,000 dong, with villages such as Sín Chải costing 20,000 dong and Má Tra and Ta Phìn costing as much as 30,000 dong. Entrance to the major attractions, such as Hoàng Liên National Park, Love Waterfall, and Silver Waterfall, cost from 20,000 dong to 70,000 dong for entry. However, while this may seem high in dong, 70,000 dong is actually only three dollars, so entering the villages at up to 40,000 dong will only cost a dollar or two per village.
Where to enjoy the best view in Sapa trekking tour?
Sapa has a hundred places that can be construed as giving you the best view, and as you trek around the area, each great view is better than the last. However, when it comes to opinions, there are four amazing places that give the most wondrous views in the area.
Ham Rong Mount Peak is not far from the center of Sapa, and the botanical garden is an amazing trekking route. The trek heads up to the Peak of Ham Rong Mountain, and gives you one of the most outstanding panoramic views of Sapa. Alternatively, the trek (stroll) along the road to Cat Cat ethnic village is one of the most popular, but leads to many amazing sites for beautiful views along the way.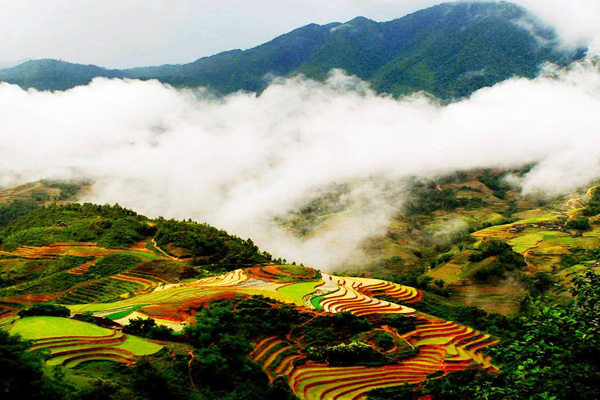 The Muong Hoa Valley in the area of the Hau Thao commune is 8km from Sapa, and is known as the Sapa Ancient Rock Field. The valley has amazing formations, and a huge field that is filled with natural multi-shaped standing stones. To the east of Sapa lies the Ta Phin Village, which is normally visited by car or bike for an exploration visit. A tribal village of the Red Dzao people, which is famous for its stunning embroidery, the views from the hillsides around the village are amazing, and it is a must to visit the ruined church of Ta Phin.
What necessities to bring for a trekking tour?
If it is your first time to trek in Sapa, then you need to be aware that guides are not porters, and you will not find one. You will need to carry everything you are bringing with you, so it is a god idea to try and pack as light as possible. Bring one small bag for most of your belongings, and a day pack for trekking.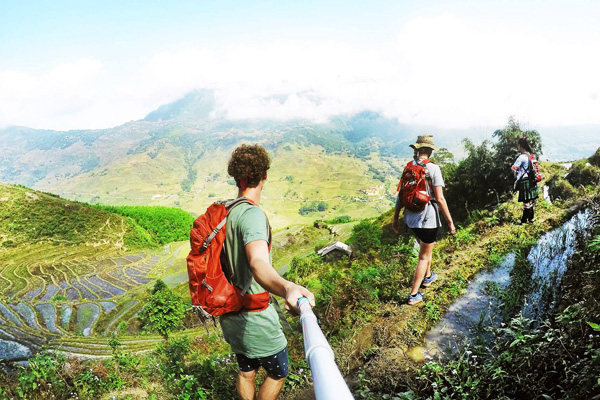 Your day pack for trekking should include:
Lightweight rain jacket, as it is always drizzling somewhere in the mountains
Winter jacket (for winter treks only)
Extra shorts and t-shirts, as you will get sweaty
Good hiking boots/shoes for the rough Sapa trails
Sunscreen
Bug spray
Band-Aids
Water bottle and purification tablets (unless you intend to buy mineral water at high costs)
If you have other gear, you can leave it in the hotels in your main bag, just make sure you lock it and do not leave money, phones, etc.
Summary
Trekking in Sapa is still a great outdoor experience that has not yet become too commercialized. It is one of the most authentic Vietnamese ethnic experiences, and can give you a unique insight into the amazing lives of these beautiful hill tribes. So, before it gets too commercial in the coming years, why not take the trip to Sapa and discover this beautiful and outstanding place for yourself.