Day Tours in Siem Reap Cambodia: what to do for one day in Siem Reap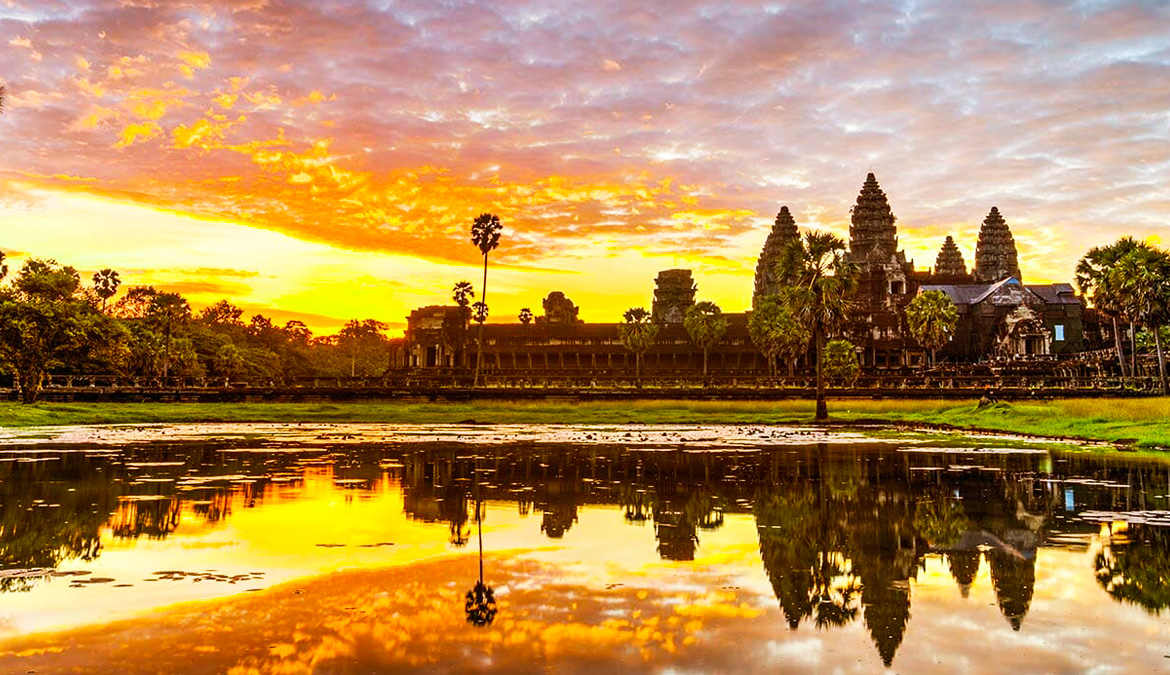 Siem Reap, the capital of the Khmer kingdom, located more than 300 kilometers away from Phnom Penh, represents the past of Cambodia. It is a city consisting of palaces, temples, gardens, and castles, displaying the glorious prosperity of the Khmer Dynasty and Hinduism. In 1860, the French botanist Henry Mohart came to Siem Reap to collect plant specimens, and Angkor Thom was able to come into the public's view.
Siem Reap is now a hot tourist destination partly because of Angkor Wat. The small town, Siem Reap, receives millions of tourists from all over the world every year. Owning one of the seven wonders of the world, Angkor Wat, the largest freshwater lake in Southeast Asia, Tonle Sap Lake, and the bustling bar street, this small town has become a place you must visit once in your life.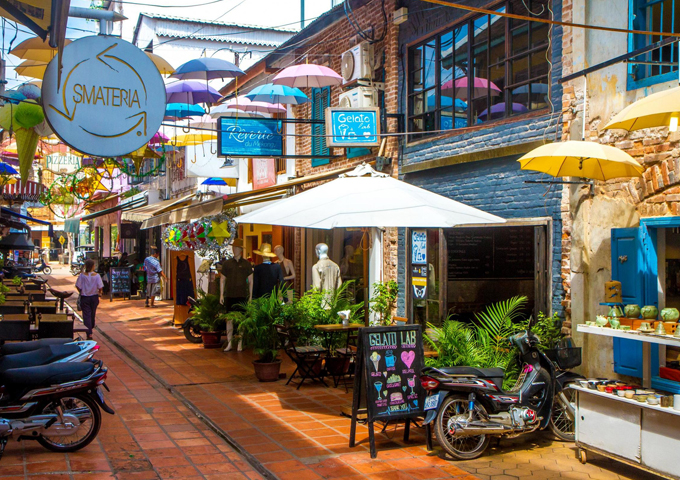 Siem Reap City
Siem Reap is a small city, it will only take you no more than $3 to take a Cambodian Tuk-Tuk( a kind of local transportation tool). Besides, local residents and vendors are very hospitable. Siem Reap has also been selected as the top ten tourist city in Asia for many years.
>Check for the most popular Siem Reap tour itineraries.
What you can do for one day in Siem Reap? There are plenty of choices.
Appreciate the great wonder Angkor Wat for One Day
Angkor Wat is a general name for more than 600 Angkor monuments. Here we are talking about the most famous one. It is known as one of the four wonders of the ancient East and its image has been on the national flag as a symbol of Cambodia.
Angkor Wat is a temple dedicated to god Vishnu. It is surrounded by a rectangular city moat and a temple wall. In the middle stands the Hindu style Mount Meru. Unlike most Angkorian temples, Angkor Wat is oriented to the west. There is a long road running across the moat to the temple wall and then to the west gate. At the centre of the temple stands a quincunx of towers. The four towers at the four corners are smaller with the big one called Bakan standing in the middle. The towers are connected by wide corridors. You can follow the corridors to Bakan but be careful of the steps. They are very steep and sometimes people need to climb instead of walking up there. It means that people need to go through many hardships to get to heaven.
You need to start early in the morning (usually around 5:00) if you want to catch a good view of the sunrise at Angkor Wat. After that, walk into the great temple along the long approach. Before you get into the inner wall, you can see the largest corridor relief in the world. It tells the story of two major Indian epics, Mahabharata and Ramayana, and other legends about heaven and hell. Keep going and you will come to the second layer of Angkor Wat. There are tall stone pillars and broad footpaths with Apsara carved on the top. Then here comes the tallest and most sacred Mount Meru, a place where only the king could enter. Now it has been open to all visitors but you need to follow a strict dress code, people in exposed and casual clothes are not allowed to enter, which reflects contemporary Cambodians' respect for their own culture.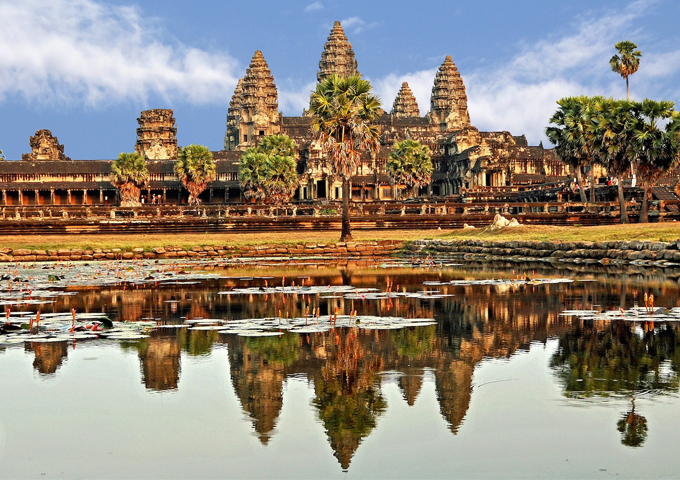 Angkor Wat Camobodia
Explore the mysterious Beng Mealea for One Day
Located about 40 kilometers east away from Angkor Vat and about 10 kilometers northeast away from Banteay Srei, Beng Mealea is one of the most mysterious temples in Angkor and is the most difficult one to reach. It is completely in the wilderness, where you could see Angkor Wat sleeping in the jungle before it was discovered. Although Beng Mealea today is almost ruins and unable to present its panoramic view, its distinctiveness is still worth taking the time to visit.
Along the way from Siem Reap downtown to Beng Mealea, the scenery is very beautiful. The road is unobstructed(but maybe a little dusty) because almost no other vehicles are on the way. At the entrance, the front gate (south gate) collapsed in a mess of scenes, visitors can only enter from the next pile of rubble. The mysterious atmosphere of the jungle permeates the broken pillars and collapsed walls. The main hall has also collapsed, and the remnants of the broken walls everywhere attract people's imagination and give people an impulse to explore.
Beng Mealea is a little far from downtown, so it is better to rent a car there, which costs about 60-70 dollars a day. The drive will take about 1.5 hours. Most part of Beng Mealea is completely ruins. However, you can find the most well-preserved statue of Naga here. The whole trip is like an adventure, you will have to climb through doorways filled with pillars and stones. There is a wooden boardwalk near the main hall, which was said to be built during the filming of Two Brothers in 2004. The boardwalk will lead you to the highest stone tower, where you can overlook the panorama of Beng Mealea. The primitive and crumbling atmosphere of Beng Mealea create its uniqueness and has attracted photographers from all over the world. Take your camera or smart phone and come here to have a closer contact with the ancient temple.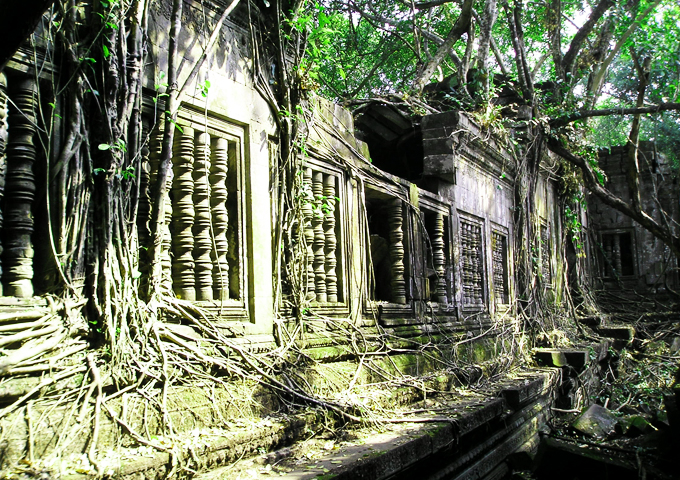 Beng Mealea
Find "Khmer smile" at Bayon Temple for Half-Day
Bayon Temple is at the center of Angkor Thom and was built at the end of the 12th century. Here you can not only find the famous "Khmer smile", but also enjoy the rich and vivid relief on the corridor.
The whole Bayon Temple is divided into three stories, the lower two are square, and the corridor wall is carved with relief; the top floor is round, standing many Buddhist pagodas, originally 49, now only 37 remained. The largest pagoda in the middle is about 40 meters high, and is surrounded by the rest ones. The top of these pagodas are carved with huge four-sided Buddhas representing mercy, compassion, joy and sacrifice. All the Buddhas wear a peaceful smile. If you look closely, you'll see that there's a subtle difference between these smiles. The slightly raised mouth seems to hold some secrets that the world will never know. This is the world-famous Khmer smile.
Many people choose to watch the sunrise in Bayon, so it is always crowded in the morning. If you want to avoid the crowds, visiting in the afternoon is also advisable. You can appreciate not only its relatively quiet environment but also the beautiful sunset. During the trip, pay much attention to the smiles and see if you can find their differences. The relief on the corridor walls are also amazing. Usually they may represent a figure, an object, or a story. Visit counterclockwise from the East Gate at the first floor, you will see the relief of expedition, worship, water war, army, victory parade, circus, fishing, cockfighting, festivals, markets and other scenes. They are very valuable historical records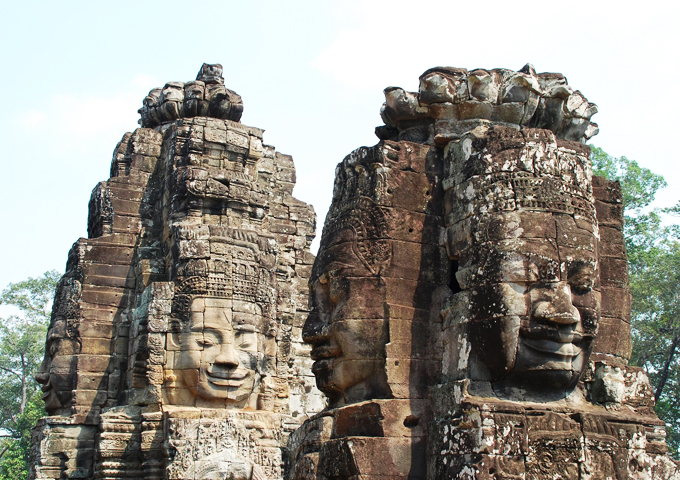 Bayon Temple
Banteay Srei for Half-Day
Located about 21 kilometers northeast away from Angkor, Banteay Srei is one of the most unique and exquisite buildings in Angkor's monuments. The beauty of the palace lies in its well-decorated three luxurious central towers and a large library, where you can admire a large number of god statues and reliefs.
Unlike the blue sandstone used in most Angkor monuments, Banteay Srei is constructed by Khmer-specific red clay, which contains a lot of water, so it is extremely colorful and beneficial to carving complex and delicate patterns. After air-drying, Banteay Srei becomes extremely hard and can be preserved for even a thousand years.
Once you get to Banteay Srei, you can see a mountain-shaped wall on the square door frame. The wall looks particularly large and magnificent. For the first time in the history of Khmer architecture, the Banteay Srei carves fairy tales on a mountain-shaped wall. You can see many small temples in the center of the palace, but you can't get close to them. If you love taking pictures, you need to prepare long-range lenses. Every temple has its guards stationed at the doorway, which is also a feature of Banteay Srei. Some of these guardians look like birds, monkeys, lions and images of Asura. Makara, the god-beast, is on the triangle edge of Banteay Srei as a border decoration. Makara has a lion's body, an elephant's trunk and a snake's skin.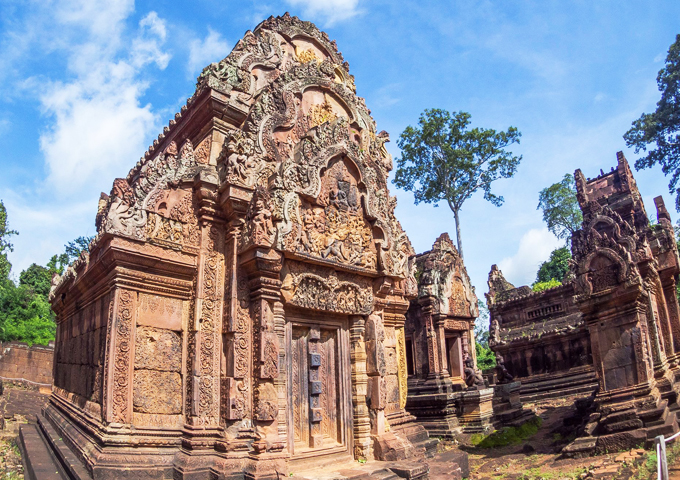 Banteay Srei
All in all, it won't take much time to visit Banteay Srei. It is small in size and square in shape. It is famous for its gorgeous colors and exquisite relief sculptures. Its walls, columns, lintel and other architectural surfaces are almost completely covered by relief. It's mainly the relief that you need to spend time appreciating. Because of its fame, Banteay Srei is a must-see for the tourists. So it's full of tourists every day, especially in the morning. It is recommended that you start early in the morning or come in the evening. 9 a.m., 10 a.m. and from 2 p.m. to sunset (try to avoid coming here at noon because there is not much shade and will be very hot) are golden hours for taking pictures.
Take a boat trip on Tonle Sap Lake for Half Day (Better Afternoon) Tonle Sap Lake is the largest freshwater lake in Southeast Asia, on which build many floating villages. You can take a boat trip to these villages to see the buildings on the water, such as houses, churches, schools, etc., and in the evening you can enjoy the sunset on the lake which is different from what you see in Angkor Wat.
It's about half an hour's drive from downtown Siem Reap to Tonle Sap Lake. The fee of boat visits usually vary from $15-$20. The nearest floating village is Chong Kneas, which is also the busiest one. Go a little further, there are Kampong Phluk and Kampong Khleang. Kampong Phluk is famous for its hanging pylons. The village will become a "Flooded Forest" when the water rises, which is a unique scene to see in rainy seasons.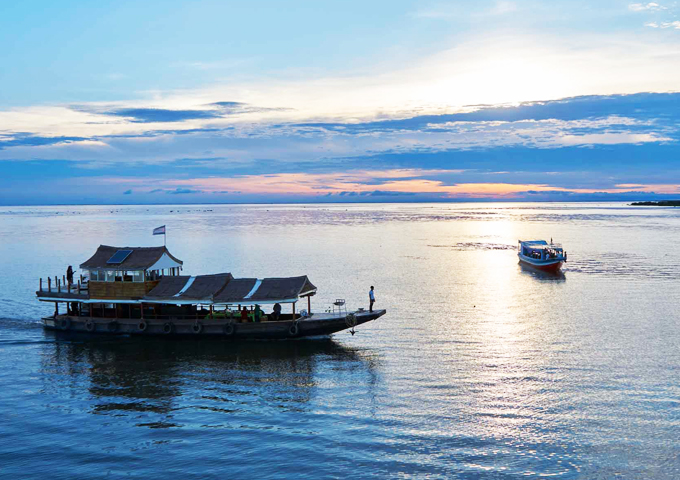 Tonle Sap Lake
Konkliang is a little far and therefore has fewer visitors. Backpackers usually like to have an eco-tour here. It's one of the largest communities in Tonle Sap Lake and looks like a water city. There are several pagoda temples and many interesting things to be found.
You can choose one of the floating villages to visit and get a further understanding about their lives on the water. Then stay on the boat and wait till the beautiful sunset come out. The whole Tonle Sap Lake will will gradually turn golden, orange, and then fiery red. Sitting on the boat, bathing in the sunset, it will become one of the unforgettable experiences and sights of your trip.
Taste some street food around the city for Lunches or Dinners
Food plays a very important part in our lives. As a southeastern Asian city, food in Siem Reap has its own flavor and some is combined with French style. When you are wandering around the city or come back from the tourists attractions and feel like eating something, the street food may well meet your needs.
Amok fish is always on the top list of "street food you must eat in Cambodia". You can buy it both at street or in a restaurant. It is made of fresh fish with coconut milk, kroeung sauce or other ingredients, and sometimes will be cooked into something like mousse. Sour soup is mainly made of chicken, pork ,or fish. It is a goof choice to drink in the hot summer. French bread-and-meat sandwich is a kind of food combining Cambodian and French features together. It looks like a sandwich except that the bread is a whole one with meat, papaya, cucumber and other ingredients inside. There is another thing you must try in Siem Reap though strictly speaking it's not a kind of food. That is Angkor beer. It receives favorable comments from everyone who drinks it. And it is said that the more you drink, the better it tastes. However, you should still keep it in mind that try not to be drunk.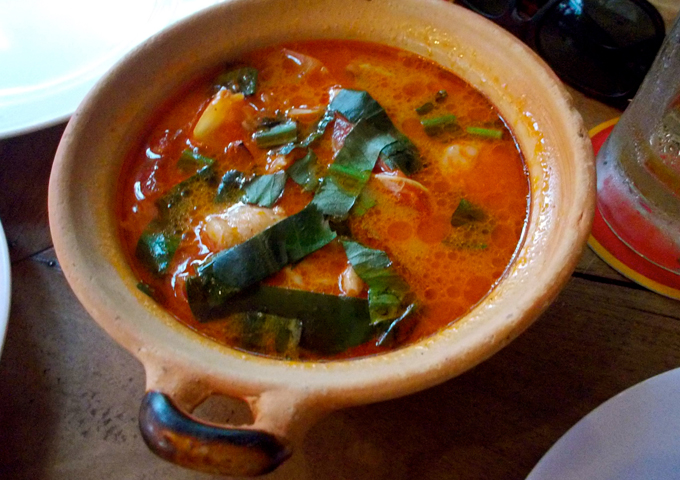 Siem Reap Sour Soup
There is a pub street in Siem Reap. It's the busiest street at night and you can find almost all the food mentioned above. If you want to have a big feast, there are also restaurant options such as The Red Piano, Khmer Kitchen Restaurant and so on.
Try the local transportation tool- Tuk Tuk for One Day
In Siem Reap, there is no buses or subway. The most common means of transport on the streets is Tuk Tuk. It looks like a motorcycle with a passenger seat like the European-style carriage with a canopy. It can hold four passengers at most. Walking through the streets of Siem Reap, you can always meer enthusiastic Tuk Tuk drivers to ask you if you need a ride. However, Tuk Tuk does not have a meter, so you need to negotiate with the driver for a good price in advance. It usually takes about 1-2 dollars to go to the old market from downtown. Of course, it depends entirely on your bargaining efforts. If you want to rent a tuk-tuk to visit Angkor Wat, you need to pay at least $15 at least, but this only includes the scenic spots in the small circle and large circle. A ride to Banteay Srei or Beng Mealea and other distant attractions need to pay another 10-30 dollars.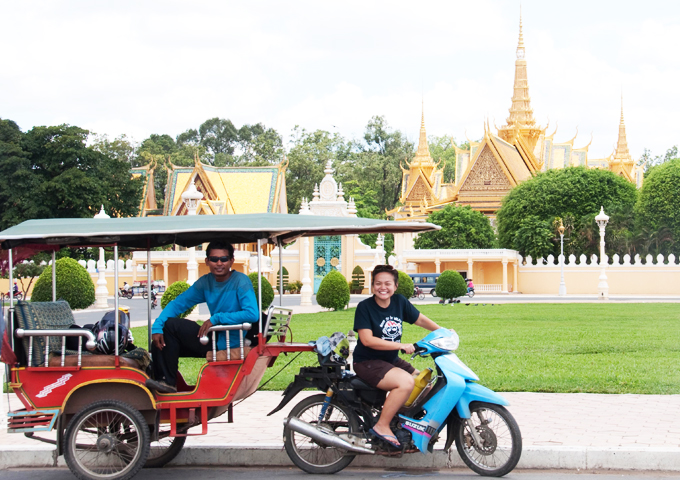 Tuk Tuk
Which one is your favorite and have you decided where to go? it seems unlikely to travel to all the attractions in a day. Start in the morning, you can rent a tuk-tuk to one or two spots mentioned above and come back at night to the pub street to taste some delicious food.
Cambodia Tour tips
1. Cambodia is a religious country and has some dressing codes you need to pay attention to. When go to temples, churches, and palaces, you need to wear tops with sleeves and pants or skirts covering your knees.
2. Cambodian currency is Riel, but you can use USA dollars there, usually one dollar equals 4000 Riel. You can prepare some changes in advance, because if you only have large bills, you may get changes in Riel and Riel can only be used in Cambodia.
3. The best travel time is from November to the next April when it does not rain much with mild weather. But just in case, it is recommended that you take sunscreen scream to avoid being sunburned when the sunlight is too strong, especially at noon.
4. Head is considered as the sacred part of human's body, therefore, do not touch other people's(including children's) head. What's more, it is impolite to hand or fetch things with your left hand.
>Check for the most classic Cambodia tour packages including Siem Reap.
More Articles about Cambodia Tour Guide
Most Popular Cambodia Tour Packages