11 Things You Must Know Before Planning an Angkor Wat Tour from Indochina Experts
Dreaming of exploring the wonders of Angkor Wat in Cambodia? Look no further! Before you start this incredible adventure, it's essential to plan your trip wisely.
We'll cover important topics such as the best time to visit, how long to stay, transportation options, and fun facts about Angkor Wat complex.
With the guidance of Indochina experts, planning your tours to Angkor Wat will be a breeze. Let's dive in and get ready for an unforgettable journey through Cambodia's heart!
Angkor Wat complex is larger than you think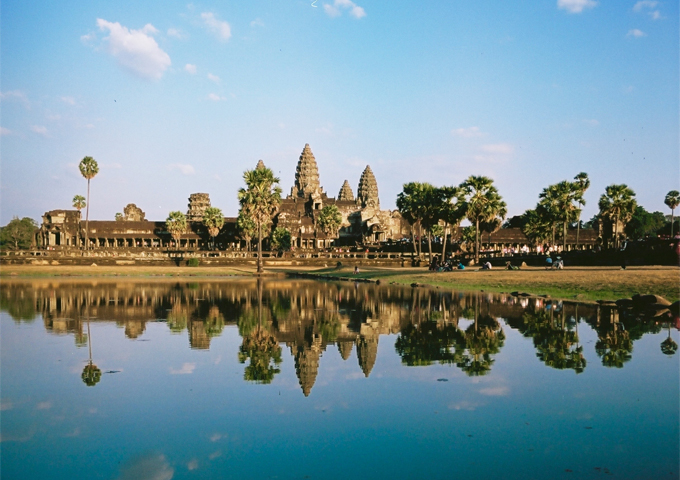 Looking at the marvelous Angkor Wat from the distance
Angkor Wat is indeed larger than many people realize. The entire complex of Angkor Wat spans approximately 402 acres. To put it into perspective, it is roughly equivalent to 280 American football fields.
The main temple itself, known as Angkor Wat, occupies a significant portion of the complex. It features multiple levels, towers, galleries, and intricate carvings. The central tower, also known as the "temple mountain," reaches a height of around 213 feet.
Exploring the entire Angkor Wat complex can be a time-consuming endeavor, as there are numerous structures and architectural wonders to discover beyond the main temple. It's advisable to allocate ample time to fully appreciate the scale and beauty of Angkor Wat and its surrounding temples.
The dry season is the best time to visit Angkor Wat but also is the peak season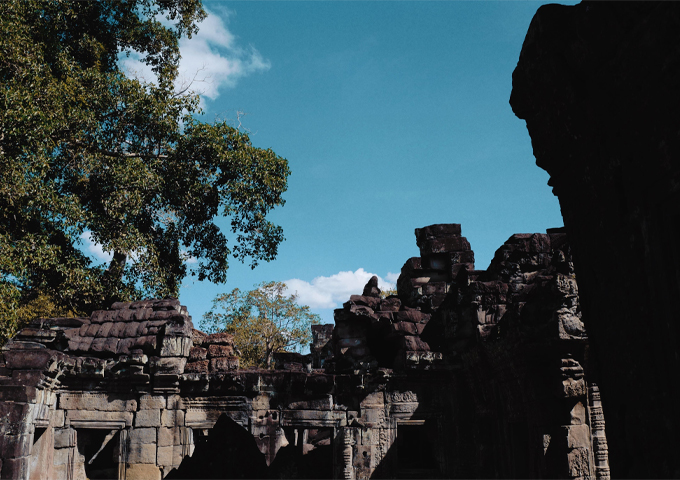 A favorable day in Angkor Wat with blue sky
The dry season, which typically spans from November to March, is considered the best time to visit Angkor Wat due to the favorable weather conditions. During this period, the skies are clear, rainfall is minimal, and temperatures are relatively cooler.
However, it's important to note that the dry season coincides with the peak tourist season in Angkor Wat. Many travelers prefer to visit during this time, resulting in larger crowds and higher hotel prices.
On the other hand, the rainy season, from May to October, can still be a viable option for visiting Angkor Wat. Although rainfall is more frequent during this time, the temple complex takes on a unique and lush beauty, and you can enjoy fewer crowds and lower prices.
Longer-validity entry pass can be more cost-effective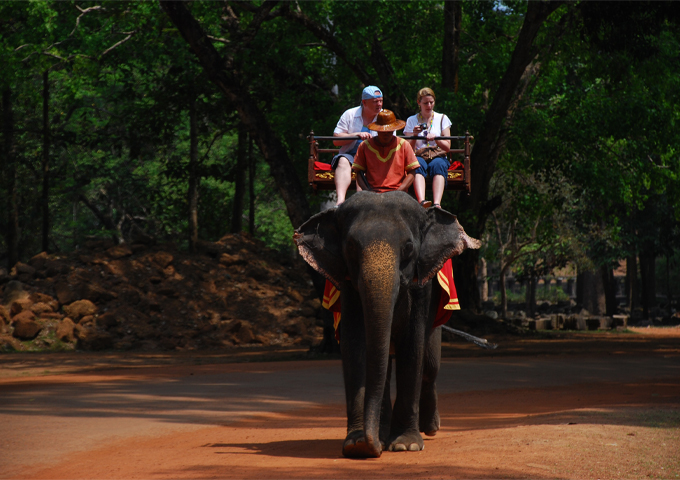 Tourists try on a special walk with elephant in Angkor Wat
Opting for a longer-validity entry pass can often be more cost-effective when visiting Angkor Wat. The Angkor Archaeological Park offers different types of entry passes, including the 1-day pass, 3-day pass, and 7-day pass.
If you have a genuine interest in exploring Angkor Wat and the surrounding temples in-depth, purchasing a longer-validity pass can save your money. The cost per day decreases significantly with the 3-day and 7-day passes compared to purchasing multiple 1-day passes for consecutive days.
Additionally, it allows you to revisit certain temples, witness different lighting conditions, and fully appreciate the grandeur and historical significance of the site.
Private tour guides & cars make Angkor Wat tour flexible and impressive
With a private tour guide, you have the opportunity to customize your itinerary according to your interests and preferences.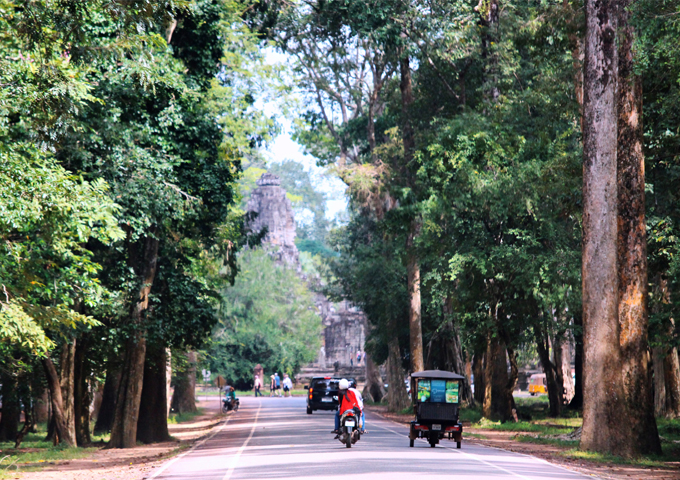 A wide and quiet road in Angkor Archaeological Park
They can provide detailed explanations, answer your questions, and share fascinating insights that enrich your understanding and appreciation of the site.
They can ALSO offer valuable insights into Cambodian traditions, local customs, and provide recommendations for authentic experiences outside of the temples. This adds an extra dimension to your journey, allowing you to make yourself completely involved in the local context.
There are several good spots for Angkor Wat photography tour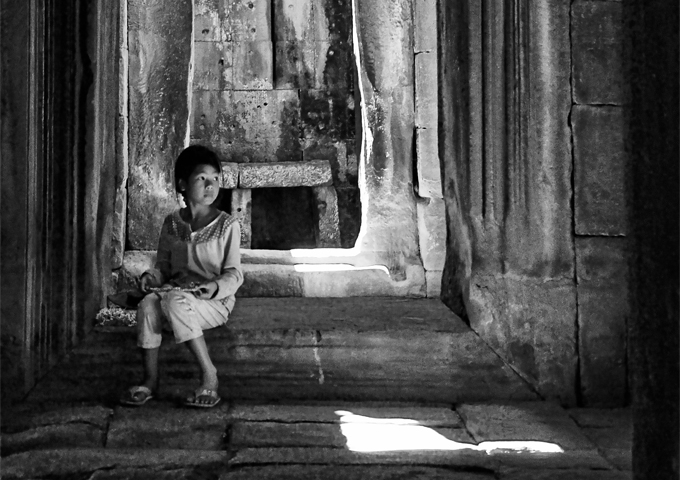 A little girl sits steadily on the stone stair
Absolutely! Angkor Wat offers numerous breathtaking spots that are ideal for photography tours. Here are some sample shooting topics you can have a try:
Angkor Wat sunrise and sunset:
You can watch Angkor Wat sunrise as well as Angkor Wat sunset on Phnom Bakheng Mountain. Capture the iconic silhouette of its beauty and charm. The reflecting ponds create stunning mirror-like reflections, adding a magical touch to your photographs.
Bayon large and kind faces:
Known for its striking stone faces, Bayon temple provides unique photo opportunities. Explore the intricate carvings and capture the mysterious smiles of the faces that adorn the towers.
Towering trees and sprawling roots:
This temple is famous for being engulfed by towering trees and sprawling roots, creating a captivating blend of nature and architecture. The atmospheric and surreal ambiance offers endless photography possibilities.
Pink castle capturing:
Known as the "Citadel of Women," this temple features intricate pink sandstone carvings with fine details. The richly decorated walls and lintels make it a perfect spot for close-up shots and capturing the beauty of Khmer craftsmanship.
The sacred Angkor Thom South Gate:
The massive stone faces and the iconic entrance bridge of the South Gate provide a memorable photo backdrop. Capture the grandeur and architectural splendor of the entrance to Angkor Thom.
You are going to walk a lot when visiting Angkor Wat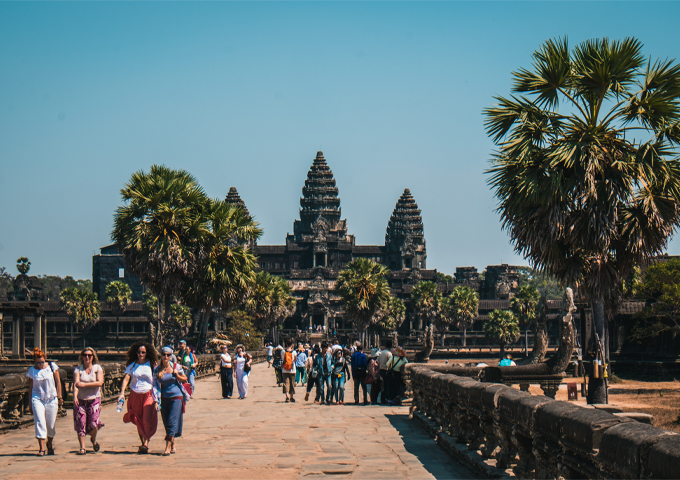 People leisurely walk back and wards the Angkor Wat
With well-established pathways and pedestrian-friendly routes, walking allows visitors to involve themselves in the atmosphere and capture unique photographs of the structures and their surroundings.
Walking through the temple grounds also provides an opportunity for serenity and contemplation. As you traverse the complex, you can experience a sense of tranquility, taking in the spiritual and historical significance of the site at your own pace.
It's important to wear comfortable shoes and dress appropriately for walking, as some areas may have uneven surfaces, stairs, and inclines.
Kinds of Angkor Wat tours beyond temples
While the temples are the main attraction, the Angkor Archaeological Park and the nearby town of Siem Reap offer additional experiences to enhance your visit. Here are some tour options that go beyond the temples: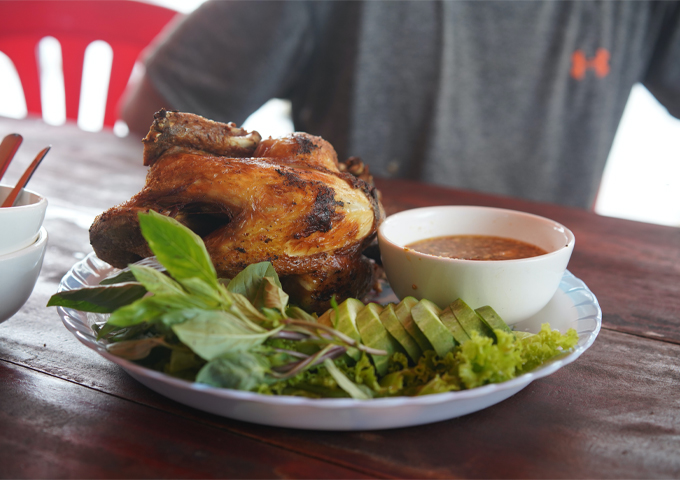 A local Cambodian cuisine with roasted chicken and sauce
Floating Village Tours:
Explore the floating villages in Cambodia, located near Angkor Wat. Take a boat ride to witness the unique way of life of the local communities who reside in stilted houses and rely on fishing and agriculture.
Food Tours:
Go on a culinary adventure by taking a food tour in Siem Reap. Sample delicious Cambodian street food, explore local markets, and learn about the unique flavors and ingredients used in Khmer cuisine.
Cycling Tours:
Rent a bicycle or join a cycling tour to explore the countryside around Angkor Wat. Pedal through picturesque rural landscapes, visit local villages, and interact with the friendly locals while experiencing the beauty of the region.
Nature and Wildlife Tours:
Discover the natural beauty of the region by taking nature tours to nearby national parks, such as Phnom Kulen National Park or Prek Toal Bird Sanctuary. Explore lush forests, waterfalls, and spot unique flora and fauna.
These are just a few examples of the diverse tour options available beyond the temples of Angkor Wat. Depending on your interests and preferences, you can choose from a range of other experiences you have learnt to complement your visit.
Suggested 1-day & 3-day Angkor Wat tour itineraries for first timers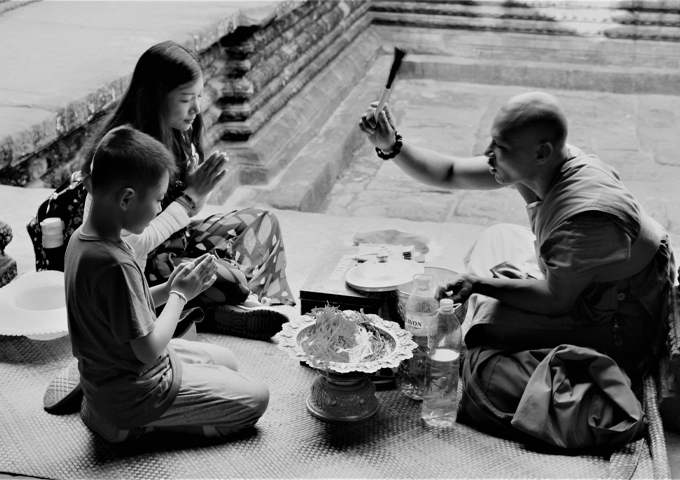 Mom and son are praying for a good future under a monk's sermon
The 1-day itinerary is designed for those with limited time who want to get a glimpse of the main highlights of Angkor Wat.
On the other hand, the 3-day itinerary allows for a more immersive experience, providing additional time to explore a wider range of temples and sites.
Here are suggested itineraries for both a 1-day and a 3-day Angkor Wat tours, tailored for first-time visitors:
1-Day Angkor Wat Tour Itinerary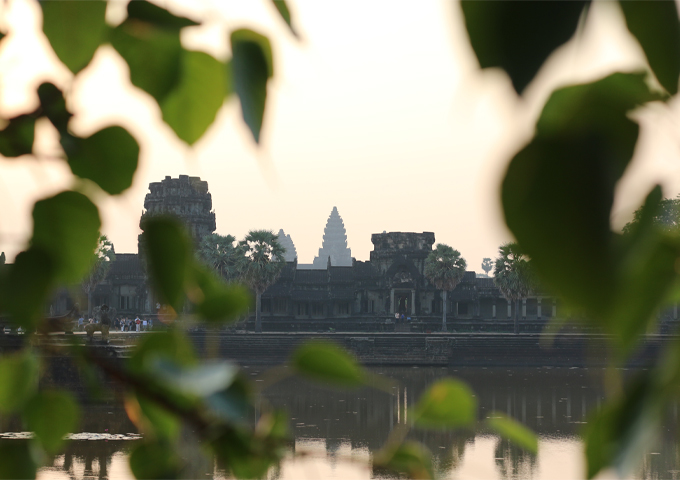 Angkor Wat silhouette seen from the gaps of the leaves
Morning: Start your day early and head straight to Angkor Wat to witness the sunrise. Capture the iconic silhouette of the temple as the sun casts its golden hues.
Explore the main temple of Angkor Wat, marveling at the intricate carvings, galleries, and central towers.
Mid-Morning: Visit Angkor Thom, the ancient capital city. Enter through the South Gate and discover the remarkable Bayon Temple, famous for its stone faces.
Lunch Break: Take a break and enjoy a delicious Khmer meal at a local restaurant near the temples or in the downtown of Siem Reap.
Afternoon: Visit Ta Prohm, known for its dramatic appearance with tree roots intertwined with the temple ruins.
Sunset: Conclude your day at a picturesque spot such as Pre Rup or Phnom Bakheng to witness the sunset over the temples.
3-Day Angkor Wat Tour Itinerary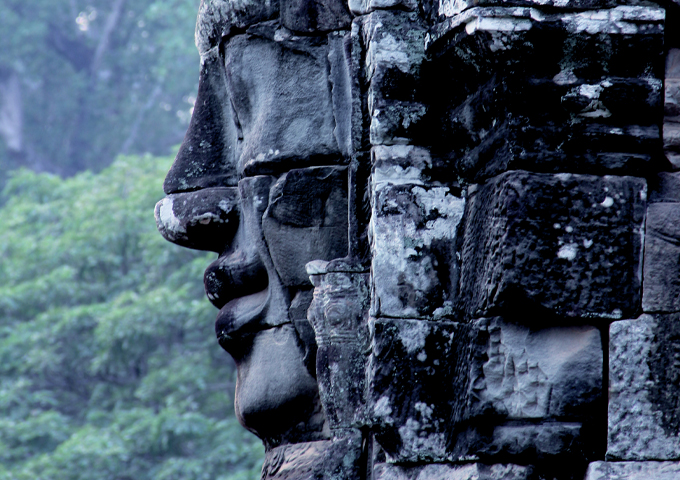 Bayon face with a meditated sense
Day 1
Morning: Begin with the sunrise at Angkor Wat, followed by an exploration of the main temple.
Mid-Morning: Visit Angkor Thom and its key sites, including Bayon Temple, Baphuon, and the Terrace of the Elephants.
Afternoon: Explore Ta Prohm, Banteay Kdei, and Ta Nei temples, known for their atmospheric and photogenic qualities.
Day 2
Morning: Discover Banteay Srei, a stunning temple renowned for its intricate pink sandstone carvings.
Mid-Morning: Continue to Preah Khan, an expansive temple complex with beautiful architecture and captivating corridors.
Afternoon: Explore the temples of Pre Rup, East Mebon, and Ta Som, each offering unique architectural features and historical significance.
Day 3
Morning: Visit lesser-known temples, such as Beng Mealea or Roluos Group, which provide a glimpse into the early Angkorian period.
Afternoon: Return to the main Angkor complex to revisit any temples of particular interest or explore additional sites such as Pre Rup or Phnom Bakheng for an Angkor Wat sunset tour.
Insider tips
Dress respectfully, covering your shoulders and knees.
Start early to beat the crowds.
Consider hiring a knowledgeable guide.
Stay hydrated.
Wear sunscreen.
Bring essentials like comfortable shoes, a hat, and a camera.
Respect the site and follow guidelines.
Restaurants in the Angkor area are not recommended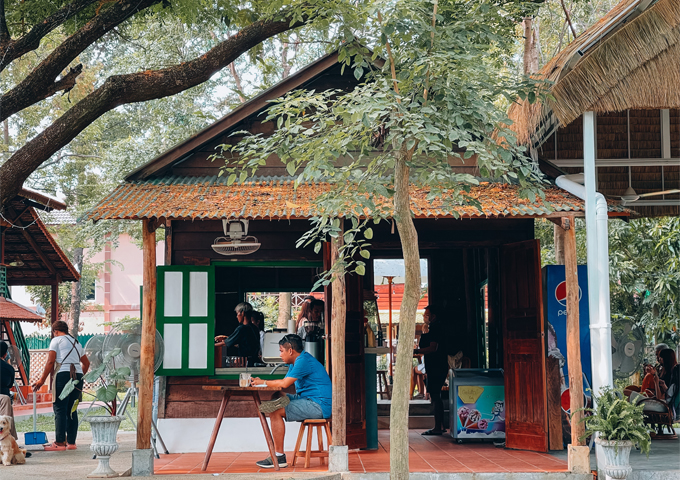 A fine restaurant in Siem Reap downtown
While there are restaurants and food vendors in the vicinity, it's suggested to explore the local cuisine in the nearby town of Siem Reap. The main reasons for the recommendation to eat outside the Angkor Wat area include:
Limited options
The restaurants within the temple complex often have a limited selection of dishes compared to the diverse culinary scene in Siem Reap. Visitors may find a more extensive range of local and international cuisines in the town.
Higher prices
As a popular tourist destination, the restaurants in Angkor Wat may tend to have higher prices compared to similar establishments in Siem Reap. This can be attributed to the convenience factor of being located near the temples.
Where can we sample the local cuisine?
Siem Reap downtown offers a vibrant culinary scene. Pub Street in Siem Reap is a popular hub with numerous restaurants and food stalls serving local dishes, while those Cambodian markets such as Psar Chas (Old Market) and Phsar Leu Thom Thmey (Central Market) provide opportunities to savor street food delights.
For a refined dining experience, Khmer Village Restaurant showcases traditional Khmer flavors, and Malis presents a contemporary twist on Cambodian food.
Exploring these downtown areas will lead you to a multitude of options to relish the rich and diverse culinary offerings of Siem Reap.
Staying in downtown Siem Reap let you stroll around at night
Staying in downtown Siem Reap provides a wonderful opportunity to explore the city on foot, even during the evening hours.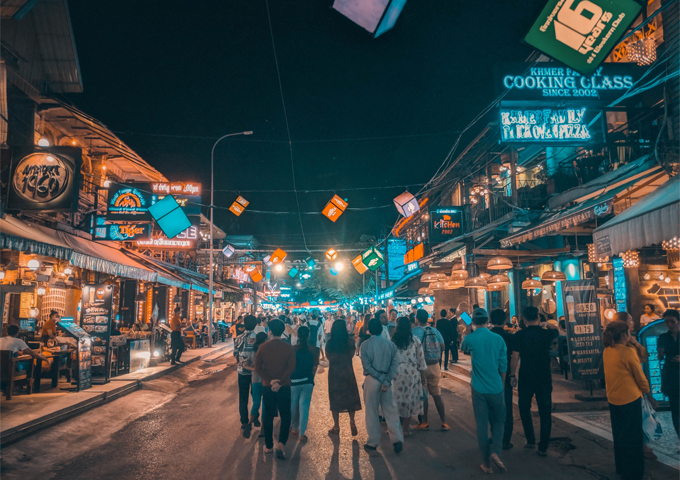 The bustling pub street in Siem Reap at night
As the sun sets, the lively atmosphere of Pub Street comes alive, with its vibrant street lights, bustling night markets, and an array of restaurants and bars.
Moreover, downtown Siem Reap is generally considered safe for walking at night. The city has made efforts to enhance the safety and comfort of pedestrians, ensuring that visitors can enjoy an evening stroll with peace of mind.
Bangkok is an easy gate to get to Siem Reap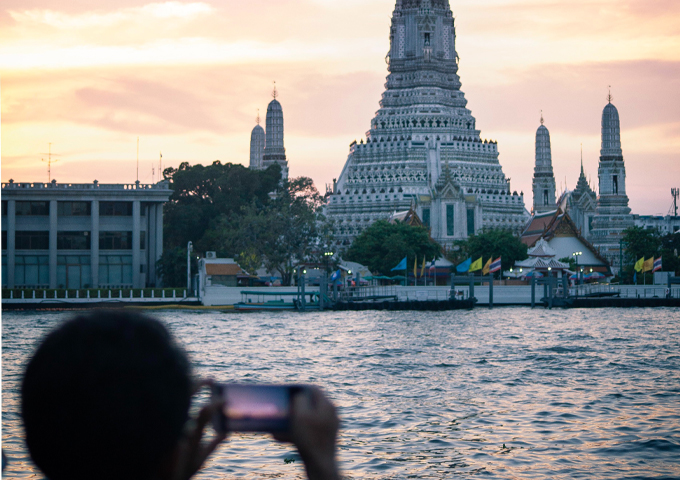 A beautiful shot of Wat Arun temple in Bangkok, Thailand
A Bangkok to Angkor Wat tour typically involves traveling from Bangkok, Thailand, to Siem Reap, Cambodia, where Angkor Wat is located.
In fact, Bangkok serves as a convenient gateway to reach Siem Reap. From there, it's a short and straightforward journey to Siem Reap, either by a connecting flight or overland transportation.
The air route between Bangkok and Siem Reap is a popular and frequently serviced route. Flight duration is relatively short, usually around one hour, allowing visitors to swiftly reach Siem Reap and start exploring the wonders of Angkor Wat.
In addition to flights, there are also overland transportation options from Bangkok to Siem Reap. Buses and shared vans operate regular routes between the two cities. The journey typically takes around six to eight hours, offering scenic views of the countryside.
Besides Bangkok, Hanoi and Ho Chi Minh are also good starts to Siem Reap. Here we recommend this 7 days Vietnam, Cambodia and Thailand classic tour. Here are some highlights:
In Vietnam, you will start to visit the Tran Quoc Pagoda. Enjoy a half hour cycle tour through Hanoi's the Old Quarter. Then you will visit the sacred Angkor Wat in Cambodia. At the end of the tour, you will go to Phuket in Thailand, and transfer to Bangkok for a city tour.
Conclusion
In conclusion, visiting the vast Angkor Wat complex requires careful planning and consideration. Be aware of the complex's size, as it encompasses more than just the iconic Angkor Wat temple.
The optimal visiting time is during the dry season, but keep in mind that it's also the peak tourist season. Hiring a private tour guide and car offers flexibility and in-depth knowledge. Wear comfortable shoes and bring enough water. There is so much to offer in Cambodia beyond temples.
By considering these key points, you can optimize your visit to Angkor Wat and appreciate the magnificence of one of the world's most remarkable heritage sites. Feel free to get in touch with us to tailor your Cambodia tour!
More Related Travel Planning Articles
Most Popular Cambodia Tour Packages