When Is the Best Time & Worst Time to Visit Cambodia in 2023/2024?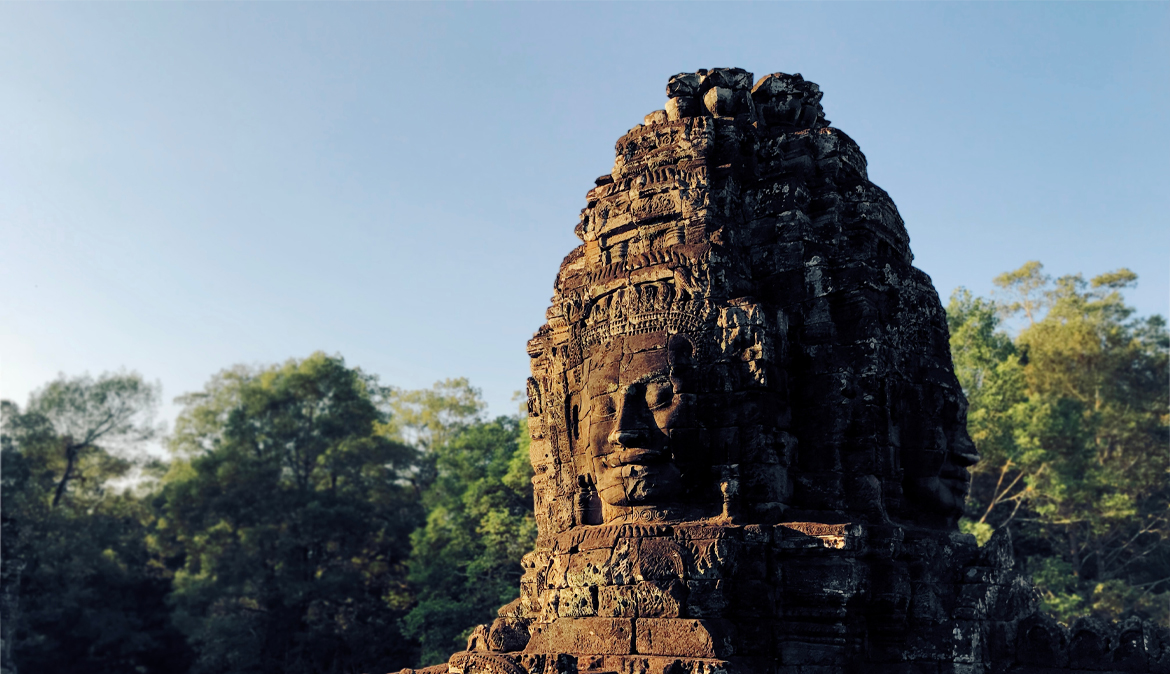 Angkor Thom, Cambodia
Cambodia climate has two distinct seasons: the dry and rainy seasons. The dry season lasts from November to April, with dry and pleasant weather, while the rainy season lasts from May to October, with high temperatures and humidity.
People will often get confused when is the best time of year to visit Cambodia. Our purpose is to help you decide properly upon your preferences. There are a lot to consider during your Cambodia tour.
In this article, we will introduce you to the best time and the worst time to visit Cambodia. We hope it will be helpful for you to arrange your upcoming trip to Cambodia!
Cambodia Average Precipitation
The Best Time to Visit Cambodia is from November to February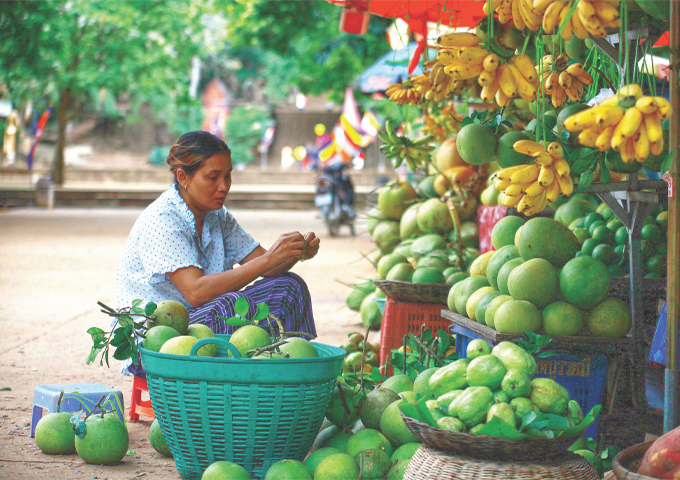 A woman preparing fruits for sale at phnom banon
Generally, November to February is the best time to visit Cambodia. The weather during this time is mild and comfortable, with a gentle breeze and less rainfall. People around the world would like to come at this time with their families or their beloved ones.
Visitors can expect many outdoor activities, such as visiting temples and museums, going on a trekking tour, or having a Cambodian food exploration. For example, the best time to visit Angkor Wat is during the dry season. The roads and paths are dry, reducing the difficulty of walking. Also it provides better photography conditions, with abundant sunlight and vivid colors!
Cambodia Weather in November
As the transitional month between the rainy and dry seasons, there are more rainfalls than the following months. The weather should start to turn nicer and drier as the month goes on, with an average temperature of 27℃. But crowd levels will start to increase with the peak season fast approaching.
Cambodia Weather in December and January
The weather during December and January is much dryer, with an average temperature of 26℃. Visitors can go around the city in good weather in a pleasant mood. Usually, these two months are also the peak season, considered the best time of year to visit Cambodia. But you should also pay attention to the crowds and higher hotel prices.
Cambodia Weather in February
February is a good time to visit Cambodian attractions. The famous Angkor Wat and other historic sites can be visited with less rainfall interference. In addition, the relatively low water levels of rivers and lakes also facilitate some water activities.
The Best Time to Join in Local Festivals: March and April
Weather in March and April is somehow with high temperatures, but you can still have fun experiences in Cambodia. You can expect to join some important festivals in Cambodia in March and April.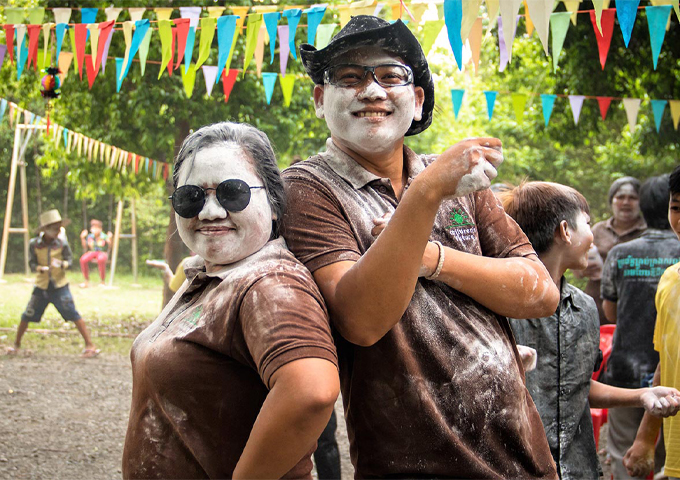 People are sprinkling powder on each other for a new start
For example, Khmer New Year, held on April 13-15, is a traditional Cambodian festival celebrating the coming of the New Year. There are also many customs during this time. Songkran is also known as the water festival, where people will play water plashing to wash away the bad moments of the past year and bring in good luck.
Also, there will be a Buddhist festival called Vesak Bochea in April. Visitors can visit the ancient Buddhist temple to see religious ceremonies and join in meditation experiences. It is a good time for tourists to know everything about Buddhism.
The following chart lists the basic information about the weather in March and April. We can notice that the weather is universally hot, also considered the hottest months throughout the year. The highest temperature can reach over 35℃.
But you do not have to worry. Most hotels and restaurants have air conditioners inside to cool you down! Besides, you can expect to taste cool local dishes, such as Fresh Fruit Smoothies and all kinds of ice cream with sticky rice, palm sugar, and even durian.
The Rainy Season Is Considered the Worst Time to Visit Cambodia? It Is Not as Bad as You Think
The rainy season of Cambodia climate is also the off-season. There are certain advantages for visitors. For example, people can expect discounts on accommodations, air tickets, and ticket prices for various tourist attractions.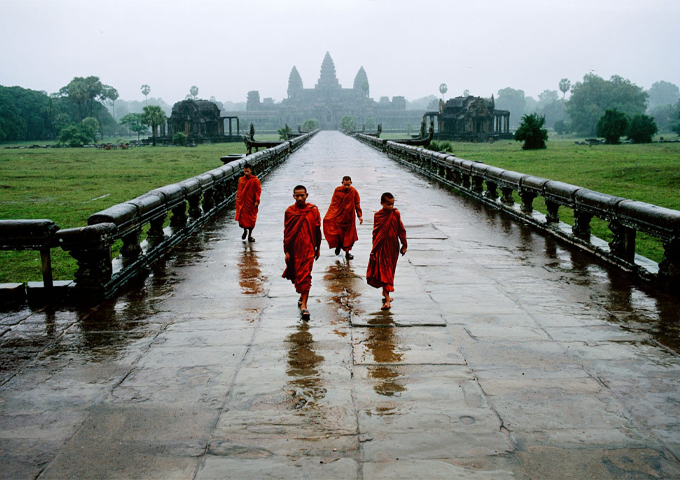 Young monks in the rain Angkor, Cambodia
Every coin has two sides. When choosing the best time to visit Cambodia, the weather condition is not the only factor you should consider. Also, things about your budget and schedule are still important.
And we have listed a chart down below. Although the weather is commonly hot during the rainy season, restaurants and hotels also have air conditioning indoors for you to cool down!
In this sense, the rainy season is not as bad as you think. It is still a worth-coming season for you. Imagine yourself diving into the deepest green of Angkor Wat, with fewer crowds and tranquility. That would be the best part of your days out of the ordinary in Cambodia.
Tips for Visiting Cambodia at the Right Time
Under the impact of the distinct weather in Cambodia, here are several things to keep in mind in specific months. Therefore, we list 10 practical tips to make the most of your Cambodia tour!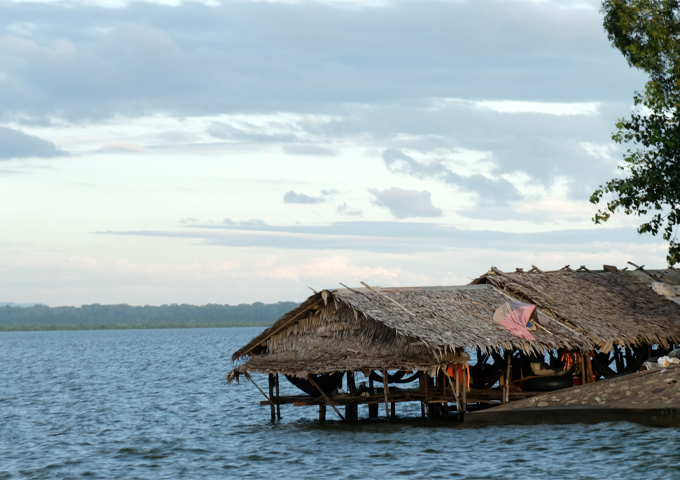 Stilted houses on Tonle Sap Lake
1. January is the driest month of the year in Cambodia, making this the perfect time to explore temples or relax on the southern coast's beaches.
2. April is the hottest month of the year. People are concerned about protecting themselves from sunburn.
3. November from February is also the peak season. Hotel prices and ticket prices will be expensive but with festive fun!
4. You'd better book up your hotel far in advance during the peak season.
5. Actually, every month in Cambodia is covered with beautiful scenery.

Visitors in front of Angkor gate
6. For the most part, showers are short and sharp and should not impact on your trip, with plenty of sunshine still seen.
7. Lots of families choose to visit in July as it coincides nicely with the European summer holidays.
8. The Tonle Sap in August fills up again, and flora and fauna are in full bloom, making this a good time to visit for wildlife enthusiasts.
9. Some even say that the real Angkor Wat can only be seen during the rainy season. During the rainy season, tourists are scarce, making the scenic area even quieter.
10. December can make for a rewarding Christmas destination.
Conclusion
In summary, when choosing the best time to visit Cambodia, multiple factors, including Cambodia climate, need to be considered comprehensively.
If you are looking for pleasant weather, fewer tourists, and better photo opportunities, then the dry season (November to February) may be the best time of year to visit Cambodia. However, if you fancy more unique experiences, then the rainy season (May to October) also has its charm.
Finally, to tailor your Cambodia tour, feel free to get in touch with us! We can't wait to explore Angkor Wat with you, as if traveling through time and space, pursuing the footsteps of civilization; in the lush forest, dancing with elephants, and bathing in the warm sea breeze...
More Related Cambodia Travel Planning Articles
Most Popular Cambodia Tour Packages