Siem Reap Must Eat: Famous Food and Top Restaurants in Siem Reap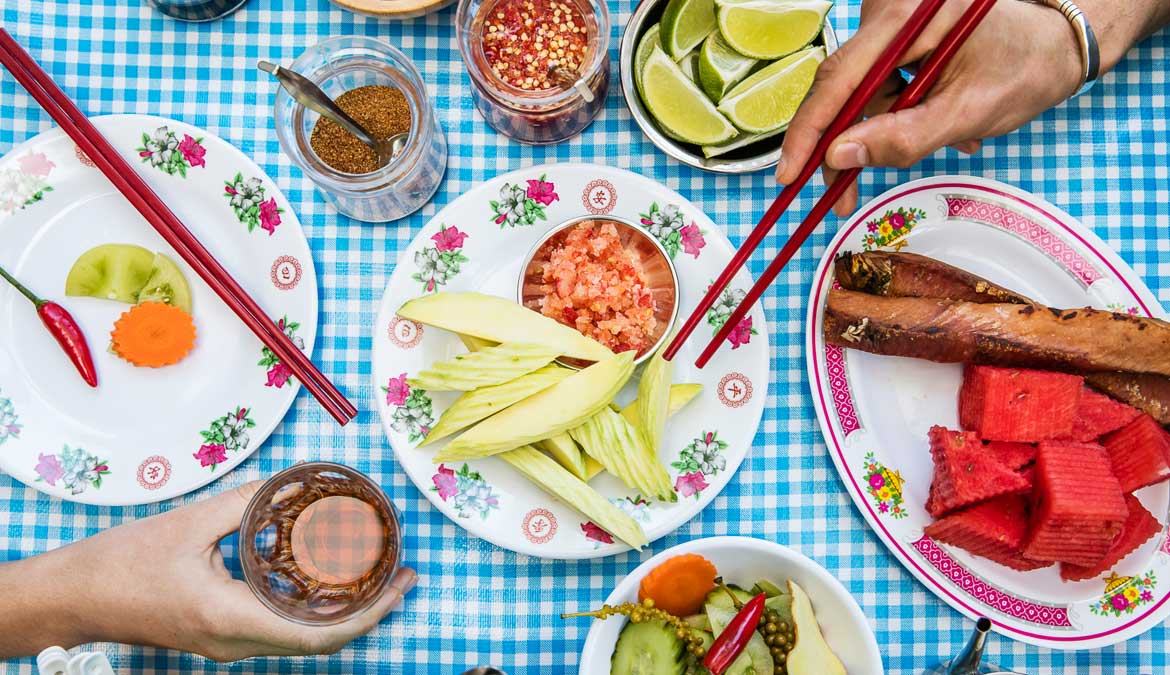 What's so Special about Siem Reap Food
Siem Reap people mainly eat rice and noodles like most Cambodians. There are many ways to eat rice, and even more to eat noodles. They also like fish, shrimp, lettuce and salad. Cambodian hand pilaf is one of the most popular dishes both for the locals and foreign tourists. Before I introduce hand pilaf, I would like to say something about the eating posture of Cambodians. They usually sit on the floor while eating. During the meal, the host will spread out a cloth or straw mat on the floor, then put the food to eat on the cloth. Usually they are contained in the suitable utensils. For instance, milk is supposed to be put in a large cup, and soup dishes in a bowl. Hand pilaf gets its name because of this special Cambodian way of eating. They usually grab the food with their hands. They will wrap the prepared meal in the washed lettuce leaves, dip it with sauces and then send it to their mouths. Of course, for foreign tourists who are not used to this way of eating, they will also provide chopsticks and forks. There is something else you need to pay attention to. When you are eating at a local's, you are supposed to make some compliments on the hospitality of the host, especially their food. If you know the food well, it is better to praise it in detail. This will not only show your politeness, but also please the host.
Let's Meet the Food Stars in Siem Reap
Siem Reap cuisine is somewhat similar to Thai food, but not as spicy or sour as Thai food. Seafood, beef, and chicken are what you can usually see on their dining tables. Here are some popular and typical Siem Reap food that you must try.
1. Rice noodles
Siem Reap rice noodles are made of rice specially grown by local people, without any medicine or fertilizer, and are absolutely green food. Cambodians, including Siem Reap people always have rice noodles for breakfast. The high-quality rice noodles are usually quite strong and smooth. The noodles you eat at the home of the local residents may not be very spicy. If you want to eat extra spicy noodles, you can find them in the restaurants. Do not forget to try curry rice noodles, which contains not only a lot of curry powder made by the local people, but also a special spice which can be used for cooking.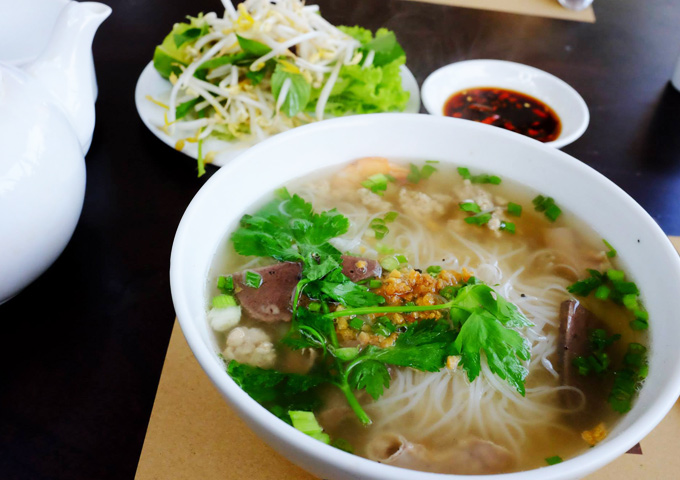 Rice noodle
2. Sour soup
Sour soup is probably the best embodiment of Cambodian sour and sweet food. It's main ingredients can be chicken, pork or fish. Other common ingredients like spinach, lotus stalk, wax gourd, sauerkraut, and lemon leaf can also be added to its unique soup. Cambodian people are fond of hot and sour food, so lemon juice, fish sauce and vinegar pepper are essential in their diets. Cambodian sour soup has a relatively strong flavor. However, in the hot Southeast Asia, a bowl of sour soup is really helpful to relieve the heat.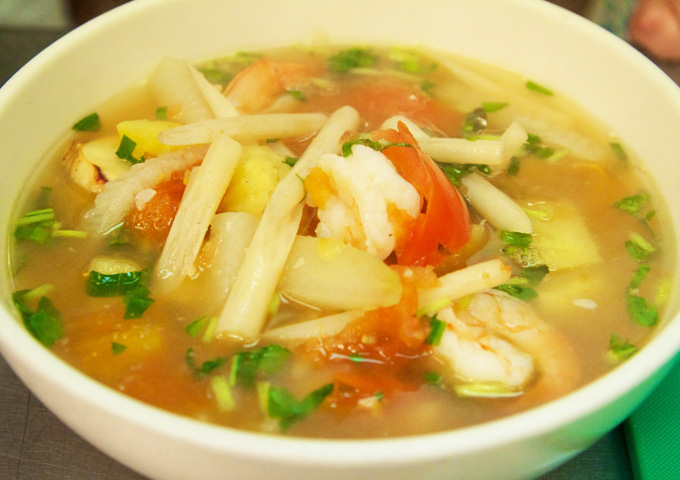 Sour soup
3. Amok fish
Amok fish is one of the most famous food in Cambodia. It is made of fresh fish with coconut milk and kroeung sauce. Kroeung is a Khmer curry sauce made of lemon vanilla, turmeric root, garlic, verdant, galangal and Chinese ginger. Fancy restaurants usually steam amok fish on banana leaves, while street food stalls cook it into a thick soup curry fish. Amok fish may taste a litter bitter with the local spice slok ngor.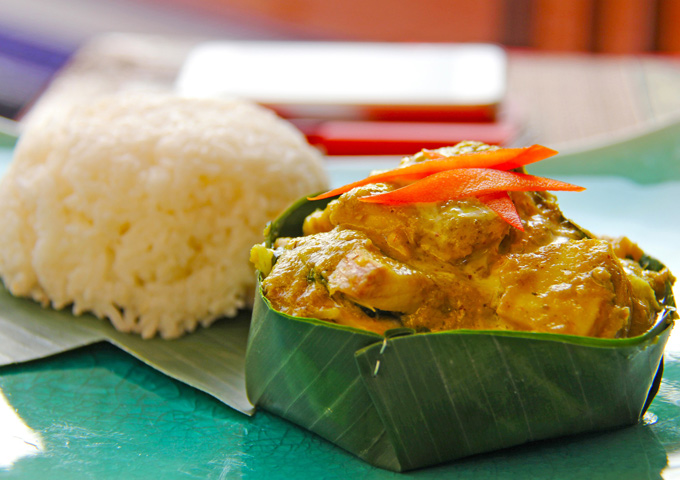 Amok fish
4. Khmer red curry
Khmer red curry is not as hot as Thai curry. The dish includes beef, chicken or fish, together with eggplant, mung beans, fresh coconut milk, lemon vanilla and kroeung sauce. Due to the influence of French culture, Khmer red curry is often eaten with bread. This dish is usually served on special occasions in Cambodia, such as weddings, family gatherings or religious festivals.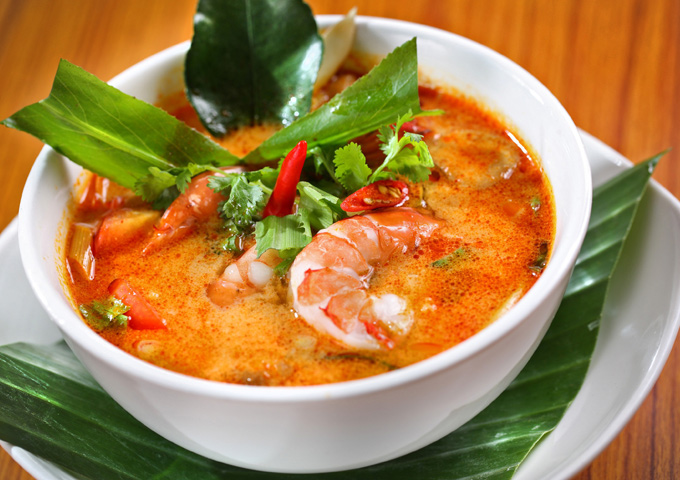 Red curry
5. Pork rice
Pork rice is one of the simplest and most delicious food in Siem Reap. You can find it on the streets very morning. The sliced pork is naturally sweet while baking slowly on the charcoal fire. Sometimes the pork is soaked in coconut juice or garlic juice. The roast pork is placed on a large portion of rice, with fresh pickled cucumbers and radishes and a lot of ginger. Usually there is a bowl of chicken soup covered with scallions and fried onions.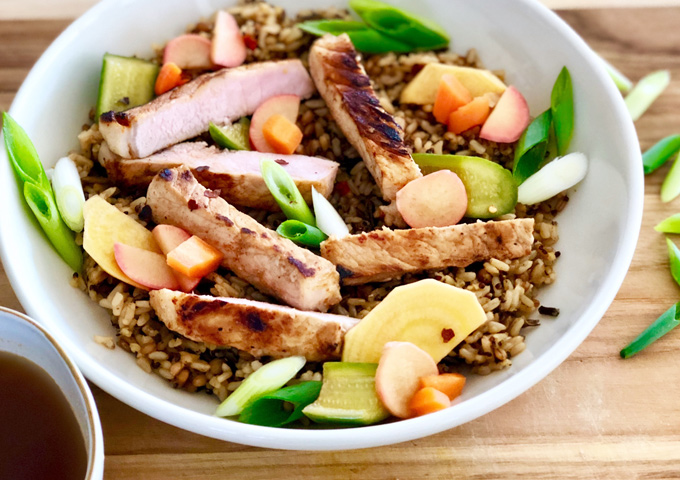 Pork rice
6. Cambodian Hot Pot
Cambodian hot pot is actually very famous. It is pronounced as "Qiunandayi" in the local language. "Qiunan" means "pot", "Dayi" means "earth". And the hot pot soup is really contained in a casserole-like container with some meatballs floating inside. The taste of the soup is a bit close to that of the Vietnamese hot pot, very light and sweet. It has the taste of citronella, but with a lighter flavor.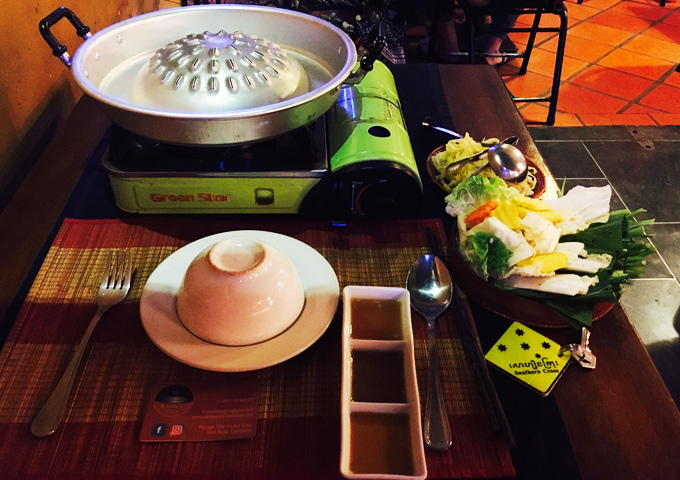 Cambodia hot pot
Treat Your Stomach in the Famous Pub Street
In the crowded old town of Siem Reap, next to the old market lies Pub Street, a bar street where many foreigners linger on. Pub Street, as its name implies, there are many bars on that street. But unlike traditional bars, they also serve as restaurants. During the day, tourists eat in the restaurants on the street, and at night, they may come to grab a drink and chat with the friends newly met. Bar street is very busy and becomes a landmark of Siem Reap. In addition to the bars, there are also many shops, some of which are bookstores selling English books and postcards, some are shops selling handicrafts. Walking around, you can easily find the famous bars on the street: the Red Piano, Temple Club and so on. Now we will discuss the top restaurants in detail.
The Red Piano
The Red Piano is one of the most popular and well-known restaurants in Siem Reap, Cambodia. It is easy to find as it is conveniently located at the entrance of Pub Street. It mainly serves local cuisine and Western food. It is famous for Angelina Julie because she went there quite frequently when she was filming Tomb Raider. There are still huge posters of the movie and pictures of Julie on the wall. The most popular cocktail called Tomb Rider is named after the movie and it is worth a try.
Address: No. 341, 8th Street, Mondul 1, Svay Dangkom, Siem Reap
Price: $5-$10 per person
Open Hours: 9:30AM-12:30AM
Khmer Kitchen Restaurant
The Khmer Kitchen Restaurant has three branches, two of which are linked and have been recommended by many media as an authentic Cambodian restaurant. The price is reasonable and the main course is 4 dollars per dish. The high popularity can also show that the store's taste caters to most tourists.
The dishes were made of blue fish-tracing ceramic plates, and the rice bowl was decorated with small blue fish patterns on a red checked cotton and linen tablecloth.
Address: Corner of 2 Thnou Street & Street 09,Corner of Street 11 & Alley West, Siem Reap
Price: $4 -$7 per person
Open Hours: 7:00AM-10:00PM
Cambodian BBQ Restaurant
How can you miss the BBQ of Siem Reap? Cambodian BBQ Restaurant is a quite peculiar restaurant. It mainly serves instant-boil beat and BBQ, especially the meat platter, which includes crocodile meat, snake meat, ostrich meat, kangaroo meat, and other kinds of meat which are not normally eaten.
Address: Street No 8, Pub street, Passage Siem Reap Cambodian,Siem Reap,Siem Reap
Price: $7-$15
Open Hours: 11:00 AM -12:00PM
Still Feel Hungry? Here are More Restaurant Choices
As a tourist city, the restaurants in Siem Reap is more than you can count. Except for the top restaurants, there are also many other restaurants you should try.
Viroth's Restaurant
Viroth's Restaurant belongs to the nearby Viroth hotel. Both the restaurant and the hotel are decorated in an elegant style. It is very spacious with the side walls decorated by bamboos. The restaurant mainly serves delicious traditional Khmer dish. The speciality there is Amok cooked with coconut juice and lemon grass.
Address: 246 Wat Bo Street, Siem Reap
Price: $6-$15 per person
Open hours: 10:30AM-10:00PM
Genevieve's Restaurant
Genevieve Restaurant, owned by an Australian, mainly serves western food and Khmer specialties. The restaurant has a wide range of dishes according to the tastes of different customers. The restaurant is very popular and usually full every day, so remember to make an appointment in advance. Ten percent of the restaurant's income will go to four local NGOs to help the poor families and support the breakfast programs. The owner says that he hopes to build a local school someday.
Address: Sok San St | Siem Reap (near Chenda Pharmacy)
Price: $4-$20
Open hours: 12:00AM-9:30PM
Angkor Palm Restaurant
After 31 years' trip in France, the restaurant owner decided to go back to Cambodia and run a restaurant. This restaurant focuses on restoring the taste of traditional Khmer dishes and abides by the standard of western restaurant regulations to ensure the quality of the dishes. The restaurant has its own organic farm, which provides fresh produce every day. The most famous dish in the store is Cambodian food platter. One platter is enough for two people. There are six kinds of local food on the platter: green papaya salad, spring rolls, fried ribs, fried pork with hollow cabbage, fried meat with pickled cabbage and amok fish.
Address: 113 Charles de Gaulle corner of the, Rd 60, Cambodia
Price: about $10 per person
Open Hours: 10:00AM-10:00PM
Cruise the Alleys for Street Food in Siem Reap Like the Locals
Street food in Siem Reap is also something you can not neglect.it is an indispensable part of Siem Reap food and can well satisfy your stomach when you do not feel like a big meal. Unlike restaurants, there is no fixed place to buy street food. Just as the name implies, you can buy them in the street stalls you may find along the street(usually around the Old Market or the Pub Street).
Duck egg: it is one of the dishes in southern China and Southeast Asia. Boil the unhatched duck eggs with boiled water, crack the eggshell, add salt and other seasoning, and eat with a small spoon. When you eat, sometimes you can see the bones or feathers of the duckling. It tastes like eating chicken eggs when you can eat duckling meat at the same time.
French bread-and-meat sandwich: Cambodia was once a French colony, so the food is deeply influenced by France. French bread-and-meat sandwich is an example of the combination of Cambodian and French food. The bread, mixed with minced meat, papaya, cucumber and other ingredient, tastes pretty good.
Fried Instant Noodles: if you're a backpacker in the city and don't want to travel all the way downtown, you can try fried instant noodles around the Old Market which costs only 1 dollar. There is a poached egg on the noodles. Fried instant noodles may not taste very delicious, but it is a kind of typical Cambodian food. There is no harm to have a try. Banana Egg Pancake: it is a kind of pancake made with banana and egg which costs about $1. Unlike the salty pancakes served in ordinary restaurants, banana egg pancake tastes very sweet.
Some Tips
1. Local drinks are generally icy, and the food hygiene is not guaranteed. Please choose the food according to your own physical condition, and it is better to take some gastrointestinal medicine with you.
2. Cambodians think that left hands are not clean. It is impolite to fetch food with your left hand.
3. Some restaurants or street food stalls may offer different prices to the local people and the tourists. If you can speak Cambodian, it may help you get a lower price. Based in Siem Reap, we're expert in private and luxury Cambodia tour, so for traveling with us, our professional tour guide will take you to have a taste of authentic Siem Reap food at the local price along all the way.
More Articles about Cambodia Tour Guide
Most Popular Cambodia Tour Packages