Top 25 Things to Do in Siem Reap, Ranked the Best Experiences for any Cambodia Tour
Siem Reap is the second large city in Cambodia. With a long history dating back to 802 AD, Siem Reap grew quickly as one of Southeast Asia's tourist paradise.
Except for the iconic Angkor Wat, Siem Reap has a lot more to offer. There are TOP 25 things we recommend in Siem Reap, including the must-dos and the optional dos.
(Must-Do) Witness the sunrise of the Angkor Wat and explore the whole Angkor complex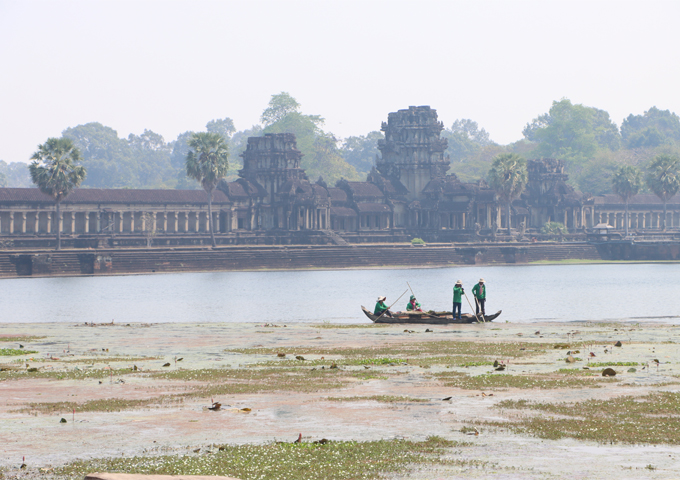 Angkor Wat workers on a boat along the moat
At the start of the day, you won't miss out on a beautiful sunrise tour in Angkor Wat. After having a simple but authentic breakfast, head to Angkor Wat with gentle winds blowing.
Most people will gather around the reflection lotus ponds to capture the first sight of Angkor Wat sunrise in its mysterious silhouette. You can grab your camera to make the best of your memories.
Then we are just on a bright day in Angkor Wat. The whole Angkor complex is just waiting for your coming. It is measured 1, 626, 000 m2, considered the largest religious structure in the world.
You can witness the Khmer past and its civilization through those architectural marvels. Besides, there is more than Angkor Wat to see. Other temples around Angkor Wat still hold fame, such as Ta Prohm Temple, Bayon Temple, and Banteay Srei.
(Must-Do) Explore the Siem Reap City in a Tuk-Tuk adventure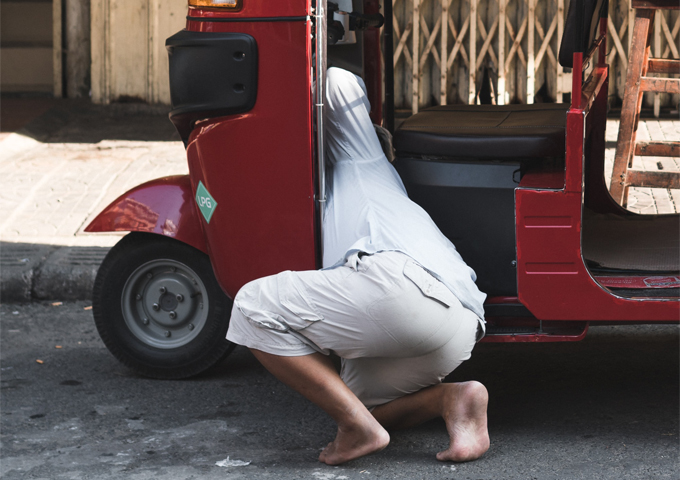 A Cambodian drivers is repairing his red tuk-tuk
After watching the ancient Angkor dynasty, it's time to enjoy the city view. As a first-timer to go to Cambodia, tuk-tuk is the most popular transportation you may notice.
As a two-wheeled carriage pulled behind a moto, taking a tuk-tuk is a breezy way to whizz through the city. It usually holds about 3 people.
Tips:
Negotiate the price before you hop in.
If you feel the driver has done a good job, feel free to tip for $1-2.
(Must-Do) Visit the Tonle Sap Lake floating village and enjoy the enchanting sunset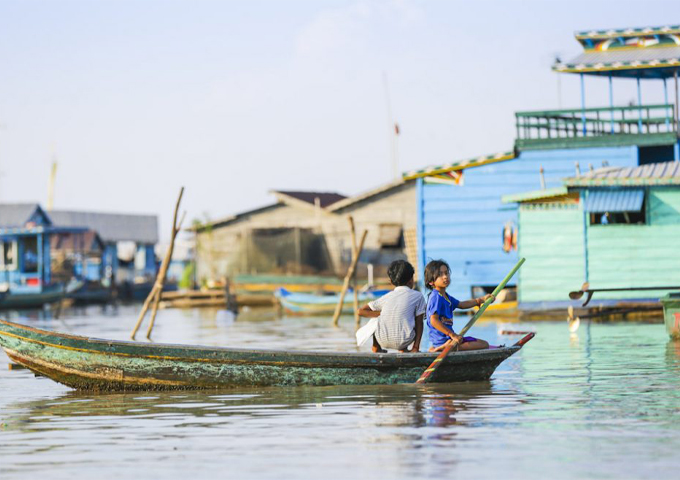 A little girl is rowing the boat
People love to see the flooded forest on Tonle Sap Lake during the rainy season and visit the soaring stilted houses of the floating villages in Cambodia. Kampong Phluk is one of the friendly villages.
Go there at the end of the day, and you can enjoy the enchanting sunset on the lake. People work and rest under the decreasing glory of the sun. Imagine such a unique moment in your life.
3 Days Siem Reap Tour with Tonle Sap Lake
(Must-Do) Hike up to the Phnom Bakheng for the most beautiful sunset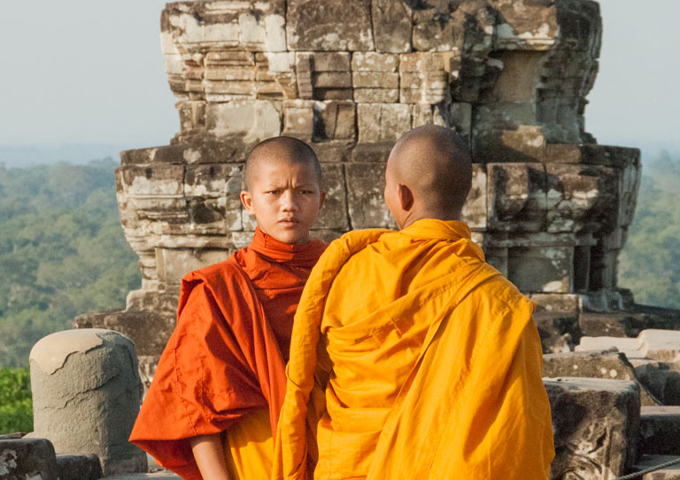 Two monks were waiting shoulder to shoulder for sunset
There is another place you can see the sunset view of Angkor Wat, and that is at the top of the Phnom Bakheng mountain. Visitors come here to appreciate an unusual panoramic view.
Dedicated to Shiva, it was built in the 9th century during the reign of Yasovarman, 1.5 km from Angkor Wat. Accept for watching the sunset, Phnom Bakheng is also a sacred pilgrimage site. Buddhists and other people who are interested in Buddhism like to come here to do prays.
Practical information:
Wear a hat or bring an umbrella to avoid sunburn.
Protect the relics with no damage to the stones and carvings.
(Must-Do) Amazed by the famous Smiling Faces of Angkor at the Bayon Temple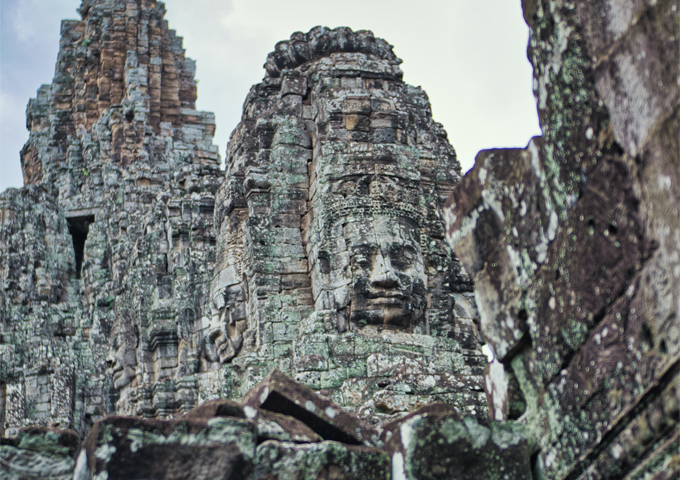 Kind Buddha faces in Bayon Temple
At the center of Angkor Thom, there stands the Bayon Temple. It was built in the late 12th as the state temple of King Jayavarman VII.
Anyone who comes to visit is surprised at the serene and smiling stone faces of the Buddha. What is fun is that it is said the smiling stone faces are modeled on the face of King Jayavarman VII.
Practical information:
It has 54 Gothic towers, decorated with 216 smiling faces.
It represents the tranquil mind and peace in Buddhism.
(Must-Do) Appreciate the most artistic and mysterious ruins at the Ta Prohm Temple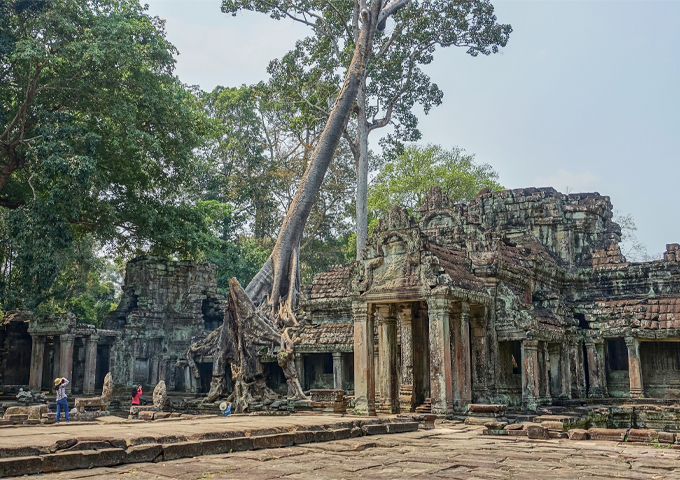 A high tree stuck right in the Ta Prohm Temple
Ta Prohm is another popular temple, which is 1 kilometer east of Angkor Thom. In the late 12th, King Jayavarma VII built it dedicated to his mother.
It is famous for the trees taking root in the loosened stones, making a mysterious aura around the temple. Since 1992, it has been on the UNESCO World Heritage List and become a tourist hit especially in photography.
(Must-Do) Enjoy the exquisite varvings at the Royal Palace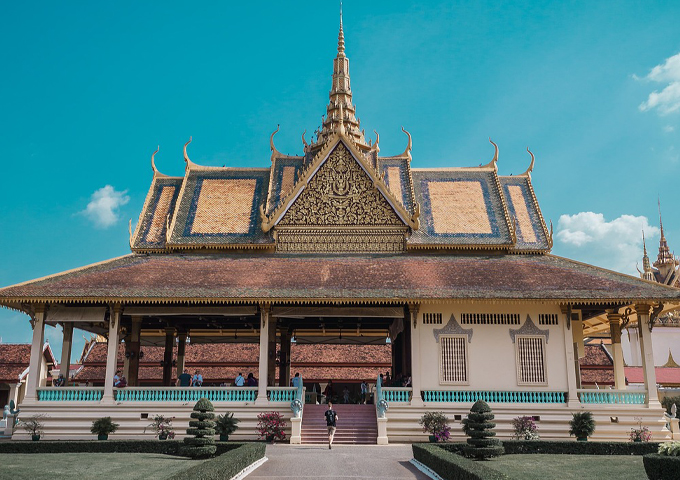 The Royal Palace of Cambodia under blue sky
The Royal Palace of Cambodia is situated at the western bank of the cross division of the Tonle Sap River and the Mekong River. It is a complex of buildings built between 1866 and 1870, serving as the royal residence of the King of Cambodia.
Visitors come here to see not only the splendid architecture but also the intricate carvings inside the palace. There are many notable patterns of carvings in the Royal Palace including:
Gilded facades: on the exterior of the buildings, featuring an ornate design
Garudas: bird-like creatures, a prominent figure in Hindu and Buddhist mythology
Apasaras: celestial nymphs or dancers, found adorning walls, pullers, etc.
6 Days Essence of Cambodia Tour
(Must-Do) Explore the Banteay Srei, an architectural marvel with best-preserved ornamentation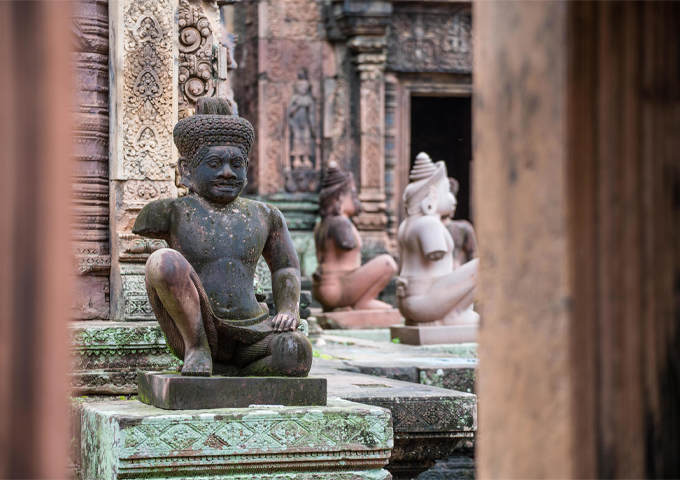 A demon statue stands mysteriously in Banteay Srei
Praised as the "Jewel of Khmer Art", Banteay Srei stands for its delicate carvings and castle-like beauty. Visitors usually go there 25 km northeast of Angkor Thom.
Fun facts:
Banteay Srei means "the citadel of the women or the citadel of beauty".
It is a 10th-century Cambodian temple and was rediscovered in 1914.
It was the subject of a case of art theft when Andre Malraux stole 4 devatas in 1923.

(Must-Do) Escape to Siem Reap's countryside: Discover real Cambodian local life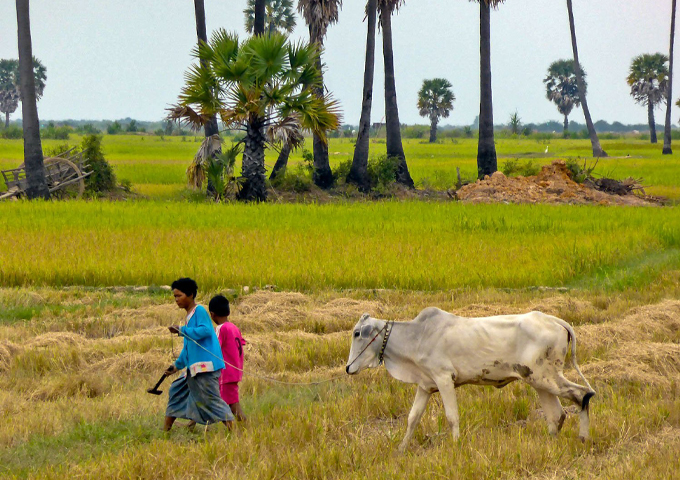 Two Cambodian children lead cows through the rice fields
The countryside of Siem Reap showcases the real Cambodia via paddy fields and stilted houses. Very few tourists down there can be seen. However, this can be authentic and close to the locals.
You can ride on the ox-cart to the near villages like Kompheim Village. The local farmers come to teach you how to weave palm leaves into sets that will be used for the roof of a house. If you're a fan of nature and culture, this should be your TOP 1 choice.
(Must-Do) Party on Pub Street of Siem Reap: Go wild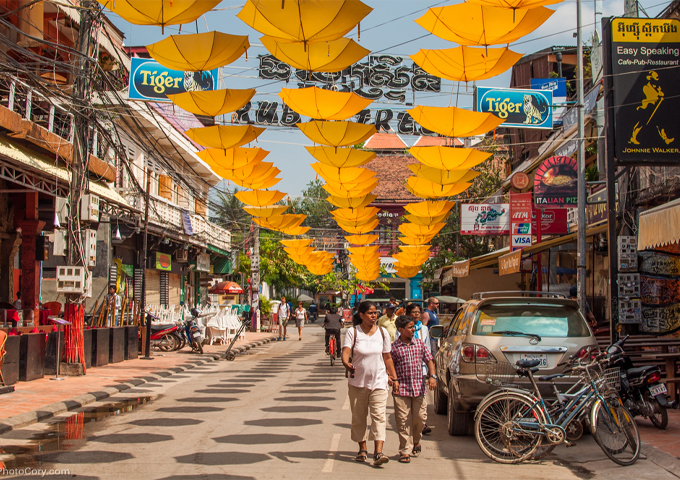 The vibrant Pub Street in Siem Reap
Join a night party in Siem Reap City as the sun gently sets upon the fabulous Angkor temples. Nightlife in Siem Reap finds its fire on Pub Street.
"Street 8" is another titled name for Pub Street, which is a 100m stretch of road, speckled with neon-lit clubs, bars, restaurants, and various food vendors.
Practical information:
During happy hour, some sell draught beer for as low as US $0.5 a glass.
The street starts at the Red Piano Restaurant and ends at the Banana Leaf Restaurant.
2 bottles of beer per person for your party are good to enjoy.
(Must-Do) Indulge in local street food delights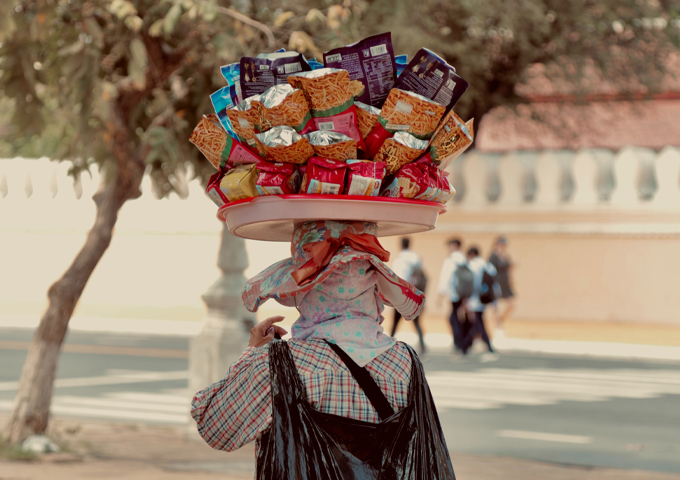 A woman walking on the street with snacks on her head
Spend $1-3 to have the most authentic food in Cambodia! Local street food is very popular among tourists all over the world. Whenever you go, you will always find several vendors on the street.
For more fun and delights, Pub Street is the best place to go at night after 5 pm. If you are in the capital city, Street 240 and the central market are also good choice for a food tour.
Fun facts:
Rice noodles figure heavily at the Cambodian breakfast table.
Cambodian food is a balance of sweet, sour, and salty flavors.
Cambodians like pickled fruits and grilled food.
9 Days Classic Cambodia Tour
(Must-Do) Try some of the best Khmer restaurant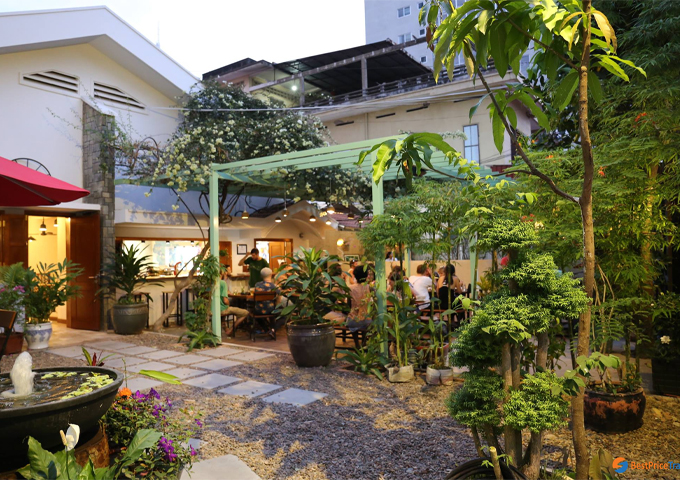 Eleven One Kitchen green balcony restaurant
Compared with street food, Cambodian restaurants offer more colorful and high-quality traditional food. For those who have more requirements and needs, here are the two best Khmer restaurants in the most popular cities of Cambodia we would like to recommend.
Embassy Restaurant
Location: Sala Kamreuk Street, Siem Reap
Open time: Wednesday to Monday, 6 pm 10 pm
Features: caramelized beef oxtail with Kulen honey, Mondulkiri espresso coffee sauce, bamboo shoot, and coconut palm heart purée.
Eleven One Kitchen
Location: Street 460, Tuol Tom Poung & Street 334, BKK, Phnom Penh
Hours: 7 am – 9:30 pm daily
Seating: indoor (air-con) & outdoor
Features: delicious smoothies, fish or chicken amok, beef lok lak, and chick stir-fry with mango
(Must-Do) Explore Cambodia's ancient market for souvenirs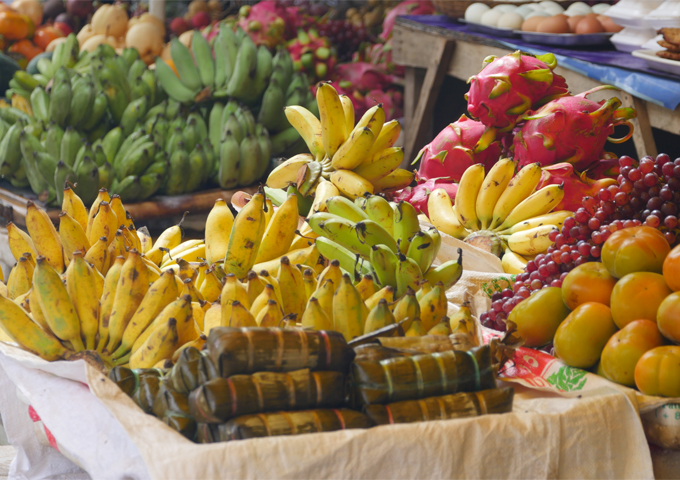 Local early market in Cambodia
In terms of Cambodian markets, there is a lot to offer for a wide range of products from daily uses to artistic works. Visitors hang around those markets to find the best gifts for their families and friends.
In Phnom Penh, Central Market, Russian Market, Night Market, and Old Market are the most popular ones. Among them, the Central Market is one of the largest markets in Cambodia, with a French-style building. You can go there from 7 am – 5 pm daily.
In Siem Reap, there locates the oldest market in the country, and that is the Old Market. It is renowned for its cheap souvenir. This market opens from 7 am – 8 pm, and the best time to go is in the early morning when the crowds are quite small.
(Optional) Retreat to Kulen Mountain: Waterfall and Lingas delight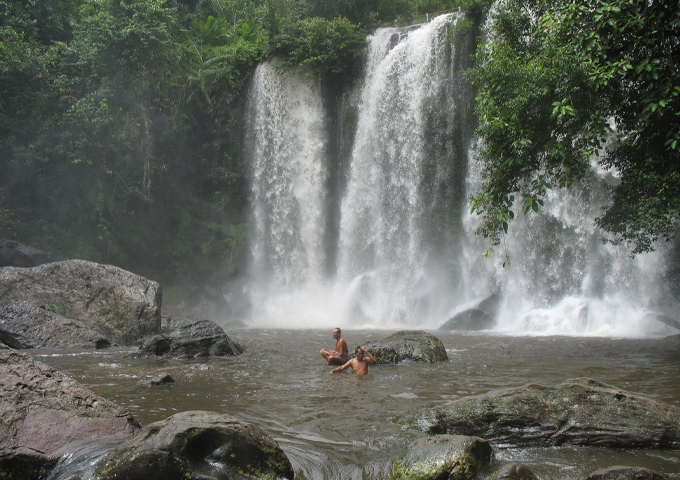 Two men were having a cool-off beside the waterfall
Cambodia has yearly high temperatures. So lots of visitors like to go swimming or hike into the deep forest to cool themselves down. Phnom Kulen Mountain is the most popular place, featured as its famous waterfall.
Fun facts:
Phnom Kulen is a part of Phnom Kulen National Park in Siem Reap, Cambodia.
It is considered a holy mountain, where Hindus and Buddhists come for the pilgrim.
You can see a lot of lingas, which spiritually represent the Hindu god Shiva.
(Optional) Visit one of the most mysterious temples: Beng Mealea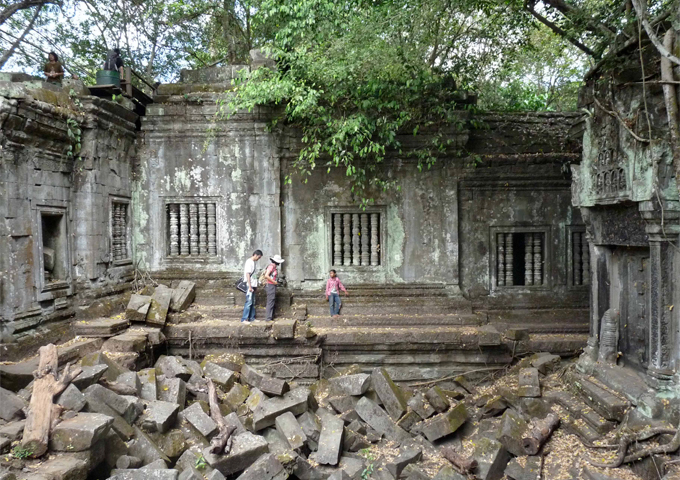 Travellers wander through the ruins of Beng Mealea
If we say Banteay Srei is the most preserved and delicate temple, then Beng Mealea is the most unrestored one. However, people still love to go there to feel the ruins and myths within trees and thick brush.
You can drive from Siem Reap to Beng Mealea, taking nearly 1 hour. Although it was difficult to reach, a road built to Koh Ker passes it, making more visitors coming to the site.
14 Days Cambodia Road Tour to Sihanoukville
(Optional) Relax: Treat yourself to an affordable massage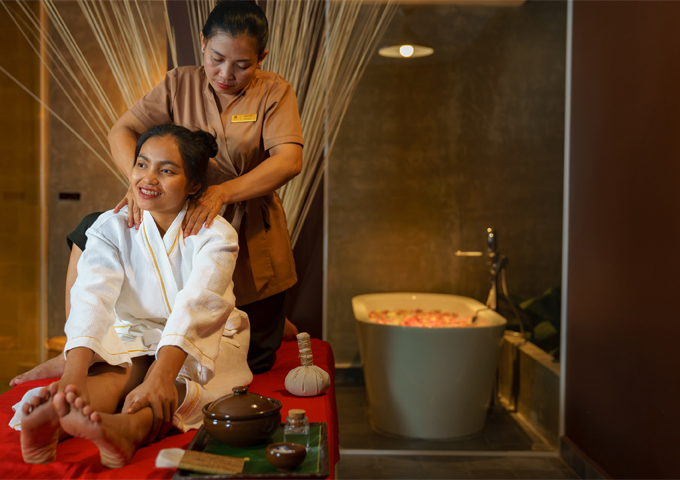 Khmer traditional massage
Spare some time for several hours of massage in Cambodia. It's easy to find massage stores in everywhere Cambodia. Sometimes our weary bodies need relaxation, especially after a long run of trip.
In Cambodia, there are different types of massage on offer including oil, Khmer, and Thai. Some offer hot stone massages and numerous aroma remedies. It usually takes place on padded tables or covered floor mattresses. Use your time to pamper yourself!
Cost: about $6 - $12 / 60 minutes
(Optional) Fly through the Cambodia jungle
Angkor Archaeological Park in Siem Reap offers visitors opportunities to do ziplining. They climb up seven staircases. Travel across hanging bridges, and soar above the treetops.
The staffs, the views and the services are all perfect here. Besides, Angkor Wat Park Zip Line Adventure in Siem Reap price starts from $53.90. Come and enjoy the calmness and appreciate the environment.
Tips:
Pack long socks and pants.
You'd better be between 40 pounds and 250 pounds to do a solo ride.
(Optional) Join in a Cambodia cooking class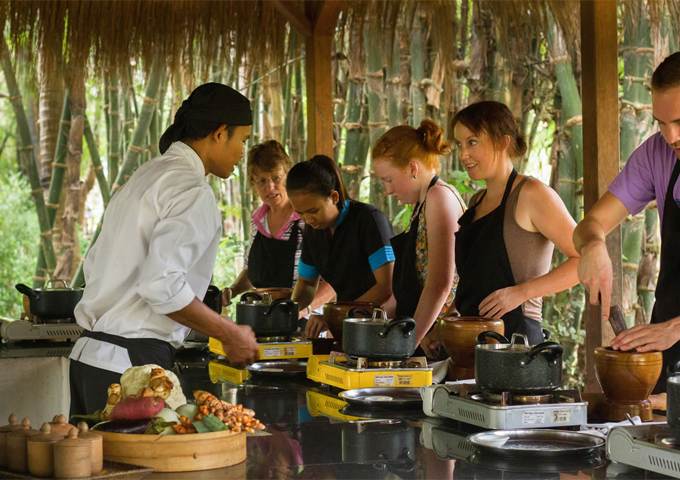 A local Khmer cooking class
To closely learn about Cambodian food, a Cambodia cooking class is worth attending. Follow us then you have a chance to get in touch with locals to learn to cook Khmer-style food.
We will shop for fresh ingredients at a typical market. And master the spice secrets behind dishes such as amok curry and tom yum soup. Each class probably runs for like 3 hours. It can be a meaningful cultural experience.
(Optional) Get a bird's eye view of Siem Reap with a helicopter tour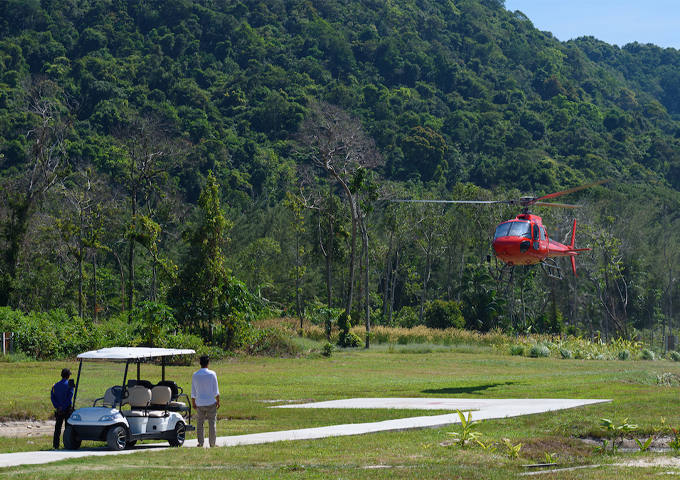 Cambodia helicopter tour
Taking a helicopter tour over Siem Reap must be a breathtaking experience. In a different sight, Siem Reap is under a flying bird's eye view.
This tour is suitable for those tourists that are interested in adventure and excitement. There is a chance to see a panoramic view of Angkor Wat and the complicated road and alleys of city delights. Go and get a private Angkor Wat helicopter tour in your lifetime!
17 Days Cambodia Tour from Temples to the Sea
(Optional) Explore Siem Reap's streets: Vespa tour for an adventurous ride
Scooting around on the back of a Vespa is cool to learn the lay of the land in Siem Reap. You can ride to a culinary delight or the countryside road, or even to an Angkor Wat Vespa tour.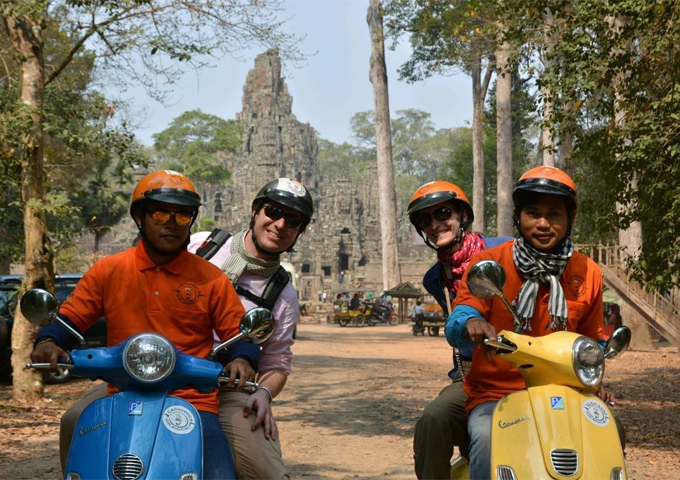 Angkor vespa tour
Along the journey on two wheels, whizz around the bustling streets of the city and the ancient Khmer marvels. Take more time to slowly dive into this memorable Vespa tour. Our guide will help you learn about the authentic culture of the Cambodian people.
(Optional) Attend a Buddhist monk meditation ceremony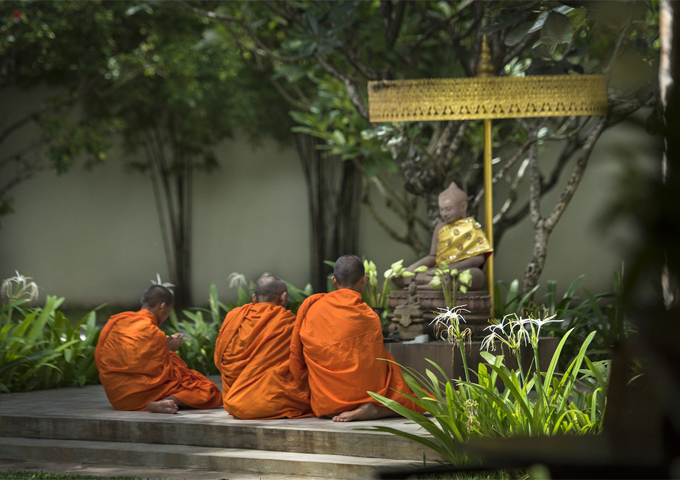 Cambodian monks
If you are feeling a bit frazzled by your travels, a silent meditation may just be the thing to rebalance you. In the center of Phnom Penh, there stands a sacred Buddhist monastery Wat Langka.
Inside, vibrations supported meditation to help you have a deep and peaceful progress. You can see monks sit at the front of the room and the head monk oversees the whole meditation. You can attend the occasions on Thursday from 6:30 pm – 7:30 pm for 1 hour.
(Optional) Watch the grand show of the smiling Angkor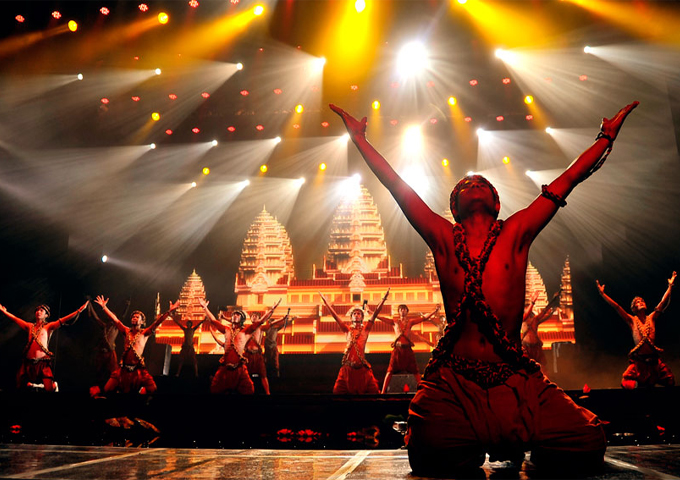 The show of Smile of Angkor
Do you want to enjoy a grand epic show after a cozy dinner night in Cambodia? Then go to see "Smile of Angkor", shown in the Siem Reap Exhibition Center AngkorCOEX.
There is a buffet at the venue for you to try all kinds of Asian food before the show. For example, there are Khmers, Vietnamese, Korean…
In terms of the show, this is an elaborate production of national and folk dance showcasing the tapestry of Cambodian culture. Visitors can easily get there by tuk-tuk.
(Optional) Discover Khmer city on a motorbike tour: Uncover hidden gems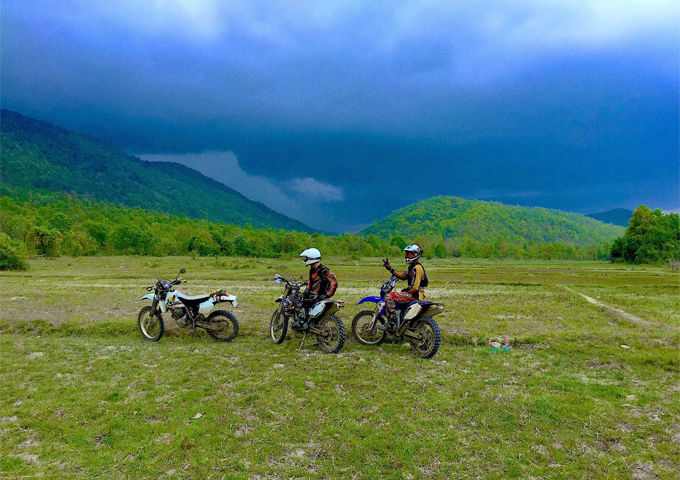 Cambodia motorbike tour
Cambodia has a lot to offer. In Siem Reap, tuk-tuk is not your only choice to see the beauty of the city. Many tourists rent scooters or motorbikes for sights more individual and refreshing.
Practical information:
Check the scooter condition before hopping in.
You will pay an extra charge if you return late.
For any damage, there will be also an extra cost.
(Optional) Enjoy a breathtaking hot air balloon ride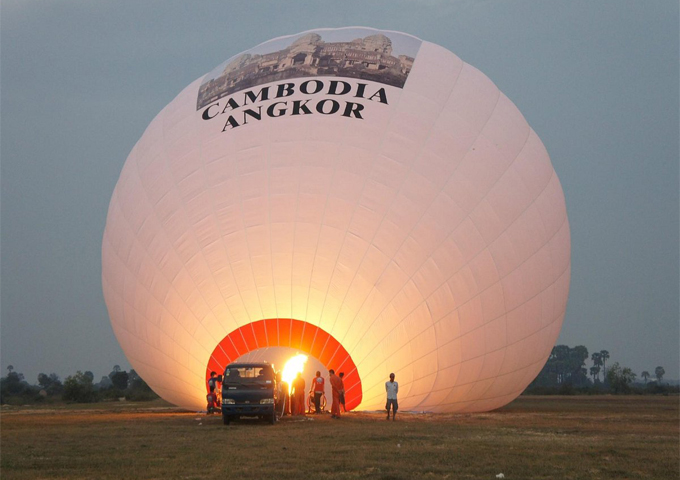 Cambodia hot air balloon
Sunrise / Sunset Cost:
$25 per adult
$15 for children (6 – 12)
(Free for children below 6)
Take an Angkor Balloon travel in Siem Reap, open from sunrise to sunset, enjoying the aerial views of Angkor Wat, Phnom Bakheng and West Baray. You may even observe the Tonle Sap Lake and Phnom Khrom.
Take enough pictures and be joyful on the flight like a bird. Try this Cambodian adventurous tour for a challenge! We will ascend to approximately 394 feet for a 10 minutes ride.
About safety, you do not have to worry much. There are professional workers to help you land safely, and cold drinks and wet tissue will be provided after your flight.
(Optional) Sightseeing on two wheels for an unforgettable journey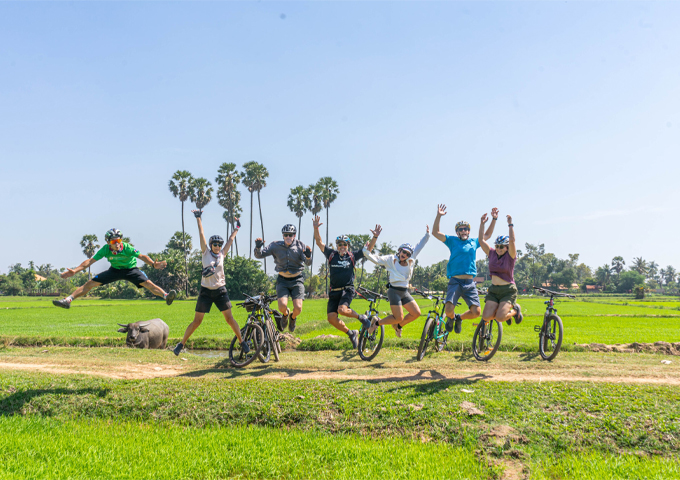 Cambodia bike tour
Plan a bike tour around Siem Reap. Choose a good-shaped bike and go on an exciting journey on the road. The destinations for you to choose from are endless.
For example, the most popular bike tour is Angkor Wat cycling. Here you can ride through history and ancient Khmer civilization, watching huge architecture with stones and delicate carvings.
Also, you can take a bike to the city. Feel the rhymes of local life. Stop for taking photos at local markets, food stalls, or even a memorable sunset view by the streets.
Conclusion
That's it – the top things to do in Siem Reap. From the most famous Angkor Wat trip to the floating village sunset tour, Siem Reap stands for its profound culture and charming landscape.
Let us know if you know more fun things about the Siem Reap tour. You can also contact us freely to tailor your Cambodia tour! We do all kinds of Indochina tours for visitors all around the world. Cambodia is waiting for your lovely visit in the upcoming future!
More Related Cambodia Travel Planning Articles
Most Popular Cambodia Tour Packages