Top Things to do in Siem Reap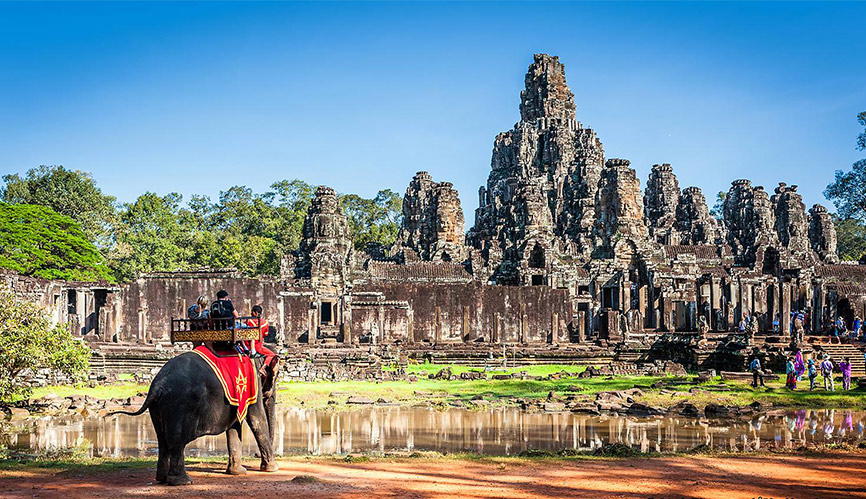 Set in the northwest of Cambodia, Siem Reap is famous for being the gateway to Angkor and the massive temple complex of the ancient Khmer Empire. Visitors come to here for the temples but there is a lot more to see and do than you probably first thought. With an ancient history dating back to 802AD, Siem Reap is fast becoming the backpacker center of Southeast Asia with many things to do, easily accessible temples, accommodation that gives you more bang for your buck and delicious food.
Here are the top things to do when travel in Siem Reap:
1. Visit the Angkor Temples Complex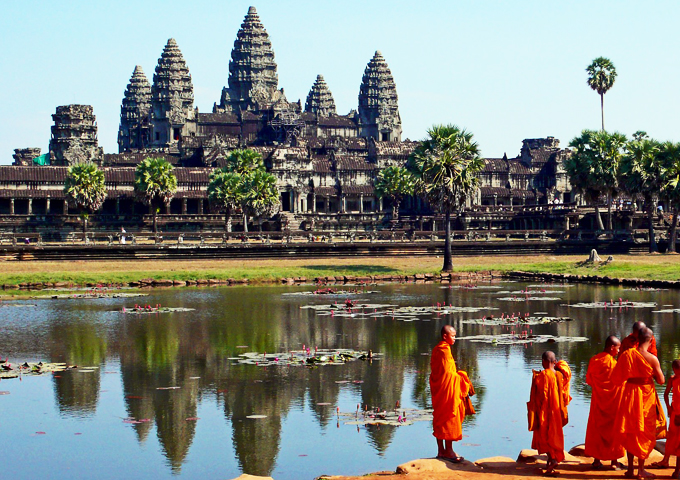 Angkor Wat
If you like historic sites and mysterious ancient civilizations, then you should not miss Angkor Wat, which has been filmed in many movies at home and abroad. The glory of the past, the vicissitudes of today, a perfect journey with fallen stones and old trees, will bring you to the mysterious ancient dynasty. Watching sunrise in Angkor Wat is a must do thing.
2. Visit the Angkor National Museum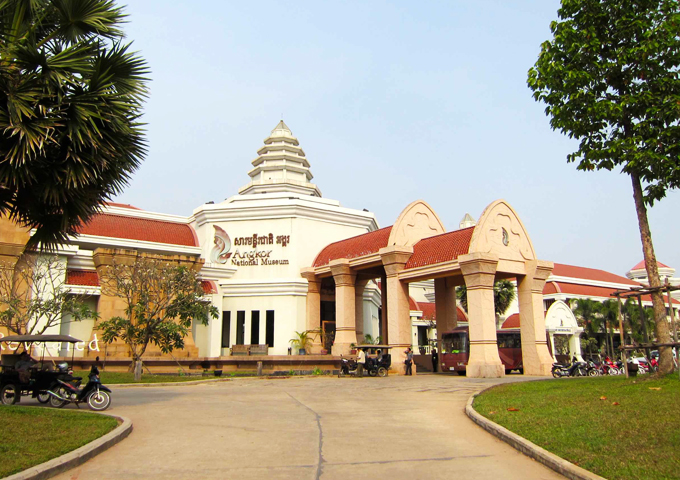 Angkor National Museum
The Angkor National Museum is a museum dedicated to the Angkorian artifacts. The building provides information and education on the art, culture, and civilization of the Khmer Empire. Opened in 2007, the museum covers the golden age of the Khmer Empire, and makes use of modern technology to provide this ancient message. There are eight galleries of art, culture, and civilizations artifacts, and the museum has a very strict no-photos policy in place.
3. Visit the Cambodia Landmine Museum
The Cambodia Landmine Museum was established in 1997 by Aki Ra, a local demining expert. The museum tells people the history of landmines. Proceeds from the tickets are used to support the lives of people with landmine disabilities.
Aki La saw the shocking blood and the mutual killing among compatriots during the demining process, so he decided to open a landmine museum with his own funds, hoping that more people could learn about war and the harm caused by landmines.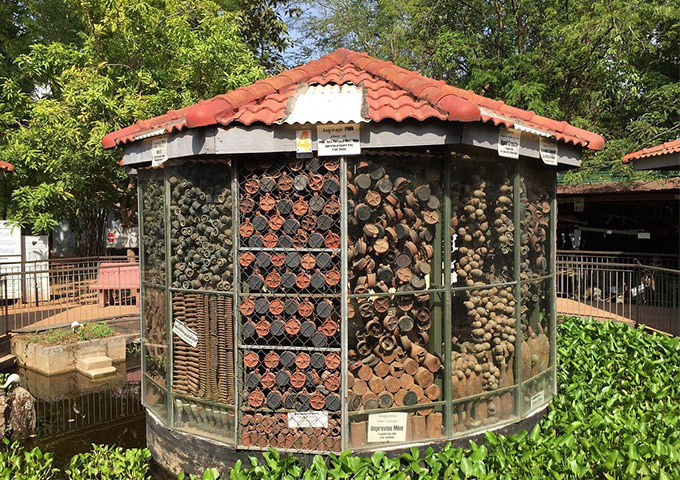 Cambodia Landmine Museum
4. Visit the Angkor Center for Conservation of Biodiversity

Angkor Center for Conservation of biodiversity
The Angkor Biodiversity Conservation Center is mainly an organization for animal protection and rescue and dissemination of animal protection knowledge. Here you can see different kinds of precious protected animals, as well as some Cambodian animals. Most of these animals have been treated incorrectly by humans. The conservation center rescues them, retrains their ability to survive in the wild, and then returns them to nature.
5. Shop at Siem Reap's Markets (old market & Angkor night market)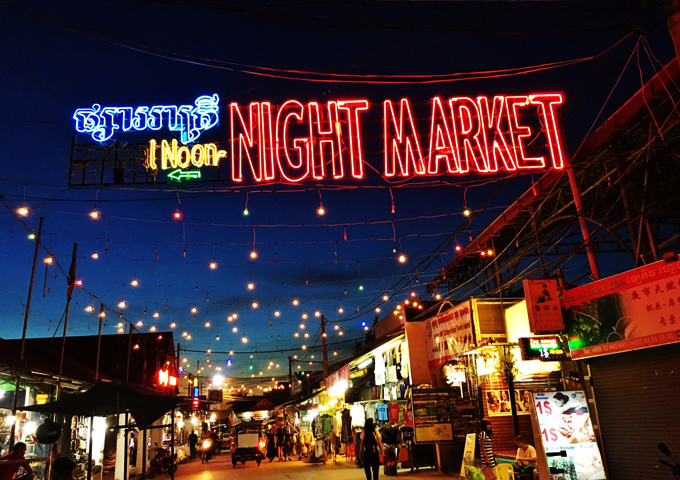 Siem Reap Night Market
Siem Reap has plenty of boutique shopping but don't forget to check out the markets as well. Siem Reap's Old Market (Psar Chaa) is one of the most central market areas and offers everything from fresh produce and affordable clothing to wood and stone carvings. A lot of the craftwork here isn't high quality but it is still fun to browse.
The Angkor Night Market is another market not to miss. It usually operates from late afternoon to midnight. There is a huge amount of local craftwork on sale here, from local silk scarves to silver jewelry.
6. Go on a Street-Food tour of Siem Reap
Consisting of a three hours tour of some of the best spots to sample the amazing street foods of Cambodia, this tour will pleasure your palate, and tantalize your taste buds as you try the skewered meats, soft-boiled duck eggs, and deep-fried crickets. Feast your senses on the aromatic aromas before disembarking to find streets thronged with stalls that sell exotic fruits and sizzling snacks that will delight and amaze with their unique flavors. Try the fried tarantulas and crickets on sticks, and the delicious Khmer fried chicken and green mango smothered in chili sauce and salt.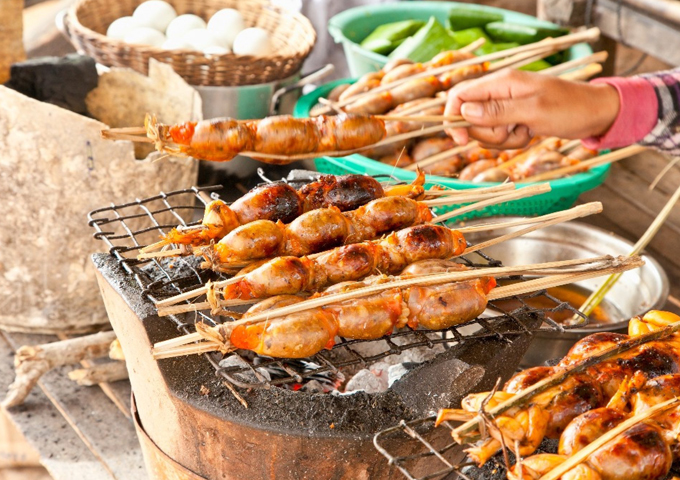 Siem Reap street food
7. Go to the Kulen National park
Phnom Kulen is located 50 kilometers north of Siem Reap, stretching for more than 13 kilometers to the Angkor Plain. There are a large number of temple sites and several sacred sculptures and sculptures with hundreds of years of history. Most of the area of Phnom Kulen has not been damaged, so you can immerse yourself in the cool and charming scenic spots provided by nature through the green environment covered by the jungle, rivers and dazzling waterfalls.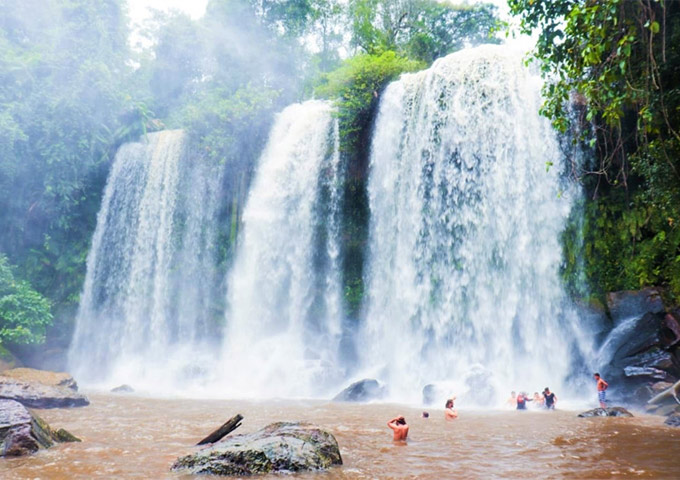 Kulen National Park Waterfall
8. Take a Boat Tour to the floating Villages on Tonle Sap Lake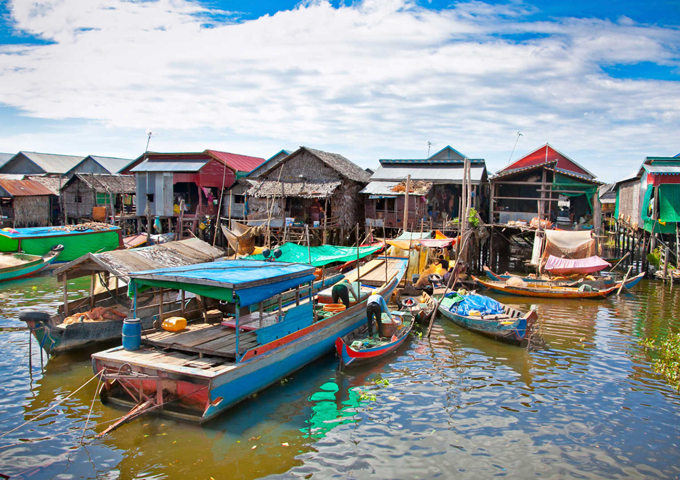 Tonle Sap Lake
Lying out in the waters of the Tonle Sap lake are the famous floating villages of Siem Reap, and they are one of the top attractions for tourists to the area. The floating villages form several communities of people that live on the lake, and there are four main villages which are accessible from Siem Reap.
9. Watch the Apsara Dance Performance
Apsara fairy dance is regarded as the Cambodian ballet by the outside world, and has very lofty cultural significance. Even in most ancient temple sites, you can see the relief of Apsara dance. These graceful dancing fairies have created beautiful murals praising Khmer culture.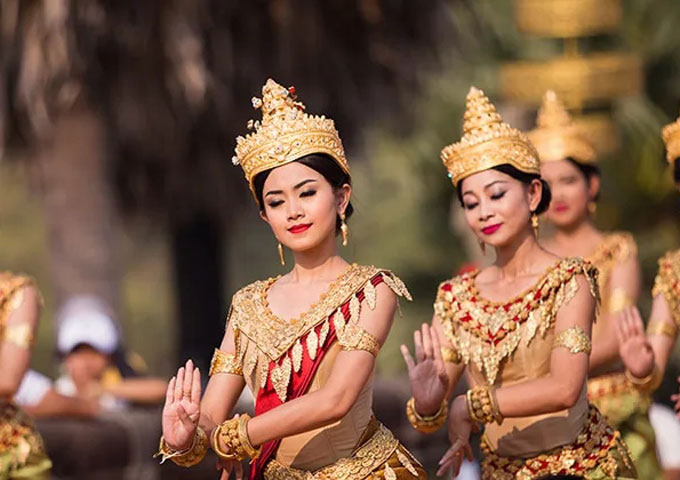 Apsara Dance
10. Spot Butterflies at Banteay Srey Butterfly Centre
The Bandesley Butterfly Center (BBC) is one of the most visited tourist attractions in the country and the largest butterfly exhibition in Southeast Asia. The one-day tour here is a good way to take a break in the temple tour and spend a period of time in a spectacular environment full of rare and vivid butterflies. The center is about 25 kilometers away from Siem Reap, which is a unique project because it also contributes to the welfare of the community by training local people to raise butterflies for sale locally and abroad.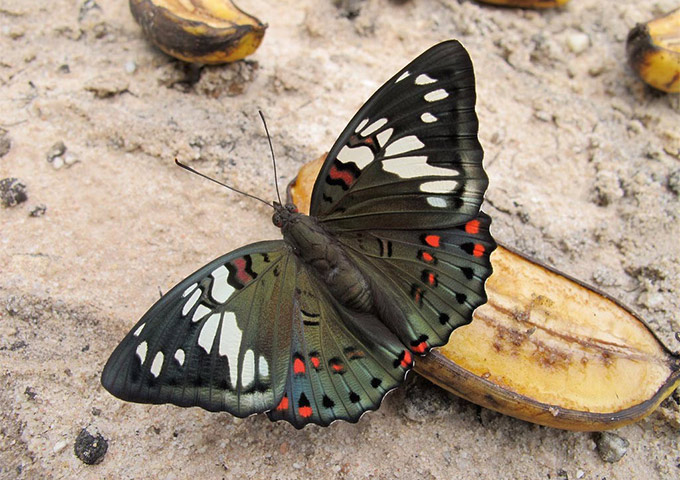 Cambodia Banteay Srey Butterfly Centre
11. Cycle around the Tranquil Countryside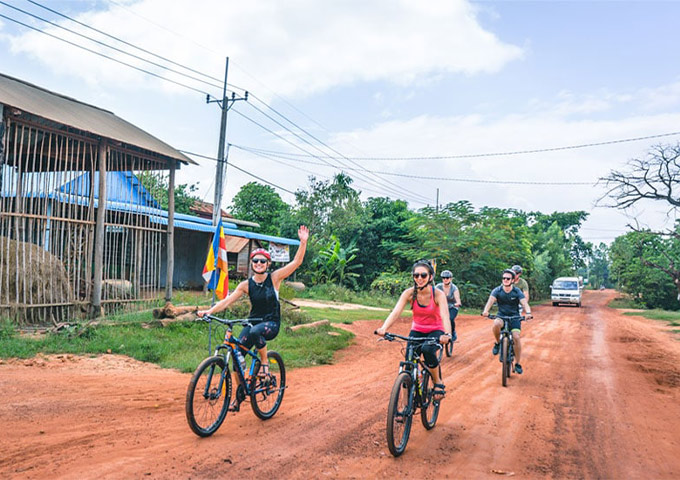 cycle the floating village in Siem Reap
For those who do want to break up the temple viewing though, there are plentiful operators offering cycle tours, tuk -tuk tours, quad-bike (ATV) tours, and motorbike tours that head away from the historic attractions and instead concentrate on Cambodian rural life and scenery.
Half-day cycle tours offer plenty of countryside vistas of lush, green rice fields and farming plots studded with swaying palm trees and depending on the tour, stop off at small pagodas, little villages, and local produce markets, as well as local farms.
Conclusion
Siem Reap is a charming city, you can feel its energy deeply once you arrive in this city. As you can see there are many unique scenic spots to visit and interesting things you can do in Siem Reap. Although Angkor Wat is still magnificent and majestic, Siem Reap has not lost its charm. Tourists who want to visit Siem Reap and Cambodia can refer to the content of this article and can go to our Indochina website to see more tour guide on travel in Cambodia.
More Related Cambodia Travel Planning Articles
Most Popular Cambodia Tour Packages