How to Get to Phnom Penh from Siem Reap?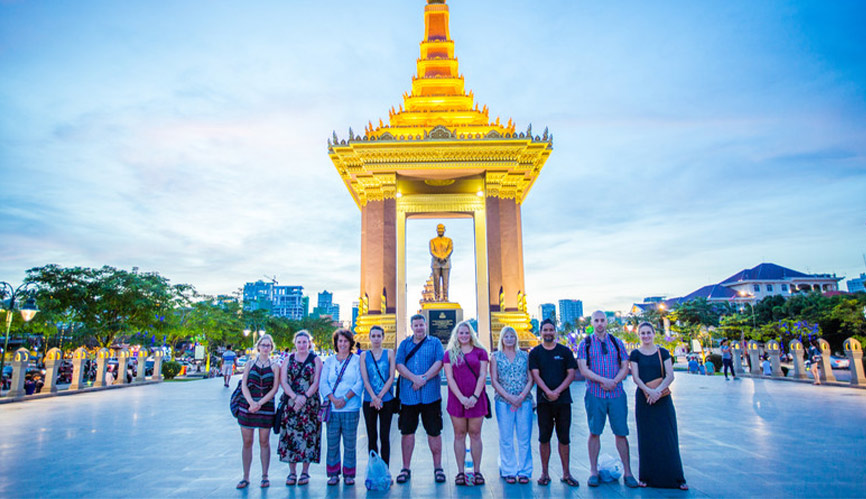 Phnom Penh is one of the major tourist sites in Cambodia and it's where most people go to. The route between Phnom Penh and Siem Reap is the most popular in Cambodia. Therefore, how to get to Phnom Penh from Siem Reap? It is possible to get from Siem Reap to Phnom Penh by bus, plane, ferry, and private car.
You can take a bus to Phnom Penh from Siem Reap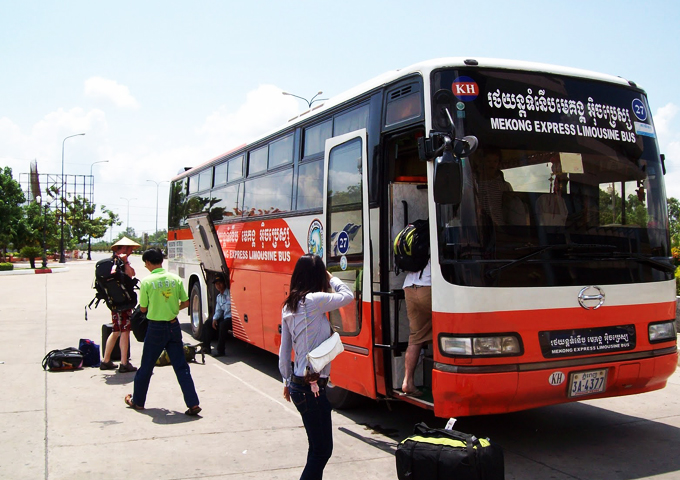 Cambodia Bus
Most people opt to take a bus to travel from Siem Reap to Phnom Penh since the price is very affordable. The time of journey is around 6 hours and prices range from $4 to $16. Although there are many bus companies available, two notable companies are Giant Ibis and Mekong Express. Compared to the others, these two companies have a better safety record and newer buses with modern amenities. We highly recommend spending just a few dollars more and booking with a bus company that has a solid safety record and good customer reviews.
The bus from Siem Reap is a great option if you'd like to see the beautiful landscape throughout Cambodia while travelling to the capital city of Phnom Penh. The roads along this route are generally in good condition although they can be a little bumpy at times and you may come across the occasional construction site.
The best option to find up-to-date schedules for the various bus companies and book your bus online in Cambodia is on Book Me Bus or Bookaway.com.
Most buses provide a free pickup service at your hotel if you book in advance. But be sure to note the location when booking if free pick-up isn't available.
While most tourist buses bound for Phnom Penh depart Siem Reap in the early morning or late afternoon, there are also a few overnight bus options. The overnight buses leave Siem Reap at 11 -11:30 pm and arrive in Phnom Penh around 4 -5 am. However, we don't recommend the overnight bus for such a short trip, but you can make your own choice.
You can take a ferry to Phnom Penh from Siem Reap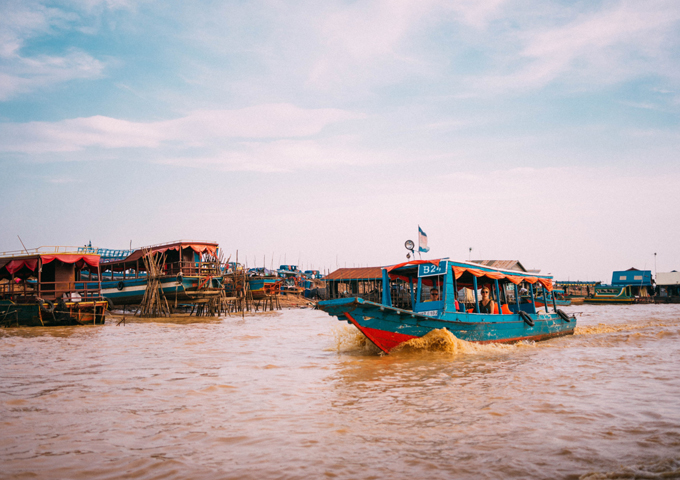 Cambodia boat
Tourists can take a ferry to Phnom Penh from Phnom Krom port in Siem Reap, the travel time is 8 hours if you are not in a hurry and want to enjoy the countryside scenery along the Tonle Sap Lake, then the ferry is another good option. Ferries along this route only operate during the rainy season, June to November. Bear in mind that ferries may not have the safety and cleanliness standards you are accustomed to, and can get very hot during the journey.
Taking a ferry is not the most comfortable transportation option as it's a hot and sticky 8 hours ride on a slow moving boat. However, the ferry is definitely a good way to experience Cambodia and local life on the Tonle Sap Lake.
You can book your ferry tickets with Mekong Explore and you can also reserve a seat on websites like Bookaway.com. The price for the ferry is around $40 per person. If you can't find tickets online, you can buy them at the ferry itself or ask your hotel in Phnom Penh to call and make a reservation for you. Book boat ticket a day or two in advance is usually a wise idea.
You can take a flight from Siem Reap to Phnom Penh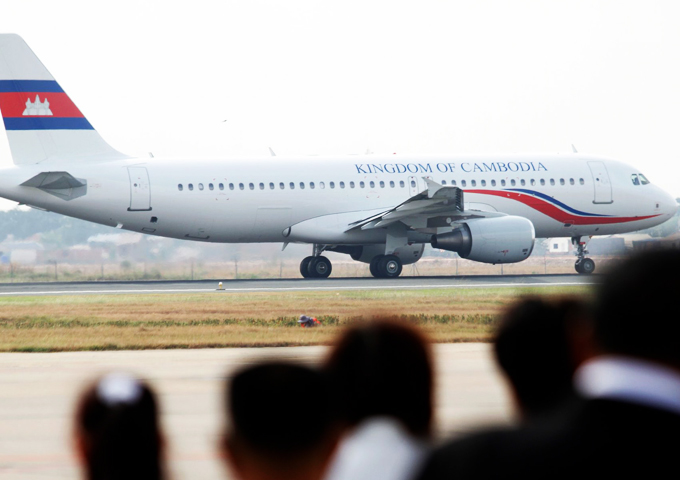 Cambodia plane
The fastest way to get from Siem Reap to Phnom Penh is by airplane. A flight between the two cities takes less than an hour. If you're short on time in Cambodia, then flying is the best way to get from Siem Reap to Phnom Penh.
While flying is the fastest method to travel, it is also the most expensive. Airline ticket is usually $50 to $150 for one-way flight. Cambodia Airways and Cambodia Angkor Air both offer daily direct flights between Siem Reap and Phnom Penh. We suggest you choose Cambodia Angkor Air for its comfort and timeliness.
As for buying tickets, we recommend you Skyscanner. You can use this app to check available schedules and find the affordable flights from Siem Reap to Phnom Penh. Keep in mind that Cambodian domestic flights can be somewhat unreliable and flights are sometimes delayed. Morning flights are typically more punctual than afternoon flights.
You can take a private car from Siem Reap to Phnom Penh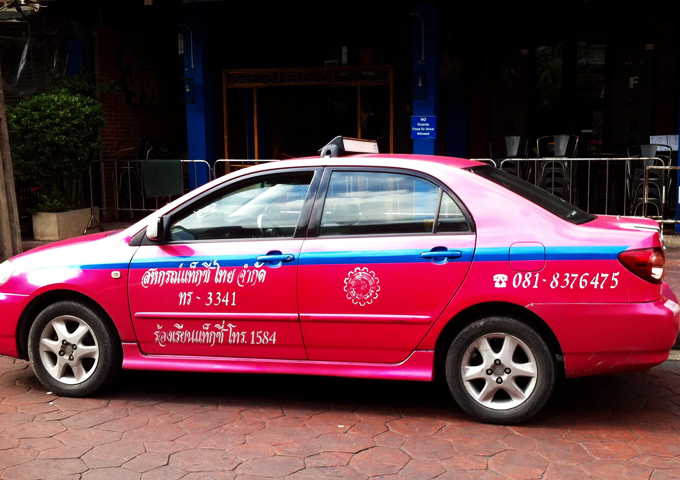 Cambodia Taxi
If you travel with a group of three or more people, it will make sense to arrange a private transfer from Siem Reap to Phnom Penh, you can book a car with a driver to take you to Phnom Penh for as little as $90.
Private taxi between Phnom Penh and Siem Reap usually costs around $75 to $100, but are more expensive on Cambodian holidays. If you reserve online, you will get a large SUV taxi, usually a very comfortable Lexus 4×4. You can reserve private taxi on Book Me Bus.com. Booking online allows you to pay in advance by credit card and you won't have to deal with arguing about last minute price changes by the driver.
A private car transfer is typically faster and more comfortable than a bus and has the added advantage of allowing you to stop at interesting sights along the way. You'll also be picked up at your hotel in Siem Reap and delivered directly to your hotel in Phnom Penh. This door-to-door service saves you quite a bit of time and hassle getting to/from the bus station or airport. Travel time is 5-6 hours depending on traffic and whether you decide to stop during your journey.
Conclusion
Both Phnom Penh and Siem Reap are must see places on any Cambodia itineraries, many travellers will choose to visit. In this article, we share the best, quickest, and most convenient ways on how to travel from Siem Reap to Phnom Penh, alongside key details on prices and where to book online. We hope the information can be useful to you.

More Related Cambodia Travel Planning Articles
Most Popular Cambodia Tour Packages