Is It Safe to Travel to Cambodia Alone?
Cambodia is paradise for backpackers. It's cheap and well established on the backpacking circuit - but is Cambodia safe to travel alone? Even the safest country in the world, Iceland, still has a safety index of 95.3 from the perfect 100 score.
For solo travelers, as you can say Cambodia is definitely a safe country to visit, where violent crimes are very uncommon. You can get some essential information in this article about travel safety in Cambodia.
For more information about Cambodia tour, please click and and check the content.
Is Cambodia a Safe Country for Travelling Alone?
Cambodia is a very safe country to travel alone. In recent years the emphasis on tourism in Cambodia has only grown, and Khmer people are friendly and especially appreciative of tourists and the business they bring. This innate hospitality is one of the reasons that visitors fall in love with Cambodia, and a quality that makes it ideal to travel solo.
Although it is safe to visit Cambodia alone,however, we still suggest you to travel with local tour operators. We believe a good trusted tour operator can make the most of your Cambodia vacation.
How Safe Is Cambodia?
When it comes to how safe is Cambodia it is actually one of the safest countries in the world and in fact, it's safer than the USA and UK when it comes to the number of homicides, the incidence of petty crime, and likelihood of a terrorist incident. According to the UN, Cambodia is actually ranked higher for safety than countries including Thailand, Portugal and Nepal.
In fact, smaller Cambodian cities such as Battambang and Siem Reap are much safer than the capital Phnom Penh, as you'd expect anywhere in the world, and Phnom Penh is safer than most cities in the USA.
Cambodia Is Very Safe for Solo Female Travelers
There are increasing numbers of tourists in Cambodia recent years, female tourists account for a large proportion. You may wonder if it is safe for solo females to travel in Cambodia, as we know, Cambodia is a peaceful Buddhist nation rich in culture and respect for women. Although there have been a few reports of harassment, foreign women are generally respected by Cambodian people.
The fact is that Khmers are a very welcoming and generous (Buddhist) people, and if you spend the time to explore rural Cambodia, some of the poorest people will not hesitate to share food and drink with you.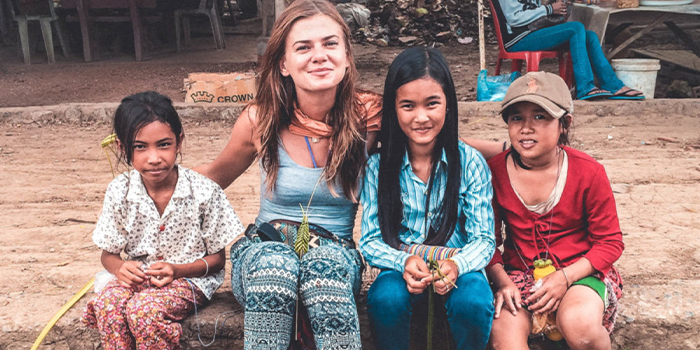 Sitting with lovely little girls in Battambang
Advices for Solo Female Travelers
Although Cambodia is generally considered safe for solo female travelers, but as with any destination, it's always a good idea to exercise caution and be aware of your surroundings. Like many developing countries, Cambodia does have some crime and safety concerns, such as pickpocketing and petty theft, so it's important to be vigilant and avoid carrying large amounts of cash or valuable items.
If you are traveling alone, you can usually make friends with other tourists that are in the area. Get to know the people you meet along the way, and try to travel with other solo travelers as a group if you can. As for wearing, please remember covering up is a sign of respect. Always keep your shoulders and knees covered when visiting temples, religious monuments or places of importance, such as the Royal Palace in Phnom Penh.
Cambodia Is Very Safe to Travel under the Covid-19
As a traveler, you must be concerned about the situation of covid-19 in the country that you are visiting. According to the latest news, there are no COVID-19 restrictions in place for travel to Cambodia from other countries in 2024.
Mandatory quarantine is no longer required regardless of vaccination status. But for better health, visitors can wear masks in places such as airports and transportation terminals to keep social distance in public places.
Cambodia Is Safe with Neighboring Countries
Although there are some territorial disputes between Cambodia and neighboring countries, generally speaking, the current relationship between Cambodia and these countries is very peaceful.
The worst area for crime is along the border with Thailand in the northwest of the country. This area was long disputed between Thailand and Cambodia, and the occasional clashes between the troops from both countries caused major concerns in the past.
However, while this dispute has long since been settled, there are still areas of the border, outside the major border crossing areas, where travel can still be a little more dangerous than in the rest of the country. Although relations between the two countries concerning the border have improved, you should take extra care when travelling in this area, and follow the instructions of local authorities.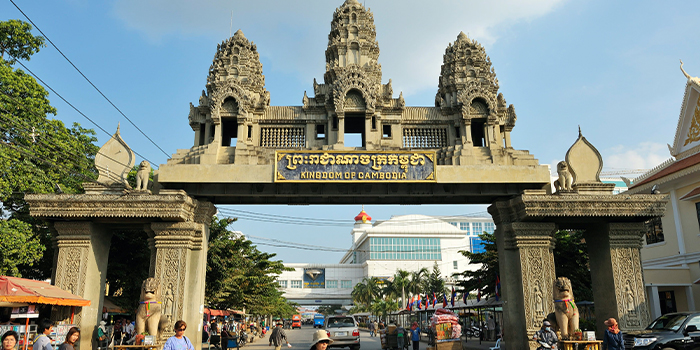 Thailand and Cambodia border Poipet
Cambodia Is Safe in Public Places
With tourism being the main source of income for both government and private individuals, security for the nation's tourists is the number one priority in this country. Therefore, you can find it is very safe for tourists in Cambodia landmarks, airports and transportation terminals.
Petty theft and small crimes, such as bag snatching, have been known to occur in Cambodia, especially later at night and in areas that aren't well lit. However, just like other South East countries with more than 20% of the population living below the national poverty line in Cambodia, this comes as no surprise.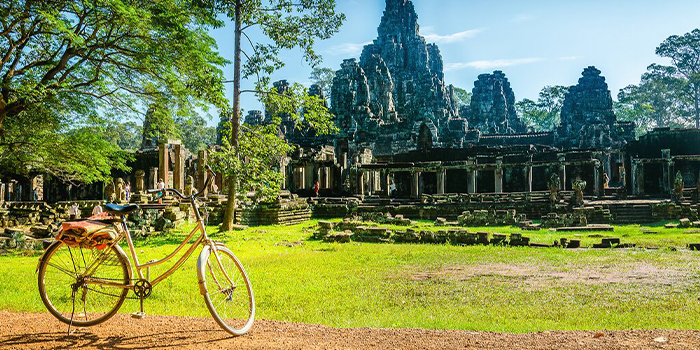 The well-known smiling temple Bayon
Cambodia Is Safe Travelling during Peak Rainy Season
When travelling in Cambodia, the weather has to be one of the issues you must take into consideration. The best time to visit Cambodia is from November to February in the dry season since the weather is cool and temperature is acceptable. Many tourists try to avoid travel to Cambodia on peak rainy season in September and October.
The rainy monsoon season is also the time for typhoons and storms. If you are traveling in the peak rainy season, stick to the major cities when the weather is bad, to avoid getting unnecessary hurt in a typhoon. And if you follow the instruction of local authorities there would be no problems for your safety.
Conclusion
Overall, Cambodia is a very safe country to travel alone, as long as you take precautions and care against being scammed, and keep personal and valuable belongings safe. It is safe in most cases as long as you do not put yourself in the position of danger, and also respect local culture and customs.
If you want to know more information about travel to Cambodia or related issues on tripping to Indochina, please come to our website and feel free to contact us for your future tour to Cambodia in 2024!
More Related Cambodia Tour Planning Articles
Most Popular Cambodia Tour Packages