Top 12 Interesting Facts about Angkor Wat that Will Surprise You
Cambodia is a land of contrasts, where ancient temples and modern cities coexist. At the heart of this dichotomy is Angkor Wat, a temple complex that symbolizes Cambodia's rich cultural heritage and aspirations for a bright future.
With its grandeur, intricate carvings, and spiritual significance, Angkor Wat is a must-see destination for anyone who wants to experience the beauty and complexity of Cambodian culture. Now let's delve deeper into the following 12 interesting facts about Angkor Wat!
Fact 1 Angkor Wat is not listed among the Seven Wonders of the World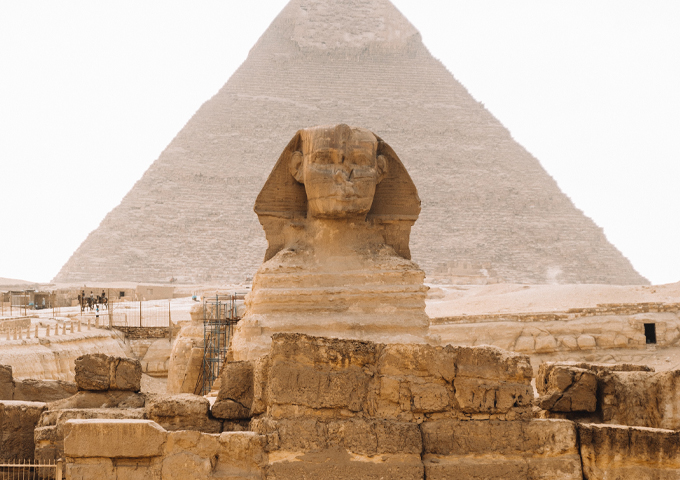 The Sphinx in front of the Pyramids of Giza
The earliest list of Seven Wonders of the World can be traced back to ancient Greece.
These miracles include the pyramids in Egypt, the Hanging Gardens in Babylon, the colossus of Zeus in Olympia, the statue of Corosos in Rhode Island, the Lighthouse of Alexandria in Alexandria Port, the tomb of ancient Mausolus and the temple of Zeus in Cuba.
Although Angkor Wat has been considered one of the world's most important archaeological relics, it was still not part of the seven wonders. It has been one of the Angkor Wat fun facts that people usually get confused.
Perhaps because other buildings and structures are considered more representative or historically significant. And the list may vary due to time and cultural differences.
Fact 2 Angkor Wat was built to face the west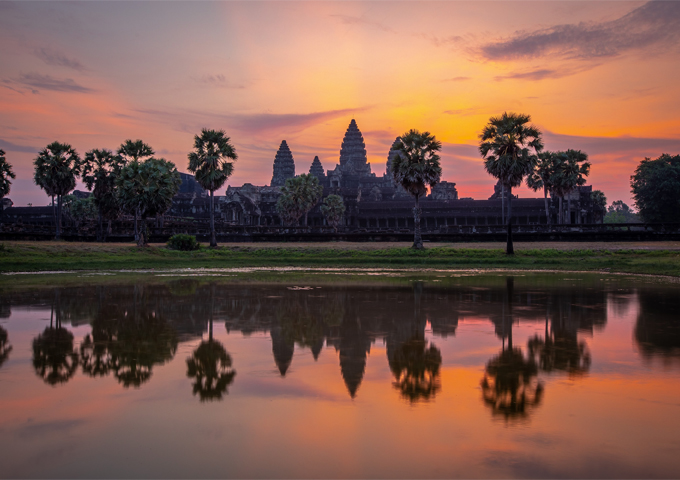 Angkor Wat sunset
The central tower of Angkor Wat is based on the image of Mandara mountain, considered to be the dwelling of sun. And the dwelling of the sun is towards the west.
It is believed that the reason why Angkor Wat faces west is to make the king's mausoleum face the direction of sunset, which symbolizes the fate of the king's soul and the connection with the gods.
Fact 3 Over 300,000 People were used to build Angkor Wat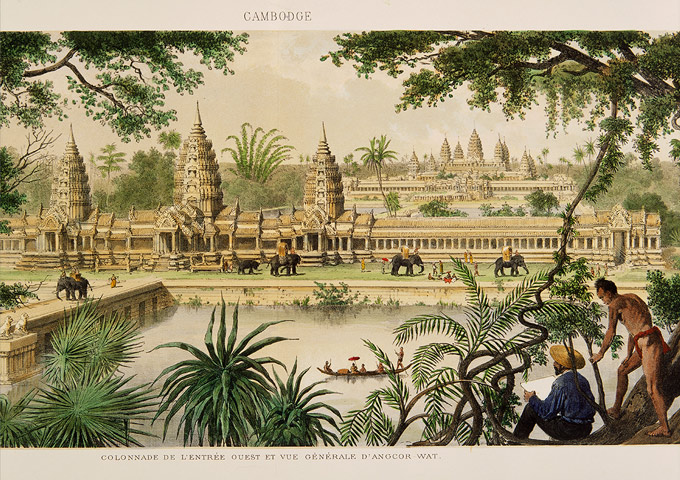 Angkor Wat construction scene
For anyone who'd like to see the magnificent buildings, they're often suggested to have an exotic Angkor Wat tour.
Angkor Wat is a remarkable feat of ancient engineering and architecture that required enormous human and material resources to build. The following facts about Angkor Wat are ready to blow your mind.
The temple complex was constructed during the height of the Khmer Empire's power and took over 35 years to complete. Over 300,000 people were conscripted to work in the temple.
These workers were primarily farmers. In addition to human resources, Angkor Wat required vast material resources to construct. The temple was primarily built from sandstone blocks quarried from nearby mountains and transported to the temple site using a complex system of canals and ramps.
Fact 4 Angkor Wat is one big sacred Mandala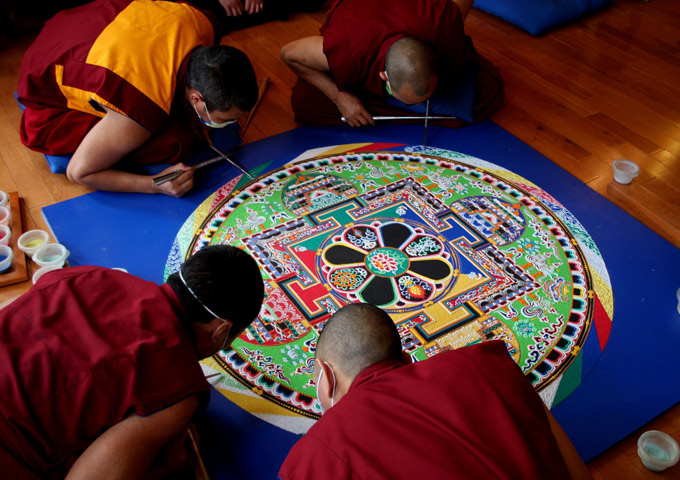 Buddhist Sand Mandala Creation
The layout of the Angkor Wat mirrors the Hindu cosmos (another name for universe, implying viewing the univers as a complex and orderly system or entity) itself and is one big sacred mandala.
Mandala, as a religious term, is a symbol of the universe that collects wise and ford. Due to its symmetrical circle in religious rites or witchcraft, it represents the idea of promoting equality in Buddhism and Hinduism.
Fact 5 Bayon Temple had towers covered completely in gold
Those interesting facts about Angkor Wat will never end as long as people keep learning the profound mysteries of ancient Khmer empire. According to Cambodian history, the Bayon temple was probably used as a palace and temple at its peak and the living place of the king.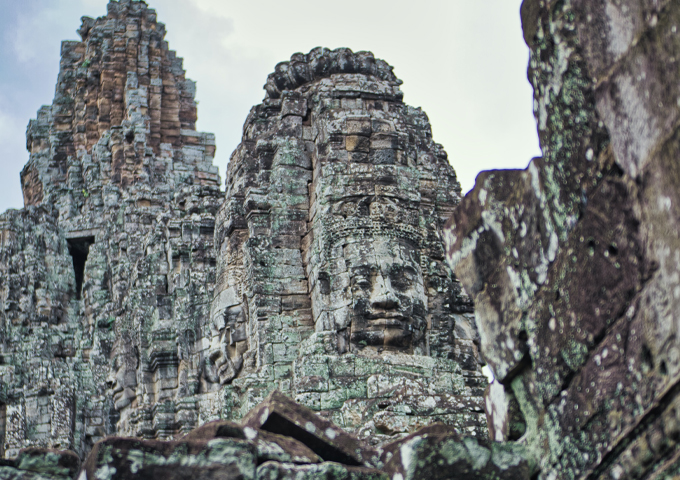 Bayon Temple smiling face
As the heart of Angkor Thom, some legend even has it that Bayon Temple was once covered entirely by gold at that time. What's more, Preah Khan Temple alone was said to have been filled worth 60 tonnes of gold which would be worth billions in todays money.
Fact 6 Cambodia's flag is the only one in the world with a building on it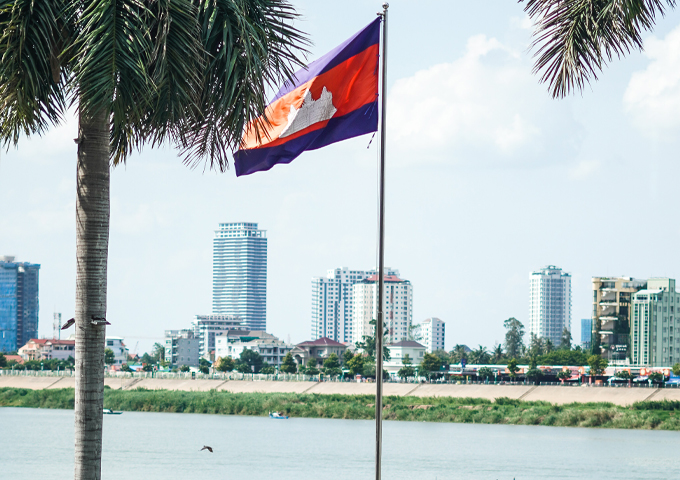 A shoot of Cambodia flag from the riverside
Flags all over the world are in different shapes and features. Some have special symbols on the flags, and others may have national totems. For example, the Kingdom of Eswatini flag has a black and white shield-shaped totem in the center.
However, the Cambodian flag is the only one in the world that has a building on it. We can see that there are silhouettes of Angkor Wat main towers in white, which shows Cambodia's cultural confidence.
Except for this, there are in fact many other fun facts of Cambodia for you to better understand its culture and tradition.
Fact 7 A moat that keeps the temples steady and people happy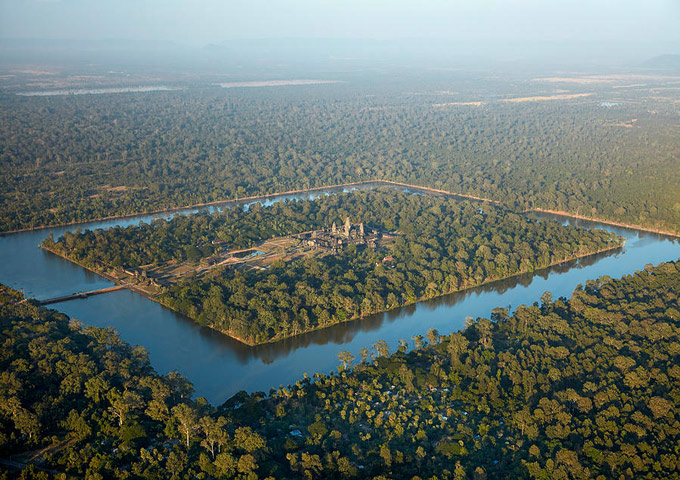 Moat around Angkor Wat
The fact we are going to discuss below is one of the most practical facts about Angkor Wat. Actually, the moat around the temple does not only play the role of a symbol of the ocean in Hinduism.
According to engineers, this large ditch also serves to keep the physical balance and prevent it from crumbling under its own heavy weight, as water usually reinforces the strength of sand.
Some experts have coined a name for this old city: City of Water, because except for water supplied from the Siem Reap stream, rainfall during the rainy season also contributes to filling up the moat with water.
For those who like to take pictures or simply relax, the moat is very attractive for both domestic and foreign visitors.
Fact 8 Angkor Wat was originally a Hindu temple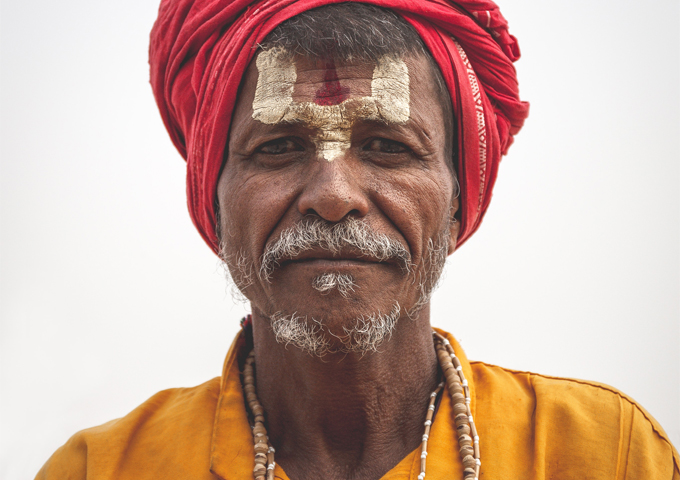 A devout Hindu
Angkor Wat is a religious building during the Angkor Dynasty from 9th to 15th centuries in Cambodia. It was originally built for Hinduism, because the five towers of Angkor Wat symbolizes the peaks of Mount Meru, which according to Hindu mytholody is the dwelling place of gods.
However, over time, the Angkor dynasty gradually shifted from Hinduism to Buddhism. At the end of the 13th century, Angkor Wat gradually became a place for Buddhist temples.
Therefore, Angkor Wat can be said to be a pilgrimage site for both Hindus and Buddhists. It bears the transformation of two major religions in History of Cambodia.
Fact 9 Angkor Wat was once painted with colors
The original color of Angkor Wat is still controversial, because most of the colors in history have faded and disappeared.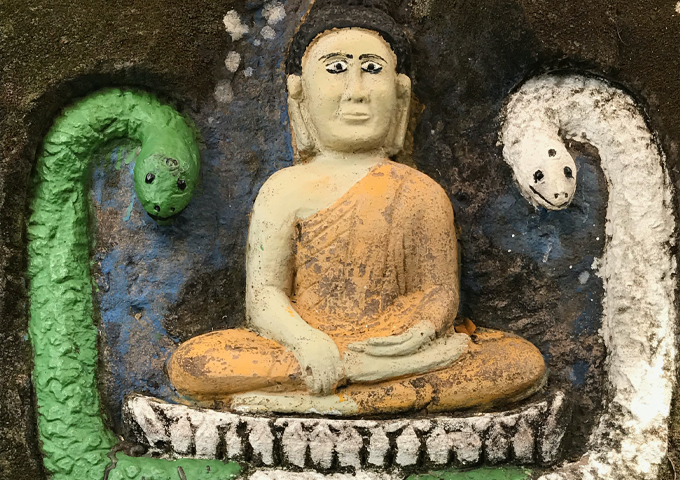 A colored Bas Relief from Angkor Wat
Some studies show that the buildings and sculptures in Angkor Wat may be colored in their original state as one of the fun facts about Angkor Wat. There is evidence to suggest that Angkor Wat was decorated with various pigments such as red, blue, green, and yellow.
Fact 10 "Tomb Raider" was once shot in Angkor Wat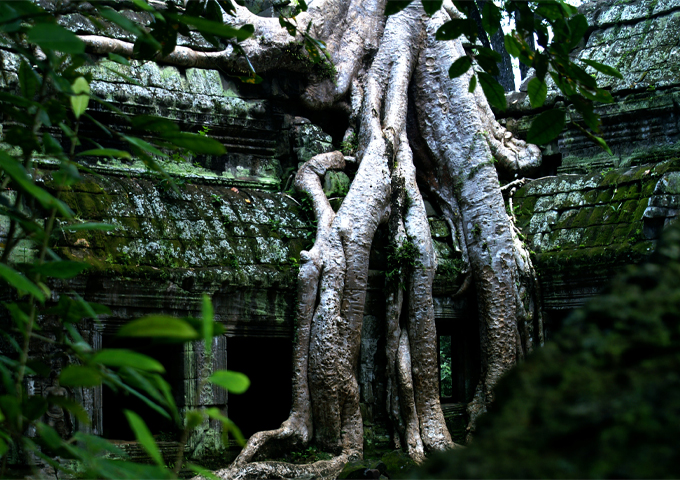 Gloomy Ta Prohm Temple
Are you a fan of "Tomb Raider, Transformers, or Two Brothers"? If you are, don't miss attractions while visiting the Angkor Wat in Cambodia to see scenes of classic movies visiting Angkor Wat.
Among them, some scenes in the movie Tomb Raider (2001) was indeed shot in the Ta Prohm Temple in Angkor Wat. In the movie, Ta Prohm Temple is used as an adventure venue for the character Lara Croft.
The ruins and numerous trees of this temple give it a mysterious and unique atmosphere, which is exactly what the film production team hopes to showcase.
The film showcases the decorative patterns, long corridors, and arches on the stone walls of Ta Prohm Temple, as well as the spectacular landscape of trees interspersed in the building.
Fact 11 Thailand once occupied the Preah Vihear Temple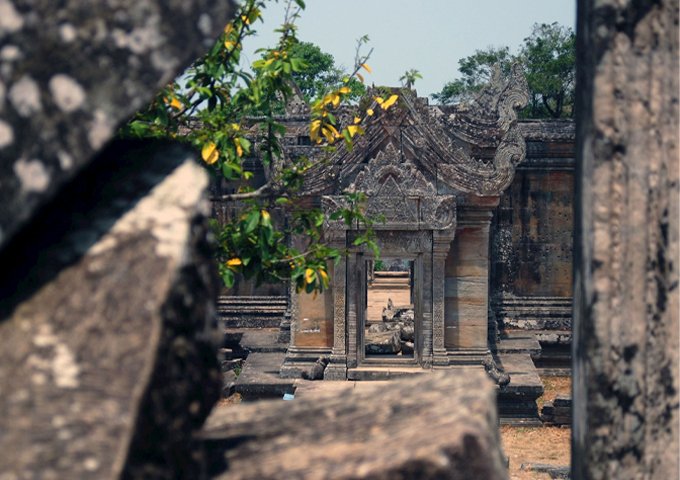 Silent Preah Vihear Temple
Preah Vihear Temple is an ancient temple located between Cambodia and Thailand, and is also one of the disputed areas.
Initially, the temple was recognized as part of Cambodia, but in the early 20th century, Thailand proposed ownership claims to the area, sparkling long-term border disputes.
Finally, in July 2013, the International Court of Justice ruled that the Preah Vihear Temple belonged to Cambodia and recommended resolving other territorial disputes through bilateral means.
Fact 12 Angkor Wat has a proper dress code
Anyone who have once come to visit Cambodia definitely konws the facts about Angkor Wat in its dress code. Unlike other tourist attractions, there are listed some dress codes you better follow when visiting Angkor Wat.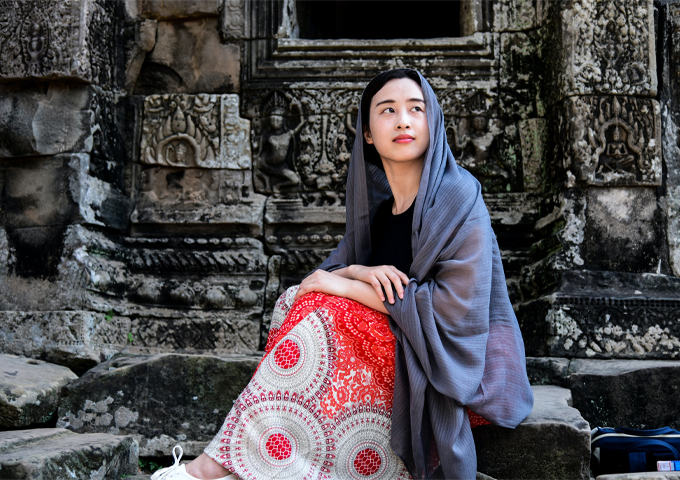 A girl in a long dress at Angkor Thom
Cambodian people think that it is vital to wear properly, especially in religious sites, since it reflects their respect towards tradition and etiquette.
Visitors should wear clothes that better cover their knees and shoulders. For example. skirts, shorts, and tank tops are not allowed inside the temple.
FAQ about Angkor Wat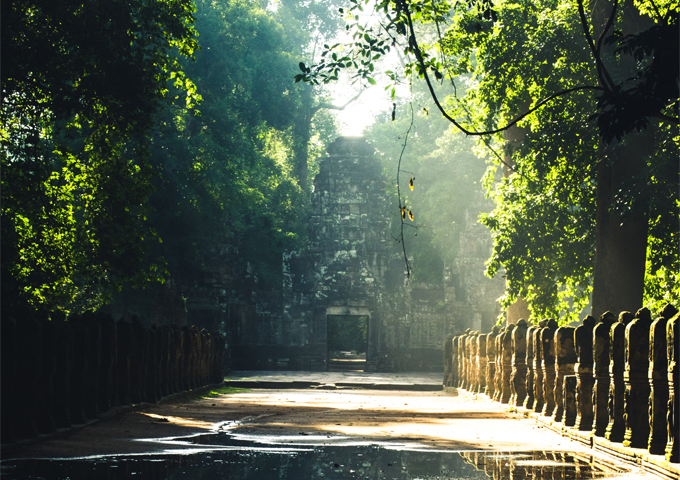 Angkor Thom gate path
Is Cambodia safe to travel?
Overall, Cambodia is a safe country to visit, but like any destination, it is importnt to use common sense and take precautions. Petty theft can occur, especially in tourist areas, so keep your valuables secure. And avoid walking alone in quiet streets at night.
When is the best time to visit Angkor Wat?
November to February is the best time to visit Cambodia, and also Angkor Wat . During this time, the weather is very pleasant , with wind dry and warm and less rainfall.
Who built Angkor Wat?
It was built by Suryavarman II in the early 12th century, originally dedicated to the Hindu god Vinshu. It was also built to showcase the power and authority of the king, the prosperity of the empire as well.
How much is Angkor Wat ticket?
"One-day tour" is $37
"Three-day tour" is $62
"Seven-day tour" is $72
Where can I see sunrise at Angkor Wat?
The reflecting pool in front of the main temples is where you'll find it. The colors of the sky will appear mirrored in the water as the sun rises.
Conclusion
Angkor Wat is more than just a temple complex; it is a living testament to Cambodia's rich cultural heritage and aspirations for a brighter future.
Whether you're interested in history, architecture, or religion, Angkor Wat is a destination that will leave you in awe of its grandeur and majesty. If needed, we will be very happy to customize your itinerary. And if you have any questions, please feel free to get in touch with us!
More Related Travel Planning Articles
Most Popular Cambodia Tour Packages