How to Plan an Angkor Wat Tour?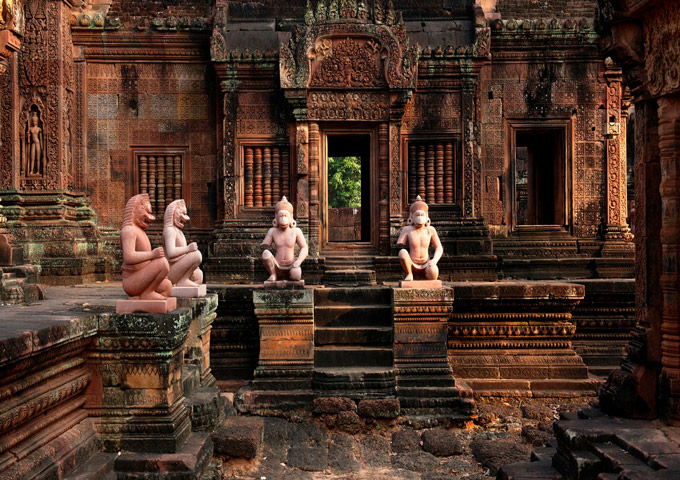 Monumental Angkor Wat
Welcome to the Angkor Wat temple tour, where we will explore a Hindu-Buddhist temple complex that dates back to the 12th century. This cultural and historical tour in Cambodia will lead you to learn more about its mysterious past.
It has been a source of inspiration for artists, writers, and travelers for centuries, and it continues to capture the imagination of people worldwide.
The Bewitching Angkor Wat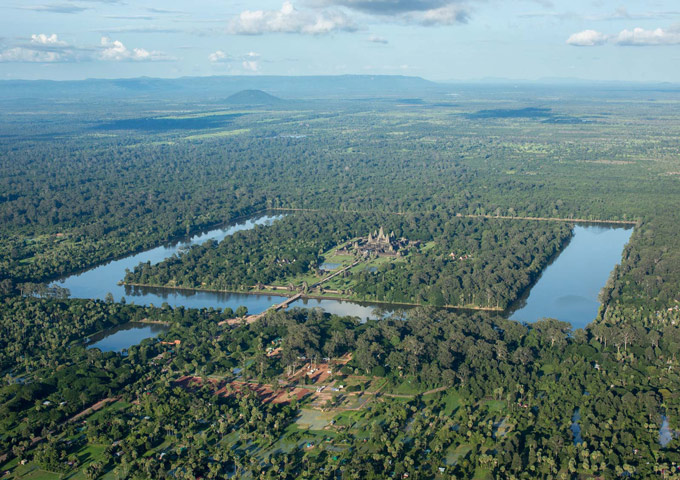 Angkor Wat moat
Angkor Wat is shrouded in mystery and intrigue. Legend has it that Khmer King Suryavarman II built the temple as a tribute to the god Vishnu. Lord Vishnu is one of the principal deities in Hinduism and is considered the preserver of the universe. He is often depicted with four arms, holding a conch shell, a discus, a mace, and a lotus flower.
The beauty of Angkor Wat's architecture is breathtaking, for the temple is surrounded by a moat and a series of walls adorned with intricate carvings and bas-reliefs. Besides, the temple is designed to be a microcosm of the universe, with the central sanctuary representing the sun and the surrounding corridors and galleries representing the planets and stars.
Currently, Angkor Wat is a UNESCO World Heritage site and one of Southeast Asia's most popular tourist destinations.
The Best Time to Have an Angkor Wat Tour

Angkor Wat lush path
Climate in Cambodia is tropical monsoon, which includes two main seasons: the dry season and the rainy season.
The weather in Cambodia is typically sunny and dry during the dry season, with relatively low humidity and very little rainfall. It generally runs from November to April. Temperatures can range from 25℃ to 35℃. For visitors worldwide, the dry season is a popular time for them to visit.
With plenty of sunshine, the architecture in Angkor Wat looks glossy. Roads and paths would not be slippery. If you're lucky, you can have an impressive sunrise or sunset view during your Cambodia Angkor Wat tour.
How Can We Get to Angkor Wat?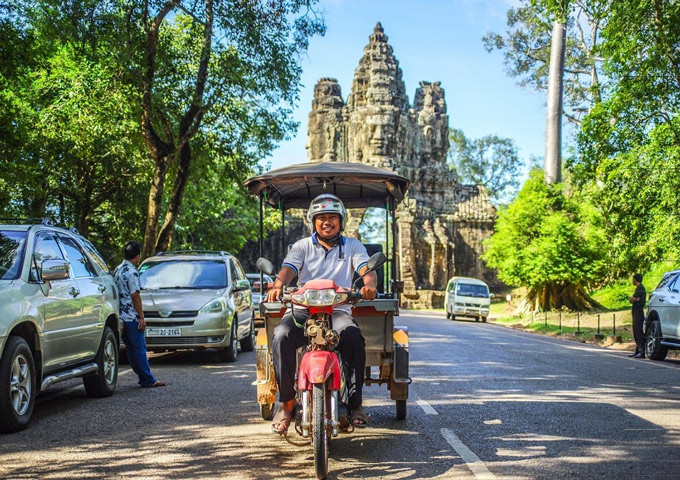 Tuk tuk to Angkor Wat
Angkor Wat lies 5.5 kilometers north of the modern town of Siem Reap. An area of Cambodia with an essential group of ancient structures is the southernmost of Angkor's main sites.
Before getting to Angkor Wat, we need to know how to get to Cambodia. At Siem Reap International Airport, there are domestic and international airlines, such as Cambodia Angkor Air, AirAsia, Malaysia Airlines, etc. Once you arrive at the airport, a tuk-tuk or taxi can also take you to your hotel or guesthouse and the Angkor Wat temple complex.
Alternatively, if you are traveling overland from other parts of Cambodia or neighboring countries, bus and minivan services operate from various cities to Siem Reap.
The Best Travel Route in Cambodia Angkor Wat Tour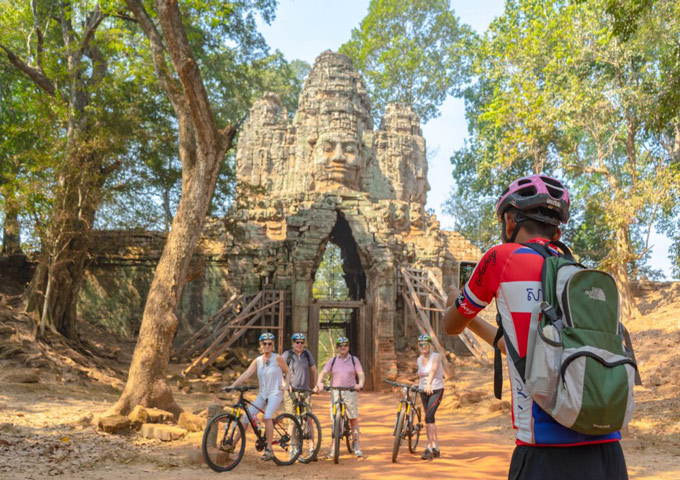 Angkor Wat bike tour
Route overview: Angkor Wat-Bayon Temple-Ta Prohm-Preah Khan-Banteay Srei
Begin your journey by exploring the iconic Angkor Wat temple, the complex's largest and most well-known temple. You can visit by walking, biking, or even on an Angkor Wat helicopter tour. However, you can only smell a faint scent of incense or burning candles inside the temple by walking around the site closely.
Next, head to the Bayon Temple, known for its many stones faces that adorn its towers. These faces are believed to represent either the Buddhist Bodhisattva Avalokitesvara or King Jayavarman VII, who commissioned the temple. It is a popular destination for photography enthusiasts since the changing light throughout the day offers endless opportunities for capturing unique images.
Continue your journey by visiting Ta Prohm, a temple known for its intertwined trees and jungle-like atmosphere. This temple has been left largely untouched since its rediscovery. So it provides a unique glimpse into how the temples may have looked when they were first uncovered.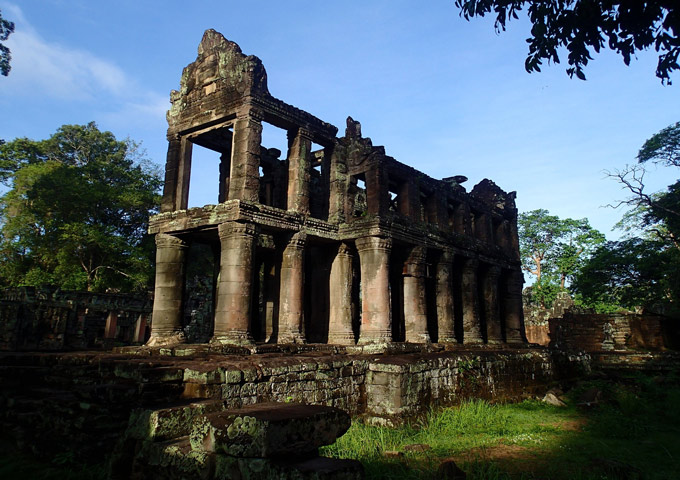 Preah Khan Temple
Then we can head to Preah Khan. It was once a center of education during the Khmer Empire due to its association with Buddhism and its role as a monastery and learning center.
Finally, make your way to Banteay Srei. It is a small temple known for its intricate carvings and detailed stonework. The carvings at Banteay Srei are particularly impressive because of their size and detail, which features intricate patterns, explicit scenes from Hindu mythology, and depictions of everyday life in the Khmer Empire.
There are many other temples and ruins to see and explore. Feel free to adjust this itinerary to suit your preferences and interests.
Related Itineraries Recommended
4 Days Siem Reap Luxury Tour with Easy Biking
6 Days Angkor Discovery Tour
15 Days Cambodia Historical Tour with Beach Relax
Precautions for Angkor Wat Temple Tour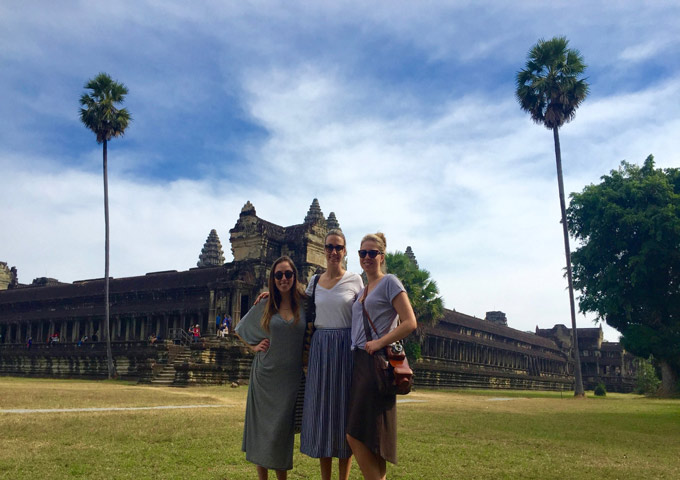 Travelers in Angkor Wat
If you plan to visit Angkor Wat, here are some precautions you should consider.
Cambodia is a tropical country that can get extremely hot and humid. Be sure to drink plenty of water to avoid dehydration. Take some sunscreen if needed.
It's also important to dress appropriately to visit a religious site. You can wear a shirt or blouse that covers your shoulders. Avoid wearing tank tops or sleeveless tops. Wear pants, skirts, or dresses that cover your knees. And wear light and breathable shoes to stay comfortable.
In the End
We encourage you to come and experience the beauty and wonder of Angkor Wat. Whether you're a history buff, a nature lover, or simply seeking a unique cultural experience, there's something for everyone in Angkor Wat.
If you're planning to visit Angkor Wat or any other interesting places in Cambodia, please feel free to contact us. Click here to know more about Cambodia Tourism in 2023.
More Related Travel Planning Articles
Most Popular Cambodia Tour Packages