Visiting Angkor Wat Easily, Safely and Locally: The Complete Guide (2023)
Exploring the majestic wonders of Angkor Wat is a dream for many travelers. With its awe-inspiring ancient temples and rich historical significance, Angkor Wat offers an unforgettable experience.
However, planning a visit to this iconic UNESCO World Heritage Site can sometimes feel daunting. Fear not! In this comprehensive guide, we will unravel the secrets to visiting Angkor Wat easily, safely, and immersing yourself in the local culture.
Angkor Wat is a must-visit destination in your lifetime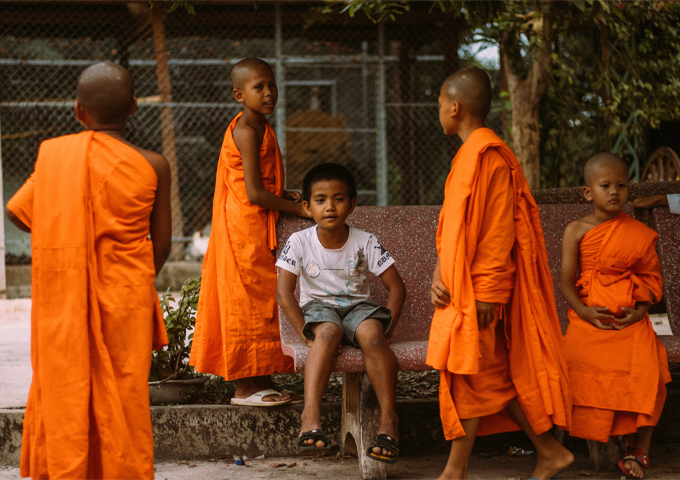 A boy came to visit his monks friends
What is Angkor Wat famous for? Angkor Wat, a UNESCO World Heritage site in Southeast Asia, was the capital of the Khmer Empire.
Its 12th-century construction and intricate carvings embody the grandeur of the Khmer civilization, attracting visitors with its rich history and ancient architecture.
People like to come here largely for its grandeur and beauty. And there are a few reasons why most people like to visit Angkor Wat:
Firstly, people like to see its architectural marvel. It is the largest religious monument in the world, spanning over 400 acres. The central tower stands at a height of around 213 feet (65 meters), making it the tallest structure within the complex.
Secondly, they are attracted by its spiritual and religious significance. Angkor Wat is a place of worship for both Hindus and Buddhists. The serene atmosphere and spiritual ambiance draw those seeking a connection with the divine or a place for introspection and meditation.
To learn more facts about Angkor Wat, you can take a look at our previous articles. You may be able to discover many unknown secrets.
November to February is the best time to visit Angkor Wat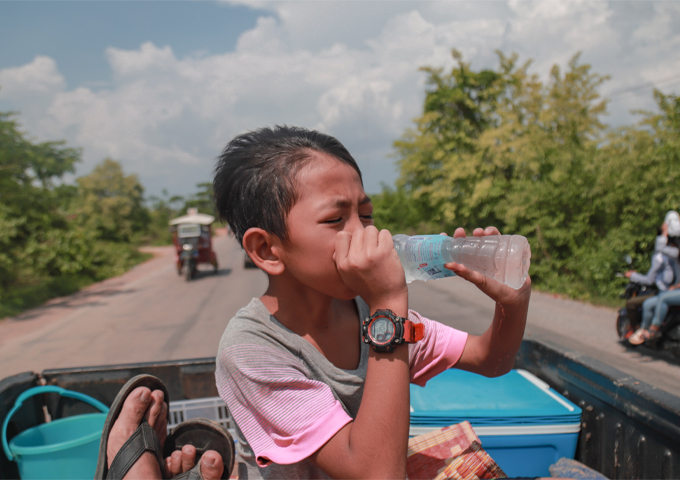 A Cambodian boy is drinking ice water on a sunny day
Since it is hotter in both March and April, the best time to visit Cambodia and Angkor Wat is during the cool season (November to February) of its dry season (November to April).
During this period, the weather is relatively cooler and there is less rainfall, making it more comfortable for exploring the temple complex and its surroundings.
However, it's important to note that the dry season is also the peak tourist season, so the temple complex can get crowded, especially during the holiday months of December and January.
Entrance fees are the main cost of visiting Angkor Wat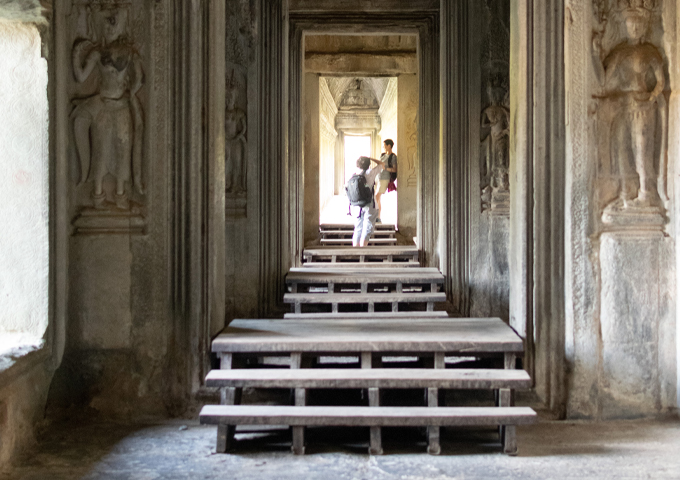 Tourists wandering in alleyways, inner chambers, Angkor Wat
Entrance fees are a significant cost when visiting Angkor Wat. The ticket prices for Angkor Wat and the surrounding archaeological park are the primary expenses for tourists.
These fees contribute to the maintenance, preservation, and ongoing restoration efforts of the site. The ticket prices vary depending on the duration of the visit, with options for one-day, three-day, and seven-day passes.
1-day pass: $37 per person
3-day pass: $62 per person
7-day pass: $72 per person
1 day or 3 days are recommended to visit Angkor Wat
Generally, most visitors allocate at least half a day to a full day to appreciate the temple complex. If you have limited time, it's still possible to get a glimpse of Angkor Wat's main highlights in a few hours.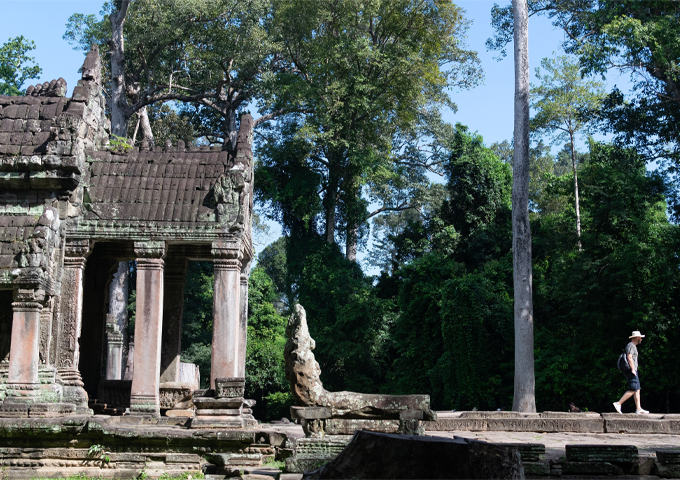 A man ramp walks Preah Khan temple Siem Reap Cambodia
However, if you have a deeper interest in the site, consider dedicating more days. Most travellers choose a 3-day tour in Angkor Wat to enjoy its magnificent charm.
There are 3 circuits about Angkor Wat popular tour routes, the small, grand, and outside circuit. You can choose any circuit to visit according to your itinerary.
The small circuit: Angkor Wat – Bayon Temple – Phomeanakas – Terrace of the Elephants – Prasat Suor Prat – Ta Keo – Ta Prohm
The grand circuit: Phnom Bakheng – Preah Khan – Neak Poan – Ta Som – East Baray – Pre Rup – Srah Srang – Prasat Banteay Kdei – Prasat Kravan
The outside circuit: Banteay Srei – Phnom Kulen – Phumi Beng Mealea – Roluos Group – Kampong Phluk
Best touring routes when visiting Angkor Wat for first timers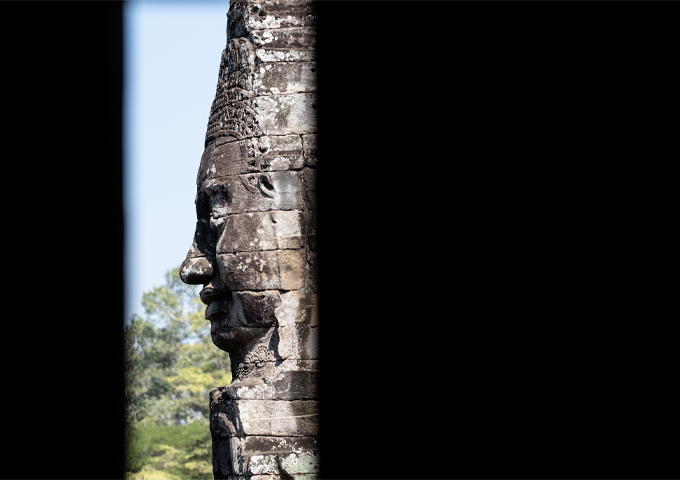 A quiet Bayon face appears high up
Is Angkor Wat worth visiting? For the first timers, a lot of people might feel worried about how to make a proper plan. However, here we list 2 plans for you as samples. You can choose the best suitable one in your preference.
1 day tour at Angkor Wat:
If you only get 1 day to explore Angkor Wat, do not worry, since we have also recommended travel route for you to consider.
In this case, you can choose to visit around the small circuit for limited time. You have an opportunity to see the famous world heritage site Angkor Wat and Bayon temple with many kind faces as main tourist attractions.
3 day tour at Angkor Wat: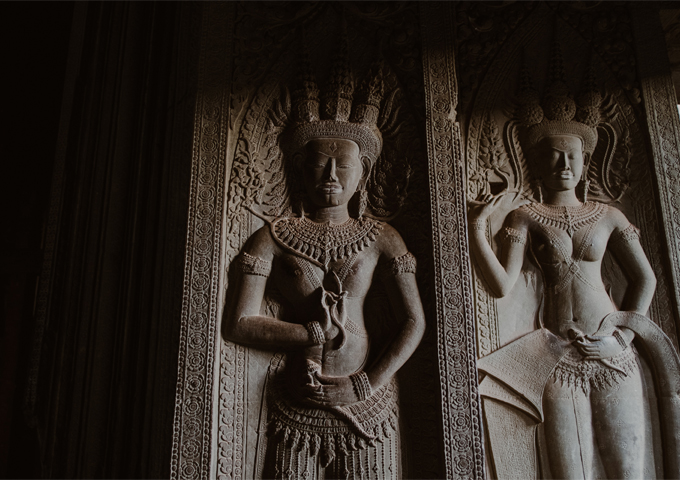 Intricate statues in Angkor Wat inner chambers
If you get more time, here is a 3-day tour for you to fully appreciate Angkor Wat. Remember that this is just a sample for you. We can definitely customize your itinerary according to your preference.
Day 1:
Let's start from the small circuit with Angkor Wat and Bayon Temple mostly famous. You can follow our professional guide to explore the grandeur of Angkor Wat and the kindness and mercy of Bayon faces.
Day 2:
Then head to the magnificent Angkor Thom to see more temples, such as Preah Khan and Phnom Bakheng as the most famous temples. During the trip, we will see a fabulous sunset upon the mysterious Phnom Bakheng Mountain.
Day 3:
On the last day, we will see the Pink Castle of Banteay Srei and the spectacular ruins of Beng Mealea along the outside circuit of Angkor Wat.
Then head to Tonle Sap Lake to find the lively Kampong Phluk floating village. We'd like to take you to see closely about how people exactly live on the water.
The Reflection Ponds are the best photography spot for Angkor Wat sunrise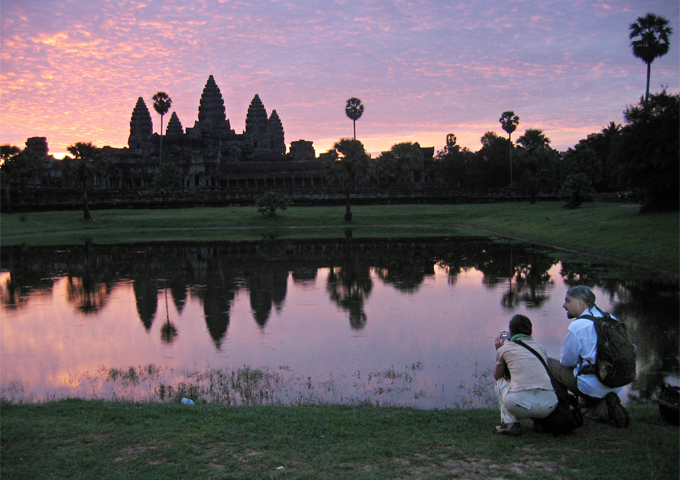 Tourists are capturing the reflection of Angkor Wat by the lotus ponds
The Reflection Ponds near Angkor Wat are indeed considered to be one of the best photography spots for capturing the sunrise or sunset at Angkor Wat.
It provides a stunning foreground element, adding depth and beauty to your photographs. The calm water of the ponds often reflects the temple's silhouette and the vibrant colors of the sky.
However, do keep in mind that it can get crowded during peak tourist seasons. Arriving early or choosing less busy times might help you secure a good spot and enhance your overall photography experience.
Plenty of experiential activities to join in except for visiting Angkor Wat temples
In addition to visiting the most famous site of Angkor Wat, there are many things you can choose in Cambodia. Because this is a land with abundant natural resources, the natural beauty is breathtaking.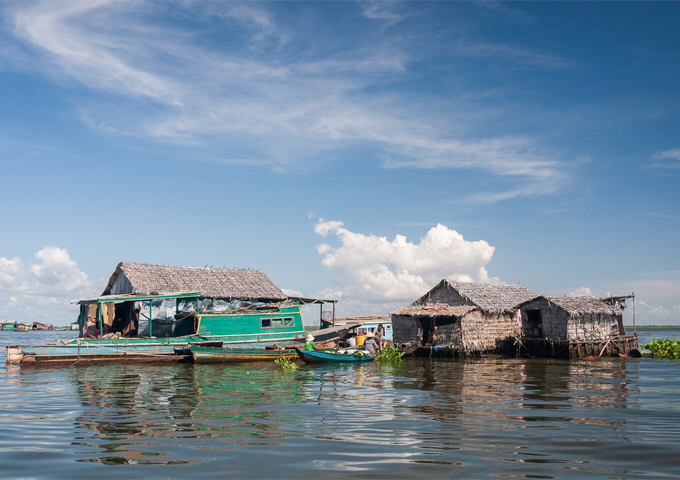 Water life scenery on Tonle Sap Lake
At the same time, local customs and traditions are also vividly reflected in the daily dining, drinking, and entertainment of the locals. Here are some suggestions for you:
Take a boat trip to Tonle Sap Lake:
Tonle Sap is the largest freshwater lake in Southeast Asia. Enjoy a boat trip to explore the floating villages in Cambodia, witness local livelihoods, and experience the unique ecosystem of the lake.
Visit the Angkor National Museum:
Gain deeper insights into the history, art, and culture of the Khmer Empire through the exhibits and artifacts displayed at the Angkor National Museum.
You can visit Angkor National Musuem before you go to see Angkor Wat, since it may help you better understand the history and culture of Cambodia in advance.
Experience local culture:
Take some time to engage with the local culture and people. Visit local markets, try Cambodian food, and participate in traditional activities like Apsara dance performances or pottery making.
Relax and rejuvenate:
There are spa and wellness centers in Siem Reap where you can enjoy traditional massages and fish spa treatments.
Many people are worried that children may not be suitable for physical activities, but in fact, children and even the elderly can also enjoy such relaxed and enjoyable services.
Bangkok & Saigon are easy entry cities to Angkor Wat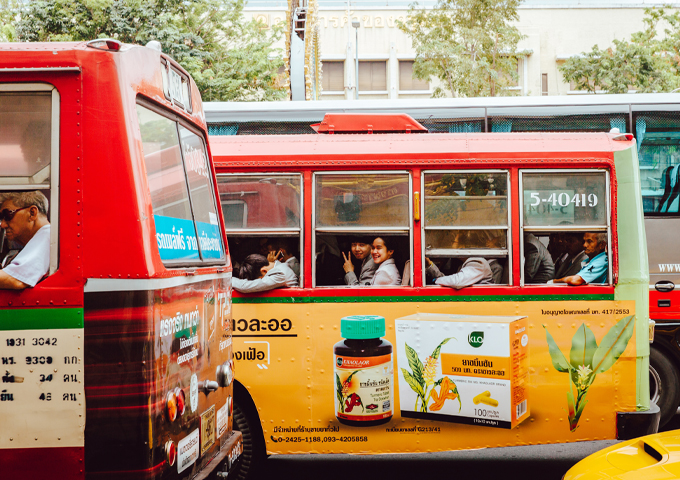 Vibrant buses on the street of Bangkok
If you want to go on a wonderful Indochina Tour, starting from Bangkok or Ho Chi Minh is the best choice. They are also generally regarded as the most convenient city to Angkor Wat. So why? Here are some helpful answers for you.
International Airports:
Both Bangkok (Suvarnabhumi Airport) and Saigon (Tan Son Nhat International Airport) are major international airports. This makes it convenient for travelers to visit Angkor Wat from Bangkok or Saigon.
Tourism Infrastructure:
Bangkok and Saigon have well-developed tourism infrastructure, including a wide range of accommodations, transportation options, and travel agencies. This makes it easier for travelers to arrange their trip, as they can find reliable information conveniently.
Tuk tuk is the most convenient way to visit Angkor Wat
Using a tuk-tuk is a popular and convenient way to visit Angkor Wat and explore the surrounding temples.
It allows you to enjoy the scenic view, offering an open-air experience. Except for its exciting experience, there are other reasons for a tuk tuk tour in Angkor Wat.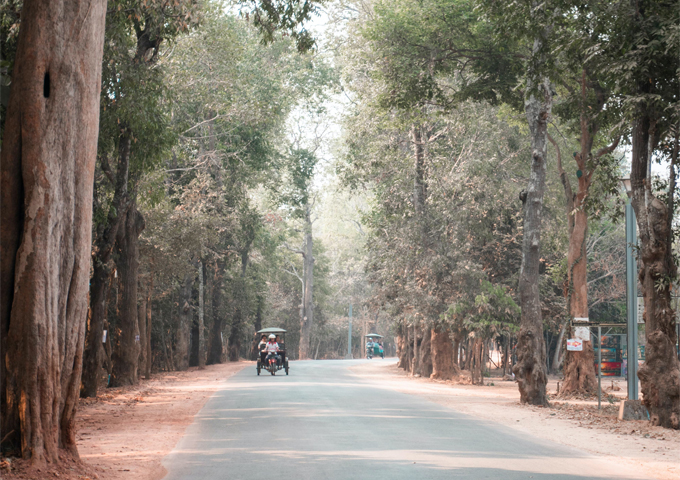 A tuk-tuk is coming towards us on the Angkor road
Firstly, tuk-tuks are easily accessible in Siem Reap, the city nearest to Angkor Wat. You can find tuk-tuks readily available near major hotels, tourist areas, and the entrance to Angkor Archaeological Park.
Secondly, tuk-tuks are generally more affordable compared to hiring a private car. For those with tight budgets, especially backpackers, this is the best choice.
Insider tips:
- You can negotiate and agree on a fare before starting your journey in case that you get cheated.
- At the same time, it is important to hold your phone and other valuable items in front of you to prevent motorcycle riders from suddenly approaching and taking away your phone.
Hotels in Siem Reap downtown are recommended when visiting Angkor Wat
We believe that accommodation issues will also become a concern for tourists. Many tourists are not sure which cost-effective hotels to choose from.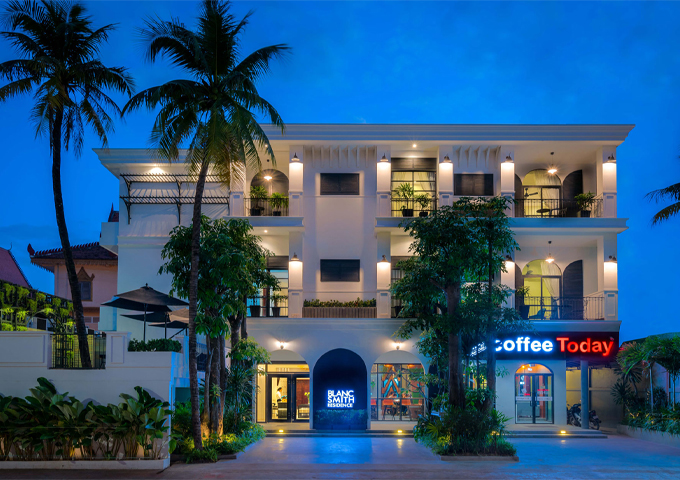 Blancsmith residence by night in Siem Reap
You can choose a hotel in the center of Siem Reap to provide you with a better living experience. Here are some advantages that you can enjoy.
Proximity to Angkor Wat:
Siem Reap downtown is conveniently located near Angkor Wat and the Angkor Archaeological Park. Staying in this area allows for easy access to the temples, minimizing travel time to the site.
Wide Range of Accommodation Options:
Siem Reap downtown offers a diverse range of accommodation options, ranging from budget guesthouses to luxury hotels. This ensures that there is something to suit different budgets and preferences. You can click the link here to learn the best Siem Reap hotels.
Dining and Entertainment:
Siem Reap downtown is bustling with restaurants, bars, cafes, and street food stalls especially you can see a lot of shops and vendors in Pub Street, Siem Reap.
You'll find a variety of local and international cuisines, making it a great place to sample Khmer dishes and explore the vibrant dining scene. Also you can enjoy shopping time for souvenirs of all kinds of Cambodian products, like potteries, paintings, glasses and so on.
Convenience and Amenities:
Staying in Siem Reap downtown provides access to various amenities such as banks, ATMs, convenience stores, pharmacies, and tour agencies. This ensures that you have easy access to essential services and facilities during your stay.
Dress appropriately when visiting Angkor Wat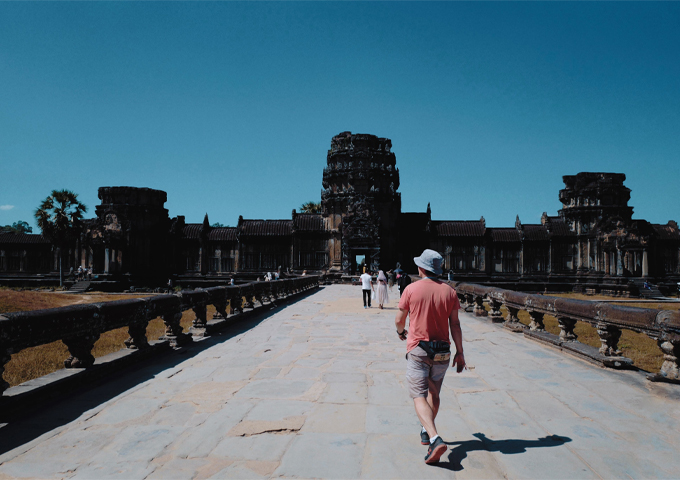 A man is wearing proper clothes and wears a bucket hat
Before entering, many tourists may not know that there is clear dress code in Angkor Wat here. Improper dressing in Angkor Wat may cause certain feelings of disrespect. Next, let's get to know what to wear when visiting Angkor Wat.
Modest Clothing:
As Angkor Wat is a religious and cultural site, it is respectful to dress modestly. Both men and women should cover their shoulders and avoid wearing revealing clothing. Tops or shirts should have sleeves, and pants or skirts should cover the knees.
Light and Breathable Fabrics:
Cambodia's climate can be hot and humid, especially during certain times of the year. It is advisable to wear lightweight and breathable fabrics that allow for comfort and ventilation. Opt for cotton or linen materials that help keep you cool.
Sun Protection:
Angkor Wat is mostly an open-air complex, so it is essential to protect yourself from the sun. Wear a wide-brimmed hat or cap, sunglasses, and use sunscreen to shield yourself from the sun's rays.
Comfortable Footwear:
The temple complex involves a significant amount of walking and exploring. It is advisable to wear comfortable and sturdy footwear, such as walking shoes or sandals, to navigate the uneven terrain and enjoy your visit.
Angkor Wat is very safe to visit for foreign travelers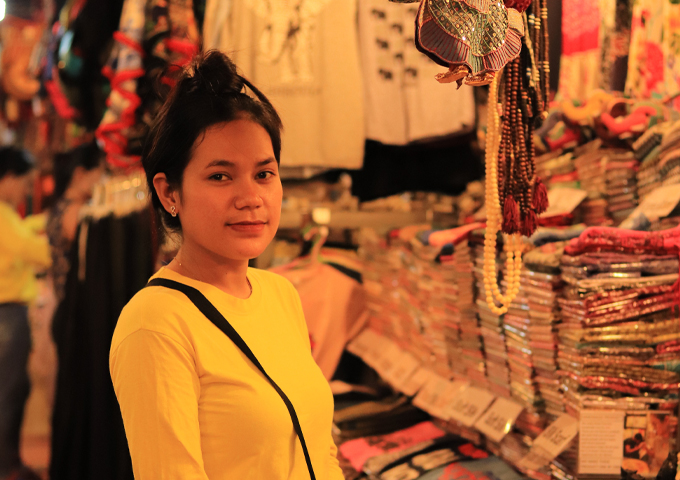 A friendly Cambodian shopkeeper
Siem Reap is generally considered safest spot for foreign travelers. Many people choose Siem Reap as their first stop in Cambodia, where Angkor Wat stands its place.
However, it's always a good idea to take some precautions when traveling to any destination. Here are a few tips to enhance your safety while visiting Angkor Wat:
Pay attention to safety when climbing stairs:
When visiting Angkor Wat, because many temples are very tall, there will be some stairs for tourists to get better scenic spots.
So, when you climb, especially during the rainy season, you must pay attention to foot safety. It is recommended that you wear sports shoes and avoid high heels and sandals to avoid slipping.
Take care of your belongings:
Like in any tourist destination, be mindful of your belongings and keep them secure. Avoid displaying valuable items openly, and be cautious in crowded areas.
Politely decline the fake monks:
There are more and more fake monks emerged in Angkor Wat on the consequence of the increase of visitors. The fake monks did not get the memo and see it as a good place for a scam.
They usually push incense into your hands, mumble some words and then try to charge you $20 for the privilege. The best way to avoid this is just to politely decline.

Packing list for visiting Angkor Wat
Before leaving for the trip, here is a list of items. You can choose what you need to carry with you ensuring that you can handle unexpected situations more conveniently during your journey in Angkor Wat.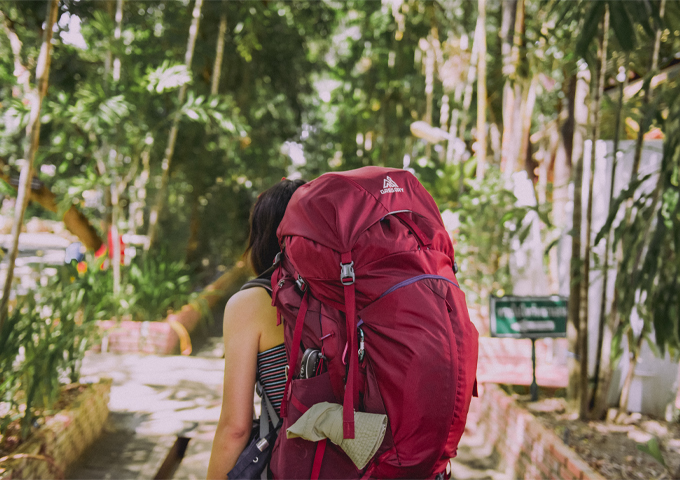 A ready backpacker back view
· Comfortable, lightweight clothing
· Modest attire (covering shoulders and knees for temple visits)
· Sturdy walking shoes
· Sunscreen, sunglasses, hat
· Insect repellent
· Small daypack or backpack
· Reusable water bottle
· Sufficient cash and cards
· Travel guidebook or map (optional)
Conclusion
In summary, Angkor Wat is worth visiting for anyone interested in ancient Khmer civilization. From the ideal visiting time to recommended routes, mesmerizing sunrise views, and engaging activities, Angkor Wat offers a memorable experience.
With proper planning and respect for the local culture, a trip to Angkor Wat will create lasting memories. Feel free to contact us to tailor your Cambodia tour. Wish to see you soon!
More Related Travel Planning Articles
Most Popular Cambodia Tour Packages