Is it Safe to Travel to Indochina During the COVID-19 Outbreak?
Recently, the COVID-19 cases have been continuing to rise, especially in Asian. Tourists may curious about if it is safe to travel in Asia anymore? Under the situation of COVID-19, of course you will think twice about traveling.
Just check for our article to find the answer and how to make a new travel plan.
Indochina Countries' Coronavirus Update
In the past few weeks, control measures of various countries have contained the spread of virus, and the outbreak has been under control to some extent. In Indochina countries, each country have few cases or none at all. It is less severe than other countries in East Asia.
Here are the outbreak report of Indochina countries:
Vietnam: confirm 30 cases with no new ones
Thailand: confirm 50 cases with no new cases for 10 consecutive days
Cambodia: confirm 2 cases with no new ones
Myanmar: no confirmed cases
Laos: no confirmed cases
Can I Still Travel to Indochina?
You may ask if I can travel to Indochina countries under the current situation, then let us tell you the answer:
Since the global outbreak is expected to be fully contained by June while Indochina countries are not the worst-hit area, traveling to Indochina will process normally.
Since the high temperature makes it difficult spread the virus, Indochina countries are relatively safe.
There have been no confirmed cases at tourism attractions. And most of the attractions and heritage sites in Indochina are in the open air, it will not be dangerous to visit Indochina.
According to the report of the Centers for Disease Control and Prevention, it is unlikely to infect when traveling in a country with few confirmed cases of COVID-19.
What We Have Prepare for You When Traveling Indochina?
1.According to the arrangement during the outbreak, we provide you private tours with independent cars and guides. You will not meet other tourists during the whole trip to reduce the risk of infection.
2.There are all hotels with high-level service we provide for you to choose. In the public area and rooms, we promise to do the disinfection work. Besides, all the hotel supplies will be changed daily.
3.To avoid a large crowd in restaurant, you will be arranged in outdoor dining or separate box. And if you are in a cruise tour, we will provide separate rooms with private balconies. You can not only have a chance to sightsee the ocean view, but also keep the air circulating and enough sunshine to avoid the maximum risk of infection.
Book Now and Have 15% OFF
Currently, so lang as you book any of our Indochina tours before July 31, we are offering you a whopping 15% off for all trips available.
And you can freely decide your travel date in Cambodia, Vietnam, Thailand, Myanmar and Laos from now till Dec 31, 2021.
Besides, if you are going to cancel the trip after confirming, we will offer a full refund 30 days before the trip.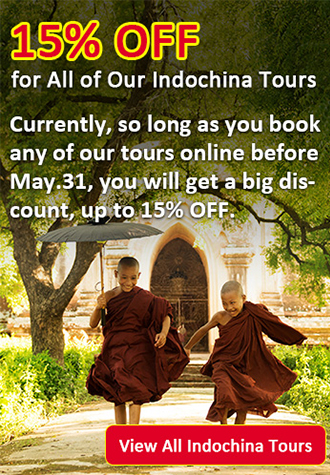 Most Recommended Indochina Tour Packages
6-30 days vacations to Indochina - you can sightsee the scenery and attractions of Indochina countries with discount.