How Long Can You Stay in Cambodia on a Tourist Visa?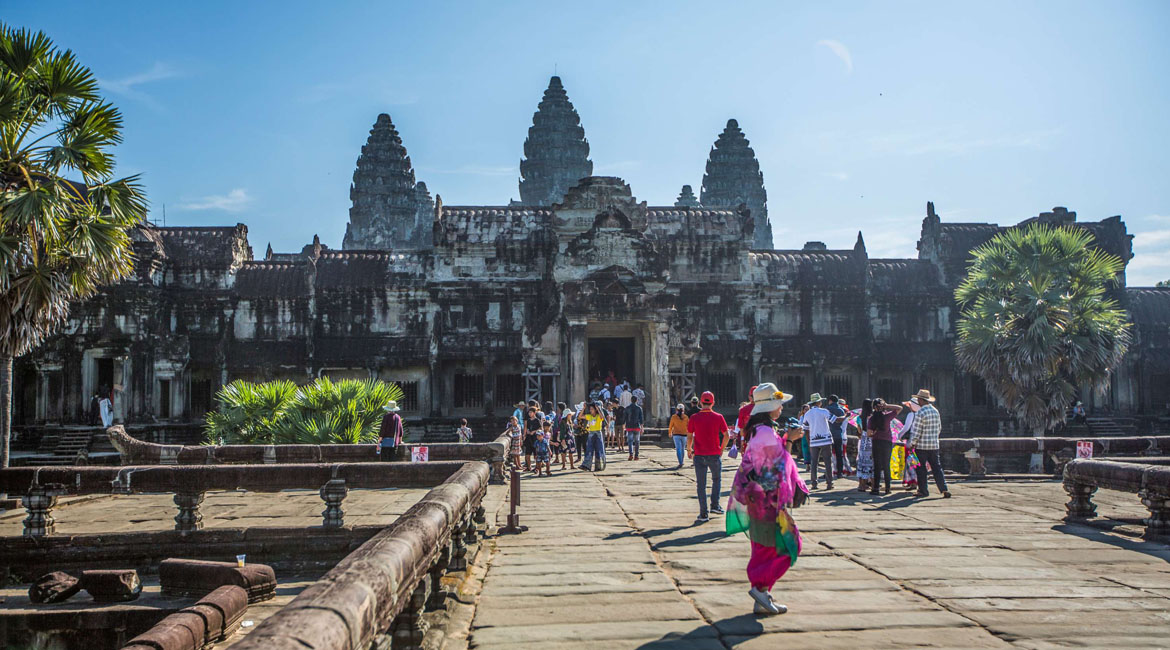 Angkor Wat, the world's top tourist attraction, locates in Cambodia. However, Cambodia is more than Angkor Wat, there are more to do and see.
To the north of Siem Reap, deep in the forests of Koh Ker, you can find Prasat Thom, a seven-tiered pyramid structure. Along the cliffs at Cambodia-Thailand border, Preah Vihear Temple is another outstanding masterpiece created by the Khmers.
Except for historical relics, unique cityscape in Phnom Penh, amazing floating villages on Tonle Sap Lake, and beautiful nature in remote countryside are well worth exploring. If you are a beach lover, quite a number of beaches and islands are available.
With so many staggering scenic spots to travel, you may wonder how long you can stay in Cambodia on a tourist visa.
How Long is the Cambodia Tourist Visa Duration?
How long can you stay in cambodia on a tourist visa? Normally, a tourist visa allows you to have a maximum stay of 30 days in Cambodia and an extension is possible. And pay attention that a tourist visa is single entry only.
Visitors from ASEAN countries do not need a visa to enter Cambodia for a stay of 14 to 30 days, covering Brunei, Indonesia, Laos, Malaysia, Philippines, Singapore, Thailand, Vietnam, and Seychelles.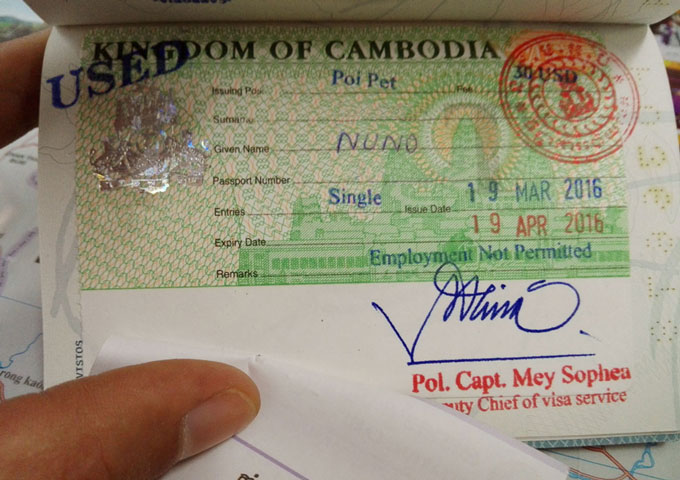 A Cambodia tourist visa enables you to stay in Cambodia for 30 days.
How to Get a Cambodia Tourist Visa?
To get a Cambodia visa for travel, you have three options. Most travels are able to obtain it on arrival or apply online before arrival. Some visitors are required to apply for a visa in advance at the Cambodia embassy in your home country. Keep reading for the details.
Get Cambodia Tourist Visa on Arrival
For most visitors to Cambodia, you can get your visas upon arrival at the international airports in Phnom Penh, Siem Reap, and Sihanoukville. For overland travel from Thailand, Vietnam, and Laos, visas are obtainable at International Checkpoint borders.
To apply for a tourist visa on arrival at Cambodia airport, you don't need to do anything in advance. On the plane, fill out an immigration card. Upon arrival, get in line with your immigration card, a passport that is valid for at least six months, and cash in US dollars to wait for the visa application. The visa fee costs $30 dollars.
The visa application on arrival at the land border crossings may charge extra processing fees between $1 to $20 dollars.
Apply for Cambodia E-Visa for Tourism
For visitors that are eligible to get a Cambodia tourist visa on arrival, you can also apply online at Evisa.Gov.kh in advance. It allows a single entry and a maximum stay of 30 days for tourism purposes. And visa online application requires $36 dollars.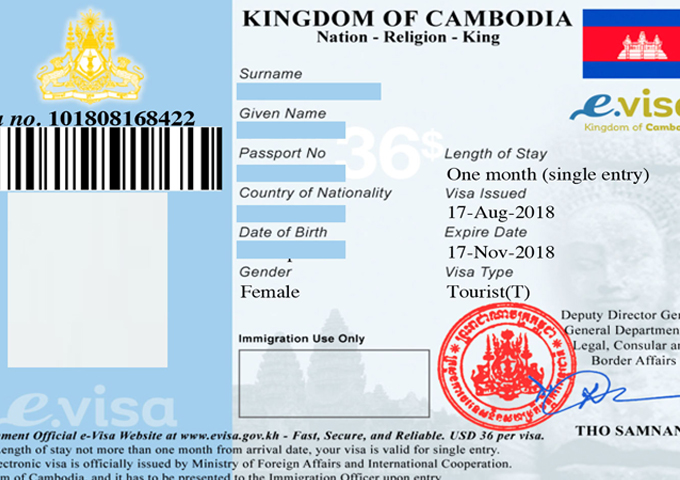 You can apply for the E-Visa online before arrival in Cambodia.
Go to the Cambodia e-visa application page to fill in the secure online e-visa form and pay. Within 3 days, you can get an approval letter. Bring your e-visa certificate to show immigration at the checking point, and then you can enter Cambodia.
Basically, holders of e-visas are allowed to enter the country through international airports in Phnom Penh, Siem Reap, and Sihanoukville. For an overland tour, you may enter via entry points including Cham Yeam (from Thailand), Por Pet (from Thailand), Bavet (from Vietnam), and Tropaeng Kreal (from Laos).
Get Cambodia Tourist Visa at the Embassy
Some nationalities are required to apply for a visa in advance at the Royal Embassy of Kingdom of Cambodia in your home country, including Afghanistan, Algeria, Arab Saudi, Bangladesh, Iran, Iraq, Pakistan, Sri Lanka, Sudan, Nigeria.
You can visit the nearest Cambodia embassy and the tourist visa costs $30 dollars. One thing to note that citizens of Nigeria can apply online for an e-visa with a minimum of 20 working days. It depends on you.
How to Extend the Cambodia Tourist Visa?
The extension for your stay in Cambodia on a tourist visa is available. And your visa for tourism purpose can be extended only once for an additional 30 days for a charge of $30 to $50 dollars.
To renew the Cambodia visa, you need to visit the Department of Immigration in Phnom Penh, open Monday to Friday, 7:30 to 11 am, and 2 to 5:30 pm.
Alternatively, you can handle it to a local travel agency, for example, the Indochina Tour, located in 32 Brighton Road, Invcc Centre, Redhill Surrey RH1 5BX. Your passport, photo, cash in USD, and phone number is required.
Basically, two to ten working days are required to renew the tourist visa.
How to Spend your Days in Cambodia?
With so many days to stay in Cambodia, planning a perfect itinerary to make the most of your journey matters. The following classic schedule is offered for your reference.
Fully Exploration of Siem Reap
Most tourists choose Siem Reap as the first station in Cambodia. To fully explore the Angkor temple complex in Siem Reap, 4 days is good.
On the first day, go to Angkor National Museum to learn a little bit about the history of the Khmer Empire before embarking yourself to the temples. On the second day, head to Angkor Wat for its extravagant beauty, then tour nearby Bayon Temples, Elephant Terrace, and Ta Prohm.
The third day's tour takes you to Angkor Thom. Then visit Cambodia's amazing water world - Tonle Sap Lake and tour a beautiful floating village of Kompong Khleang.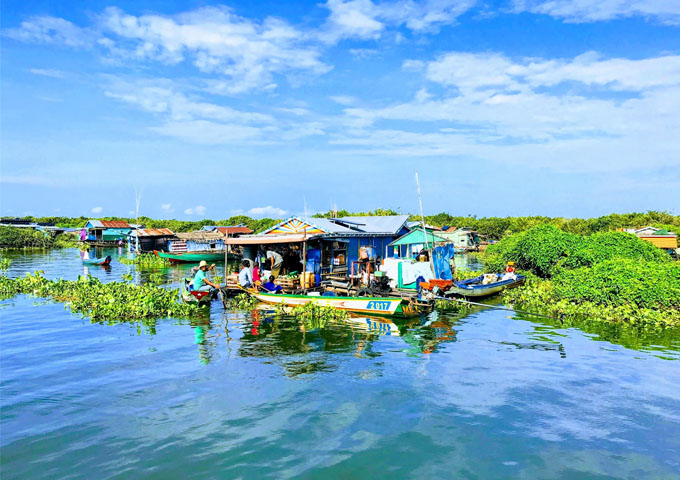 Explore the wonderful water world of Tonle Sap Lake in Cambodia.
Finally, on the last day, take a tuk-tuk to visit downtown Siem Ream and do remember to walk around Angkor Night Market.
City Discovery of Phnom Penh
As the national capital city of Cambodia, there are some interesting places to visit. 3 days' stay in Phnom Penh are recommended.
On the first day, stroll around the downtown areas to visit Royal Palace, National Museum of Cambodia, Wat Phnom, Art Deco Central Market, and Independence Monument.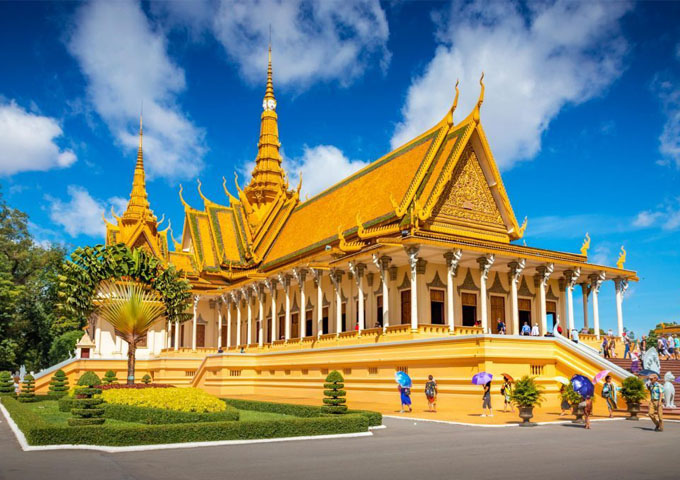 Stroll around the downtown areas to enjoy a city discovery tour of Phnom Penh.
To know the dark days of the Khmers, on the second day, you can go to Choeung Ek Killing Field and S21 Museum, also called the Tuol Sleng Genocide Museum to trace the history. The last day's discovery of Phnom Penh takes you to Tonle Bati, where almost no western tourists are found.
Extra Discovery in Battambang
Many tourists travel to Battambang for the bamboo train, offering excellent views of the natural landscapes along the trail. It is an unspoiled and authentic little town that nature lovers will love to stay longer here. You can leave 3 days for Battambang.
Getting there takes a day. On the second day, experience the quite fun Bamboo train and then visit Killing Caves and Bat Cave. On the last day, you can rent a bicycle to head to Wat Ek Phnom, a Hindu temple built in the 11th century.
Beach Relax at Sihanoukville
After a deep exploration of Cambodia's splendid historic relics, you can head to Sihanoukville to relax your body and soul for 2 days.
Sihanoukville is the main seaside resort in Cambodia, brimming with commercial areas, party facilities, and casinos. On Otres 2, a southern section of Sihanoukville, you can expect soft white sands and a mix of palms.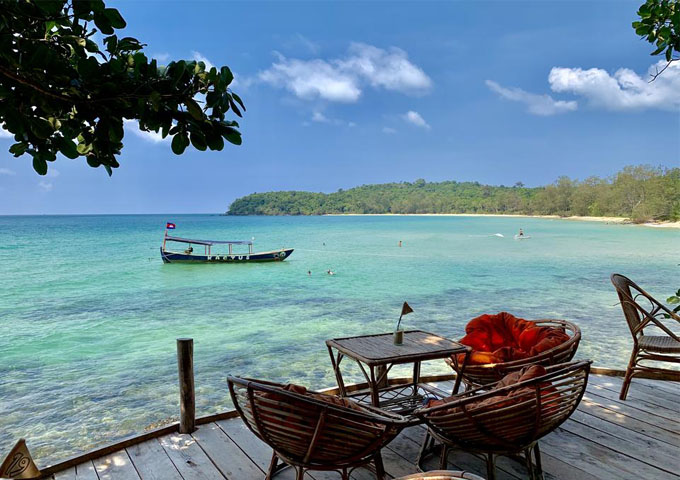 You can add Sihanoukville Beach as the last station of your journey in Cambodia.
Summary
As mentioned above, a tourist visa allows you to stay in Cambodia for 30 days, which is actually enough for you to explore the main scenic spots in great depth.
For visitors who prefer to involve further into the country, for example, the remote and authentic countryside, you may need more time in Cambodia. To renew your tourist visa, go to the Department of Immigration in Phnom Penh to ask for help, or handle it to a reliable travel agency.
No matter how long you are willing to stay, a tour to Cambodia will never disappoint every tourist.
Most Popular Cambodia Tour Packages