How Much it Costs for Getting a Cambodia Visa for Cambodia Tour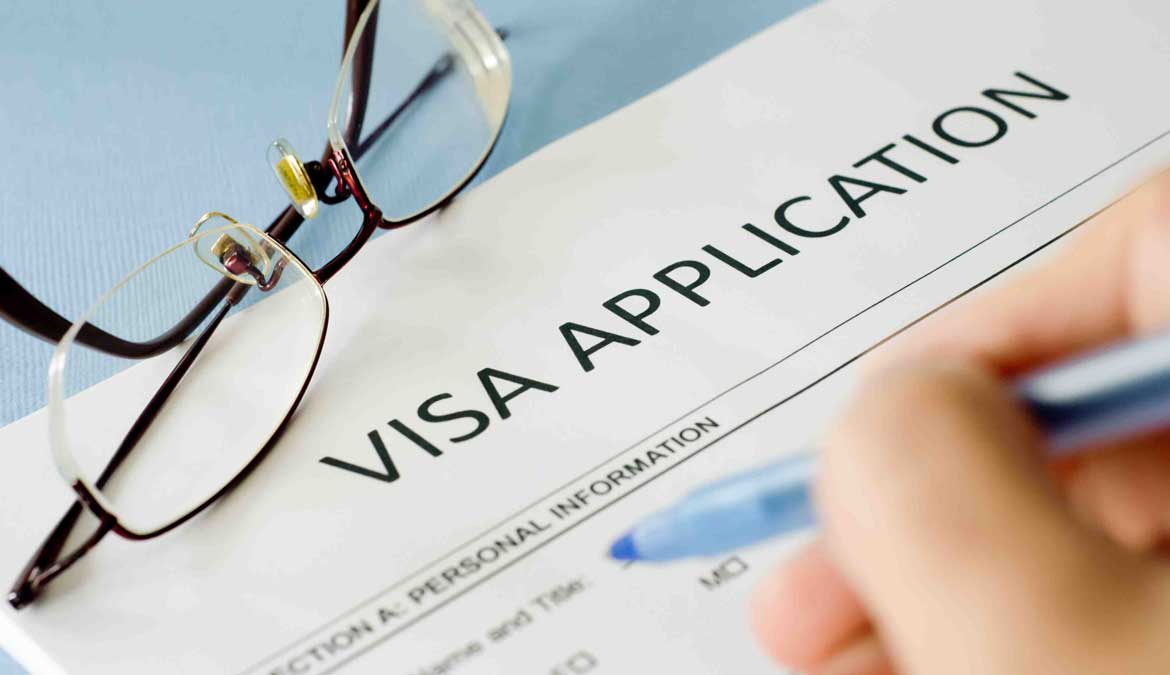 When traveling to Cambodia, many citizens of foreign countries need to have a visa to be allowed into and travel around the country. While there are some nations within Asia, mainly the ASEAN nations, that are allowed visa-free travel for a limited period, everyone else in the world needs a visa. And getting one is not as hard as you might think.
The cost of the visa is also not as high as many people think, with visa fees being lowered in many Asian countries in order to better promote tourism, which is one of the biggest industries in Asia. With this lowered cost, it is surprising to many people that a visa for Cambodia can cost as little as thirty US dollars, or as much as fifty dollars. However, while some countries offer multiple entry visas for tourists, Cambodia only has a single entry visa, which means that if you go out of the country to Vietnam, or Laos, or Myanmar, you will need to pay again for a new visa when you come back into Cambodia.
How to Get a Cambodia Visa & How Much it Costs?
There are three ways in which you can apply for a tourist visa for Cambodia. Visas are available from the Cambodian Embassies worldwide, online through their new E-visa service, or at certain entry points to the country as a Visa On Arrival. Which you choose can depend on a number of things, from what country you are originally from to how much you want to spend, or even how much time you have spare to obtain the visa. All things considered, there is no one particular option that is better than all the others, and each has its major benefits, as well as its drawbacks.
At the Embassy
The old-school way of applying for the visa to visit a foreign country was to make a personal application at the embassy in your home country, and then return to the embassy to collect it sometime later. While it often used to take 3-4 weeks to obtain your approved visa, now it can be processed in just three business days. To apply for the visa in an embassy or consulate, you need the completed application form, the payment, your original passport valid for at least six months from the date of application with at least one blank visa page, and one passport sized photo.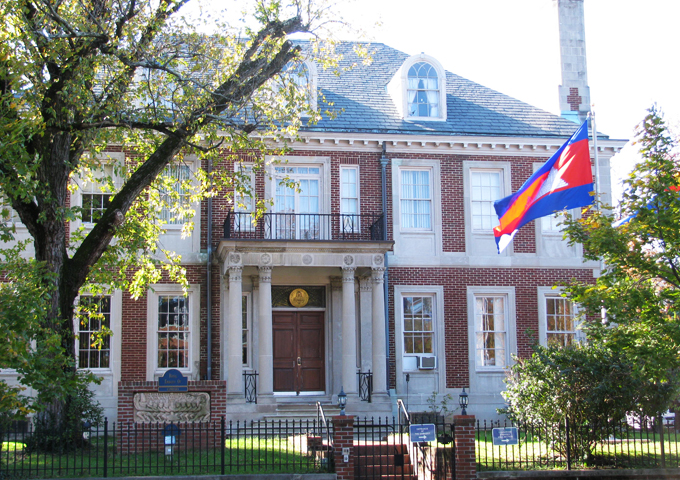 Cambodia embassy
The official rate of the visa from an embassy or consulate is currently set at US$30 or equivalent in your local currency. Bankers check, direct bank transfer, or money order can pay for visa fees. Payment by personal check, cash, or credit card is not permitted. There is also a visa processing fee in some of the consulates of around US$7, which is required to be paid to process the visa. You can also have your visa mailed back to you, with your passport, through registered mail in some countries by providing a prepaid return envelope at the time of application.
Not everyone will have a consulate or embassy of Cambodia in their home country, as there are only 24 Embassies worldwide and 26 Consulates. Of these, only nine of the Embassies are outside Asia, while only 11 Consulates are in non-Asian countries. These countries outside Asia are:
Embassies
Australia - Canberra
Belgium - Brussels
Cuba - Havana
Egypt - Cairo
France - Paris
Germany - Berlin
Kuwait - Kuwait City
Russia - Moscow
United Kingdom - London
United States - Washington, D.C.
Consulates
Belgium - Ostend, Consulate General
France - Lyon, Consulate
Italy - Milan, Consulate
Switzerland - Geneva, Consulate General
Switzerland - Zurich, Consulate General
Turkey - Ankara, Consulate General
Turkey - Istanbul, Consulate General
United States - Boston, Consulate General
United States - Los Angeles, Consulate General
United States - Philadelphia, Consulate
United States - Seattle, Consulate
There are also Embassies in Brunei, China, India, Indonesia, Japan, Korea, Laos, Malaysia, Myanmar, Philippines, Singapore, Thailand, and Vietnam, and Consulates in China, Hong Kong, Japan, Korea, Laos, Thailand, and Vietnam.
Tourists from many countries do not need to make the application in their own country. With the exception of Afghanistan, Algeria, Arab Saudi, Bangladesh, Iran, Iraq, Pakistan, Sri Lanka, Sudan, and Nigeria (who are required to apply in their home countries), citizens of other nations can apply at any consulate anywhere in the world, as long as they can provide proof of their home country address, which can be done using their passport.
The major drawback of applying through an Embassy or Consulate is having to travel there to make the application, which can be troublesome if you live in a country without either. travel to the nearest country can be costly, although if you are traveling to another country with an embassy or consulate before going to Cambodia, eligible nationals can get the visa processed there.
Online E-visa
The new form of obtaining a visa for Cambodia prior to arrival is by using their online E-visa service. The service offers your visa in PDF format, which you can download and print from the E-visa website after your application has been paid and processed.
The average processing time for the Cambodian E-visa is around three business days, and the higher fee of US$ 37 or equivalent is required. The Cambodian government has also recently introduced a three-dollar processing fee for the E-visa, making the total cost now US$ 40 or equivalent. The process is very simple, and for those who can utilize this service, it is easier than getting the visa at an embassy or consulate.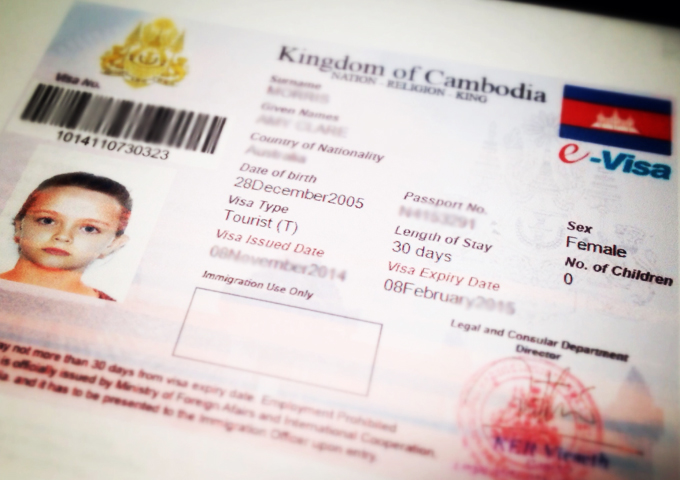 Cambodia embassy
To process the application for the E-visa, you need to first create an account at the official E-visa website at: https://www.evisa.gov.kh/. Once you have done that, complete the online application form with the correct details from your passport, confirm the details are correct and pay the fee, and the approval letter will be sent within three business days. Once you have the approval letter in your email log in to the same website again, and download the PDF version of the visa.
While it is a little more convenient than the embassy visa, there are some drawbacks to making this application online. The main one being that only applicants who can pay using a MasterCard or VISA credit card can avail of the service. The E-visa website does not accept any other form of credit card, nor offer any other payment options, so those with Amex or similar cards cannot use the service.
The same country restrictions apply for the E-visa as for the embassy or consulate visa, and the citizens of Afghanistan, Algeria, Arab Saudi, Bangladesh, Iran, Iraq, Pakistan, Sri Lanka, Sudan, and Nigeria cannot apply online.
There is also a restriction on which ports of entry can be used when traveling on an E-visa to Cambodia. AS of this time, the E-visa can only be used at two of the three international airports (Phnom Penh and Siem Reap) and can only be used at the Cham Yeam, Poipet, Bavet, and Tropeng Kreal border crossing points. The official website also includes Sihanoukville International Airport, although this has been a problem with some tourists over the last few years.
Visa On Arrival
Applicants from most countries in the world (with the same exceptions as for all other application types) can also apply for the visa when they arrive in the country at certain entry points. This is known as the Visa On Arrival service, and is available in most countries around the world now. This is often the most popular method of obtaining the visa, as it does not require the three-day processing time, and can be done relatively quickly as you enter the country.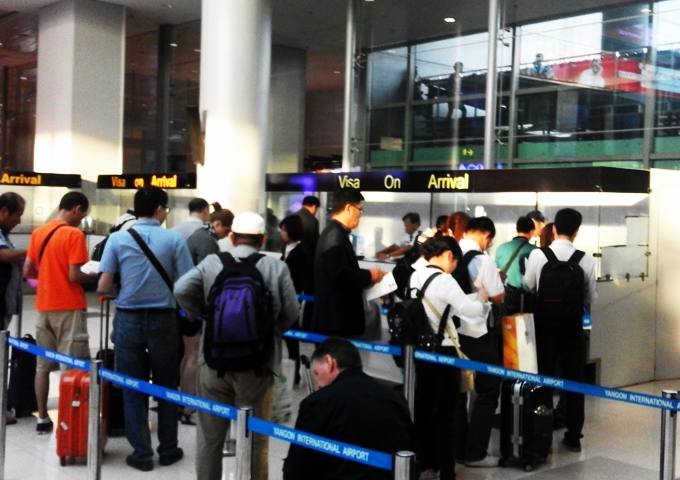 Visa on arrival
The Visa On Arrival service allows passport holders of eligible countries to process their application with the immigration desk of their chosen port of entry. The cost of the visa at your entry points can vary, although the official fee is just US$ 30. This is payable in either US dollars or Thai baht (if entering from Thailand), although there are some entry points where a "processing fee", "night-entry fee", or similar "additional fee" is required.
If you are traveling to Cambodia by flight, you can use the Visa On Arrival service at all three of the international airports in the country, and will be given the application forms on the plane. On your arrival, simply head for the Visa desk with your application, passport, photo, and fee in US dollars only. The exact fee is required, and if you do not have dollars, there are handy ATMs at the airports that dispense dollars, although they do charge a five-dollar fee for each withdrawal. You can even use the unofficial "fast lane" at the airports, where a visa official will speed you through immigration and customs avoiding the often long queues for a small donation of 5-10 dollars.
The Visa On Arrival is also available at several of the border crossing points from Vietnam, Thailand, and Laos, although not every crossing point has this service. The same requirements apply for the Visa On Arrival at the land border crossing points, and there can sometimes be a fee of 1-10 dollars as a "processing fee" at certain checkpoints. There is also an issue at some of the checkpoints from Thailand to Cambodia, where the officials will try and insist on the fee being paid in Thai baht. The fee for Thai nationals crossing the border is normally around 1,500 baht, which is about 45 dollars, and some officials demand that you pay this amount in Thai currency. However, if you stand firm but polite, the officials will back down and accept the thirty-dollar fee instead.
The only real drawback to obtaining the visa on your arrival is the limited land crossing points where it is available. The current land border checkpoints where you can get the Visa On Arrival are at:
Vietnam - Bavet, Kaom Samnor, Phnom Denh, Trapaing Sre, and Tropaing Phlong
Thailand - O'smach, Poipet, Prom, Daung, and Cham Yeam
Laos - Dong Kralor
Some bus companies offer a visa service with an added fee, and it is a good idea to make use of this to save you getting off the bus and queing. The bus conductors will collect your passport and completed application for (given when you book your ticket) and process the visa for you for the small fee. The amount of the fee depends on the bus company, and is different every time. If you do not have a photo for your visa, for two dollars the immigration officials will scan your passport photo and use that for the visa.
Visa Extension Cost
Extending your visa in Cambodia can only be done once, for a period of thirty days. The cost of the visa extension is normally a set rate of US$ 45, and is only payable in dollars. The main office of immigration for visa extensions is opposite the entrance to the Phnom Penh International Airport, although this is not the best option for obtaining an extension. It can often take a long time to get through the queues of people and can also mean spending more on small "fees" that each official will charge for his or her service.
There are a huge number of travel agents in Phnom Penh that offer a visa extension service for a small fee, and will do all of the work for you. For the additional cost of between five and ten dollars, you can drop off the application form and your passport with a registered travel agent and pick up your visa and passport again after three business days. Your passport need to be valid for at least six months from the date of application, you must have at least one blank visa page in the passport, and provide one passport sized photo. It should be noted that the visa extension fee must be paid only in US dollars, the second "unofficial" currency of Cambodia, and it is wise to agree to the travel agent's fee beforehand, as it may change otherwise.
Most Popular Cambodia Tour Packages