Tourist visas for Cambodia can allow visitors to enter and depart Cambodia at Phnom Penh and Siem Reap international airports and other land borders shared with Thailand, Vietnam and Laos.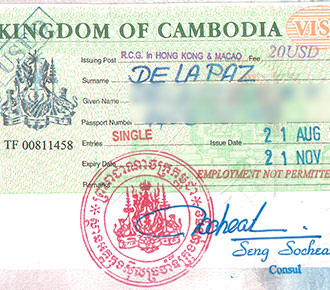 Cambodia Visa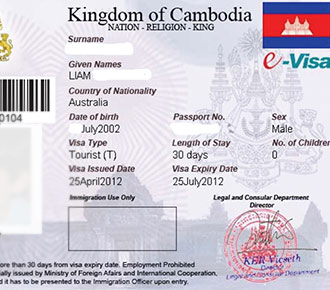 Cambodia e-Visa
Passport/Visa Requirements
To visit Cambodia, a visa is required for most nationalities except nationals of the Laos, Malaysia, Philippines, Singapore, Vietnam, Thailand, Indonesia. Citizens of these countries do not need a tourist visa and may stay in Cambodia for 21 and 30 days respectively.
Some nationalities are required to get visa in advance in their countries, which means visa on arrival is not permitted for holders of the following passports: Afghanistan, Algeria, Arab Saudi, Bangladesh, Iran, Iraq, Pakistan, Sri Lanka, Sudan, Nigeria.
A passport with at least six month validity and a recent passport-sized photo is required.
Visa Fees
30-day tourist visa for single entry( T ): US$ 30
30-day tourist e-visa for single entry( T ): US$ 37
30-day business visa for single entry( E ): US$ 35
Diplomatic, Official, Courtesy, and Special (Cambodian) visas are issued free of charge.
Visa Extension
The tourist and business visas can be extended at the Immigration Department, National Police. The tourist visa can be extended only once for up to one month with single entry and business visa can be extended for one and three month for single entry and six months and one year for multiple entry. US$5 per day will be fined for overstaying.