How to Get Cambodia Visa On Arrival Successfully?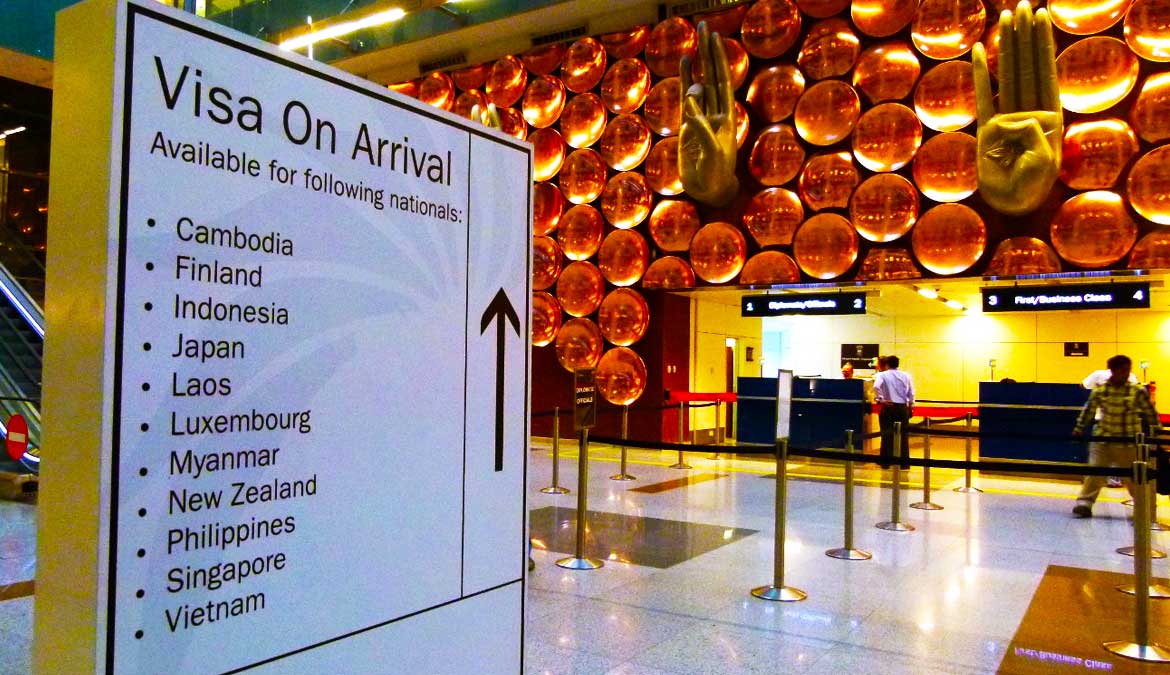 All foreign travelers, except those from exempt nations, need a visa to get into Cambodia. A visa is a conditional authorization for a foreign national to enter another country, for a specified purpose, for a certain length of time. In Cambodia, there are three types of visa: the Standard Visa for entry to the country for a long period of stay, the Business Visa for entry to the country for business purposes, and the Tourist Visa for short visits to the country only for the reasons of tourism.
Visas normally take the form of a stamp or sticker in the visitor's passport, although in some instances, the visa can be a separate piece of paper, such as an e-visa. A visa can be issued by an embassy or consulate of the country overseas, at the point of entry to the country in some cases, and online through an e-visa application process. For the purposes of obtaining the visa on your arrival at the point of entry into the country, there are certain things you need to remember when visiting Cambodia.
How to Get Cambodia Visa On Arrival: where, price and what document required?
Obtaining a visa on your arrival at either an airport or land border crossing depends on the requirement to obtain a visa, how long you will be staying, what country you are originally from, and from where you are entering Cambodia. The tourist visa on arrival is normally valid for 30 days from the date of entry, and can be extended for a period of an extra thirty days at the Immigration Bureau in Phnom Penh or through selected agencies elsewhere in the country. It is important to note that the tourist visa can only be extended once, and the maximum period of stay is no more than two months.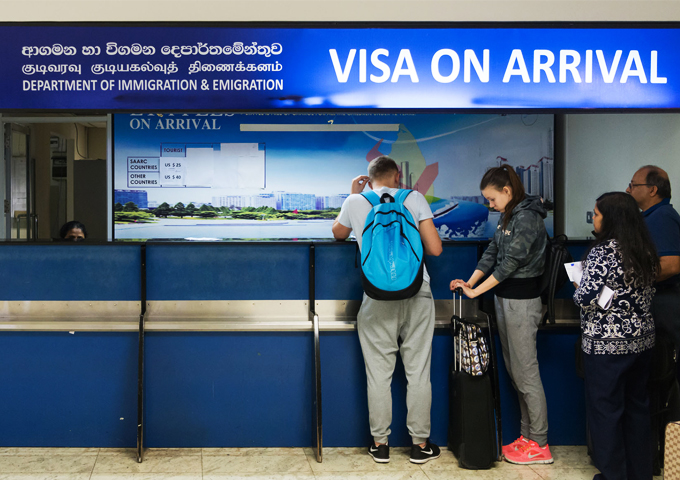 Visa on arrival
The fee for the visa on arrival in Cambodia is currently US$ 30, although this can change depending on where you enter the country. Most entry ports require that you pay for the visa in US dollars, as this is an unofficial currency in Cambodia. If you enter through one of the international airports, and several of the land border crossing points, then the visa cost is just thirty dollars.
However, there are some entry ports from Thailand, such as Poipet, where several scams are used. One of the popular scams of the officials is to demand payment in Thai baht (THB) instead of US dollars. When paying in Thai baht, the cost of the visa is requested as 1,500 THB, which converts to around US$ 45. If you are firm but friendly with the immigration officials and insist on making the payment in US dollars, they will normally back down and let you pay the thirty dollars. It is important not to get angry with the officials, as they can refuse your visa, and send you back to Thailand, where you may need to pay another visa fee to get into Thailand if you do not have a multiple entry visa for the country.
Another point that people traveling to Cambodia can consider when looking at visa applications for entry is the visa exempt status of certain countries. Around the world, certain countries allow citizens of neighboring and treaty-agreement countries to travel in their country for a limited time without the need for a visa. This visa-free travel is of benefit to many nationalities around the world, although for Cambodia, only other Asian countries have this allowance.
The countries whose citizens may travel to Cambodia without a visa for a limited time are:
14 days - Brunei Darussalam, Myanmar, and Thailand
21 days - The Philippines
30 days - Indonesia, Lao PDR, Malaysia, Singapore, and Vietnam
Allowed Ports of Entry for Cambodia Visa On Arrival
Visitors to Cambodia can process their visa on arrival at any of the three international airports in the country. Immigration officials work on a visa on arrival desk at Sihanoukville International Airport, Phnom Penh International Airport, and Siem Reap International Airport.
For those visitors traveling overland to Cambodia, there are a limited number of checkpoints at the land border crossings that allow the visa on arrival service.
From Vietnam, the border crossings are at Bavet, Kaom Samnor, Phnom Denh, Trapaing Sre, and Tropaing Phlong. From Thailand, the permitted border crossing points for visa on arrival are at O'smach, Poipet, Prom, Daung, and Cham Yeam. Of the two land border crossings from Laos to Cambodia, only the crossing at Dong Kralor has the service to approve the visa on arrival for foreign tourists.
What Documents Need to Be Prepared?
The normal process for securing a visa on arrival at the port of entry is to make an application at the immigration desk, provide your passport and a passport-sized color photo, and pay the visa fee. Cambodia also requires that you have a passport that is valid for at least six months following your stay in the country and at least one blank visa page left for the visa. If your passport does not have a full blank visa page left in it, then you will be turned away at immigration, and will have to take an immediate flight out of the country, so it is important to renew a filled passport before travel, even if it is still valid.
The application for is available at all the relevant immigration checkpoints on the land border crossings, and for those flying into Cambodia, the airline staff will give you an application form to complete on the plane. When you arrive, simply head to the Visa On Arrival desk of the airport of border checkpoint, and hand over your completed application form, your passport, and your photos, and move to one side to wait for your name to be called.
The immigration officials will check your passport and application, and call you once your visa is ready. Some officials in Cambodia have a little difficulty in pronouncing western names, so listen carefully, or you may miss being called forward. You then just pay the visa fee and receive your passport back. At the land border checkpoints, the immigration desk is also the Visa On Arrival desk, so your immigration stamp will be done at the same time, and you will be allowed to continue. At the airports in Siem Reap and Phnom Penh, once you receive your passport with the visa added, you move to the Immigration Desk of the airport, and follow the normal immigration procedure.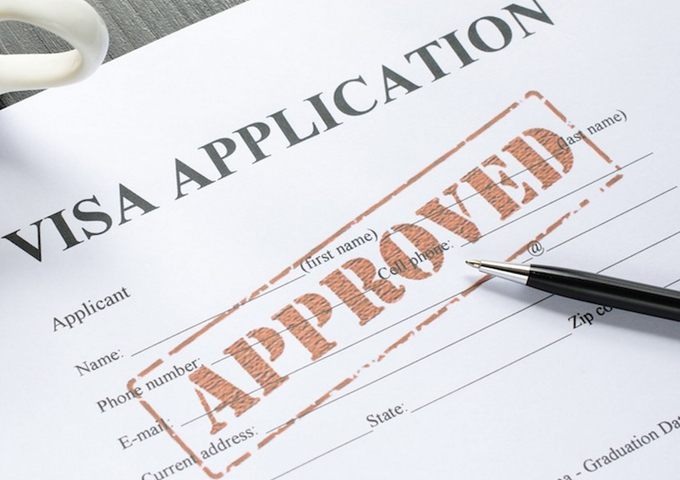 Visa document
At both the land crossings and the airports, if you do not have a photo with you, the officials will scan the one on your passport and use that for the visa sticker. However, they will charge you three dollars at the airports and 1-3 dollars at the land border crossings, and you will not get a receipt.
Cash is the only payment method for the visas in Cambodia. If you do not have US dollars at the airport, there are ATMs available near the Visa On Arrival desk, although they do charge an extra five dollars per transaction to withdraw cash. There is no ATM at the land border crossings, so it is important to carry US dollars with you for the fee.
Cambodia has a rule on foreign currency in the country. They only accept US dollars as their unofficial second currency (although near the Thai border you can use Thai baht), and the bills must be in good condition with no tears or writing. Old, worn, and damaged bills will be refused, so be careful with the currency. And do not accept old, worn, or torn bills as change in Cambodia, as even the banks will not accept them for exchange.
Who Can't Get Cambodia Visa On Arrival?
While majority of people can get the visa on arrival with no problem, there are certain instances where the visa on arrival service is not allowed. One of those instances is for citizens of disallowed countries, who are required to make an application for their visa from the embassy or consulate within their home country. Citizens of Afghanistan, Algeria, Arab Saudi, Bangladesh, Iran, Iraq, Pakistan, Sri Lanka, Sudan, and Nigeria are required to obtain their visa only from the Royal Embassy of the Kingdom of Cambodia in their home country. These nationals are not permitted to apply for the visa from an embassy or consulate in any other country.
Another reason you may not get a visa on arrival is if you are entering Cambodia through one of the land border crossing points that does not have the visa on arrival service. Cambodia has a total of twenty international land border crossing checkpoints, although only 11 have the visa on arrival service available. For visitors who enter through the following land border checkpoints from Laos, Vietnam, and Thailand need to have their visa in advance of travel, either from the embassy or via the online e-visa service:
Cambodia-Vietnam Border:
Koh Rohka International Check Point
Banteay Chakrey International Check Point
Prek Chak International Check Point
Oyadav International Check Point
Cambodia-Thailand Border:
Sihanoukville International Check Point
Choam Sanguam International Check Point
Preah Vihear International Check Point
Chorm International Check Point
Cambodia-Lao Border:
Tropieng Kreal International Check Point
Most Popular Cambodia Tour Packages