Cambodia Visa for US Citizens, How Do US Citizens Get a Cambodia Visa?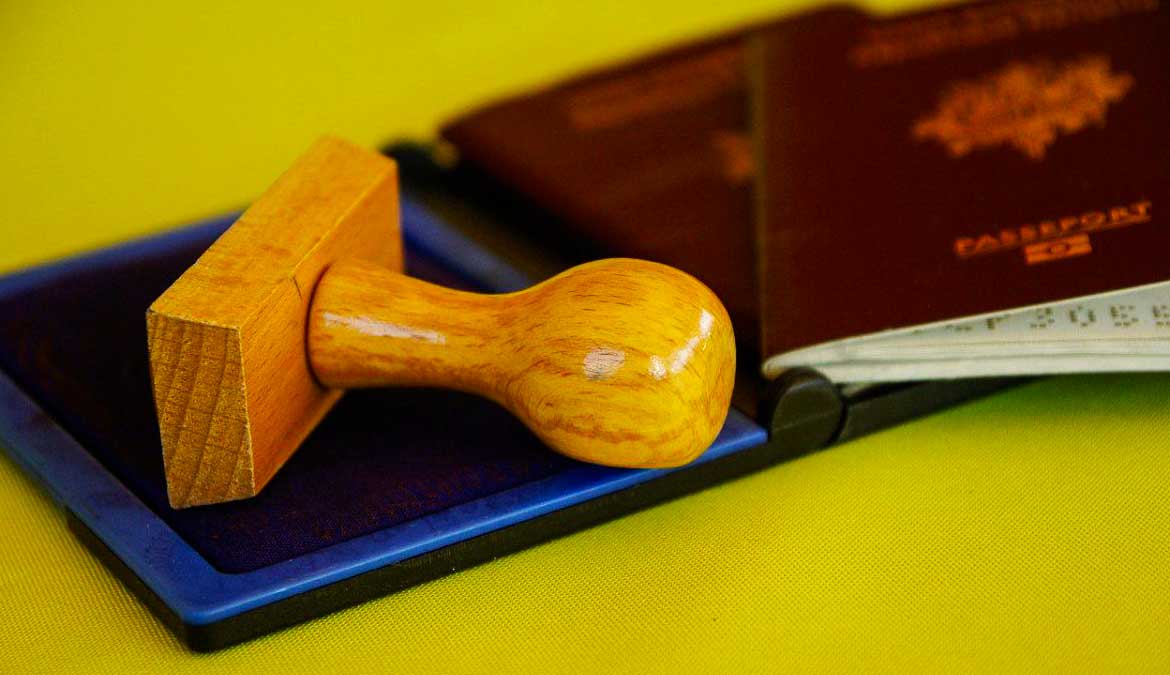 A visa is a form of entry permit that allows citizens of one country to visit another country for the purpose of tourism, business, or residence, and is issued by the Immigration Department of that country prior to allowing entry. Visas normally come in the form of a stamp, sticker, or insert in the passport of the traveler; although in some instances, they can be a separate document.
Do US Citizens Need a Cambodia Visa for a Cambodia Visit?
The simple answer is Yes, Citizens of the United States need a visa for all trips to Cambodia, and the America does not have any visa exemption period for visiting Cambodia. As with majority of countries in the world, citizens of the United States need a visa before entering the country. It is a common myth that American nationals can travel anywhere in the world without a visa for a limited period of time. This visa-free travel exception only applies to certain countries around the world, and Cambodia is not one of them. So if you are thinking of traveling to Cambodia, be sure to arrange your visa before you leave the US, or prepare to apply for the visa on your arrival.
How Do US Citizens Apply for a Cambodia Visa?
There are three main ways for American citizens to obtain a visa for travel to Cambodia. It can be done through the Royal Embassy of the Kingdom of Cambodia, or one of its outlying consulates; through the online E-visa service at the official website of the Cambodian Immigration Department's E-visa service; or on their arrival at one of the allowed Visa On Arrival points in Cambodia.
Cambodia Visa Requirements for US Citizens
The requirements for US citizens obtaining a visa are simple, and no different to the requirements of many other nations around the world. American citizens are required to have a current and valid United States of America passport, with at least six-month's validity remaining on the passport at the time of travel. The passport should have at least one blank visa page left in it, and if it is a new passport, they are required to provide the old passport if they have previously been to Cambodia. Two passport-sized photographs are also required, as well as the correct and exact fee.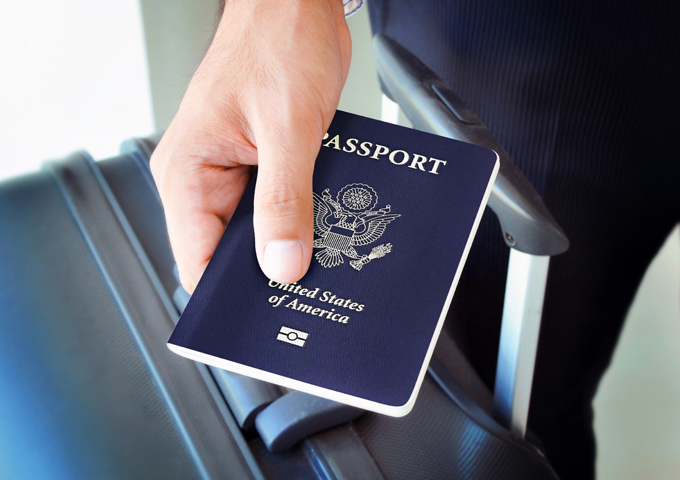 US passport
Cambodia Visa for US Citizens at the Embassy
For those wishing to apply for their visa at an embassy or consulate before they leave the United States, there are several options for making the application. The main embassy for Cambodia in the US is the Royal Embassy of the Kingdom of Cambodia, which is located in the nation's capital, Washington D.C.
There are also consulates of the Royal Embassy of the Kingdom of Cambodia in Boston, in Massachusetts; Los Angeles, in California; Philadelphia, in Pennsylvania; and Seattle in Washington State. American citizens can also apply for their visa in any other country with an embassy or consulate, including proof of their home address in the United States. The processing time for American citizens applying for their visa through the embassy or consulates, whether in person or by mail, is normally five working days.
To apply for the visa in person, applicants should visit the Embassy or Consulate of their choice with the completed application form, their valid passport and photo, and their visa fee in US Dollars. The standard visa fee applies for US citizens, which is US$ 37. There are websites that advertise their ability to process your Cambodia visa for you. However, the costs are extortionately, high, often as much as US$ 75 for the normal five-day issuance. Since the embassy and consulates in the United States also offer a mail-application service, there is little need to use such extortionate services.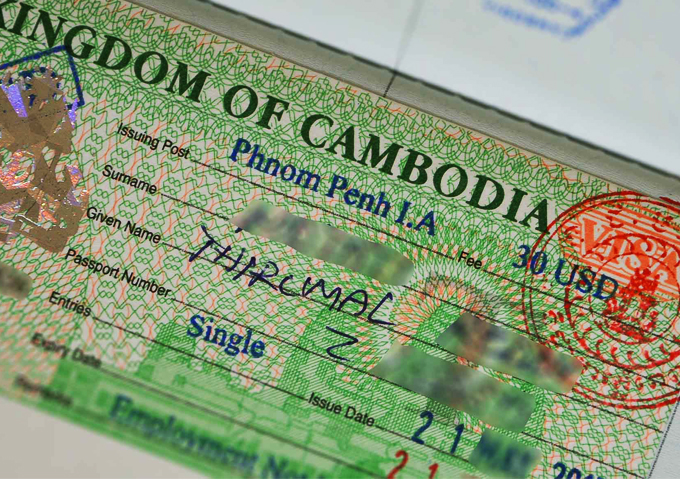 Cambodia Visa
Something that is particular to the United States is the ability to obtain the visa through the mail. Since the US Postal Service is considered a secure service, applicants can process their application by sending the completed application form, their passport, their photo, a cashier's check or postal order for the fee, and a prepaid return envelope to the Embassy or Consulate closest to their home state. The immigration officials will process the visa, and send the passport with the visa sticker in it back using the prepaid envelope provided by yourself. It is recommended to use registered and tracked mail for this to ensure the return of your passport unhindered and in a shorter timeframe.
The visa issued by the embassy or consulate is normally valid for three months from date of issue, and is for a period of stay of 30 days. The visa can be extended for a fee of US$ 45 once the current visa is close to expiry, but can only be extended once and only for a period of an extra 30 days.
Cambodia E-visa for US Citizens
The E-visa service for Cambodia visas is also available to American citizens, and can be done in a few simple steps. Once logged on to the official Cambodian government e-visa website at https://www.evisa.gov.kh/, simply create and account and make the application. Once you have completed the application, you will be asked to upload a digital passport-sized photograph, then make the payment for the visa fee of US$ 40.
The payment of the fee must be made in dollars, and must be done using a VISA or MasterCard credit card. The website does not accept payments with any other type of credit card, and does not offer other payment options. Once the payment has been made, the processing takes around three working days, and you will receive an "invitation Letter", which is your E-visa, through email, which you can download and print. Once you arrive at the airport or land border checkpoint in Cambodia, simply show them the E-visa and your passport will be stamped for entry.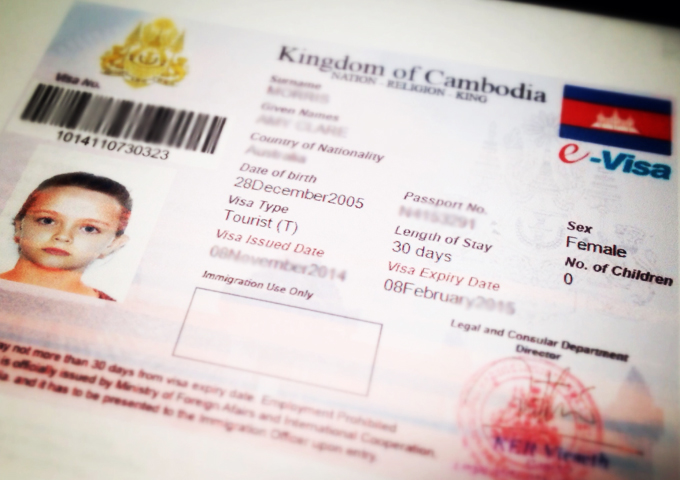 Cambodia e-Visa
Entry using an E-visa can only be done at the three international airports in the country and a restricted number of land border checkpoints. The airport list on the Cambodian government E-visa website states that Sihanoukville International Airport is available for E-visa use. However, there have been some problems with this in recent months, and it is not a guarantee. The E-visa can also be used at the land border checkpoints of Cham Yeam, Poipet, Bavet, and Tropeng Kreal.
Cambodia Visa for US Citizens on Arrival
As with many other nations around the world, the Visa On Arrival service is available for American citizens at all three international airports and the following land border checkpoints with Thailand, Laos, and Vietnam:
Thailand - O'smach, Poipet, Prom, Daung, and Cham Yeam
Laos - Dong Kralor
Vietnam - Bavet, Kaom Samnor, Phnom Denh, Trapaing Sre, and Tropaing Phlong
The fee for the Visa On Arrival service can vary from checkpoint to checkpoint, and there are several small scams in processing the visa for foreign travelers to be aware of. The standard cost of the Visa On Arrival is officially US$ 30. However, if you enter through Thailand, officials often request that you pay the fee in Thai baht, for which they charge 1,500 baht. This equates to around US$ 45, which is much higher than normal. If you remain polite but insistent on paying the fee in US dollars, the officials normally allow it without any problem.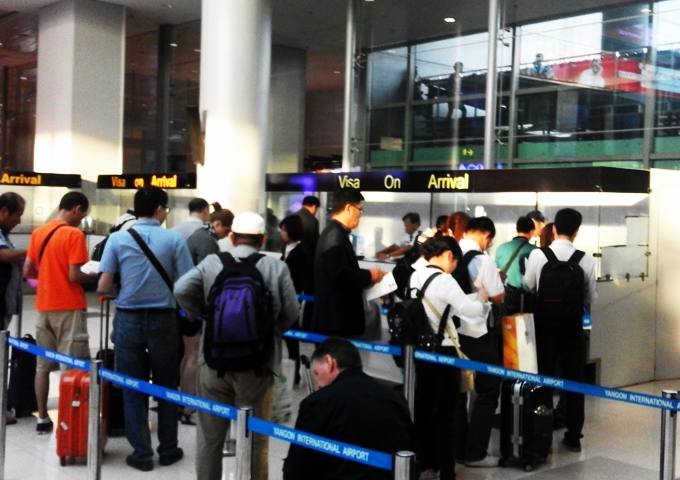 Visa on arrival
Other additional fees that you can find on the land border checkpoints are the various "processing" fees, "night entry" fees, and even "weekend" fees, which can be anything from 1-10 dollars. It is usually not worth arguing about it, as the officials will often just make you wait longer for your visa.
The requirements for the Visa On Arrival are simple, and just need your completed application form, passport with six month's validity remaining, one passport-sized photo, and the fee. If you do not have a photo, the immigration officials will scan the one in your passport for a two-dollar fee and use that on your visa.
If you are arriving by plane, and do not have dollars on your, there are ATMs in the airports near the immigration desk where you can withdraw US dollars. However, the ATMs charge a flat fee of five dollars per transaction, so it pays to make sure you have dollar bills with you on arrival.
Cambodia Visa Extension for US Citizens
US citizens can extend their Cambodia visa for up to 30 days close to the expiry of their current visa, although this can only be done once per trip. The cost of the visa extension is US$ 45, and the official place to get your visa extended is at the main office of the Department of Immigration, which is directly opposite the main gate of Phnom Penh International Airport, at 322 Russian Federation Boulevard, Phnom Penh.
However, many people have complained that the processing in the immigration office takes too long - sometimes up to 8-10 days - and can incur a number of small "bribes" to get it processed. There is an easier and faster way to do this, which will normally cost less than paying the bribes in the office. There are travel agents around Phnom Penh who handle visa extension services for foreign travelers, and who offer to get your visa extension done for you for a fixed fee, on top of the forty-five dollar visa extension fee.
We will take care of all your paperwork, and the whole process normally takes around two days. Make sure you have a passport photo for the extended visa, though, or the charge to scan and use your passport photo will more than double when you collect your passport.
Most Popular Cambodia Tour Packages