How to Get to Cambodia from Ho Chi Minh City?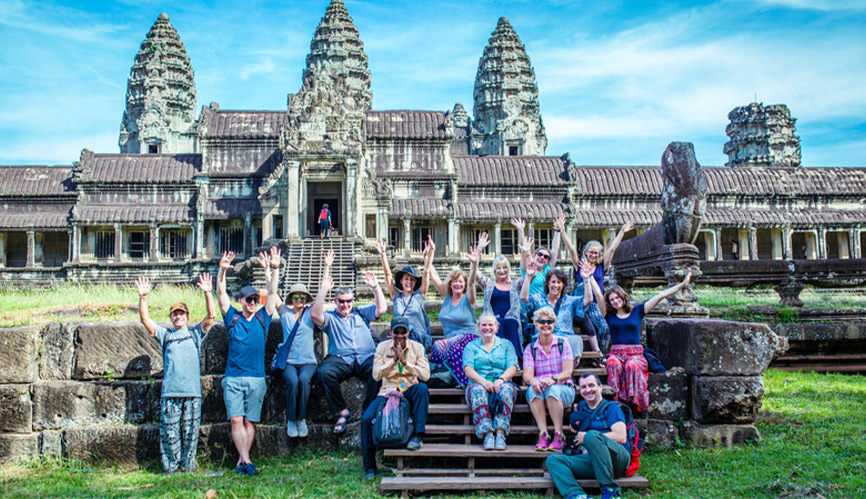 You can get from Ho Chi Minh City, Vietnam, to Cambodia by air, water, and land. Depending on your final destination, you may need to change transport options along the way. Moreover, you have various choices on how to get from Ho Chi Minh to Cambodia, from budget-friendly to expensive ones.
Get to Cambodia from Ho Chi Minh City by Overland
Traveling by bus or van is the most common way of getting overland between ex-Saigon and Cambodian destinations. While bus tickets are cheaper, minivans offer higher comfort.
Get to Cambodia from Ho Chi Minh City by Bus
Buses running from Ho Chi Minh City (HCMC) to main Cambodian destinations depart daily, from early morning to around midnight. A journey to Phnom Penh, the capital of the Kingdom of Cambodia, usually lasts around seven or eight hours (230km/143mi) on average, traveling directly to Siem Reap takes 13 or 14 hours (460km/285mi).

Taking a bus is the most common way to get to Cambodia from Ho Chi Minh City.
Buses traveling on each route usually go through Moc Bai/Bavet border crossing. You can reserve a seat on a direct bus in the former Saigon, but you can also travel to the border and catch a connection there.
However, the latter option doesn't save you a substantial amount of money. Moreover, you need to start traveling in the morning for a fair chance of getting on board a bus going to Phnom Penh.
The price of the ticket from Ho Chi Minh to Phnom Penh is between 10 and 15 USD, depending on the bus company. Fares for a journey to Siem Reap are around $25.
Buses typically depart from different places in the Vietnamese city, and they have several bus stops in the capital of Cambodia. Some reputable providers with air-conditioned vehicles are Mekong Express, Giant Ibis, Kumho Samco, and The Sinh Tourist. You can book tickets on Baloau and 12Go websites or at travel agencies on Pham Ngu Lao Street in District 1.
Get to Cambodia from Ho Chi Minh City by Minivan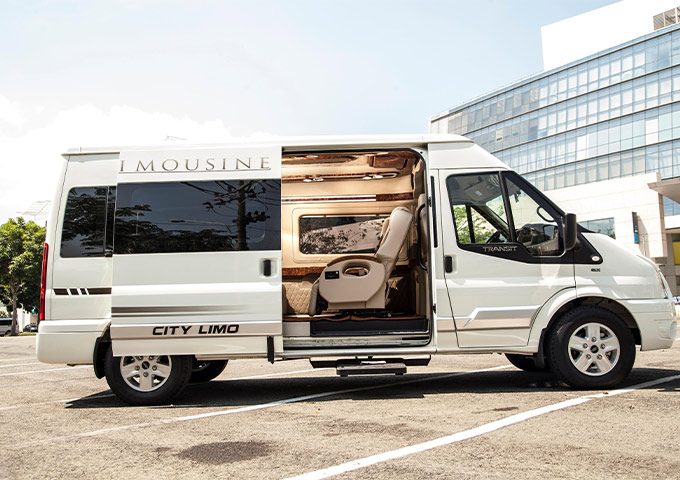 Get to cambodia from ho chi minh by Minivan
A minivan is a slightly costlier, but a far more convenient means of overland transport from HCMC to Phnom Penh. Traveling by this shared vehicle doesn't gain you much time, if at all. But, you may not need to worry about transfers once you arrive in the principal Cambodian city.
Prices range up to $20 per person, and minivans depart from and arrive at designated stops. Giant Ibis and Mekong Express are among the leading providers of the minivan service on this route.
Get to Cambodia from Ho Chi Minh City by Air
For a higher price, you can travel to Cambodia from Ho Chi Minh City in a shorter time. Note that flying to Phnom Penh won't save you a great deal of time because of the time necessary for airport procedures. But, if your final destination is Siem Reap, you will benefit from a flight in terms of the duration of the journey very much.
Fly from Ho Chi Minh City to Phnom Penh
Flight times for airplanes traveling between Ho Chi Minh (SGN) and Phnom Penh (PHN) are around an hour. Note, however, that you need to arrive approximately three hours before the scheduled flight to get through procedures on time. Also, calculate between 30 minutes and an hour for transfer once you land on (PNH).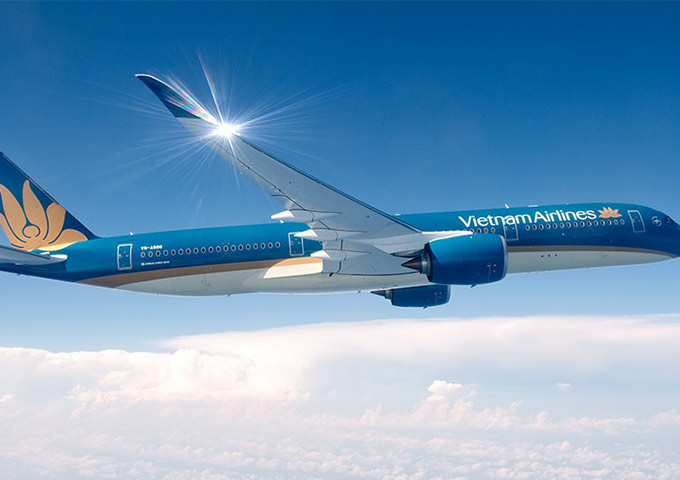 Getting to Cambodia from Ho Chi Minh City by flight is the most time-saving way.
As you can see, you won't save much time when traveling by air compared to overland transport. However, this option may prove financially worthwhile if you find a ticket for around $40 or $50 in one direction. As for typical fares on this route, they tend to go way over $100.
According to statistics, the most affordable month for flying between SGN and PHN is June, while the least expensive day is Sunday. Some airlines covering this route are Cambodia Angkor Air (usually the most affordable), Qatar Airways, and Vietnam Airlines.
Fly from Ho Chi Minh City to Siem Reap
Traveling from the former Saigon to Siem Reap by air saves you a lot of time and effort compared to land transport. Flight times are up to 1:30 hours, and transfers are short from the airport (REP) to the city. When flying between these destinations in Vietnam and Cambodia, you are likely to save at least ten hours on the journey.
As for average deals, these usually fluctuate around $150 for a one-way flight. Those also tend to go over $200. However, you may find tickets that cost below 100 USD if you are flexible with dates and monitor prices a few months in advance.
Generally speaking, July and October are the most economical months for flying between HCMC and REP. June and September are the most expensive. Fluctuations between prices on different days are insignificant, but evening flights are significantly costlier than morning and afternoon ones.
Thai Viet Jet Air is typically the most affordable airline on this route, followed by Cambodia Angkor Air and Thai Air Asia. According to statistics, Vietnam Airlines has the highest fares for flights between HCMC, Vietnam, and Siem Reap, Cambodia.
Get to Cambodia from Ho Chi Minh City by water
As the Mekong river flows through Cambodia and Vietnam, water transportation is an option. Right now speed boat and mekong river cruise are the most common ways for tourists.
Get to Cambodia from Ho Chi Minh City by speed boat
To board a vessel, you need a transfer from ex-Saigon to one of the Chau Doc, Cai Be, and Can Tho ports. From there, you sail on the Mekong River to Phnom Penh and catch a connection to Siem Reap when you arrive.
There are various services available, from slow to express, so you have the freedom to choose according to your priorities. The fares commonly start at $10 per passenger for a speed boat but tend to go as high as $50.
On average, the duration of the Mekong River boating on this route by a speed boat is approximately four hours. When you book this means of transport, have in mind that these vessels tend to become crowded.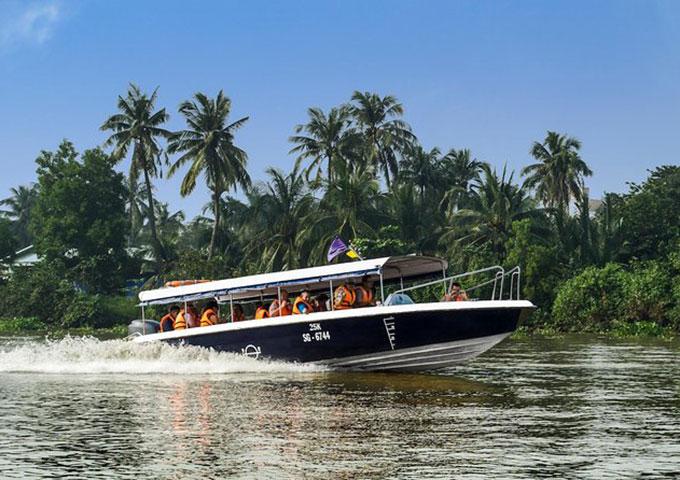 Taking a speed boat from Ho Chi Minh to Cambodia usually takes around 4 hours.
Get to Cambodia from Ho Chi Minh City by cruise
The Mekong River cruises offer a leisure and scenic experience for holidaymakers traveling to the capital of Cambodia and Siem Reap. Depending on the selected cruise, these may last from a few days to over a week. Along the way, you will acquaint yourself with life on the water, floating markets, pre-Angkorian landmarks, and more.
Be aware that the price of the Mekong cruises varies depending on the season and the cruiser. For a three-day cruise from ex-Saigon to Phnom Penh during the low season (May-October), the fares start at $400 per person. During the high tourist season, the price is higher for around 10% or 15%.
Deals for six-day cruises from the Vietnamese city to Siem Reap, a gateway to Angkor Archaeological Park, also vary. These range from around $950 to $1,300 in the low season. From October to March, fares fluctuate between 1,030 USD to 1,500 USD.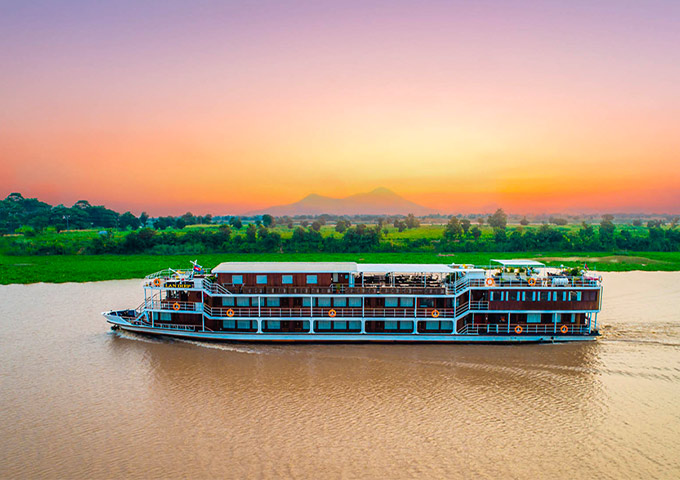 A Mekong River Cruise from Ho Chi Minh to Cambodia
Permits for Getting to Cambodia from Ho Chi Minh City
To enter the Kingdom of Cambodia, most travelers need to possess a 30-day visa, obtainable online and at the entry point. If you apply for a visa on the web, the price is 37 USD. Getting the stamp at the airport or border checkpoint costs 30 USD.
Note that bus drivers may assist you in securing the travel permit at the border. If you wish to get a visa on your own, drivers may leave you some time to obtain the visa. Have in mind, though, that they may not wait for you longer than that.
If you apply online for a Cambodian visa, allow a week to obtain the document, even if advertised times are shorter.
Conclusion
There are many ways to get to Cambodia from Ho Chi Minh City. You can choose to visit by air, by bus, by water and by overland. For most travelers, getting between the major city in South Vietnam to the Cambodian capital by bus offers the best value for money.
You can book air or cruise ticket through local tour agency like us. Indochina Tour has been working on traveling in South East Asia for a long time. We have professional teams to help you to make the most of your trip.
More Related Travel Planning Articles
Most Popular Cambodia Tour Packages