Navigating Cambodia Visa: 15 Common Misconceptions Explained
Before you come to Cambodia for a visit, there are certain things for you to know. We will discuss 15 common misconceptions for you to arrange your trip better.
I do not need a visa to Cambodia

ASEAN
Firstly, you will need a passport when you travel abroad. A passport is an essential travel document that verifies your identity and citizenship, which allows you to travel internationally. Additionally, beyond the entry date into Cambodia, your passport must be valid for at least six months, so it's best to apply well before your planned travel dates.
Whether you need a visa to visit Cambodia depends on your nationality. Citizens of some countries, such as ASEAN member countries, do not require a visa to enter Cambodia for tourism or business purposes for up to 30 days.
ASEAN (Association of Southeast Asian Nations) is a regional intergovernmental organization comprising 10 countries in Southeast Asia. The member states are:
1. Brunei Darussalam
2. Cambodia
3. Indonesia
4. Laos
5. Malaysia
6. Myanmar (Burma)
7. Philippines
8. Singapore
9. Thailand
10. Vietnam
The organization was established in 1967 to promote political and economic cooperation among its member states, fostering regional peace and stability.
Also, ASEAN has become an important player in the Asia-Pacific region and has established partnerships with other major economies, such as China, Japan, and South Korea, expanding its cooperation to cover a wide range of areas, including trade, investment, education, culture, and security.
I could ONLY apply for the traditional paper visa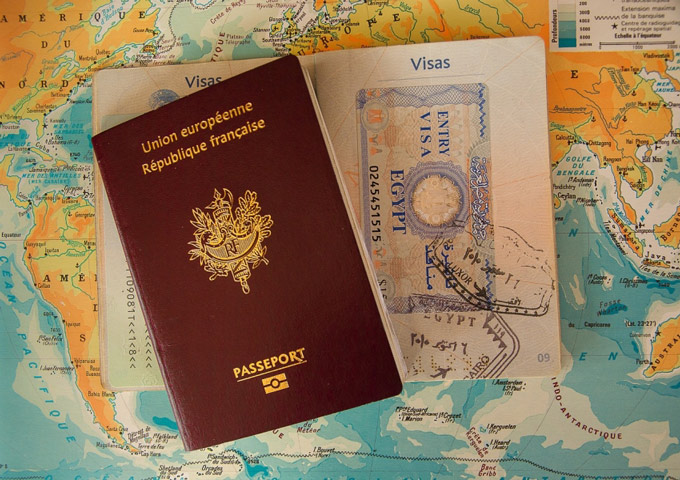 Cambodia paper passport and visa
You do not necessarily need a paper visa to enter Cambodia. Cambodia's e-Visa system allows you to apply for and receive your visa online. For travelers worldwide, applying wherever you are is much more convenient.
Then, you will need to visit the Cambodian Ministry of Foreign Affairs and International Cooperation's website and follow the instructions for the online application process. You must upload a digital copy of your passport bio page and a passport-sized photo and pay the visa fee using your Visa card, Mastercard, Unionpay, Alipay, or WeChat. And download the e-Visa certificate from your email or e-Visa "Check&Change".
You can still apply for a paper visa at a Cambodian embassy or consulate in your home country. However, this process may take much longer. Please click here to learn more about how to apply for a Cambodia visa.
Who can apply for Cambodia e-visa?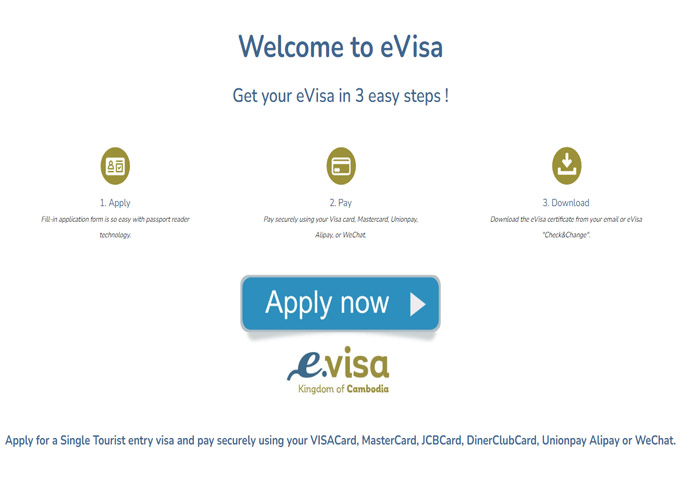 Cambodia e-visa application page
The Cambodia e-visa is available for citizens of most countries and allows for a single entry to the country for tourism or business. To be eligible for a Cambodia e-visa, you must hold a passport from a country eligible for the e-visa program. The list of eligible countries is extensive and includes most countries, including the United States, United Kingdom, Canada, Australia, and many European countries.
I can apply for a visa at any time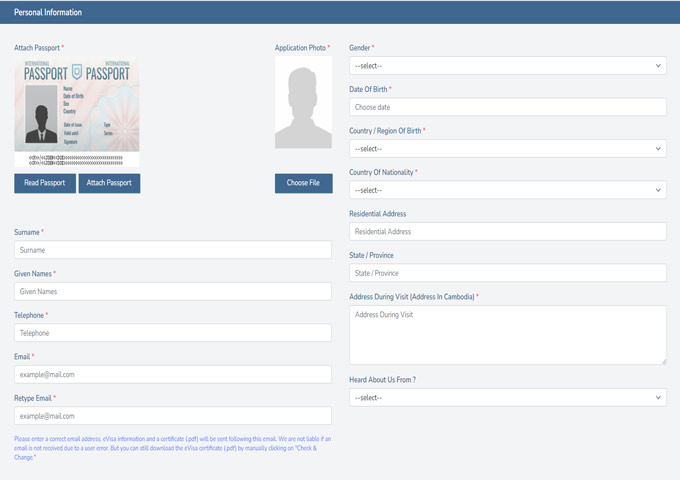 Part of the Cambodia e-visa
If you decide to use an e-visa online, it is recommended to apply at least a week before your intended travel date to allow for any unforeseen delays.
Here are steps for you to follow:
1. Fill in the secure online e-visa form
2. Confirm and pay
3. Get approval letter within 3 days
4. Bring e-visa certificate to show immigration at checking point
5. You can entry Cambodia
It will take me much time to get my visa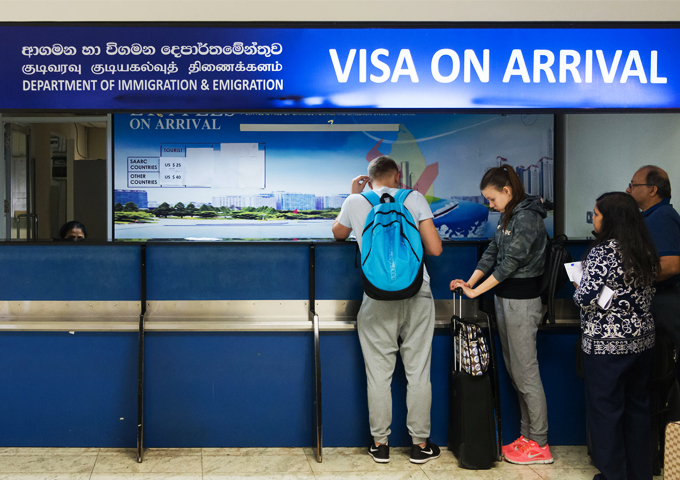 Cambodia visa on arrival
Actually the processing time can vary depending on the type of visa.
Scan through the guidelines below to find the answer:
Visa on arrival: 10-30 minutes, depending on the number of people in line
E-visa: 3 business days
Embassy/Consulate visa: depending on the embassy's workload, the typr of visa, and other factors
But it always a good idea to apply for your visa well in advance of your travel dates to allow for any unexpected delays in processing.
There is only one type of visa in Cambodia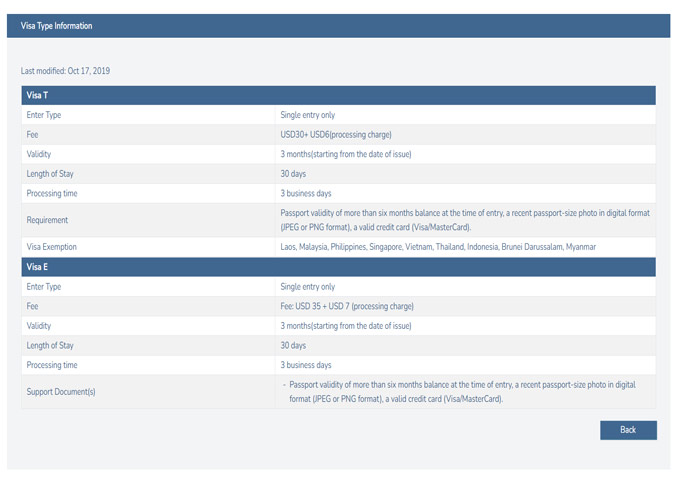 Cambodia visa type information
According to the Cambodian Ministry of Foreign Affairs and International Cooperation, Cambodia offers two types of visas for foreign visitors: the e-visa and the tourist visa.
The e-visa is an online visa application system that allows travelers to apply for a Cambodia visa online and receive an electronic visa by email. A traditional tourist visa is a visa that can be obtained upon arrival at the airport or the land border crossing.
It is important to note that the e-visa is only valid for entry at the airports in Phnom Penh, Siem Reap, and Sihanoukville, as well as the land borders at Cham Yeam (Koh Kong), Poi Pet (Banteay Meanchey), and Bavet (Svay Rieng). If you plan to enter Cambodia at any other border crossing, you must obtain a tourist visa upon arrival.
Can I get a visa upon arrival in Cambodia?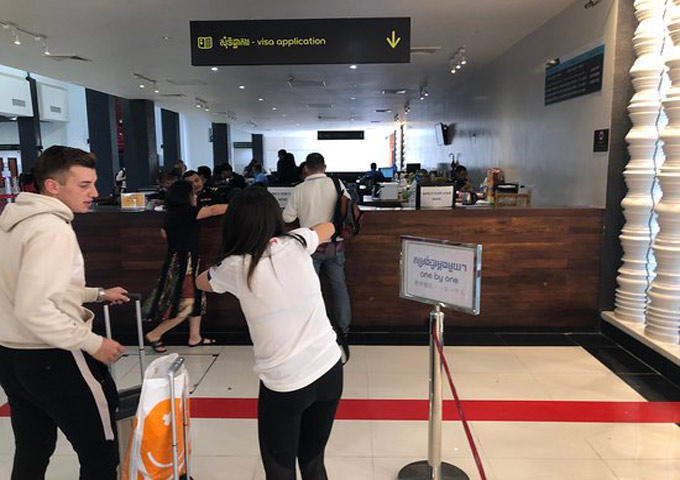 Sime Reap airport visa queue
It is possible to obtain a visa upon arrival in Cambodia, but remember that this option may not be available for all nationalities or purposes of travel.
You can obtain your visa at the port of entry, such as at Phnom Penh and Siem Reap airports or certain land border crossings. However, obtaining a visa in advance is still recommended to avoid potential delays or issues at the port of entry.
What do I need for Cambodia visa on arrival?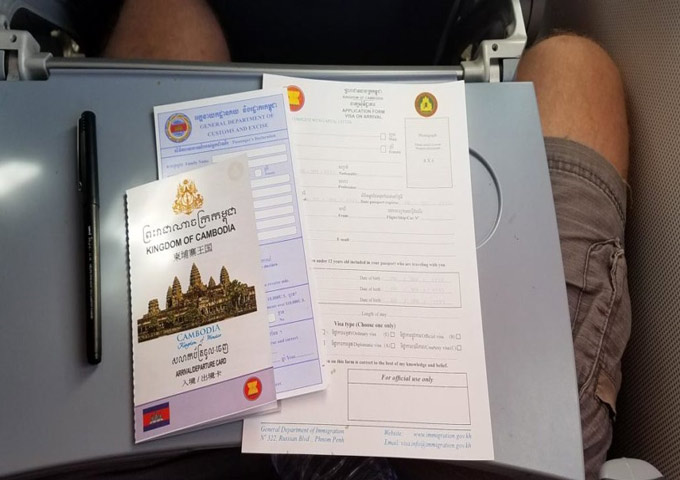 Cambodia visa application card
You will get one immigration card and one custom declaration on the airplane from the airline's crew. Fill both lists as required. Then after arrival, if you do not have an e-visa in advance, you do not need to worry. Just queue up in line according to the instructions and hand over your passport and the related fee to the staff.
How much it costs for a Cambodia visa for Cambodia tour? A tourist visa costs $30 (with an additional $7 processing fee) for one month and can be extended for only one extra month. It is advisable to bring US dollars in cash to ensure you can pay for your visa on arrival in Cambodia since they are only accepted in US dollars. However, some border checkpoints may also accept other major currencies, such as euros or Thai baht.
Why is visa charging fees?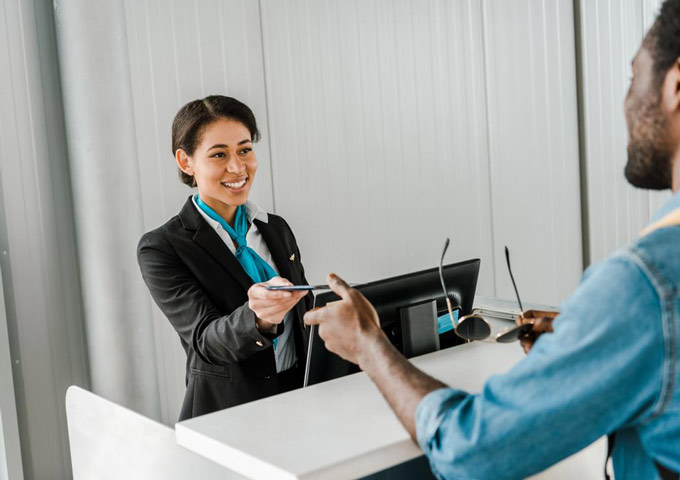 Airport worker
It's worth noting that visa fees are a common practice worldwide. These fees are a way for countries to manage their borders and regulate the flow of people entering and leaving their territory while also generating revenue to support the administration of the visa system. Also, these fees help fund the visa system's administration, including the staff, technology, and infrastructure required to manage the application process and issue visas.
They ask me for extra fee!?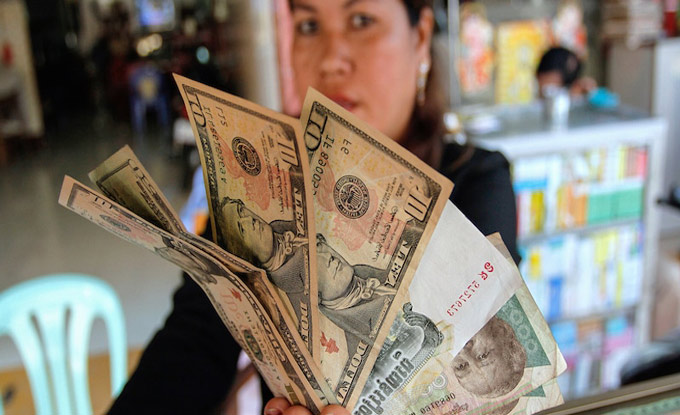 Offical currencies used in Cambodia
Suppose you are asked to pay an additional fee upon arrival in Cambodia that should have been disclosed during the visa application process. In that case, it's essential to ask for an explanation and clarification from the immigration officer or visa official. In some cases, there may be legitimate fees, such as for a visa extension or a specific type of visa, not included in the original application fee.
However, if you are being asked to pay an unreasonable or illegal fee, you may want to contact your embassy or consulate in Cambodia for assistance. They can help you navigate the situation and protect your rights. It's essential to keep all documents related to your visa application and entry into Cambodia, as this can help support any claims or complaints you may need to make.
Can I travel to Vietnam with a Cambodia visa?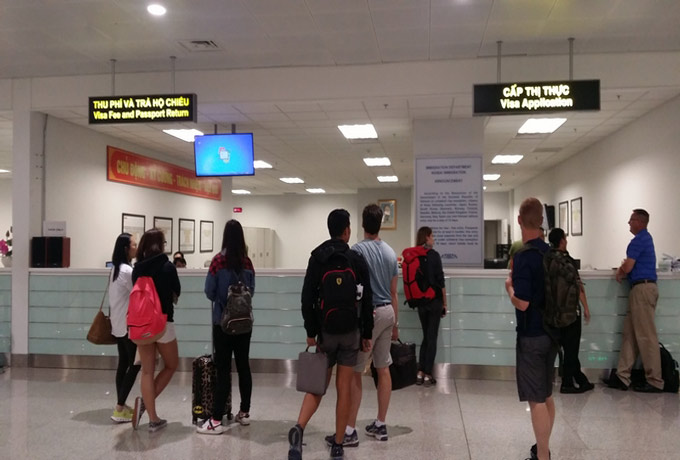 Vietnam visa on arrival
No, a Cambodia visa does not allow you to enter Vietnam. Cambodia and Vietnam are two separate countries with their own visa requirements and regulations. If you are planning to travel to Vietnam, you will need to obtain a separate visa or entry permit that is valid for Vietnam. Click here to learn more information and tips about visa for Vietnam!
What about extending my trip in Cambodia?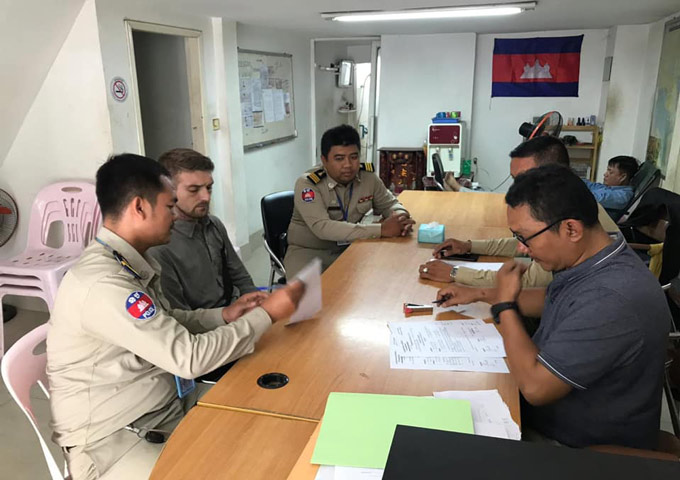 Cambodia immigration department
There are two options for you to rearrange your visa duration.
If you are already in Cambodia and need to extend your visa, you can apply for an extension at the immigration office in Phnom Penh or Siem Reap. The extension is valid for an additional 30 days, which also needs another visa fee.
Also, you can do a visa run to a neighboring country, such as Thailand or Vietnam. Then you will need to leave Cambodia and re-enter with a new visa. Check the latest visa regulations and requirements with the Cambodian embassy or consulate in your home country or a travel agency.
I can overstay my visa without consequences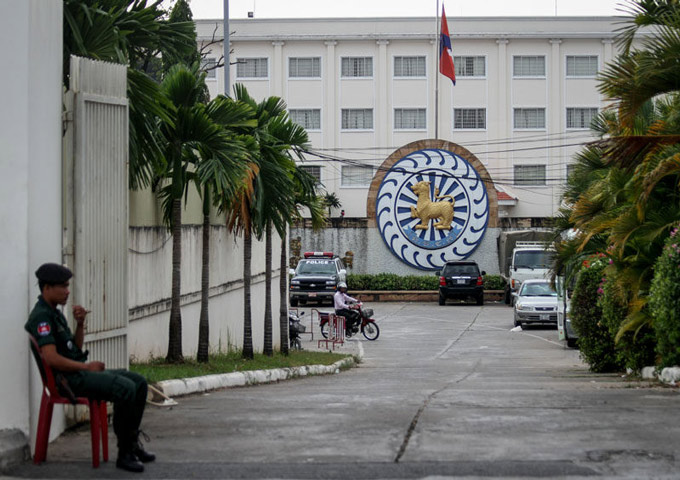 Cambodia police
You must overstay in Cambodia with a visa or a valid visa extension. Every foreign visitor to Cambodia must have a valid visa or an e-visa before arrival, allowing them to stay in the country for a limited time.
The days you can stay in Cambodia with a Cambodia visa depend on your visa type and itinerary. But if you overstay your visa or stay in Cambodia without a valid visa, you may be subject to fines, detention, deportation, or other legal consequences. The penalties for overstaying in Cambodia can be significant, and it's important to comply with the visa requirements and regulations to avoid legal issues.
If you need to stay in Cambodia beyond the expiration date of your visa, you can apply for a visa extension at the immigration office or through a travel agent. Applying for the extension before your visa expires is vital to avoid penalties or legal issues.
How does it work with a business visa in Cambodia?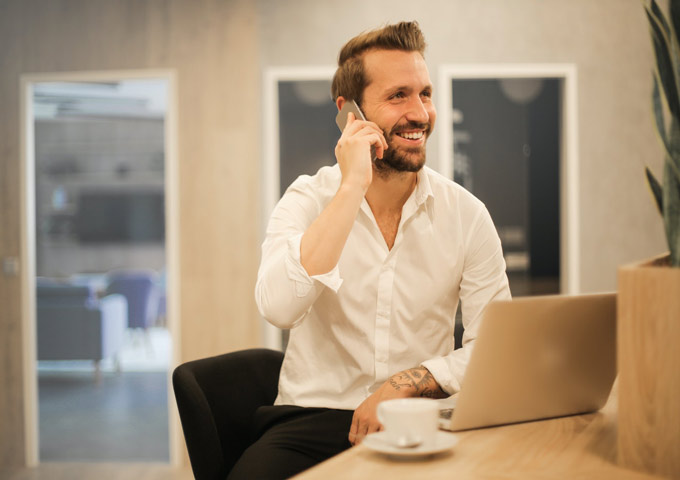 Business man
In Cambodia, the visa application process for business purposes is similar to that of a tourist visa. However, there are some additional requirements and documentation that may be necessary, such as:
1. Invitation letter: If you are traveling to Cambodia for business purposes, you may need to provide an invitation letter from a Cambodian company or organization that you will be working with. This letter should include information about the purpose of your visit, the duration of your stay, and the nature of your business activities.
2. Business registration: You may also need to provide evidence that your business is registered and operating legally, such as a business license or certificate of incorporation.
3. Financial documentation: In some cases, you may need to provide proof of sufficient funds to cover your expenses while in Cambodia, such as bank statements or a letter from your employer.
4. Application fees: The fees for a business visa in Cambodia may be higher than those for a tourist visa, depending on the length of your stay and other factors.
5. Length of stay: Business visas are typically issued for shorter durations than tourist visas, and the length of stay may vary depending on the specific purpose of the visit. For example, some countries may issue a visa for a specific conference or meeting, while others may issue a visa for a longer period of time, such as six months or a year.
It's important to carefully review the requirements for a business visa in Cambodia and to ensure that you have all of the necessary documentation and information before submitting your application.
What if I lost my visa Cambodia?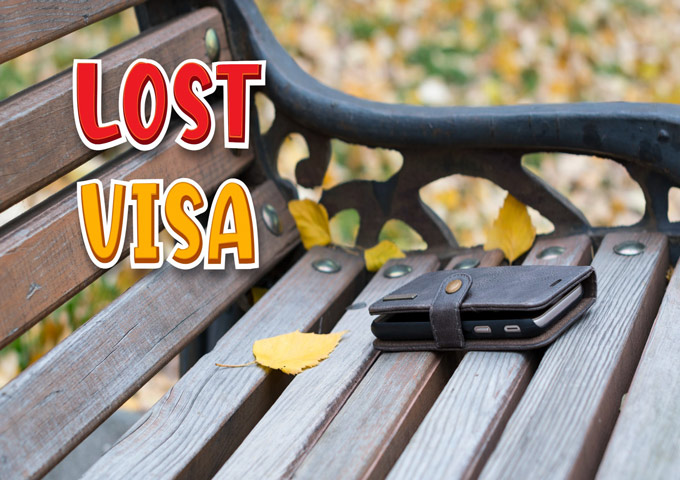 What if you lost your visa?
If you have already entered Cambodia but have lost your visa, you should report your lost visa to the nearest immigration office or police station as soon as possible.
General Department of Immigration:

| | |
| --- | --- |
| Location | No. 322, Russian Federation Blvd. (110), Sangkat Veal Vong, Khan 7 Makara, Phnom Penh, Cambodia |
| Phone | + 855 (0)23 216 725/ + 855 (0)23 987 353 |
| Fax | +855 (0)23 216 726 |
| Email | info@immigration.gov.kh |
You can also visit the GDI website at www.gdi.gov.kh for more information on visa requirements and procedures.
Want to be ready to travel to Cambodia?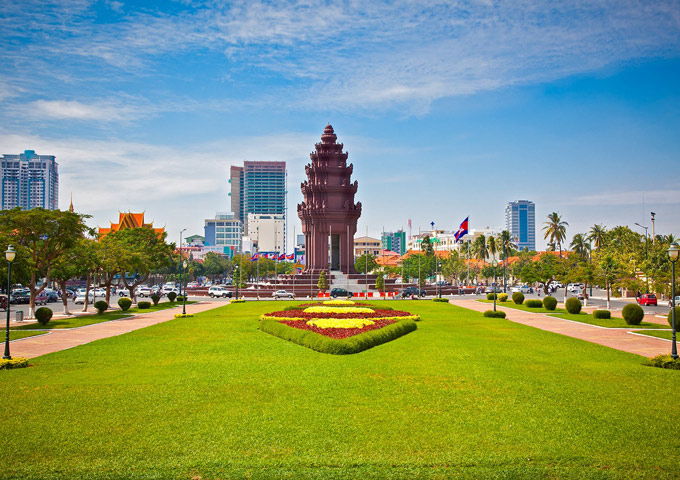 Independence monument, Phnom Penh, Cambodia
If you are planning to travel to Cambodia, here are some recommended itineraries and places to visit:
1. Phnom Penh: Cambodia's capital city is a bustling hub of culture and history. Highlights include the Royal Palace, the National Museum, and the Killing Fields memorial.
2. Siem Reap and Angkor Wat: Siem Reap is the gateway to the famous Angkor Wat temple complex, which is a must-see attraction for any visitor to Cambodia. Other temples worth visiting in the area include Bayon, Ta Prohm, and Banteay Srei.
3. Sihanoukville and the Cambodian coast: If you're looking for some beach time, head to the coastal town of Sihanoukville, which offers a range of beaches and seaside activities. Nearby islands, such as Koh Rong and Koh Rong Samloem, are also popular destinations.
4. Battambang: This charming town in northwest Cambodia is known for its French colonial architecture, bamboo train rides, and nearby temples.
5. Kampot: This sleepy town in southern Cambodia is known for its scenic riverside setting and proximity to Bokor National Park. It's also a great place to try Kampot pepper, which is renowned for its flavor.
6. Mondulkiri: This remote province in eastern Cambodia is known for its lush forests, waterfalls, and elephant sanctuaries.
When planning your itinerary, be sure to allow enough time to fully explore each destination and to account for travel time between locations. It's also a good idea to research visa requirements, local customs, and any safety concerns before you travel.
Conclusion
In conclusion, understanding the Cambodia visa process can be a daunting task due to the many misconceptions surrounding it. However, with the 15 common misconceptions explained, navigating the Cambodia visa process should now be a more straightforward and less stressful experience.
It is essential to keep in mind that visa regulations can change, so it is always wise to consult with official sources and double-check requirements before traveling to Cambodia. With the right information and preparation, obtaining a Cambodia visa can be a smooth process that allows travelers to explore the country's rich history, culture, and natural beauty.
More Related Travel Planning Articles
Most Popular Cambodia Tour Packages