How to Apply for Cambodia Tourist Visa Easily and Quickly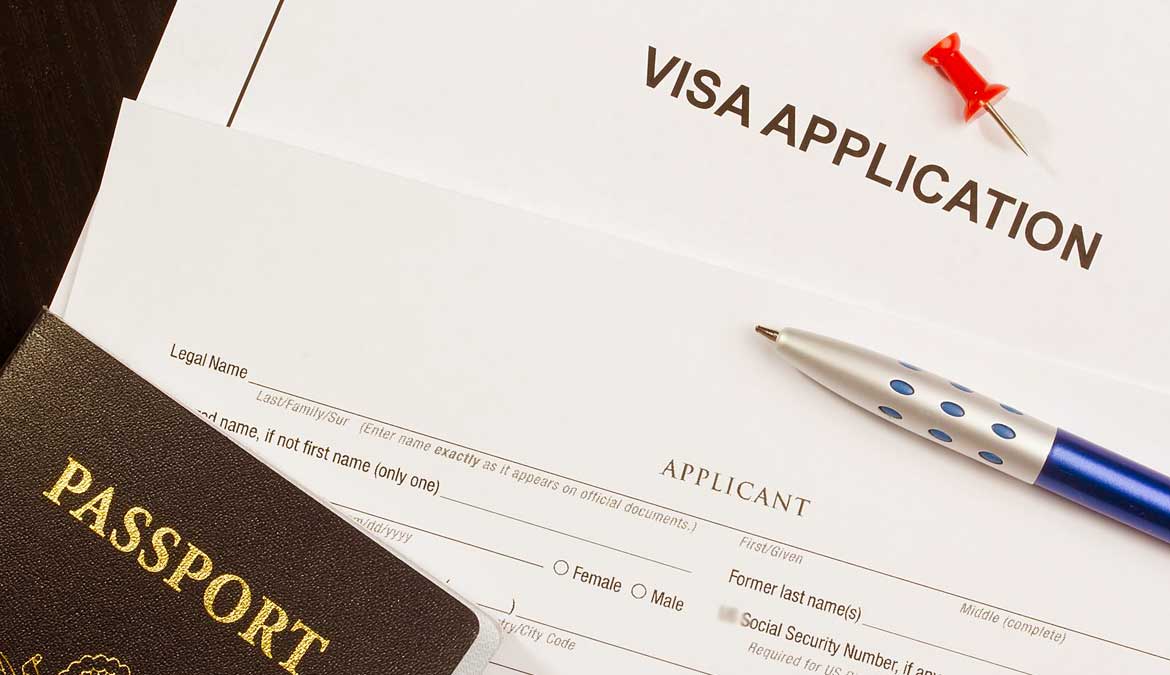 For all tourists traveling to Cambodia, there is a need to gain entry permission into the country. For many people, this means getting a visa, which is the document issued by the government that allows entry to the country for a specified period of time, and for a specific reason. Tourist visas allow foreign tourists to travel around allowed parts of the country freely, for the purposes of tourism only.
How to Get a Visa for Cambodia Easily
Obtaining that Cambodia visa for your trip is not hard, and the application process has been made easier to benefit the country's tourism industry. At this time there are three ways to obtain a visa for Cambodia, depending on your country of origin, which are at an embassy or consulate, via an online e-visa service, or through the country's visa-on-arrival (VOA) service. However, not all passport holders are permitted to use all three services. Cambodia has certain restrictions on who can use their e-visa and VOA services.
Apply Cambodia Visa At the Embassy
Citizens of all countries can make applications for visas at the embassy within their home country, and at embassies around the world. Whereas there was once a requirement to apply for a visa with the embassy in your home country before traveling, now it can be done at any embassy around the world, regardless of nationality.
Requirements for application of the visa through the embassies and consulates is relatively simple, and the process normally takes around three days.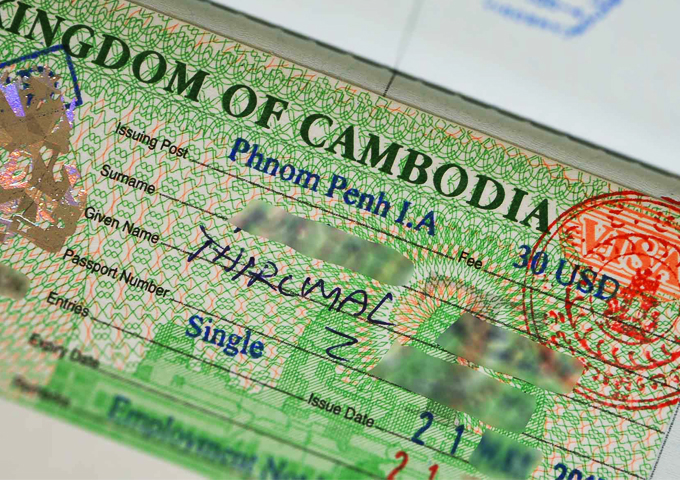 Cambodia visa
A valid passport is required, with at least six month's validity past your exit date with two empty pages, one passport-sized photo without glasses, and the visa fee of US$ 30 or equivalent. The visa is normally valid for 30 days.
Personal visits are required when applying for your visa at an embassy or consulate, and using a visa service is not permitted. Embassies and consulates are normally open from 9:00 am to 5:00 pm from Monday to Friday, and you will be required to attend again to collect your visa once it has been approved.
Apply Online E-visa for Cambodia
E-visas are the latest trend in obtaining a visa to enter Cambodia, and are being heavily promoted by the Cambodian Tourism Department to help increase tourism to Cambodia. Visitors to Cambodia from almost every country can now apply for their e-visa online, to save time when arriving in Cambodia. The e-visa process is simple and straightforward, although it does require the use of a VISA or MasterCard for payment of the visa fee, which is US$ 36 when applied for online.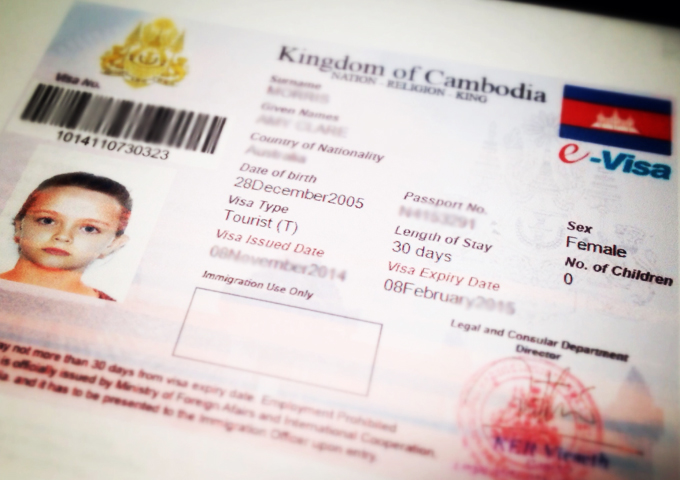 Cambodia e-visa
The visa may be applied for through the official website, at https://www.evisa.gov.kh/. First you create an account online, which then allows you to log in to retrieve your visa once complete. This can also be used for future visa applications for Cambodia to speed things up even more.
After filling in the application form completely, simply make the payment by credit card and you will receive an email notification within three days. Simply go online and log in to download the PDF copy of your e-visa and print it to show the immigration desk at your entry point.
The e-visa can be used to enter Cambodia through Phnom Penh International Airport, Siem Reap International Airport, Preah Sihanouk International Airport, Cham Yeam (from Thailand), Poi Pet (from Thailand), Bavet (from Vietnam), and Tropaeng Kreal (from Laos).
E-visas in Cambodia have improved in recent years, with more than 60 percent of visitors from first-world countries now using the e-visa service. It has even overtaken the use of the VOA service since 2015, making it the most popular method of obtaining an entry visa for Cambodia globally.
Apply Cambodia Visa on Arrival - Easiest and Soonest Way
The visa-on-arrival service in Cambodia allows citizens of most countries to obtain a visa at their port of entry. The visa cost just US$ 30 and can be obtained at all three international airports and most land border crossings. The simple requirements are a completed application, a passport with at least six month's validity remaining, and two passport-sized photos. At several of the land border crossings when traveling by bus, including the boat crossing between Ho Chi minh City in Vietnam and Phnom Penh, your application form will be given while you travel, and your visa processing will be done by fixers at the border crossing, saving you from spending time in long queues.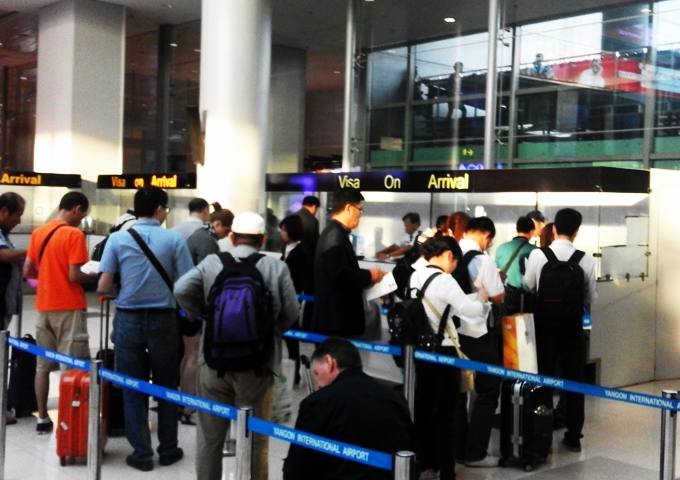 Visa on arrival
While these are not official, and can sometimes charge a dollar or two extra, it is safe and worth it to not have to queue. It is also best to pay in US dollars, as immigration officials at the Thailand border crossings will round up the fee to the nearest thousand baht. Overcharging can sometimes be an issue at some of the Laos/Cambodia border crossings too, but this is very rare at the borders with Vietnam.
As of this time, citizens of Afghanistan, Algeria, Bangladesh, Iran, Iraq, Nigeria, Pakistan, Saudi Arabia, Sri Lanka, and Sudan must obtain their visa in advance at the Royal Embassy of the Kingdom of Cambodia from their home country prior to departure. They are also required to have return or onward travel tickets.
Cambodia Visa Entry Points: where and when the Cambodia visa is checked
Cambodia shares a border with Laos, Vietnam, and Thailand, and there are many entry points that provide visa-on-arrival services. While this is a great way to travel into Cambodia, it can sometimes take several hours to process the visa if the land border crossing point is busy. The visa-on-arrival service is currently available at the following entry points:
At Airports:
Phnom Penh International Airport
Siem Reap International Airport
(Not available at Sihanoukville International Airport)
At Cambodia-Vietnam Border:
Bavet International Check Point
Kha Orm Sam Nor International Check Point
Koh Rohka International Check Point
Banteay Chakrey International Check Point
Tropeang Sre International Check Point
Prek Chak International Check Point
Phnom Den International Check Point
Oyadav International Check Point
Tropieng Phlong International Check Point
At Cambodia-Thailand Border:
Cham Yeam International Check Point
Poi Pet International Check Point
Osmach International Check Point
Sihanoukville International Check Point
Choam Sanguam International Check Point
Prum International Check Point
Doung International Check Point
Preah Vihear International Check Point
At Cambodia-Laos Border:
Dong Krolar International Check Point
Tropieng Kreal International Check Point
Visa Exemptions: for tourists who don't need a Cambodia visa
As with many Asian countries, certain nationalities are exempt from needing a visa to enter Cambodia for periods of up to 30 days. In Cambodia, this applies to citizens of all the ASEAN countries. Citizens of Indonesia, Laos, Malaysia, Singapore, and Vietnam can travel visa-free for up to 30 days. Citizens of the Philippines may travel without a visa for up to 21 days and citizens of Brunei, the Seychelles, Myanmar, and Thailand can travel visa-free for up to 14 days.
How to Extend or Renew Cambodia Visa
Extensions to the normal tourist visas can be done to extend the visa for an extra 30 days, and can be done at the Immigration Office just outside the Phnom Penh International Airport, or at many of the travel agencies and motorcycle rental shops around the country. This can only be done once, and costs US$ 45.
It should be noted that overstaying your visa in Cambodia will be charged at the rate of US$ 5 per day, and may result in up to five year's ban from re-entering the country. Visa renewal is not permitted in Cambodia except for business visas.
Customs Regulations
Entry to and exit from Cambodia is subject to certain regulations on the import and export of items. The standard restrictions on weapons, ammunitions, explosives, prohibited substances (narcotics), etc applies in Cambodia, and cannot be imported or exported.
There are also duty-free concessions for up to two liters of wine, 400 cigarettes, 350 milliliters of perfume, small ornaments, and personal medications. It should be noted, however, that cigarettes and alcohol can be purchased anywhere in Cambodia at much cheaper prices that in the duty-free shops at the airports.
There is currently no restriction on the amount of currency that can be brought into the country, although amounts equivalent to more than ten thousand US dollars must be declared. If it is not declared, a permit is required from the National Bank of Cambodia and approval from the General Department of Customs and Excise before amounts over the equivalent of ten thousands US dollars can be taken out of the country.
Ancient artifacts, statues, antiques and other ancient items, especially those from the Angkor period, are strictly prohibited from being taken out of the country, so if you have bought any souvenirs that look old, it is best to get a certificate from the General Department of Customs and Excise in Phnom Penh before exiting the country.
All ports of entry have Red "goods to Declare" and Green "Nothing to Declare" channels for customs, and penalties and/or fines are imposed on those who intentionally use the Green channel to avoid declaring dutiable, prohibited, or restricted goods. Customs officers often make random checks on both channels, and the policies of the Kingdom of Cambodia are strictly enforced. Moreover, visitors caught with illegal narcotics can receive life imprisonment when convicted.
Most Popular Cambodia Tour Packages