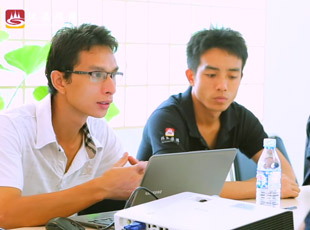 Request a Quote
or Email us: inquiry@indochinatour.com
Vietnam & Cambodia Tour
Take the tours below, immerse yourself in the rich historic and cultural heritage of Cambodia and Vietnam. The two countries share a long border with a variety of crossings, which makes it remarkably easy to travel between the two countries by flight, by bus and by boat. However, we highly recommend our guests to fly from Phnom Penh to Ho Chi Ming City and vice verse due to the short travel time. There are 6 daily flights running between Phnom Penh of Cambodia to Ho Chi Minh City of Vietnam, as well as 9 weekly flights. Since it is just 130 miles from Phnom Penh to Ho Chi Ming City, it will only take about 48 minutes to travel between these two cities.
In Vietnam, take some walk along the wooded boulevards among lakes in Hanoi, experience hilltribe culture, and discover stunning scenery and friendly people in mysterious Sapa, soak up the old-world charm of Hoi An, step back into the world of the country's last emperors in Hue, be awed by the endless energy of Ho Chi Minh City and cruise through dramatic karst scenery on a boat tour of Halong Bay. In Cambodia, discover the country's fascinating history and culture in Phnom Penh's heaving streets and in the awe-inspiring temples of Angkor. Mixing with highlights of both countries, the Best of Vietnam and Cambodia tour will open your eyes to the natural and cultural beauty of Indochina and leave you awe-struck by these magical destinations.
Our Vietnam and Cambodia tours below are all independent and fully tailored by our travel experts, ensuring all the smallest details are taken care of. Besides, you can also customize your own trip by telling us your ideas, and we'll take care of the rest for you.
Vietnam & Cambodia Tour Packages
6-33 days vacations combining the best of Vietnam and Cambodia.
Most Popular Indochina Tour Packages including Vietnam & Cambodia
6-33 days vacations combining the best of Vietnam and Cambodia.
Vietnam & Cambodia Tour Guide Updates: